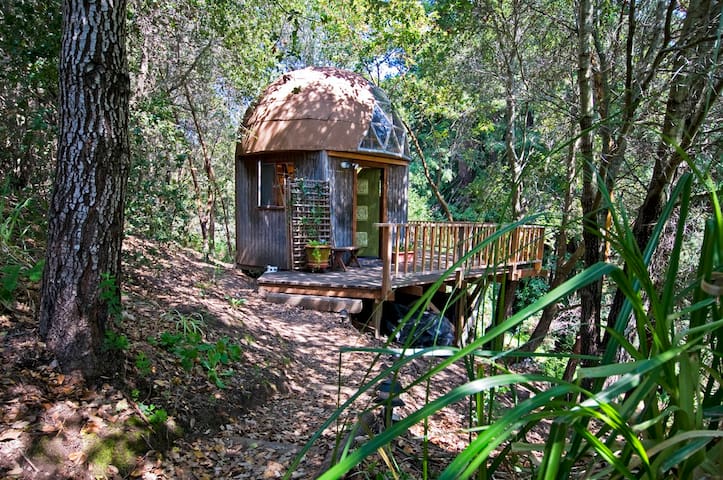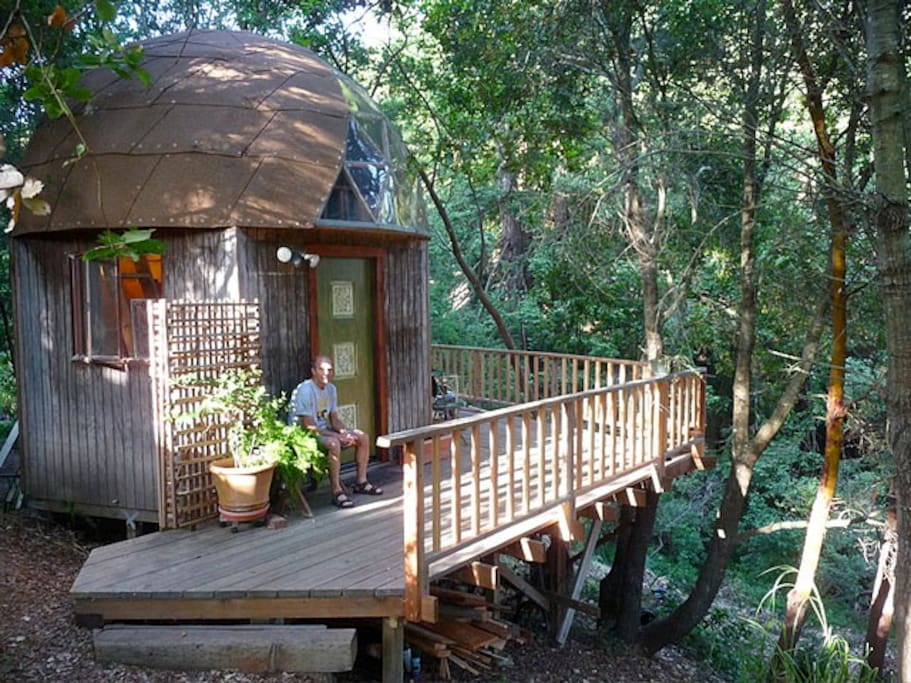 Mushroom Dome Cabin: #1 on airbnb in the world
測地線のドームロフトと木々の大きなデッキで、あなたは森の木の家にいるような気分になります。 (予約できません?自然落ちをご希望の場合は、Hummingbird Havenをご予約ください:https://www.airbnb.com/rooms/6562632) 私たちは静かで便利な場所にあります。オークとマドロンの木々で覆われ、レッドウッドの林の横には、デッキから屋外を楽しむことができます。夏には涼しく、冬には下に流れ込む小川の音を聞くことができます。
With a geodesic dome loft & a large deck in the trees, you'll feel like you're in a tree house in the woods.
(Can't book? If you would like a nature retreat here, reserve our sweet Hummingbird Haven: https://www.airbnb.com/rooms/6562632)
We are in a quiet yet convenient location. Shaded by Oak and Madrone trees and next to a Redwood grove, you can enjoy the outdoors from the deck. In the summer, it is cool and in the winter you might get to hear the creek running below.
---
---
---
• Please, no smoking either in the cabin or on the property
• Please don't sleep here with tooth or skin whitening material: they bleach the pillow cases and sheets.
• If you want to bring a dog, please send a request. (We have goats and cats) As so many people are allergic to cats, please don't bring yours.
• Dogs must stay on a leash when outside.
• Dogs are not allowed in the loft.
• No wild parties, please.
• Please don't drink wine in the loft.
• If you use the barbecue, you are required to clean it. But don't close the side lid if the burner is still hot!
• Please wash and put away your dishes, pots, etc. before leaving.
• Please don't bring a lot of food or water in plastic. (those #1 clamshells can't be recycled)
We provide all the dishes you will probably need, so please don't bring disposables either.
• If you want to use real candles, please talk to us first. We provide a rose quartz mood light.
• Please take short showers.
下記事項もご了承ください
Dog(s)、cat(s)、other pet(s) live in the house
---
普通
宿泊の5日前までにキャンセルすると、全額返金を受けることができます。5日を切ってキャンセルすると最初の1泊分は返金不可ですが、残りの宿泊料金は50%返金されます。
---
---
---
Very special place that is definitely an AirBnB jewel and landmark. Kitty is super welcoming and gave us an extensive tour of the Hummingbird Garden - which really was a treat. The Mushroom Dome has everything you need and is really a special place to spend time with loved ones - and our dog Bud. This was our first time using a composting toilet. I am a bit of a diva but had no troubles! Tim loved using the grill and we had a wonderful meal on the deck. Fun games and a good movie selection included!
---
This was indeed a wonderful eco-friendly retreat. I suggest staying a few days if possible. Kitty gave a great tour and described the amenities upon our arrival. She is a very kind soul, and pleasant to talk to. She gave us some wonderful suggestions for places to eat. There were plenty of movies to watch. She provided us with a dog gate for the entry to the cabin. We were also lucky enough to visit the hummingbird sanctuary. The place itself is magical and serene. Great location and wonderful, welcoming hosts! We hope to return.
---
I stayed at the Mushroom Dome with my mom who had never stayed at an Airbnb before. The magical dome and surrounding area exceeded our expectations, and Kitty was such a welcoming and great hostess. I will definitely stay here again and would recommend this to anyone lucky enough to have a chance to reserve this place!
---
We live on 10 beautiful acres of sun, oak forest, redwood groves and gardens with a small community made up of ourselves (Kitty and Michael), 1 of our adult sons, 8 other young adults, a Chiropractor, a plumber, and a retired mason, 3 goats, a parrot, 4 cats, 2 small dogs, 17 chickens and over 200 hummingbirds.

Kitty teaches Universal White Time Gemstone Healing, is a healer, artist, builder, farmer and musician.
Michael works at the University of California, Santa Cruz Extension in Silicon Valley, managing the International Education program. He bikes, runs, swims, sometimes all in the same day. Together, Kitty and Michael teach Meditation classes with the "Teaching of Intuitional Metaphysics" under the guidance of the Masters Babaji, Jesus, and St. Germain.

The young adults here are photographers, surfers, artists and/or musicians and budding farmers.
We are slowly turning this land into a permaculture farm and a center of creativity, learning to live simply, with joy and kindness.

We hold a public non-denominational meditation at our house every Sunday night: you are welcome to join us if you are here.

We have been hosting on airbnb since July, 2009 and really love what this company has made possible. We have met so many wonderful people from around the world that we would never have met if we hadn't had this opportunity with airbnb! Some of our guests (especially the ones from Europe) have never seen a hummingbird before and here they get to see them up close - just a few feet from them as the birds "hum" around the feeders.

We welcome you to come experience the peace and tranquility that our wonderful land has to offer.