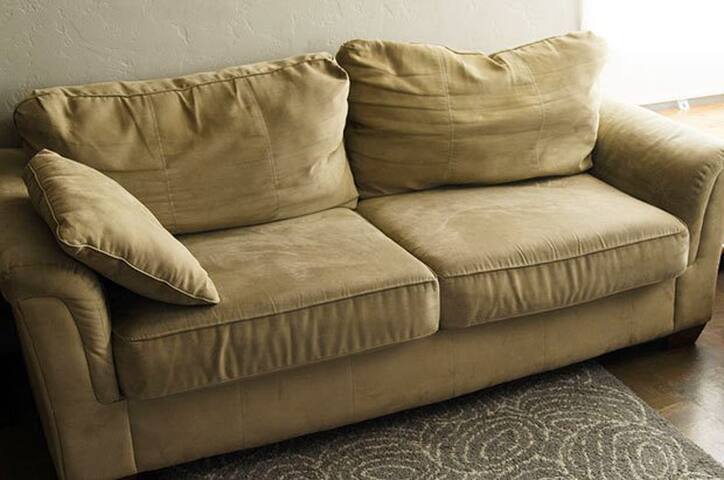 This is a great location ,quit surroundings,30 minutes to center city. The couch is yours along with all amenities within the apartment.
スペース
The way Airbnb works is that it shows you only what is available on the dates you entered. So please DON;T ask if it is available if you want to come, just send a request because once again: if you are reading this, it IS AVAILABLE.
The space is great, it's our living room, next to our kitchen, and therefor a shared environment.
The windows dont have blinds, or curtains, so make sure you like to wake up early if you rent this space.
During the day the sofa should be set up, and at night you turn it into a bed. All brand new furniture that we bought march 2015
ゲストの立入り範囲
You may have access to everything we have. Fridge, kitchen, bathroom, etc. Just buy your own food & drinks and put them in the fridge
ゲストとの交流
We can interact as much as you prefer. If you just want to do your thing, its cool...
---
---
Always use common sense in this house. Everything you read here can be avoided if you just use common sense. Treat it as your own house. This is not a hotel, it is a very nice private home at a very low price. Do not expect Hotel Room house keeping.
2. Absolutely no smoking in the house.
3. Check in time: 12 pm
Check out time: 10 am
4. You may check in AFTER 12pm if you need to, but not before. This is non negotiable. Do NOT ask us to move it or to bring your things before, or check out after 10am. We have to keep an order.
5. Because we go to school, sometimes until 10 pm, be prepared that we return home at around 11 pm and need to cook ourselves dinner. Keep this is mind if you are an early sleeper in the living room, we will be cooking next to you and it might be uncomfortable.
6. You MUST wash whatever utensils you use. Glasses, plates, silverware, etc. And clean your area before you leave.
7. If during your stay you go shopping, take your shopping bags, boxes, etc to the garbage on the street. Do NOT put it with our garbage and assume we will take it out. We WILL however take out the normal garbage your stay will generate. But not your shopping stuff.
8. If you are staying in the sofa bed in the Living Room. You must make the sofa bed into a sofa EVERY MORNING before you head out. You must also leave the living room in a presentable state. We use it as a living room during the day. No clothes or towels on the chairs.
9. We do NOT provide towels. Bring your own. We do not provide any kind of cleansing materials. You must bring all of this.
10. After using the shower, please remove the hair from the drain. Specially if you are a woman. Just use toilet paper and throw it in the garbage.
11. Only contact myself (my roommate) through the airbnb chat, even when you have our number. This way we have a record of everything that has been said.
12. Absolutely no guests of any kind allowed at any moment. Airbnb has insurance on for the people who pay to stay. No one else may come.
---
---
---
まだレビューがありません。泊まると、あなたのレビューがここに表示されます。