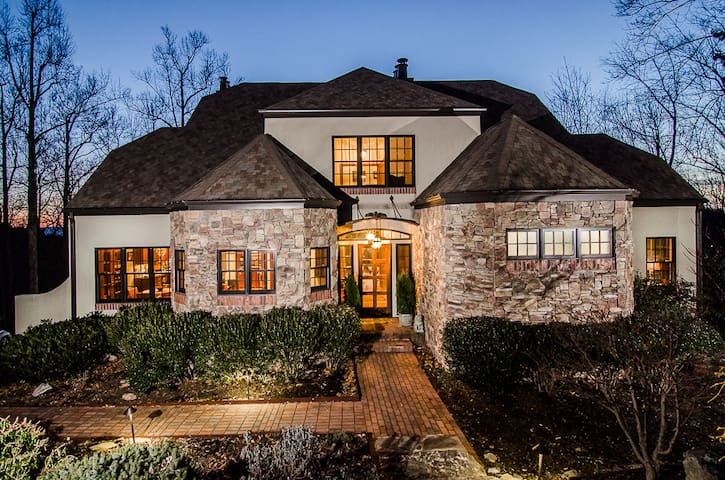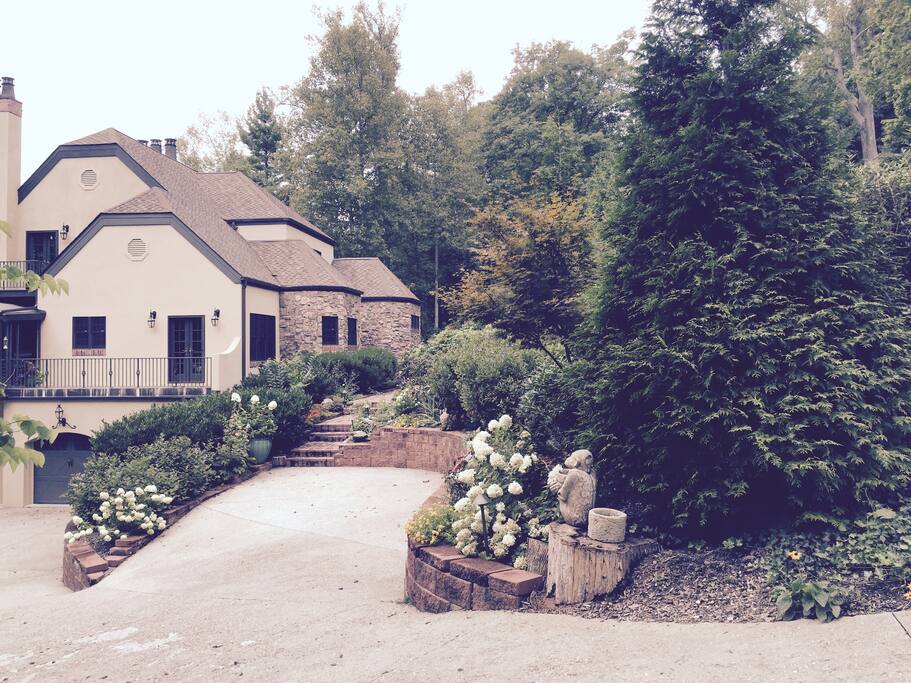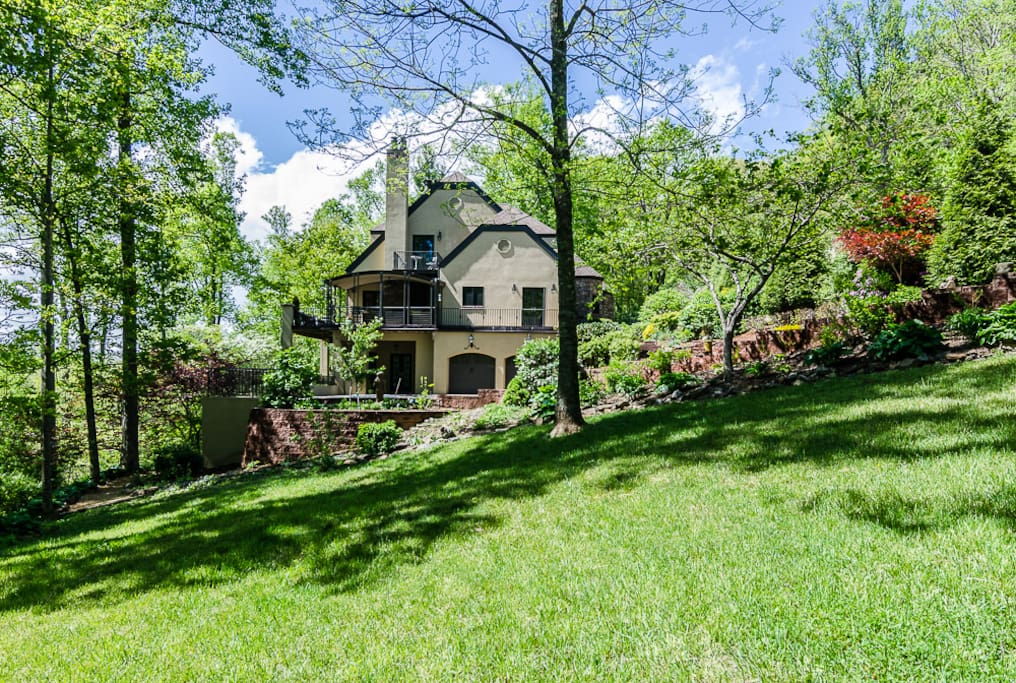 Private room with private bathroom is located on the second level of the home. It shares the level with a second room with private bathroom that is currently occupied by my friend/house mate.
Share my 5000 sq. ft. Fantasy Home 3500 ft high above the city
Mountain Views, Chef's Kitchen, Decks & gardens to meander in & do Yoga
5 minutes to the Blue Ridge Parkway & 10 to town
スペース
I have a 5000 sq ft home on top of a mountain yet only 5 minutes away from one of the most famous scenic parkways in America and 10 minutes down to one of the unique towns in the USA: Asheville. My home built in 2004, sits on almost 1 1/2 acres of almost flat land (rare in the mountains) with places to walk, practice Yoga, or just sit on the deck and read while enjoying the majestic mountains, or if lucky watch mama bear and her cubs walk the property. Don't worry, no risk, as long as you stay away from the cubs. The large upstairs bedroom is actually a second master suite with windows in bedroom and bath overlooking the mountains and the gardens plus a small balcony for that first private cup of coffee. On the main floor there's a Chef's kitchens, sans chef. So if you can cook, go at it. Otherwise, Asheville is renowned for it's restaurants, and ALL of their fine cuisine can and will be delivered right here to Chez English. The only spaces where I ask for privacy are the other bedrooms and my Library. There is no door to my Library except your conscience. There is an intercom system throughout the house and I am readily available and eager to invite you into my domain (assuming I'm home).
ゲストの立入り範囲
The grounds are a great place to practice yoga in the early hours and watch the sunrise. Or stroll through the grounds and enjoy the Smokey Mountains also called the Blue Ridge Mountains. As I mentioned guests are invited to enjoy the kitchen especially if you love to cook there's a Wolf's double convection oven, double sink and a veggie sink (sorry, your host can't peel a grape) you will be welcome to use it (the kitchen, not the grape. I'm eating that).
その他の特記事項
I have two small dogs. They do not bark (maybe a little). As already noted, I do. This is not a hotel, nor a BNB. You are invited into most of the house except of course my bedroom, and I request that you come into my LIBRARY BY INVITATION ONLY. I will respect your privacy, and ask the same.
THE PHOTOGRAPHS AROUND THE HOUSE: I have risked my embarrassment by hanging photographs I have taken of sunrises and sunsets over the past few months. They conflict with the beautiful art I have collected during my lifetime, but I am proud of them. If you see one of them that you might like to take home with you to hang in some small space, let me know. They are not masterpieces and I am not trying to create a business. If they can be a tangible remembrance for you and I am reimbursed for my efforts. I would be pleased. However feel no pressure.
---
---
Security deposit is ¥ 46571
PLEASE DO NOT BOOK IF YOU HAVE PET(S) or CHILDREN (under 18) UNTIL WE HAVE SPOKEN FIRST AND I HAVE GIVEN AN EMAIL APPROVAL TO YOUR EMAIL DESCRIPTION.
House Rules are meant to ensure enjoyment of my home as well as your holiday. They are common sense points so that you will have great memories of your vacation and I will have special memories of your visit.
If you smoke please smoke outside either in the driveway or on the deck. I ask that there be no parties. Beyond the obvious, every reasonable request will be given consideration. Obviously, if you come in late come in quietly. Definitely no unregistered guests. You can certainly have a snack in your room but please cooking is what the kitchen is for. There is a Keurig machine on every floor with coffee, tea, hot chocolate and assorted other hot drinks.
BATHROOMS:
PLEASE, no flushable wipes and no flushing of sanitary products. We live in a different world. There is a water shortage and we all have to work together. Try to limit showers to 15 minutes.
Lastly, Something to consider while you are here: It's not a rule just a suggestion. You have been invited to stay in an extraordinary home rather than just a hotel or a typical BNB. It's location at the top of a mountain yet minutes from the city is considered by many unique in Asheville. This is an experiment for me. I hope you find your accommodations beyond your expectations and you enjoy the fresh flowers, extensive selection of coffees, teas and the other delights. Therefore given the reasonable amount you are being charged for what you are getting, I hope the gratuity you leave will allow me to maintain the many extras I enjoy providing.
I wish your continued journey to Ithaka a Happy one.
---
I will be here to welcome you and except when I am in school or sleeping (at very odd hours since I am an insomniac), you will find me in my library trying to write my memoirs. You are forewarned, ask about me and you may lose hours of time you could be spending experiencing Asheville. Sometime just time me, ARRET! STOP. I love people and writing my memoirs, well you see....
I like people. I like making the world a better place one step at a time. Besides that:
I am a retired businessman and Philanthropist. Amateur writer, well traveled and well read. I live in Asheville because of the people, mountains,the air, atmosphere and because I am tired of suits and formality. I am self made as well as self educated. I've lived in London, Paris, New York and South Florida. I expect to live out my days here. Maya Angelou & Mother Theresa are my idols. Cavafy & Frost my favorite poets. Ella Fitzgerald & Lady Holliday favorite singers. Jerry Herman's music and lyrics (think Hello Dolly, Mame, La Cage Au Follies). I have served on the Board of Caring for Children for over two years. Prior to that I have been active on similar organizations in New York City, Fire Island and Fort Lauderdale, Florida.
I have 2 dogs: a Westie & a 15 pound rescue terrier mix.
My mantra is a quote from Nelson Henderson, "The true meaning of life is to plant a tree under whose shade you do not expect to sit."