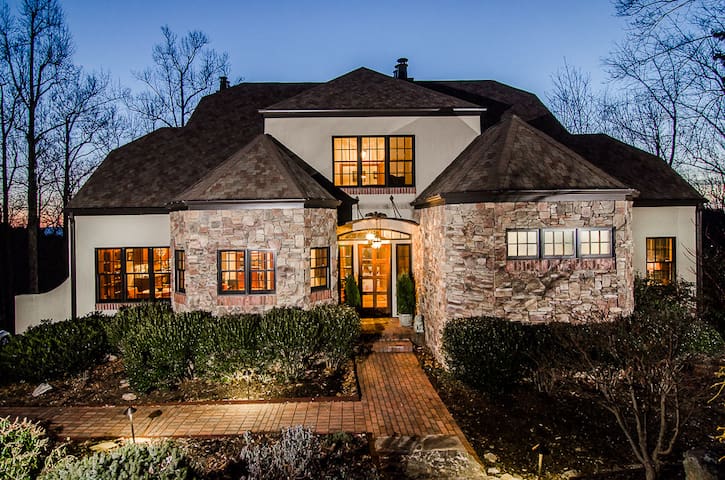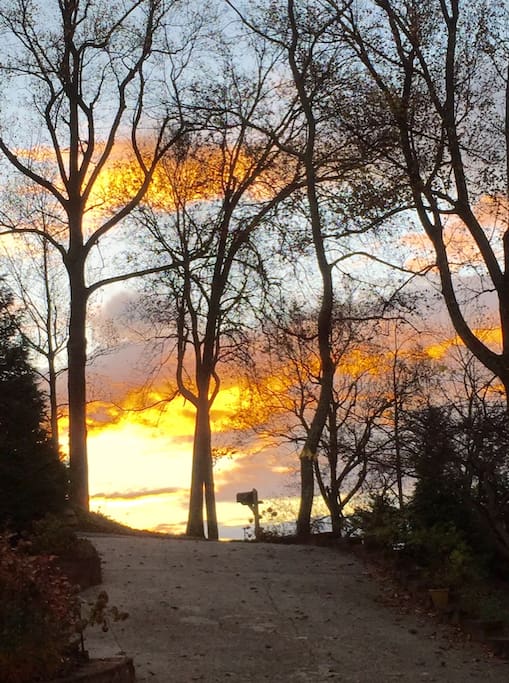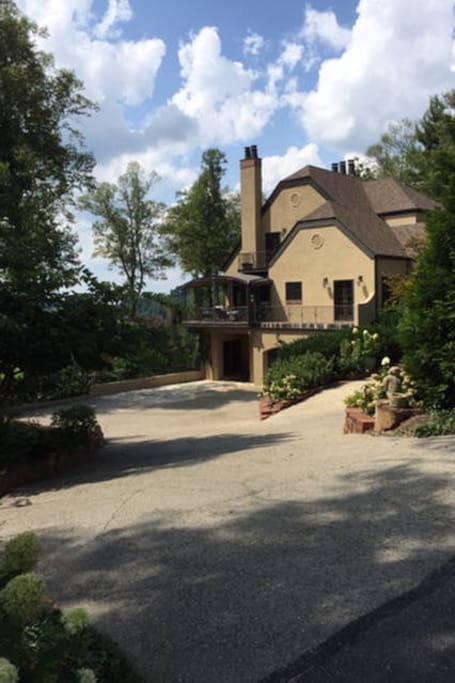 A Mansion with your own private entrance to a self contained Apartment within it. 5 minutes from Blue Ridge Parkway and 10 minutes to downtown Asheville yet in a tranquil setting. The attached photos and reviews say it all.
スペース
The apartment is about 1,000 sq ft, with sitting area, full balcony to sit and enjoy coffee, tea and croissant. The Keurig coffee machine, microwave and mini-fridge are there for those midnight snacks or simple breakfasts you want to make for yourselves in order to go out to the balcony and watch the mountains come out of the mist. A television in the living room and the bedroom with a full selection of cable channels as well as local ones. Of course free wi-fi and excellent internet even here 3,500 ft up. Just 5 minutes by car to the famous Blue Ridge Parkway with its incredible panoramic drive; and only a 10 minute, 4 mile drive down the mountain to the center of Asheville. However you might just consider spending some time amidst the tranquil gardens or fields on the property.
ゲストの立入り範囲
As much as possible the kitchen and the washer and dryer will be available. But a Keurig coffee machine, a mini-fridge and a microwave are in your apartment for an easy breakfast and miscellaneous private times. The grounds are a great place to practice yoga in the early hours and watch the sunrise. Or stroll through the grounds and enjoy the Smoky Mountains also called the Blue Ridge Mountains. Guests are invited UPON AVAILABILITY to enjoy in the main house if you love to cook breakfast or for you to make dinner the kitchen with a Wolf's double oven, double sink plus a veggie sink (sorry, your host can't peel a grape)...but as long as is indicated above it's not in use, you will be welcome to use it.
ゲストとの交流
I have lived in many parts of the world and visited most of the rest. I have chosen Asheville as my home and have a great love of it. I'm happy to share the reasons why during your stay. I enjoy open and free conversation, just tell me to be quiet when I talk too much and too long. This is my first adventure into housing guests, so I ask that you be patient with a 71 year old man. I will do my best to make your stay everything you can possibly want it to be. You will not be treated as renters, but as guests and if you choose, friends. If you prefer privacy, you have your separate entrance, Keurig for coffee or tea, mini-fridge, and microwave. The grounds will be yours and I will NOT be there.
その他の特記事項
I have two small dogs. They do not bark (maybe a little). As already noted, I do. This is not a hotel, nor a BNB. You are invited into most of the house except of course my bedroom, and I request that you come into my LIBRARY BY INVITATION ONLY. I will respect your privacy, and ask the same.
THE PHOTOGRAPHS AROUND THE HOUSE: I have risked my embarrassment by hanging photographs I have taken of sunrises and sunsets over the past few months. They conflict with the beautiful art I have collected during my lifetime, but I am proud of them. If you see one of them that you might like to take home with you to hang in some small space, let me know. They are not masterpieces and I am not trying to create a business. If they can be a tangible remembrance for you and I am reimbursed for my efforts. I would be pleased. However feel no pressure. have two small dogs and a love of animals will add to your enjoyment of the main part of the house. Want to know why such magnificence is offered at such a reasonable price. So you'll tell your friends. This is your vacation and my home. I will not invade your space and yet I will unobtrusively make you aware of my availability. There is a house intercom as well as my cell phone and landline which are accessible 24 hours a day.
---
---
Security deposit is ¥ 34928
PLEASE DO NOT BOOK IF YOU HAVE PET(S) or CHILDREN (under 18) UNTIL WE HAVE SPOKEN FIRST AND I HAVE GIVEN AN EMAIL APPROVAL TO YOUR EMAIL DESCRIPTION.

I wish your continued journey to Ithaka a Happy one.
---
I like people. I like making the world a better place one step at a time. Besides that:
I am a retired businessman and Philanthropist. Amateur writer, well traveled and well read. I live in Asheville because of the people, mountains,the air, atmosphere and because I am tired of suits and formality. I am self made as well as self educated. I've lived in London, Paris, New York and South Florida. I expect to live out my days here. Maya Angelou & Mother Theresa are my idols. Cavafy & Frost my favorite poets. Ella Fitzgerald & Lady Holliday favorite singers. Jerry Herman's music and lyrics (think Hello Dolly, Mame, La Cage Au Follies). I have served on the Board of Caring for Children for over two years. Prior to that I have been active on similar organizations in New York City, Fire Island and Fort Lauderdale, Florida.
I have 2 dogs: a Westie & a 15 pound rescue terrier mix.
My mantra is a quote from Nelson Henderson, "The true meaning of life is to plant a tree under whose shade you do not expect to sit."