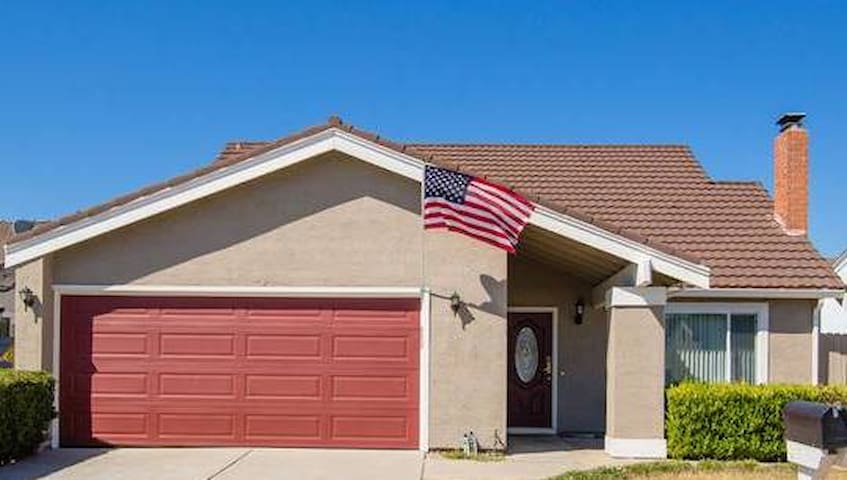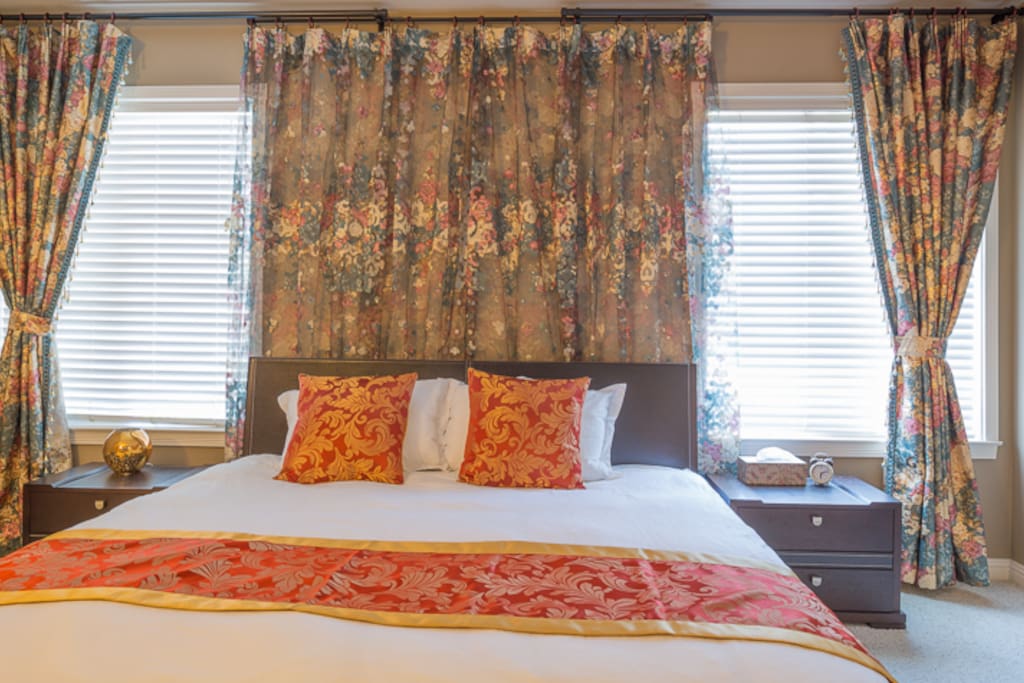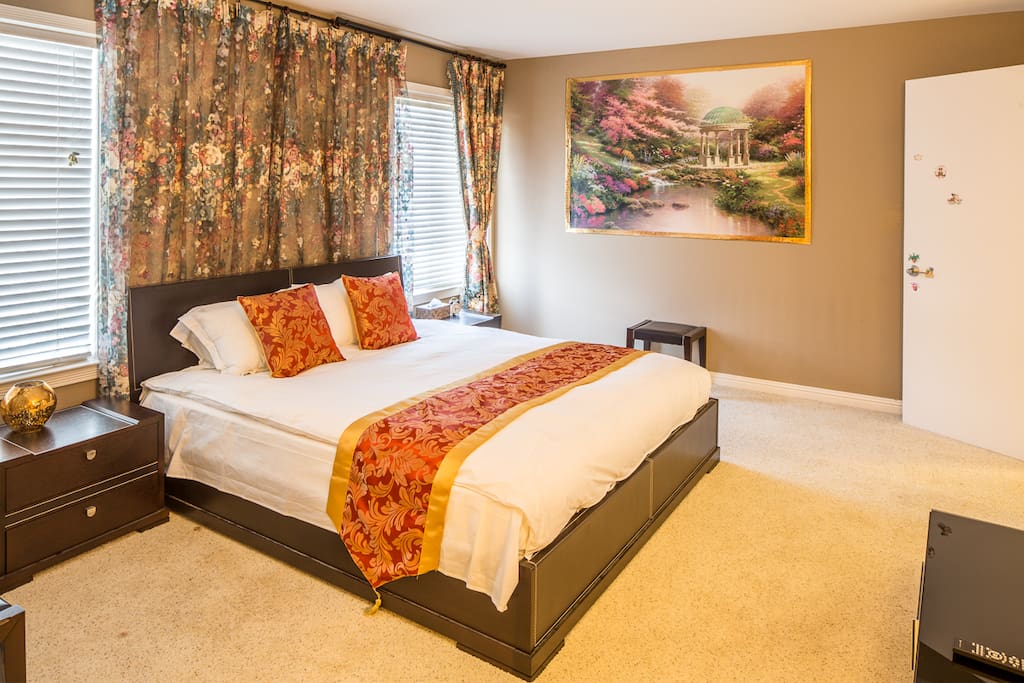 Welcome to "Sunny & Elegant Villa".
This perfect house for distinguished Silicon Valley&Stanford visitors! You will feel like living in the art world. DIY handing painting of Golden Bridge on the wall leaves you with visual impact. American-style element, let you feel strong exotic climate and have a perfect vacation. Enjoy the purest American vacation and experience the most inviting sunny journey just by simply staying here.
スペース
Here you can feel art around you, enjoy the pleasure of this cozy and sunny house has brought to you . We have devoted every effort to decorate this house thus you can see beautiful DIY around. Those paintings will make you feel comfortable and relaxed.
Indoor: Newly remodeled and beautifully decorated.
Upstairs is a Master Room with a bathroom and 1 King bed and 2 bedrooms with 2 double beds respectively ,but there is only 1 bathroom. Every room with TV sets can bring much fun for your stay .
Gourmet kitchen, and top accommodations. It comfortably fits 4 couples and is located on a quiet street . Amazing comfortable with breathtaking views and a true relaxing feel to it.
Kitchen,BBQ, cute garden, WIFI, laundry machine, dryer, toys for baby to play.
We sleep 8 people quite comfortably.
Outdoor: The location could not be better! Everything is just outside your door.
Great Restaurants, Shopping and Bars are just few minutes walk.
ゲストの立入り範囲
Surrounding you can reach
Lion Food Center 0.5mile(on foot 4min)
The Silliman Activity and Family Aquatic Center 0.4mile(on foot 8min)
Lion Market 0.5mile(on foot 4min)
Macy's 0.9mile(car drive 4min)
Walmart 2.1mile(car drive 6min)
Costco Wholesale 2.8mile(car drive 7min)
Safeway 2.3mile(car drive 8min)
Great mall 11.6mile(car drive 16min)
Golden Gate Bridge Golden Gate Bridge 42.5mile(car drive 50min)
Fisherman's Wharf 37.3mile(car drive 40min)
Chinatown 36.3mile(car drive 30min)
Twin Peaks 39.6mile(car drive 45min)
Newark Sports field Park 0.3mile(on foot 2min )
Community Center Park 3.3mile(car drive10min).
その他の特記事項
あなたが注意を払う必要があるもの: 家の中の家具は動かさないでください。 デポジット関連: Q:オーナーはデポジットを保有していますか? A:所有者は、所有者が家の中のアイテムを取ったり壊したりしたと主張しない限り、預金を保有することはできません。 関連する払い戻し事項: 予約をキャンセルすると、レンタル料の一部が返却されますが、Airbnbの代理店手数料は含まれません。 権限のない当事者は、レンタルの利用規約を破るとみなされます。エアバッグは気付かれ、予約はキャンセル(払い戻しなし)、追加の清掃と損傷のために保留された預金、あなた/ゲストは退去するよう求められます。 ご理解とご協力をいただきありがとうございます。
Things you need to pay attention:
Please do not move the furniture in the house.
Deposit related:
Q: Does the owner hold the deposit?
A: The owner can't hold the deposit unless the owner claim that the guests have taken or broken the items in the house.
Refund matter related:
If you cancel the reservation, part of the rentals fee will return to you ,but not include agent fee for Airbnb.
An unauthorized party will be seen as breaking the terms and conditions of the rental. Airbnb will be noticed, reservation canceled (no refund), deposit held for additional cleaning & damage, and you/guest will be asked to vacate.
Thank you for your understanding and care.
Extra details:
Please use the gas carefully. Gas is mainly used for heating,fireplace,water heater and dryer.
Please use the electronic equipment carefully.
The responsibility of any accident caused by misusing of the appliances in the house should be taken by guests themselves. We won't bear any responsibility and costs which includes but not limit to medical care, mental damage compensation ,lawyer fee and litigation fee.
Please do as following when you check out.
I am a kindergarten teacher. I love my job, because I love kids so much. They make me happy every day. I am a cheerful, friendly person. I'm very hospitable and easy-going. Warmly welcome you to California and choose my property !! I have devoted my heart to this Disney theme hou…
言語:
English、中文