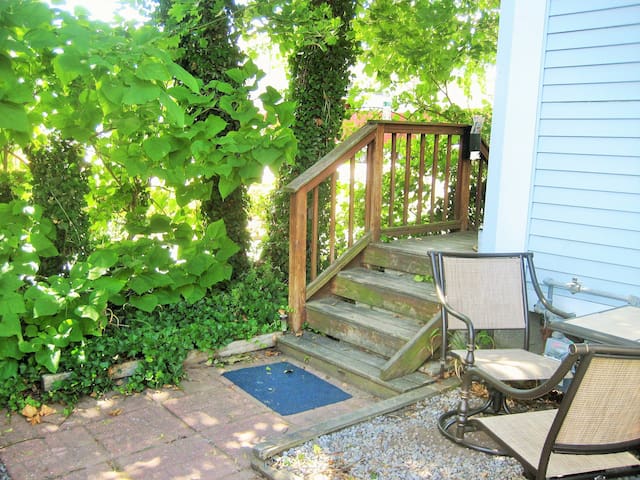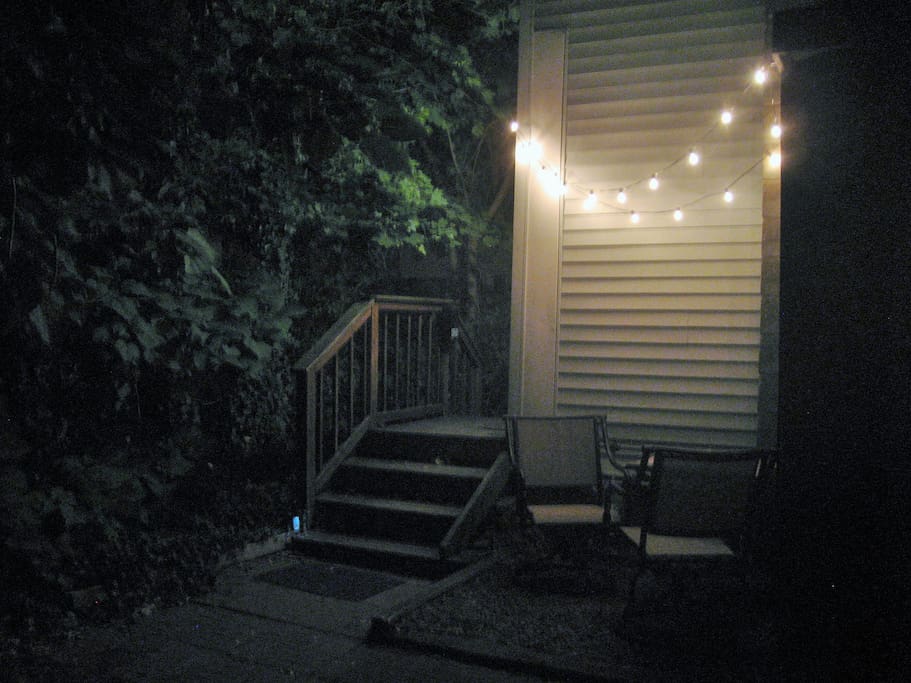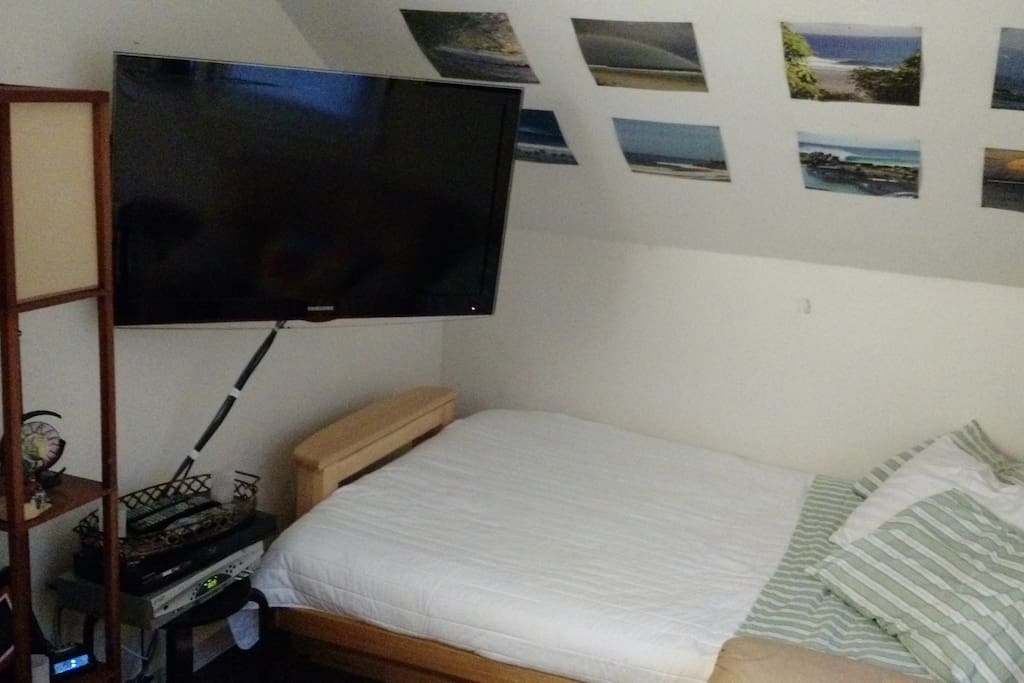 Patchogue Villageのプライベート2階アパートメント.30以上のレストラン、アートギャラリー、劇場があります。 PatchogueはフェリーとLIRR Patchogue駅の近くにFire Islandへの入り口として知られています。アパートから1マイル以内にある小さな美しいビーチもあります!東に40分、ロングアイランドの北フォークにあるハンプトンやワインの国に到着します。
Fully equipped, private 2nd floor apartment in Patchogue Village, home to 30+ restaurants, an art gallery and theater among other things. Patchogue is known as the gateway to Fire Island with the ferries and LIRR Patchogue station close by. There's also a small but beautiful beach within 1 mile of the apartment! A 40 minute drive east and you'll arrive in the Hamptons or wine country on the North Fork of Long Island.
スペース
*予定されているイベント:GreaterPatchogue com * この静かで快適なスペースは、居心地の良い言葉を定義し、美しいPatchogue Villageのロングアイランドへの滞在に最適な出発点として機能します。 リビングルーム/ベッドルームエリア - ケーブルとBlu-rayプレーヤー付きの40インチフラットスクリーンテレビ高品質のBluetooth対応サラウンドサウンドスピーカーは、あなたの聴いているすべてのニーズに対応しています.TVや映画にも使用できます。あなたの携帯電話、タブレット、またはラップトップを介して音楽を演奏する!2つのボードゲーム、バッテリー駆動の戦艦、ドミノと一緒にクローゼットから選ぶための幅広いムービー(DVDとブルーレイ)もあります。 ベッドはフルサイズのマットレスで、新鮮なシートとたくさんの枕があり、ラウンジには快適な豪華な椅子があります。また、ラップトップやタブレットを使用しながら完璧な作業スペースを実現するスライド式の椅子付きの小さなデスクもあります。ドレッサーは、クローゼットのように、ゲスト用に十分な収納スペースを備えています。 キッチン - 冷蔵庫、オーブン、コンロトップ、トースターオーブンなど、あらゆるニーズに対応しています。ポット、パン、料理に必要なものはすべて手元にあります。私はまた、紅茶とインスタントコーヒーの配列を提供しています。 バスルーム - 大きなシャワーと浴槽エリア。あなたのトイレタリー用の収納スペース付きミラー。すべてのサイズのタオルが、シャンプーや石鹸などの基礎とともに提供されています。 このスペースは、快適性と利便性の高いレベルを維持しながら、都市生活からの完全な休暇を提供します。アパートは非常に居心地の良いだけでなく、2軒のレストラン、CVS、ビーチに非常に近くにあります。メインストリートのPatchouge Villageには、30以上のバー、レストラン、あらゆる種類のお店があります。
*Upcoming events in the area: check out GreaterPatchogue com*

This quiet, comfortable space defines the word cozy and serves as the perfect starting point for your getaway to Long Island in beautiful Patchogue Village.
Living room/Bedroom area - 40" flat screen TV with cable and Blu-ray player. High quality Bluetooth ready surround sound speakers are available for your all your listening needs. They can be used for TV and movies or can easily be hooked up to play music through your cell phone, tablet, or laptop! There is also a wide array of movies (DVD and some Blu-ray) to choose from in the closet along with 2 board games, battery powered battleship and dominoes.
The bed is a full size mattress with fresh sheets and plenty of pillows and there's a comfortable plush chair to lounge in. There is also a small desk with sliding chair that makes for a perfect work-space while using a laptop or tablet. The dresser has ample storage space for guests, as does the closet.
Kitchen - fully equipped and able to serve all your food related needs with its refrigerator, oven, stove top, and toaster oven. Pots, pans and everything needed to cook is on hand. I also provide an array of tea and instant coffees.
Bathroom - Large shower and tub area. Mirror with storage room inside for your toiletries. Towels of all sizes are provided along with basics such as shampoo and soap.
This space provides the perfect getaway from city life while maintaining a high level of comfort and convenience. Besides being ultra cozy the apartment is located extremely close to 2 restaurants, a CVS, and the beach. Just a bit farther lies the heart of Patchouge Village, Main St. Home to 30+ bars, restaurants, and shops of all kinds.
ゲストの立入り範囲
プライベートサイドエントランス付きのプライベート2階アパートメントを利用できます。これはどんな種類の共有スペースでもありません。メインフロアには通常営業時間内にのみ営業するビジネスがあります。メインフロアのビジネスが終了すると、お客様はバックロット全体にアクセスできます。このスペースは、2つの椅子を備えたパティオのテーブルで夜にリラックスするのに最適な場所で、私が提供するグリル付きのBBQを用意しています。 ゲストには、自転車とビーチ用品(椅子、傘、クーラー)がある倉庫があります。
Guests have access to a private 2nd floor apartment with private side entrance. This is not a shared space of any kind. There is a business on the main floor that only operates during normal business hours. Guests have access to the entire back lot once the main floor business closes. This space is a perfect place to relax at night by the patio table with 2 chairs and maybe have a BBQ with the grill I provide.
Guest also have access to the shed where bikes and beach gear are located (chair, umbrella, cooler).
ゲストとの交流
ゲストがスペースにアクセスできるようにする最初のミーティングのほかに、最小限のやりとりがあります。私のスケジュールでは列車の駅や空港からのピックアップが可能ですが、空き状況については到着前にお尋ねください。私はあなたの滞在の間常にテキストメッセージまたは電話で離れており、私はPatchogue村、Bluepoint / Bayport、Sayvilleなどの地域についても非常に精通しています。 Fire Islandフェリーの場所とスケジュールに関するパンフレットと情報が提供されています。基本的に通り沿いには3つのレストラン、CVS、アイスクリームがあります.Patchogue村のダウンタウンまで東へ15-20分歩くともっと便利です! また、車で旅行する場合は、通りの駐車場があります。
Beyond the initial meeting to give guests access to the space, there will be minimal interaction. When my schedule allows I can provide pick-up from the train station or airport, please inquire prior to your arrival about availability. I am a text message or phone call away at all times during your stay and I am also very knowledgeable of the local areas including Patchogue village, Bluepoint/Bayport, and Sayville. Brochures and info about the Fire Island ferries location and schedule are provided. There are 3 restaurants, a CVS, and an ice cream place basically across the street and much more if take the 15-20 minute walk east to downtown Patchogue Village!
There is also plenty of private off street parking available to you if you're traveling by car!
その他の特記事項
* The apartment is cozy, but small. About 650 sq feet to be exact. It is perfect for couples but it may be too cramped for other guest situations (2 adults not comfortable sharing a bed).
* A car is highly recommend BUT getting around without one is completely doable, especially with the provided bikes. It is a 18-20 minute walk to the downtown area and a 20 minute walk (1.1 miles) to Corey Beach. A 15 minute bike ride will get you most anywhere you'll need to go.
* Street noise - at night the apartment and surrounding area are as serene as could be BUT the apartment is located on a main street that, starting around 8am, is quite busy. If you are a light sleeper this may not be the space for you. Personally, it does not bother me having living in New York City for a period (on the rare occasion I'm able to be sleep in late) but I felt the need to inform as a handful of reviews have made mention of it.
Please treat my apartment as you would your own living space
-No additional unauthorized guests w/o prior notification
-No smoking in the apartment
-Please take off your shoes in the living room/bedroom area and the bathroom
-Free off street parking is for 1 car only
-Park your car in the back parking lot facing west (parallel to the street)
-Please bring in any mail I may get ( it's 99% junk mail but can't let the box get too full)
-Have fun and enjoy yourself!