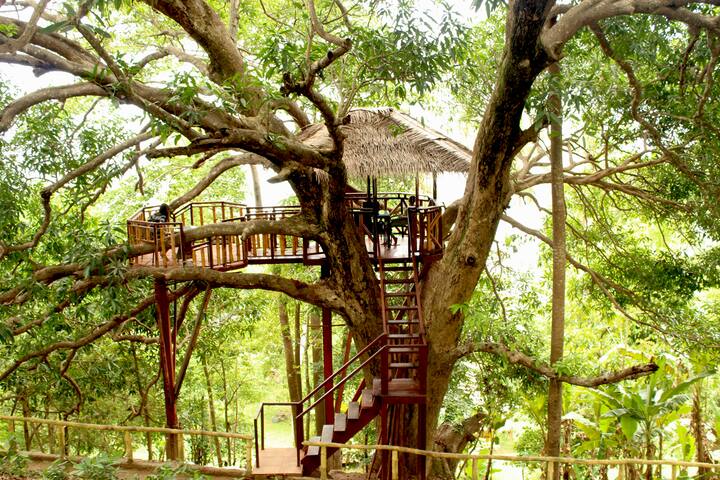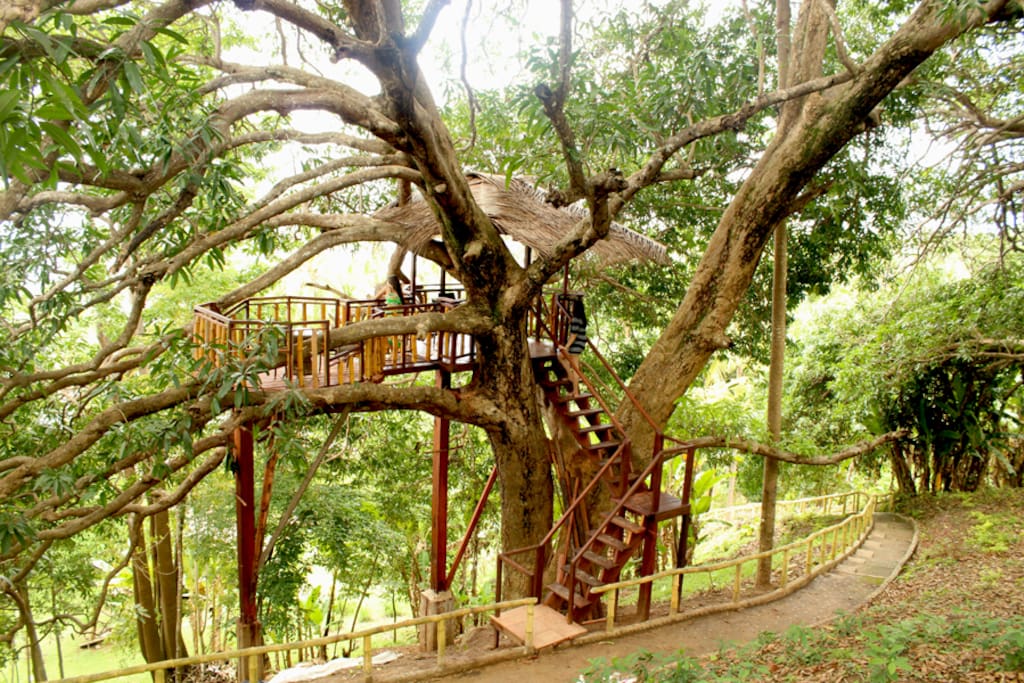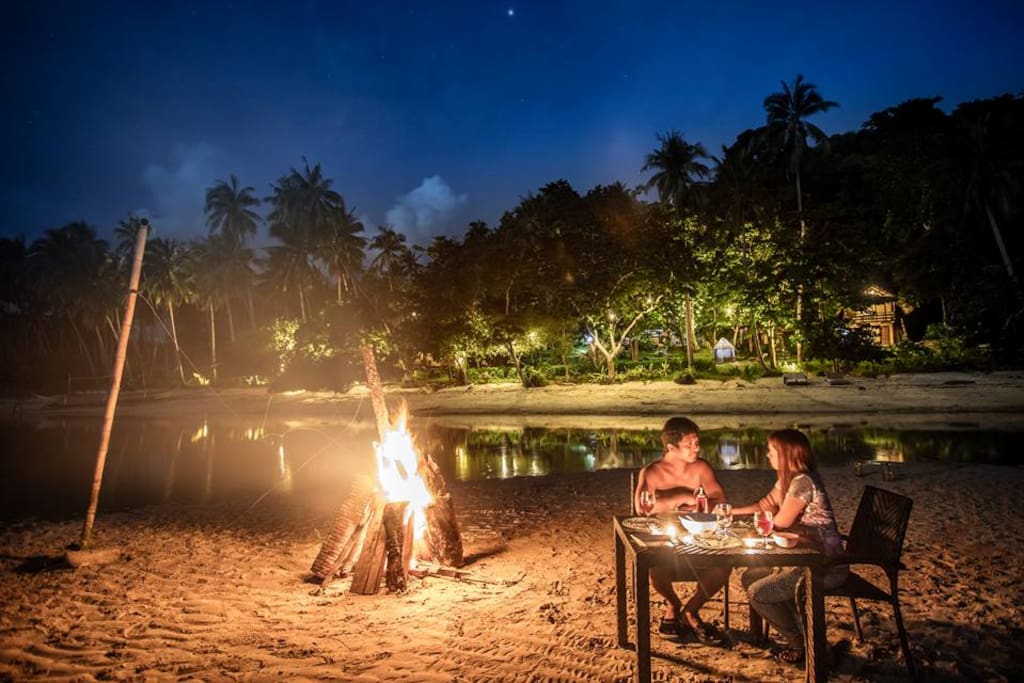 場所そのものだけでなく、完璧な&忘れられない旅行パッケージ:無料空港送迎、終日の食事、リゾートアメニティー、ツアーアレンジメント&ガイド。 リラックスした景色、最高のビーチ&シュノーケリングサイト、フレッシュフード!パラダイスの部分に滞在してください!
Not just the place itself but COMPLETE & WORRY-FREE VACATION PACKAGE: FREE Airport Transfer, Full-day meals, Resort Amenities, Tour Arrangement & Guides.
Relaxing Scenery, Best Beaches & Snorkeling Sites, Fresh Foods! STAY IN A PIECE OF PARADISE!
スペース
私たちの場所は約8000平方メートルの100mの砂浜のビーチフロント、美しい島々、エルニド&リンパカン、パラワンのビーチに面しています。シュノーケリングに最適な素晴らしいCORAL REEFSから近くです。 素敵で快適な寝具を使用した天然素材(ウッド、バンブー、コゴングラス)でできた3つの広々としたバンガローがあります。私たちを取り巻く自然の美しさ、ビーチ、島、森と完璧に調和しています。私たちはAircon Roomを持っていないので、それはまったく必要ありません。海の微風や木々の新鮮な空気が私たちを取り囲んでいます。 財産の背部は、100年前のマンゴの樹が位置するところで少し高いです。私たちはあなたが滞在するのに最適な場所であるエル・ニド・ベイのパノラマ・ビューを目の当たりにする木の家を建てました。 私たちの電源は10KWジェネレータからのもので、通常は午後5時30分から午前9時30分まで実行しますが、必要に応じて昼間も実行できます。 発電所が稼働していないと、ツアー中や日中にバッテリーが消耗したときにいつでも使用できるパワーバンクもあります。
Our place is around 8,000 square meter with 100 meters sandy beachfront, Fronting beautiful Islands, beaches of Elnido & Linapacan, Palawan, near from stunning CORAL REEFS which is really best for snorkeling.
We have 3 Spacious Bungalows made with Natural Native Materials (Woods, Bamboos and Cogon Grass) with nice and comfortable bedding. Perfect mixed with the beauty of nature that surrounds us, Beach, Islands and Forest. We don't have Aircon Room as we don't need it at all, Sea breeze and Fresh Air from trees surrounds us are good enough.
Back portion of the property is bit high where our Hundred Year Old Mango tree is located. We built tree house in it where you can witness the Panoramic View of El Nido Bay, a best place to stay.
Our electricity source is from our 10KW Generator, we usually run it from 5:30 pm to 9:30am but we can also run it during daytime if needed.
We also have available powerbank you can always use when battery drained during your tour or at daytime if generator is not running.
ゲストの立入り範囲
あなたは、場所の各部分を使用してアクセスすることができます。私たちのカヤック、パドルボードは、常にスノーケリングギアとライフベストと一緒に自由に使用できます。
You can use and access all of each part of place. Our Kayaks, Paddle board, are always free to use with snorkeling gears and life-vest.
ゲストとの交流
あなたがパラワンに着陸した時、心配から解放されてください。ニースとエアーコンディションバンを利用して空港からお迎えし、快適な旅行にお応えします。あなたがチェックアウトしたときにも空港に降りることができます。 私たちはあなたが島を探索し、私たちのエリアの近くのシュノーケリングサイトに行くことができるエンジンボートを持っています(しかし、あなたはディーゼルを支払う必要があります)。そして、私たちのBanca Captain&Crewはあなたを案内し、移動しながら。 朝食、昼食、夕食、紅茶とコーヒーが価格に含まれています。私たちが準備する食べ物はすべて伝統的なフィリピン料理です。これらはすべて新鮮で健康的です。あなたが望む特別な食べ物を食べたいと思ったら、事前にお知らせください。 私たちのスタッフはいつでもあなたの必要なものすべてを手伝ってくれるでしょう。 我々はあなたが別々に購入できるアルコール飲料のみを在庫しています。どのようなアルコール飲料が好きなのかを事前に教えてもらう方がいいので、それを準備することができます。
The time you landed to Palawan, be free from worries. We will be picking you up from the Airport using Nice and Air Condition Van for comfortable travel and will bring you to our place. And when you check out its also free to drop you off to Airport.
We have Engine Boat you can use to explore islands and go to snorkeling sites near in our Area, again ITS FREE TO USE (But you need to pay for the Diesel) and our Banca Captain & Crew will go to guide you and prepare your foods while on the go.
Breakfast, Lunch, Dinner, Tea and Coffee is included in the Price, All food we prepare are Traditional Filipino Cuisine and we make sure these are all Fresh and Healthy. If you feel like eating some special foods you want, please let us know in advance.
Our staff will be always around to help you in everything you need.
We only stock few alcoholic beverages which you can buy separately. So better to tell us in advance what kind of alcoholic drinks do you want, so we can prepare it for you.
その他の特記事項
私たちは群衆から遠く離れた場所に滞在することを選択しているので、私たちのエリアは本当に町の中心部に近くありません。バーから近くではなく、デパートの近くではなく、市場からも公のターミナルからも近くではありません。だから私たちに近づく前に、私たちは議論して&町のあなたの個人的なニーズをすべて購入するのに役立ちます。
As we choose to stay far from crowd, our area is not really close to town center. Not near from Bars, Not near department stores, Not near from the market and from public terminal. So before getting to us, we will be happy to discuss & help you to buy all your personal needs in town.
---
---
---
Since our Bungalows are made in Light Native Materials, We will be very thankful if you can throw your cigarette butts in proper area. NOT IN THE ROOF, NOT IN THE WALLS.
And our MAIN RULE, is that you have to ENJOY everything in our place. So please always tell us if you feel and see something wrong so we can always do something about it.
---
---
---
Sam and his crew provided us the trip of a lifetime! The property is extremely secluded and private, but not too far from town. The highlight was definitely casting off from the private beach on a kayak to paddle around the pristine waters and not see another person. We also had a blast traveling around on their boat and snorkeling -- one of the guys actually dove down and caught a squid with a knife (which we had for lunch and dinner!). A real authentic experience from start to finish.
---
This place is amazing! Quiet and secluded it feels like your own private resort. Sam was great communicating with us before the trip, letting us know what we might want to bring and where to meet us. And Beth was great as well! Despite my communication not going through the night before our stay, she waited for us at the boat dock and ushered us to their property. There were 6 of us and more space than we needed. Lovely airy rooms and amazing tree house with a view over the bay (but a workout to get up there). We all had a great time relaxing at the house, around the beach, and on the boat tours they organized for us. Take advantage of the private boat! There are some amazing beaches and coral gardens very close by (~1 hour or less). And bring some beers and for the boat! They have a fridge and coolers to keep everything cold. The chef and food were amazing too! Both at the property and on our boat day trips delicious fresh seafood, fruit, salads, and chicken. We had food allergies and they were very accommodating, no problems at all. All of the staff were fun, friendly, and helpful. As other have said - they can arrange other tours, cars/vans, toys, etc as needed. There are countless hammocks and loungers to laze the days away at the property if swimming/boating isn't your thing. The wifi at the property was a bit spotty. They have a portable hotspot that works VERY well in the treehouse but was so-so near the kitchen. Not a huge problem - just climb up and enjoy the view!
---