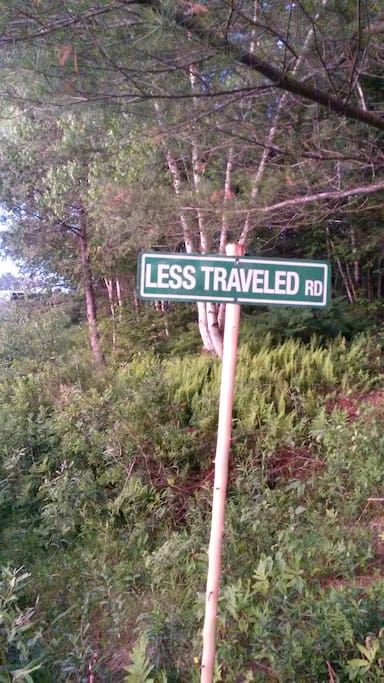 Located on a working farm in the Northeast Kingdom of Vermont the Gypsy Wagon is tucked into the woods, off-grid, deeply serene, whimsical, primitive. Clean water provided (will need carried in for a winter stay). Outdoor private privy, battery operated lights, potbelly stove, and an outdoor fire ring. Reminder: no running water or electricity. Cell cover patchy. Winter guests should be the sort comfortable stoking fire and carrying water. Firewood, snow-shoes, coca and candles.
スペース
You will be the only ones in the woods in this wagon. It is spooky and delicious at night. Though there is no shower at the wagon we have indoor shower facilities close by available upon request. WiFI is only available in the nearby house. If you need a LAN line you are welcome to let us know before 9 pm unless it is urgent. The bed is comfy yet quite small, a bit smaller than a double. My husband and I enjoy the closeness but be prepared to cuddle. Sleeps 1 comfortably or 2 people who really like each other ;-). This is truly a tiny house, 7X14.
ゲストの立入り範囲
You will have access to the walking/skiing trails located on the 75 acre property. Or you may want to take the short drive to the cross country ski trails in the Craftsbury Outdoor Center. You are welcome to stop by and see my bob-tail mare, Ruby, and her goat companions; Brownie and Danny Boy.
ゲストとの交流
Feel free to pop up to the house and talk to Larry and I if we are around. We ask that you come by before 9 pm unless it is urgent. We are early to bed, early to rise.
その他の特記事項
Due to no electricity, outdoor privy, walking trails and short walk up to the wagon from the parking pad, wise to bring clothes/boots suitable for our wonderful fall/winter weather.
- The wagon is small and would be comfortable for 2 very friendly people or a solitary traveler and a small, well-behaved dog.
下記事項もご了承ください
階段を登らないとたどり着けません - There are steps up and into the wa
ペットがいます - We have a mare, 2 goats and a dog. You may never see them.
共用スペースあり - If you want to use the indoor bathroom, please let us know and we will show you a shared bathroom with one other tenant.
The gypsy wagon is magical! We had a wonderful long weekend here and it was the perfect place to de-stress and get cozy. It is even sweeter than the photos. There was snow on the ground and it got down to 7 degrees, but the wood stove kept the cabin toasty. We were able to make some delicious dinners with food from town and the stove and utensils in the wagon. Larry and Gwen were great hosts - there if we needed them in the main house. We totally recommend this to enjoy the NEK and to get away from it all!
---
We had a wonderful time at the Gypsy Wagon, the space is super comfortable and super functional! Our only regret is only booking it for 2 nights instead of three :)
---
Wow! This was our first experience with Air B&B and I don't know how anything can live up to this experience. The gypsy wagon was like being transported to a different time and place. We felt completely secluded in our little spot in the woods but we were still close to an amazing brewery, suggested by our host, and local shops. The wagon was beautifully crafted and super cozy and while having no electricity or running water, we had everything we needed and we are very inexperienced when it comes to camping. Larry was such a gracious host, he gave us our privacy but was there to give us suggestions on great places to go too. Be sure to meet Ruby and Tinkerbell while you're there too! The scenery during fall was astounding. Add this to your bucket list, this place is an absolute must!
---
We had a magical stay in the wagon! Everything has been thought of! We felt like we were in a magical forest! Gwen and Larry are very welcoming! They let us use the shower in the house at every hour and that was pretty helpful! Everything was great! We had everything we needed and wood was retocked for us without even asking :) Thanks again for sharing this place! I think one of our friends will book with you after seeing the photos we shared of our little getaway!
---
I am originally an urban Midwesterner who gratefully made my way to the Northeast Kingdom, Vermont which is like taking a giant step back in time. There is a substantial local agrarian economy, general stores, and working farms. This land where we live is surrounded by unspoiled and outlandish natural beauty in all directions. With our days and by the seasons, we tend gardens, care for the barn animals, maintain and build trails, play and work through the winter folly, soak in the beauty year-round and eat great local food that Larry prepares. We also have 'day jobs'. Besides being a fab cook, Larry farms, is a builder and table maker (see Vermont Heritage Tables online). I maintain a small private mental health practice. Larry is an avid sci-fi reader where I am more likely to binge on Netflix. We both have lived and worked abroad separately and together. The next big trip we are planning is to Vietnam. Neither of us have traveled to the East before. Cheers!