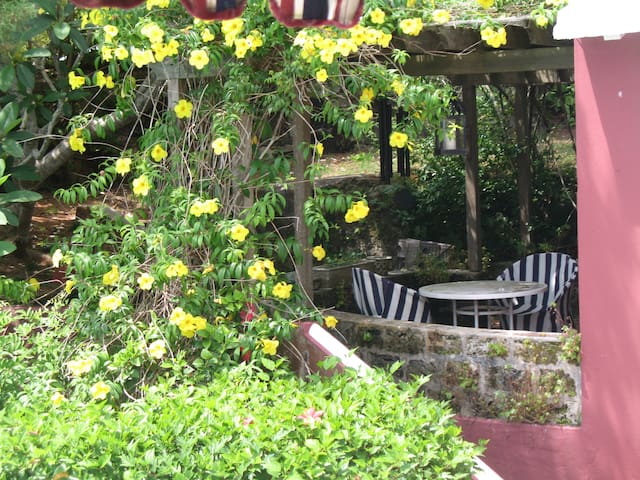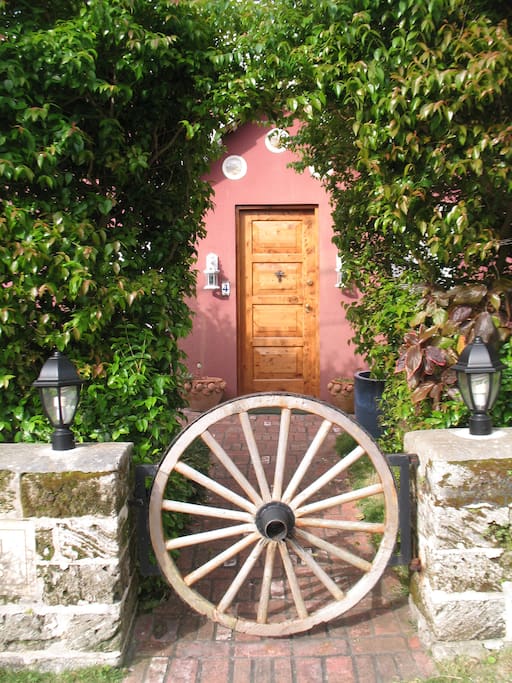 Peace and Tranquility in Bermuda!
Let the soothing sounds of flowing water of the lovely pool and the gentle songs of tiny tree frogs provide the backdrop for your Bermuda escape. This tranquil studio apartment provides all the necessary amenities for a home away from home.
You can really decompress here - leaving your worries and stresses far away! There is a relaxed, laid back vibe here that the guests love.
The location lends itself to both privacy from the outside world and easy access to all the great things to do!
---
---
---
連絡は常にAirbnbを通して行いましょう
お支払をお守りするためにも、Airbnbのサイトやアプリ以外の場所では決して送金や連絡を行わないようご注意ください。
詳細はこちら
---
This is an entirely No Smoking property.
AC must be left off when guests are not in the apartment.
When AC is on, close all windows and doors as not to waste electricity.
No children are allowed with a parent under the age of 11.
Only two guests allowed to stay in the apartment.
Because this is our home, no unauthorized guests are allowed on the property.
If you need additional cleaning services during your stay, it is at a cost of $90. each time.
Please keep dishes clean to avoid ants, etc... (we are a subtropical island) Place trash in appropriate container so that ants are not enticed. Please keep wet towels hung up on drying rack provided, or give to host for laundering as needed. Thank-You!
Check in is at 3 p.m. and Check out is at 11 a.m.
When leaving the property, securely lock doors and switch off lighting (except outside light if you want it on), small appliances, AC and water to conserve resources.
Upon check-out leave key on table and close all doors behind you.
---
厳格
宿泊7日前までにキャンセルすると料金の50%が返金されます。それを過ぎると返金不可となります。
---
---
---
Karen's place at Angel Mews is seriously the best local experience you are going to get on the island. Her apartment is tucked away in a private oasis with a pool that we definitely took advantage of when we wanted to relax and an amazing private patio area where we drank our coffee in the morning. The space itself was very comfortable, well maintained and had everything we needed. We enjoyed listening to the sounds of the whistling frogs at night and feeling relaxed in general. The location was a great middle point to everything you wanna do. Though we spent a lot of time at the beach, we did hop on the bus to Hamilton a couple times and the bus stop is literally a 3-5 minute walk away. For food, we enjoyed going to Island Cuisine and trying out Johnny bread and having some delicious ice cream over at Scoops! There's also a great hiking trail near Karen's place called the Railway Trail which used to be a 22-mile long railway that served as a commuter train in Bermuda in the earlier 1930s to 40-- it ended up closing and now serves as a hiking trail for people to walk through - this is literally up the hill and was really cool to run along and get a workout in prior to starting the day. Karen also set us up with Annie, her driver who was definitely a highlight of our trip (her laughter and sense of humor is infectious!) as she picked us up at the airport and took us to the market and gave us a mini tour and had so much knowledge about the island. The apt is also close to the Fairmont Hotel which we did use their free shuttle to get over to Horseshoe Bay but used Annie's tip in walking over to Warwick Long Bay for basically what felt like a private beach to ourselves! Karen and Danny were very warm people with helpful tips on making sure we saw and experienced Bermuda like a local and we really look forward to returning! Thank you again!
---
Wonderful studio apartment within a walled garden. The apartment is lovely with much attention to detail. Everything we needed was there, including a snack basket and beach towels. We felt like we had a private pool, as our hosts were out quite a bit, but reachable. They gave us a number of excellent tips for activities that fit our interests and schedule. Aside from the beauty and serenity of Angel Mews, the location is prime. We were just a short 5 minute walk from two bus stops, could walk to a nice food store and a number of good restaurants. The Wok is great for takeout of a variety of ethnic foods and very good. We highly recommend Karen's place if you're looking for a quiet retreat, when you're not out and about enjoying Bermuda.
---
Tranquil place,clean and tidy,all needs provided for. Very friendly hosts. Should we ever visit Bermuda again,this is where we will stay. Convenient for bus route. Use Annie for your taxi from the airport,knowledgeable about the island and will take you for groceries on way to accommodation for following morning. Thank you Karen.
---
We had an amazing stay at Karen and Danny's. They were both so kind to us. Danny supplied snorkeling gear and info as to where we could find caves/hikes. The space was amazing. We cooked breakfast every morning, slept to the sounds of a million frogs and crickets, and found ourselves on the best beaches with no issue what so ever. The driver Annie was also a doll. We had a miscommunication with her on arrival time, but she was still waiting for us and was as kind as can be. We'll definitely return if they'll have us!
---
This place is a must book! Karen provides an absolutely blissful experience. From the small touches in the apartment like having an insulated bag to take lunch to the beach to the pool! Karen supplied snorkel gear as well. We felt as if we had the place completely to ourselves. It was a true home away from home. The apartment was beautiful and inviting with beautiful woodwork and a perfect sized kitchen. The apartment was so clean and kept very well. If you want an authentic experience, book this place. It's location is very close (within 100m) of 2 bus stops and walking distance to grocery store. Beaches so close. I have zero negative things to say about this place. Karen also has a driver available (Ann) and she is absolutely a blast. She drove us around when we landed around gave us a tour then stopped us to get our weekly bus passes and even to the grocery. Will definitely try to stay at this place again!
---
Great place to make your trip to Bermuda much more affordable and still relaxing. The house is very close to the bus route, which can take you to Dockyard or Hamilton, both big hubs for activities, food, shopping, etc. It's also close to the Fairmont Hotel, which serves as a great landmark for you, taxis, bus drivers, etc. Annie, who picked us up at the airport, was very kind and gave us a tour of island on our way to Karen's and also stopped by the grocery store before we got to Karen's house. She also gave us the great tip of using the Farimont's shuttle (for free!), which can take you from Karen's house and drop you off at their private beach, which is a 5 min walk from Horseshoe Bay and 15 walk, along the beach, from Warwick shore (just as nice as Horseshoe, just without the crowds :). Karen's house has a great and relaxing pool (no chlorine! Salt water pool. It's awesome). The apartment comes with everything you need: towels, tour guides/flyers in the rooms, cooking utensils, pots, pans, A/C, etc. Karen's property is a nice nook in the middle of the island that offers a great getaway without sacrificing the convenience of being close to accessible transportation. Karen and Danny are great hosts. They'll make sure you have everything you need and are happy to help you with must-do's in Bermuda. Definitely recommend Angel Mews. We had a lovely time!
---
I am holistic practitioner at both My Sereni-Tea in Hamilton and Angel Mews Healing Studio, below your apartment. I love to meet new people, travel, listen to music and read books. As your host, I aim to answer any questions you have. I know many beautiful spots on the island that tourist don't really know about and will happily share this information with you upon request. I make sure that the energy and environment at 'Angel Mews' allows you to leave rested and refreshed. Holistic Therapies are available as time allows in the treatment rooms below my airbnb apartment. Therapies available: Acupuncture, relaxing Energy/Chakra Balancing, Chinese Medical Massage, soothing Back, Neck and Shoulder Massage and Ro-Hun card readings as well as Spiritual Counseling are available at Angel Mews Healing Studios. See my
言語:
English