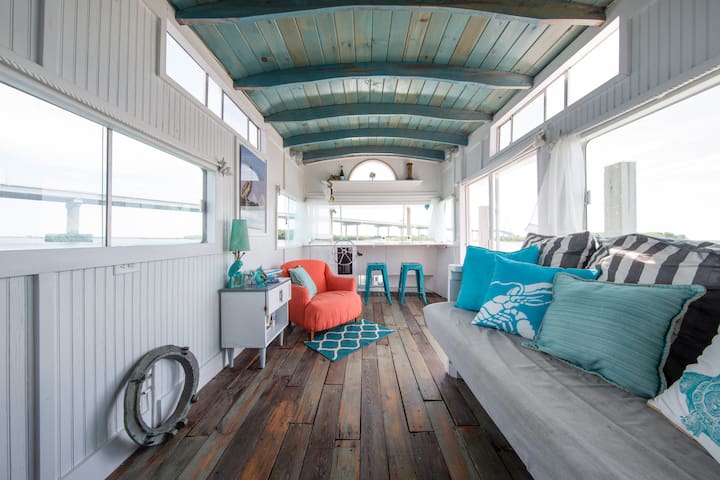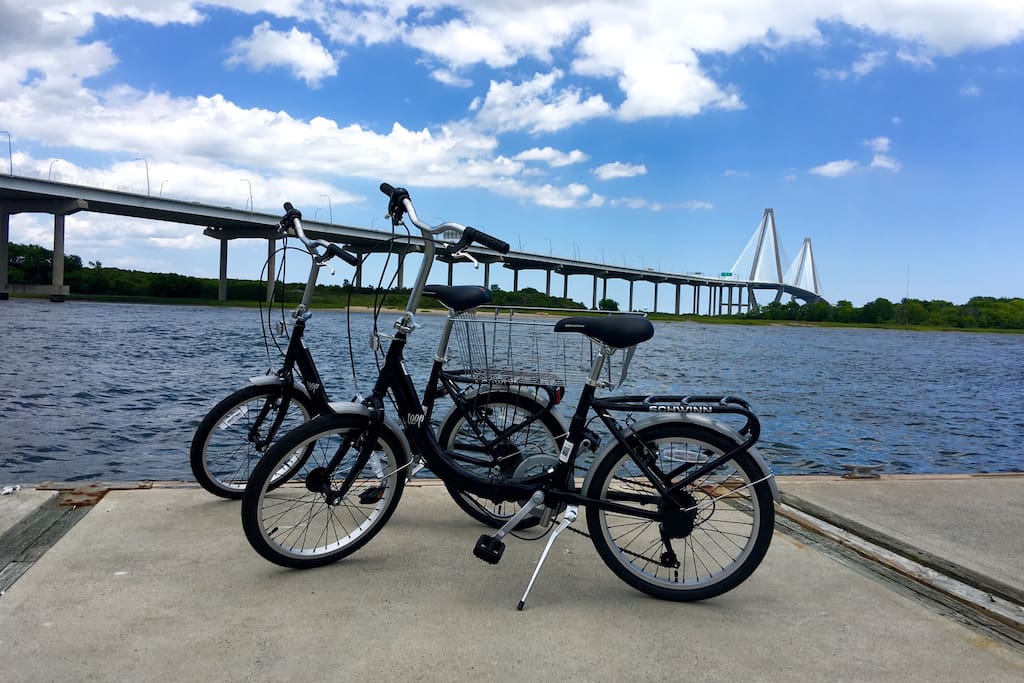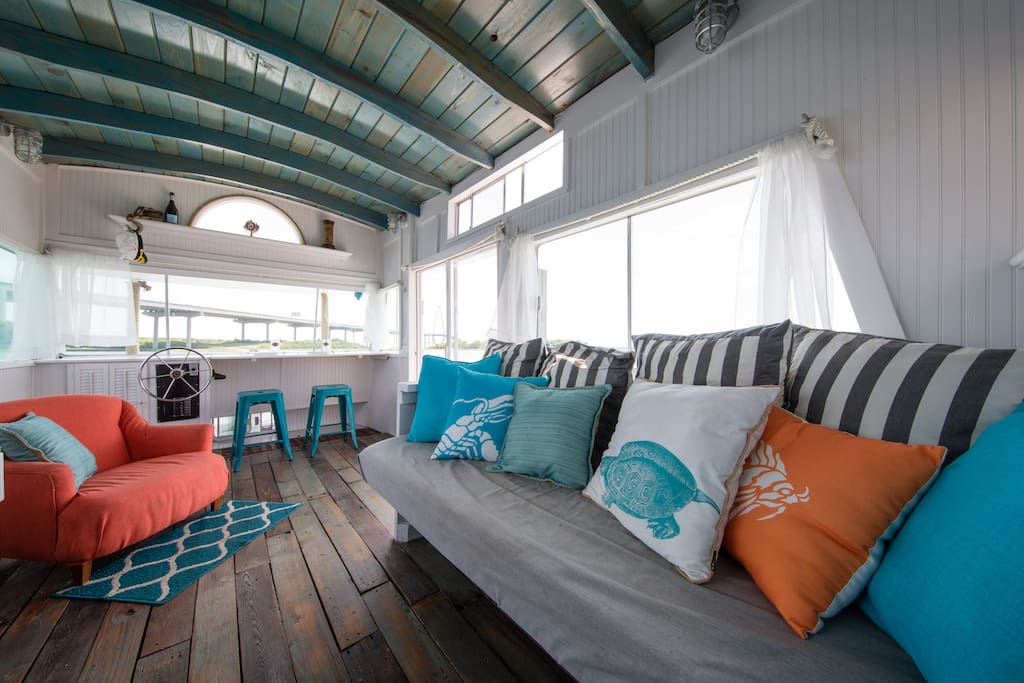 他にもレンタル可能な5種類のボートをチェック! Pirates LifeはTiny House Huntersに登場しましたが、小さなものからは遠いです!冬に暖かく暖かく、夏にはリフレッシュに涼しい。この浮かんだ住居は、埋め立てられた材料、汗、愛を使って掘られ、完全に再建されました。彼女は広々とした、快適で、そして平和な彼女を見つけるでしょう。このボートの場所は、静かで、プライベートで静かな休暇を求める人々のためのものです。港を見下ろす大きなデッキでコーヒーとカクテルをお楽しみください。
Check out our 5 other boats available for rent as well! Pirates Life was featured on Tiny House Hunters, but far from tiny! Stays toasty warm in winter months and refreshingly cool in the summer. This floating abode was gutted & completely rebuilt using reclaimed materials, sweat, & love. You'll find her spacious, comfortable, & peaceful. The location of this boat is for people looking for tranquil, private, and quiet getaway. Enjoy coffee & cocktails on the large deck overlooking the harbor.
スペース
FYIネットワークのTiny House Huntersに注目! メインキャビン(リビングルーム)に天井が12インチの非常に広々としたハウスボート。快適に3眠る。キャプテンズクォーターズ(ベッドルーム)のクイーンサイズベッドと、リビングルームのツインベッド(デイベッド)で移動する部屋がたくさんあります。 ボートはSeabreeze Marinaのプライベートスリップのダウンタウンにあります。この宿泊施設は、ユニークで美しいハウスボートで平和と静けさを求める人々のためのものです。マリーナの設定は静かで静かです。あなたのプライベートスリップでは、チャールストン港とラヴェルネル橋の素晴らしい景色を楽しめます。 よくある質問: Q:バスルーム、説明してください! A:ボートにはハウスサイズの給湯器が備わっていますので、ボート全体に温水を供給できます。しかし、船に乗っていることを知っている。長い熱いシャワーは難しいことがあります。しかし、10~15分のシャワーを楽しむのに十分なお湯を常に用意しています。ボートにはフルサイズのトイレがあります。私たちはあなたが常に詰まることがないように、マリングレードのトイレットペーパー(付属)を使用するようにお願いします。 Q:熱?交流? A:私たちのボートは熱とACの両方を備えています。あなたが訪れる年の時間にかかわらず、あなたは素敵な快適な環境に滞在することが保証されることができます! Q:ホテルとは何が違うと思いますか? A:それはボートです。ユニークなFUN体験です。ボートから期待される騒音や匂いがあるかもしれません。ポンプ、モーター、海水など Q:波動は? A:マリーナには波を薄める海の壁があります。まだ少しの波動があり、あなたは時々微妙な揺れを感じます。悪い嵐がある場合、または波のアクションがあなたの滞在がもはや楽しいものではない点に達した場合、私たちはあなたのための代替宿泊施設を用意します。あなたの快適さが私たちの最優先事項です。このオファーは、大きな嵐のために異常な波がある場合のみです。マリーナがほぼ完全にフラットで落ち着いている時間の99%。 Q:ハンディキャップは利用できますか? A:いいえ.1~2分足らずでボートに足を踏み入れる必要があります。デッキの階段は急なので、足を踏んだりする必要があります。 Q:スペース? A:あなたは非常に広々とした快適なボートのレイアウトを見つけるでしょう。
Featured on FYI Network's Tiny House Hunters!
Very spacious houseboat with vaulted 12' ceiling in the main cabin (living room). Sleeps 3 comfortably. Lots of room to move around with a queen size bed in the Captain's Quarters (Bedroom) and a twin bed in the living room that's a day bed.
The boat is located downtown in a PRIVATE slip at Seabreeze Marina. This accommodation is for people looking for peace and tranquility in a unique and beautiful houseboat. The setting of the marina is quiet and secluded. In your private slip, you'll have a stunning view of Charleston Harbor and the Ravenel Bridge.
FAQ:
Q: Bathroom, explain!
A: The boat is equipped with a house sized water heater ensuring you get hot water throughout the boat. Know, however, that you are staying on a boat. Long hot showers can be difficult. But you'll always have enough hot water to enjoy a 10 - 15 minute shower. The boat has a full sized toilet and we ask that you ONLY always use marine grade toilet paper (included) to ensure it never clogs.
Q: Heat? AC?
A: Our boats are equipped with BOTH heat and AC. No matter the time of year you visit you can be assured that you will be staying in a nice comfortable environment!
Q: What to expect that's different than a hotel?
A: It's a boat, it is a unique FUN experience. There may be noises and smells that you'd expect from a boat. Pumps, motors, ocean water, etc.
Q: Wave action?
A: The marina has a sea wall which dilutes the waves. There is still a small amount of wave action and you'll feel a slight rock from time-to-time. If there's a bad storm or the wave action gets to a point that your stay is no longer enjoyable, we will work out alternative accommodations for you. Your comfort is our top priority. This offer is only if there is abnormal waves due to major storms. 99% of the time the marina is almost totally flat and calm.
Q: Handicap accessible?
A: No. You'll need to get on the boat which requires a 1-2' step and there are steps on the boat. The deck stairs are steep and you'll need to be sure footed.
Q: Space?
A: You'll find the layout of the boat extremely spacious and comfortable.
ゲストの立入り範囲
あなたは約50ヤード離れて、できるだけボートの近くに駐車することができます。あなたが荷物を運んで、ランプに乗って船に乗るためにそれらを使いたいなら、ドックカートがあります。 予約時にボートにアクセスするためのアクセスコードを取得します。このコードを使用して、昼夜のいつでもボートにアクセスできます。
You get to park for free as close to the boat as possible - about 50 yards away. There are dock carts if you want to use them to haul your luggage and stuff down the ramp to the boat.
You will get an access code to get onto your boat at the time of your reservation, you use this code to access the boat at any time of the day or night!
ゲストとの交流
あなたは到着前に滞在のためにボートにアクセスするために必要なすべての指示が与えられます。私どもは、いつでもご質問やご不明な点にお答えすることができます。私たちは、あなたが楽しい滞在をお過ごしいただくためにできるだけ早く、個々の問題に取り組むために全力を尽くしております。あなたの満足度は#1の目標です!
You will be given all instructions needed to access the boat for your stay prior to arrival. We are always available to answer any questions or concerns for you, and we do our best to address any individual problems ASAP for you to ensure you have an enjoyable stay! Your satisfaction is our #1 goal!
その他の特記事項
私たちは1泊分のレンタルで即時予約を受け付けませんが、予約リクエストに迅速に対応します。ほとんどの場合、私たちは数分以内に対応します。 ベッドルームにはクイーンサイズのベッドがあります。第三者は、すべての枕が取り外されたときに、ツインサイズのマットレスに変換するソファで寝ることができます。 PETS:事前承認付きで許可されます。返金不可のペット料金$ 75が請求されます。以下のカテゴリーに分類されるペットは受け付けていません。 過度に吠えない犬はいません。 ドアを傷つける犬はいません。 他の犬を攻撃したり、追いかける犬は、他の犬の犬ではありません。 5歳以上でない限り、30ポンド以上の犬はいません。
We do NOT accept instant bookings for 1 night rentals but will promptly respond to a reservation request. Most of the time we will respond within minutes.
The bedroom has a queen sized bed. A third person can sleep on the sofa which converts to a twin sized mattress when all pillow are removed.

PETS: Allowed with pre-approval. Nonrefundable pet fee of $75 will be charged. We do not accept pets that fall into the following categories:
No dogs that bark excessively.
No dogs who scratch at doors.
No dogs who attack or chase other dogs as their may be other dogs from other guests.
No dogs over over 30 lbs unless over the age of 5.
Pet Policy: No pets UNLESS PERMISSION IS GRANTED ON A LIMITED BASIS. Please submit a reservation request describing your pet. If your pet barks while you're away or sheds a great deal then we ask that you not send a pet request.
A $75 Nonrefundable Pet Fee will be added to every rental to cover the additional cleaning fee we have to pay for cleaning the unit after the pet vacates.
Please be quiet & respectful.
Smoking allowed on outside deck only. Please dispose of all butts in a manner that will not start a fire on board.
Husband. Business owner. Traveler.