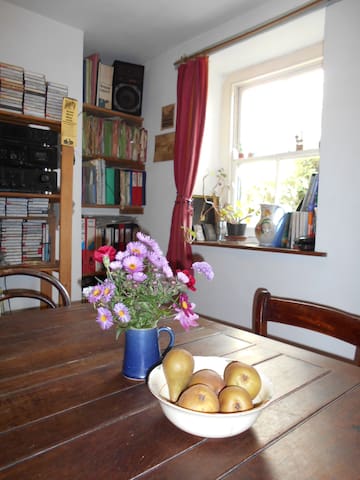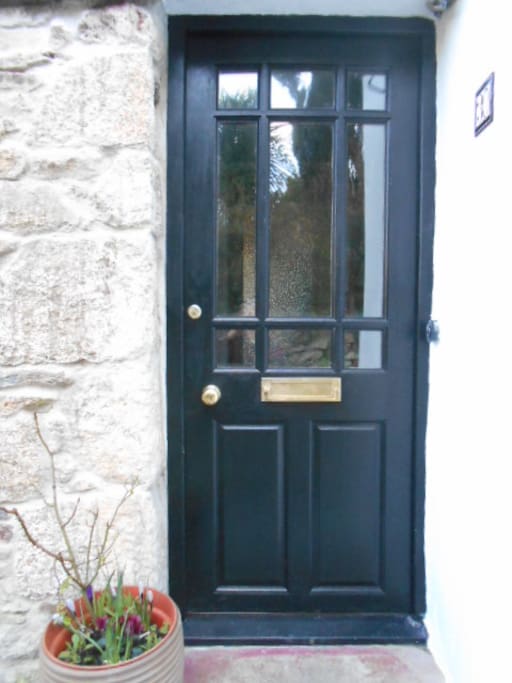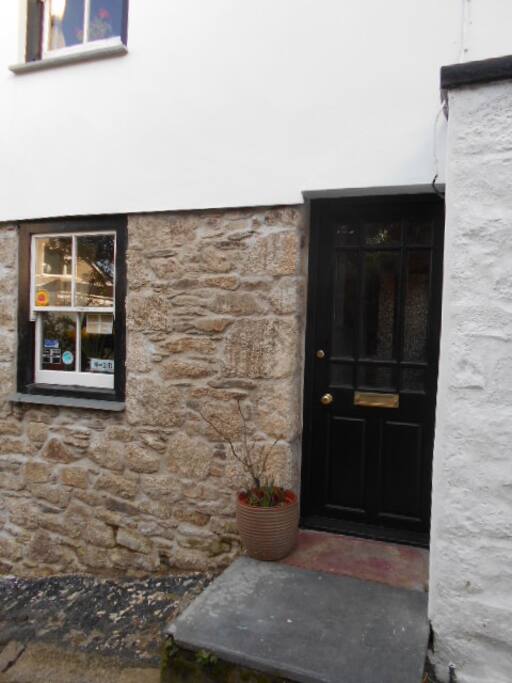 Central but down a quiet and steep lane, a somewhat quirky, small but quite spacious cottage, with the bedroom facing onto a garden, so lots of afternoon sunshine. Not a lot of mod cons but clean, welcoming and with a roaring wood burner in the winter.
スペース
A good sized double bedroom with cosy reading chair and large table space. Big cupboard and space in a chest of drawers.
The window faces onto a garden so weather permitting its flooded with sunshine in the afternoon.
Like the whole house, the wall paint in the bedroom is natural organic resin-based, free of solvents/VOC's; and the pillows are anti-allergy.
ゲストの立入り範囲
Downstairs - the living/dining room and kitchen are all but one space. There's a desktop computer you're welcome to use. Upstairs there's just the one bathroom (traditional bath, with a very basic hand held mixer - fine for hair washing but definitely not the full shower deal!).
I have a special little garden - full of wildlife and in season fruit and nuts for your picking; in the morning the sun streams onto a tiny yard where breakfast can be had... Guests are very welcome to make themselves at home inside and out, help yourselves to tea and coffee ... and not feel the need to hide out in the bedroom!
The check-in time is flexible but RELIES, please, on you letting me know, BEFORE ARRIVAL DAY what ROUGH time you'll arrive so I can plan my day accordingly and do my best to fit in (be aware, though, that there may be occasional days when I have to be at work late afternoon/early evening). You are always welcome to leave luggage for the day and go out, and pick it up before your train leaves IF I am available to be there...
ゲストとの交流
Lots or little - its up to you - but some decent craic, a cosy fire - and a proffered paw - are usually liberally offered unless I'm busy working (the hound rarely is..). I've lived in the cottage nearly thirty years and have a good lot of knowledge and probably more opinions than I ought about Penryn, Falmouth and local stuff. I know the countryside around here very well and can send you off to get seriously muddy in any direction you choose - you can even borrow the hound if you - and he - want!
There's sometimes a plate of something hot and tasty in the evening.. mostly fresh from the organic/veganic allotment.... which you can partake of or not. Breakfast of cereals, home made bread and fruit (from the allotment in summer) is available between 7.30 and 9.30 am. After that I can leave out food for you on request in advance..
その他の特記事項
Time to mention the hound... Spot, a now ageing but still handsome (he says) and vain lurcher, is the boss around here. He's extremely friendly and safe, but you share his sofa, not the other way round! .. and he DOES like a bit of attention... If you're dog phobic, this is NOT the cottage for you!
In winter: there's a very decent heater in the bedroom and the woodburner downstairs - but we haven't got central heating.
This is a vegan/non-violent household (though the hounds' only veggie) so please don't turn up chomping a pasty. I'm no puritan, my ethics are my own, so if you'd like to bring the odd bit of dairy produce with you that's fine - but PLEASE: absolutely no meat/fish products....
Other dogs, well behaved.. or maybe otherwise.. are very welcome. I can supply a doggy bed and spare food if warned in advance - just so long as s/he's friendly and house trained! If s/he is a heavy moulter please ensure you bring brushes etc.
I can also sometimes dog sit of an evening if you want to go out - though check in advance; and please don't expect top leave your dog in the cottage for the day!
Please note: the garden can get very muddy in winter so prepare to take your dog for a walkies elsewhere - there are some good walks around about.
下記事項もご了承ください
階段を登らないとたどり着けません - just an ordinary small house flight of stairs
ペットがいます
敷地内に駐車場なし
Dydh da, I came to the art college in Falmouth ever so many years ago and never left .. for long ... I'm first and foremost a climate campaigner and environmentalist with an obsession for trudging the Cornish coast with the knackered dog in tow, and a bit of a passion for hefty 2…