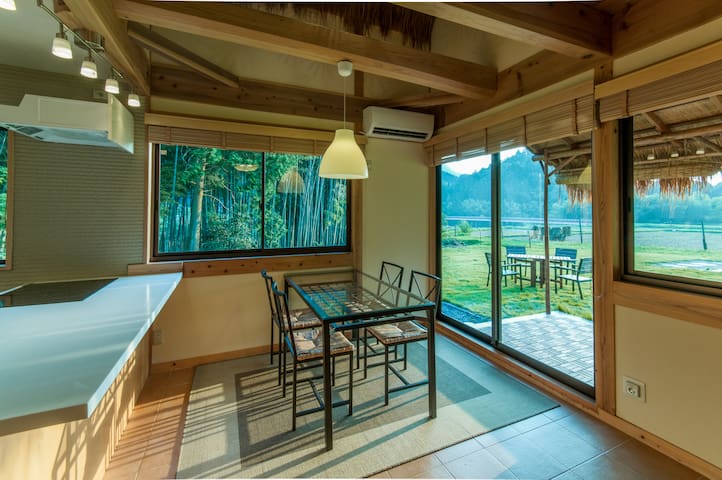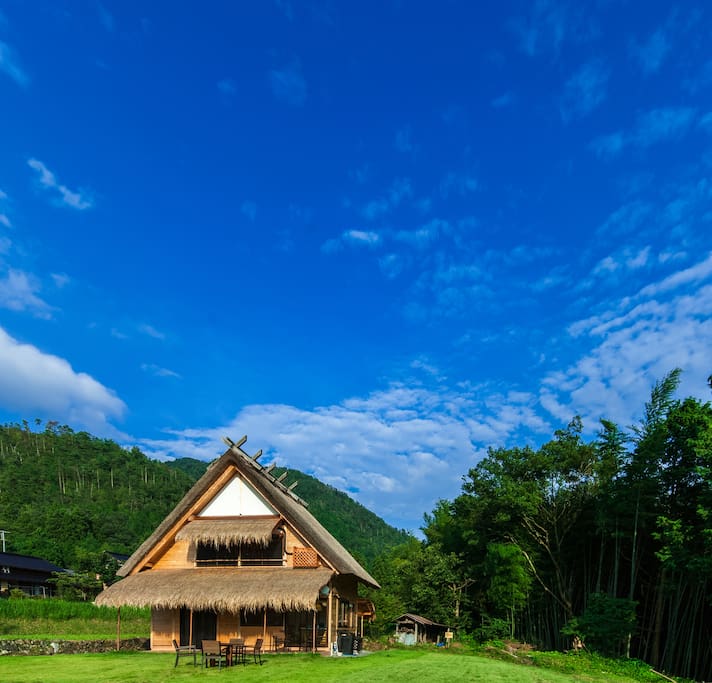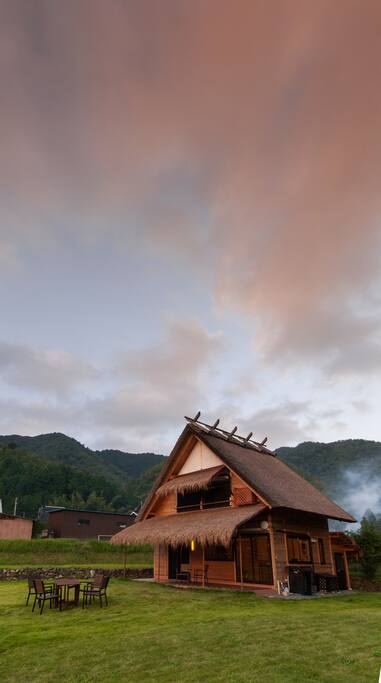 Miyama KAYA Villa Rural Kyoto
2013年に完成した結果は、最新のコンパクトなフロアプランと古い床暖房とフル空調のような機能を備えた古い茅葺き建築の最高のものをブレンドしたものです。 暴れ目のない場所にあります。
Completed in 2013 the result is a blend between the best of the old thatched architecture with modern more compact floor plan and features like underfloor heating and full air conditioning
The deck provides a great space for eating outdoors
---
My family and myself love the apt. I brought my two kids (1&2 year old) here and it's very safe for them to run around in the big grass around the house. My parents love it since it's so refreshing to live in such a quiet and natural neighborhood with full equipped house to make ourselves really comfortable. They also provided good equipment so you can actually do some local stuff like walking in the forest and neighborhood. The apt itself is very comfortable and they provide good amount of food for breakfast. We did bbq and it was so much fun. The only thing is that we only stayed for one night whilst I realized how much more we can do if we stay longer. Will definitely visit again in the future. I highly recommend people who would take good care of this amazing property to stay at this house.
---
We had a wonderful stay in the country with our kids here. The staff made it so easy for us, picking us up and dropping us off where we needed to be. The house was charming, bikes available to explore and a nice break from the city. The cooking class was really fun for all of us and very authentic.
---
We travel Japan with two children. The kaya villa is a great place for family as they provide bicycle for kids and we can ride safely in this fabulous scenery. Yusa is very nice to answer us promptly and all staffs can communicate efficiently in English is really a place point. We have a great stay at kaya village and will definitely recommend this place to visitors coming to Japan.
---
Yusa-san was able to communicate effectively in English with us, that is a plus point for foreigners. The surrounding around the villa is very picturesque and we had a great time exploring the neighborhood. The villa itself is very roomy and homely.
Dear Daphne Tay, Thank you so much for your stay here in Miyama. We were glad you enjoyed your stay with your friends. The attractions of Miyama change season by season such as cherry blossoms in the spring, swimming in the river in the summer etc. Please visit us some days in the future to see the other side of Japan. Best Regards, Yusa
---
We loved this cottage experience! Fresh and modern inside with a traditional look on the outside, it was the perfect country retreat. It's just an hour outside of Kyoto (a city which seems crowded with tourists in comparison), and it's well-worth the drive thru picturesque Japanese countryside and villages to enjoy a peaceful refuge in Miyama. The view out the kitchen windows was a beautiful bamboo grove and the front glass doors opened up to the tranquil, lush fields and mountains beyond. Our son enjoyed running down the country lanes and over a bridge spanning the river. We loved the cedar bathtub and spa-like shower room. The kitchen was modern, spacious, open-concept and well-stocked, including a full-size fridge and stove range with pots and pans. A lovely breakfast with bread, local milk, eggs, cereal, and coffee was included. Yusa was kind and helpful and provided instructions in English for appliances as well as an emergency cell phone. We all said we would love to stay here again when we return to Kyoto!
---
Although our stay was brief, it was wonderful to get away and spend time in such a beautiful, tranquil place. Local food was very good, though I wish we'd had time to try more. The owner, Yusa, was great. Friendly, welcoming, helpful, kind, quick and responsive to requests, even picking us up to save us from the rain on the last day!
---
京都・美山の茅葺民家に住んでいます。山々に囲まれた里山でのんびり暮らしています。私が今住んでいる美山は美しい場所です。この地域は山々に囲まれています。夏、目の前には泳ぐことができる清流がながれ、清らかな空気を体感することができます。都会のような喧騒はなく、カエルの歌、木の鳴き声などを聞くことができます。美山にはゆかいな住民がたくさん暮らしています。彼らとつながれることも旅の醍醐味となるでしょう。京都の自然の中で本当のコミュニティを体験してください。
Hello!My name is Yoshiko. Miyama where I am living in now is a beautiful place. The region is surrounded by the mountains. There is the clean river where you can swim in the summer. There is no distraction like a big city in Japan. Instead, you can hear frogs singing, trees rustling etc.Moreover, the people here are more connected with each other compared to cities. Come and experience the real community in the nature of Kyoto.
言語:
English、日本語