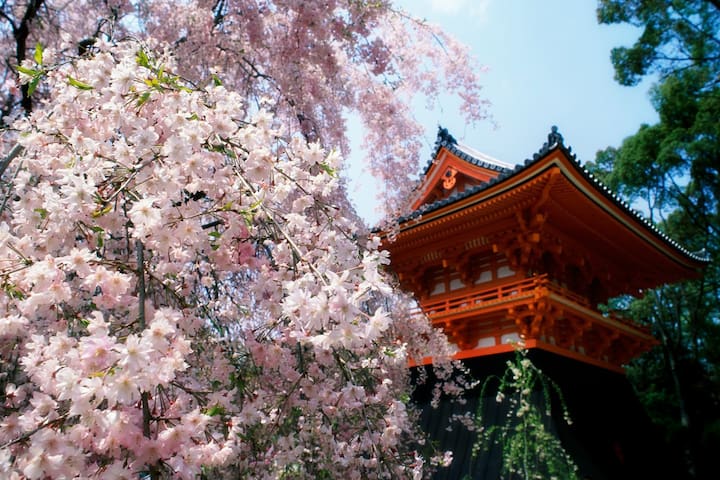 私の家は京都観光を楽しむのに良い立地です。清水寺、三十三間堂へ徒歩約10~15分です。祇園や八坂神社へも徒歩で行ける位置にあります。近くにバス停(馬町)もあります。家には独立した4つの部屋がありグループ旅行や家族旅行に最適です。エアコンも4機完備しています。
電車やバス、タクシーを活用して京都中の観光地を巡ってください。金閣寺、二条城、東福寺、伏見稲荷大社、嵐山、交通機関を活用すれば、いづれにも1時間以内で行けます。
Wifiは無料、ATM完備のコンビニへ徒歩3分。周辺に駐車場もあり。
スペース
京都を代表する人気観光地である清水寺の近くですが、大きな通りから路地に入った場所にある為、日中も夜間も静かな佇まいでゆったり過ごすことができます。
ゲストとの交流
基本的にはゲストのプライベートな空間を大切にしたい為、施設内には滞在しない方針です。但し、施設チェックの為、清掃スタッフが施設に入ることがあります。
その他の特記事項
・当施設は閑静な住宅街に位置する為、夜間や早朝は騒がないようにしてください。ルールが守られない場合、その場でチェックアウトしていただきます。
・当館にご宿泊されない方の出入りは、防犯上の観点から禁止しております。
・京都市の条例に伴いパスポート(パスポートをお持ちでない方は運転免許証)を確認します。パスポートはカメラ、または、携帯電話で撮影します。日本国内に在住の方も同様に確認します。
・予約後の人数変更による返金は出来ません。
・予約後に人数を追加する場合は追加料金が必要です。
・畳は繊細です。濡らしたり、スーツケースを走らせたりしないようにしてください。
・外出時は安全上、冷暖房や照明を消してから外出してください。
・鍵をなくした場合は、50 USDのペナルティがあります。
・Wifi機器の紛失、損傷は180USDのペナルティがあります。
---
---
---
[ Facilities Guide ]
-This house is not suitable for neighbors and all parties involved in a neighbors, as for security reasons. Because you'll use key box during your stay. Then, you can't stay here, we can't refund your accommodation fee.
-Cancellation Policy
We need cancel fee even if you just change the members.
That condition same as cancel policy.
-Smoking Prohibition-
Since the surrounding area is scene protection area and there are many wooden buildings. You cannot smoke inside the room as well as a neighborhood.
-No Party -
Our neighborhoods are old streets of Kyoto and many elderly lives here. Stay quietly, especially at night and early morning. If so, you can enjoy good old Japanese cultures during your stay.
-Don't put your garbage outside our facility-
We will dispose your garbage and at that time, we will sort them. You may not concern your sorting.
-Bringing WiFi-
It is allowed to bring the wifi when you go out. However, if you lose it, you require payment of 150USD as compensations.
-Key handling-
There is a risk of loss when you go out as you keep a key in your pocket. Using key holder, and/or keeping it in your wallet are probably a safe way. In the case of loss, payment of 40USD is necessary.
-Delicate Tatami -
Please do not put your carry bag on tatamis. Tatami is delicate and vulnerable. Also, please do not place a wet towel on the tatami. Tatami is a unique Japanese culture. Enjoy the touching and smelling.
-Take off your shoes in our facility-
In Japan, we do not enter the house with shoes. In particular, since tatami is delicate, be sure to take off your shoes when you enter our rooms.
-IH Cooking Heater-
Power plug is not connected to the extension cord, just insert directly into an electrical outlet.
-Turn off the power supply of air conditioning and lighting when you go out-
To be a safe stay, please go out on turning off power supply of household electronics appliances.
-When using the washing machine
Washing machine is available 8:00 to 21:00.
-Liability -
You are asked to use due caution to avoid any damage to or loss of the banquet facilities or other equipment, furniture and fixtures during your event. Please report it to a host by an email immediately, when you break facilities or lost them
-Prohibition of the visitors except the hotel guests-
The visitor except the hotel guest cannot use a guest room. We do not accept the temporary use equally either.
-No Pets allowed-
Cats, dogs, birds, and the like, regardless of the type and size, are not allowed.
[ Aditional rules ]
-Check-in and check-out
・Check-in time is 15:00.
・Check-out time is 10:00.
・When it comes to check-out time, staff will begin the cleaning.
・Early check-in / 50USD
・Late check-out / 50USD
・Drop your luggage in our property before check-in time / 50 USD
・Store your luggage in our property after check-out time / 50 USD
1. The property is for position in a quiet residential area, please do not make noise at night and early morning.
2. The entry and exit of those who are not staying at the hotel is prohibited from the viewpoint of crime prevention.
3. Confirm the passport (driver's license if you do not have your passport) in accordance with the Kyoto municipal ordinance. Passports are taken with a camera or mobile phone. I will confirm with those who live in Japan as well.
4. We can't refund accommodation fee if you will reduce your member or days after you booked my property.
5. Basically, we need additional fee once guests change(add) their number of people after booking.
下記事項もご了承ください
階段を登らないとたどり着けません
敷地内に駐車場なし
---
---
---
My dream is to take a trip to the world. I want to communicate with people of many countries to realize the dream. Please talk if you want to experience it in Japan.
世界中を旅することが夢です。その実現の為、たくさんの国の方とコミュニケーションを取りたい!
言語:
English、日本語
Kyoto higashiyama-ku tokiwatyoのタイプの異なるお家や周辺もチェック
Kyoto higashiyama-ku tokiwatyoを別の建物タイプで探す: