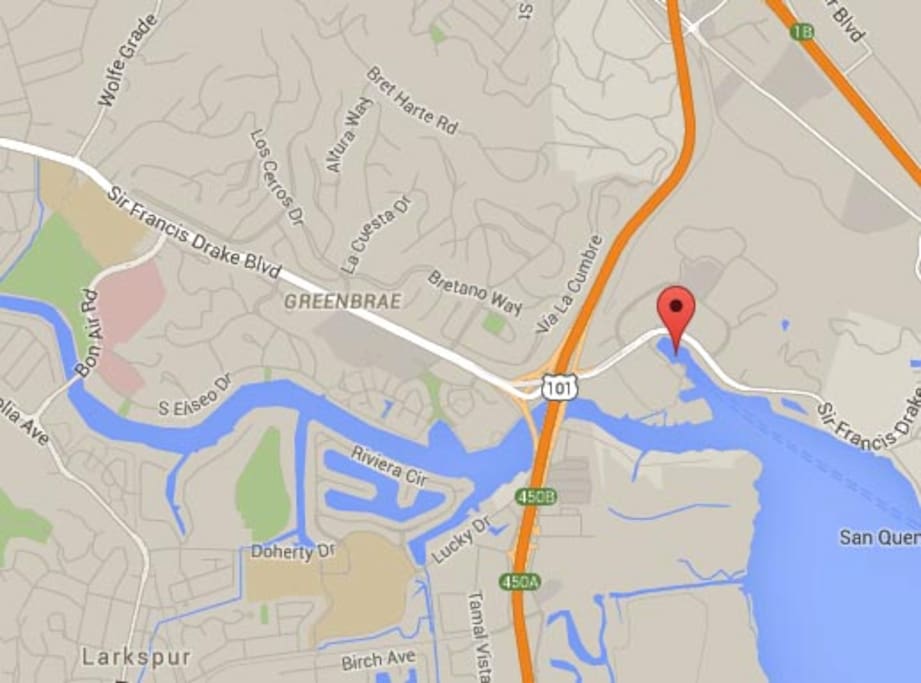 A warm and sunny summer place.
In beautiful Marin County! I am offering a lovely bedroom with a double bed, closet space and a fabulous view. The room has its own bathroom/ shower and TV. You and I are sharing kitchen and living room space. My place is located on the edge of a creek with tidal waters and beautiful scenery. Make this your start for exploring Sonoma, Napa and the coast, or take a nearby workshop.
スペース
A fully furnished bedroom with dresser, chairs, nightstand and laptop stand.
TV/ cable and wi-fi.
ゲストとの交流
There will be lots of occasions to check in with each other.
その他の特記事項
About me. I am an avid gardener and photographer.
My first language is German.
---
---
No open fires i.e. candles and no smoking .
Neither indoor nor outdoor grilling.
Not suitable to conduct business.
Guests are expected to keep their space clean during their stay. Guests are also asked to strip their bed upon check-out and dispose of their garbage.
---
Maggy's place is restful, pretty and equipped with a great pool and hot tub. It was nice to be within walking distance from downtown Larkspur and take in the colors of flowers against the lagoon. Freeway access was simple too. I enjoyed hearing Maggy's stories and appreciated the way she made me feel at home. In short, both the place and the company really gave me the opportunity to relax.
---
I had an amazing 5-week stay with Maggy! Everything was so well looked after as Maggy is very caring and organized! She made my arrival a lot easier with all sorts of information and texts! I settled in very quickly Coz Maggie showed me around the neighbourhood and the route to my course venue in corte madera. It's very nice of her to drop me off at the venue and pick me up when she's free! Super awesome host! The room and bathroom are both very spacious and clean! I like the view from my room and at the balcony. Bravo accommodation! It's close to everything you need as well! Within 10 minutes of walk, you can get to the cinema, supermarket, restaurants and cafes, bus stop etc. Super convenient! I liked the scenic drives with Maggy as well! She's a wonderful photographer! All in all, a 6-star accommodation! Highly recommend it!
---
I was in Marin County to participate in a week long workshop at Tamalpa Institute. The location was great. Maggy's place is as representated. Parking is easy and laundry faciIity is available at the condo. There was access to a nice pool, but I didn't use it. I found the bedroom and bed very comfortable. The location is on a tidal creek and quiet. I walked to downtown Larkspur Maggy made sure the amenities were there for a very comfortable stay. Room in the refrigerator was available for food, and the kitchen is open to use for meal preparation. I prepared breakfast and lunches using Maggy's kitchen. Overall, the stay was excellent. Maggy was a wonderful host, providing many special touches.
---
An ideal place to stay for exploring the many attractions of Marin County and San Francisco. The small town of Larkspur has several excellent restaurants in all price ranges and a fantastic movie theatre, all within easy walking distance from Maggy's apartment. It is also close to walking and biking trails and the Pacific coast, as well as the wineries in Napa and Sonoma. You can get into San Francisco by bus or ferry if you don't have a car. The guest bedroom is lovely, with a very comfortable bed and glorious view of a tidal creek; the bathroom is yours alone, which is a bonus. Maggy was delightful to talk with and always ready to answer questions, make suggestions, and help if needed. You can't go wrong staying here. Maggy is a wonderful host!
---
I had an amazing time at Larkspur and Margrit was a big part of it. To me, Margrit was more than a host, she felt like family and welcomed me into her warm and beautiful home. She took care of my living needs and the nice things she did for me is too numerous to list. Her place was beautifully furnished and had all the amenities one would need. It is also located centrally to the many scenic attractions in Marin. I am glad that we managed to make this happen. I learnt so much about Marin and life from Margrit. I am almost certain that my experience in Marin would be less complete without this stay. Can't say thank you enough!
---
Maggie responded promptly to my very first notice of interest in her lovely ad and room. She answered all of my questions: *bus availabilty *location of nearby stores for food and various items *distance to my training classes from her location *airport transportation choices *expected weather for that time of year Maggie was very kind and sincerely wanted to make my visit as comfortable as possible. She even sent me information about low cost transportation from SF airport to Larkspur drop-off. Maggie offered to pick me up that first day from the bus stop and took me on a tour of nearby walking route to classes and stores or services I might be interested in. Maggie's kindness and her lovely location made my stay perfect. I loved the warm homey feel of the entire place. The view is so beautiful: green plants, flowers, birds and a canal with houseboats on the other side. I especially loved having my own bathroom along with use of the kitchen, laundry room and watching MAD MAN with her. My room had a great bed with comfy mattress and covers. Everything I needed was given or available from Maggie. I look forward to someday returning to the area. Thank you!!
---
Wow where do I start? Staying with Maggy was such a delight. I could not have been more lucky to find this host on Airbnb. I had just relocated to the bay area for a job and needed a place to stay immediately while apartment shopping and waiting for my new place to be available. I stayed with Maggy for almost three weeks. When I got there she had a huge bottle of Evian water on the nightstand for me...at that moment I knew I would be just fine there! The room and bathroom were very nice, I felt right at home. Her place is in such a great area in Marin and easy to get to food, shopping, nature, city...whatever your little heart desires! Maggy was very welcoming and printed me maps for places I mentioned I needed to go. One day when I came home from work she was baking some delicious gluten free cookies--YUM :D She is also a wonderfully talent artist--so definitely ask her if you can see some of her photographs, it will be well worth it. She is also very knowledgeable about the area and great places to be near the gorgeous ocean that surrounds the San Francisco bay area. Also if you prefer more alone time and would rather keep to yourself she is very accommodating to that as well (I was there for nearly 3 weeks so I definitely had my private days!) Overall I couldn't have asked for a better host to welcome me to my new city! xo
---
Active and retired from the travel business. A passionate photographer.
言語:
Deutsch