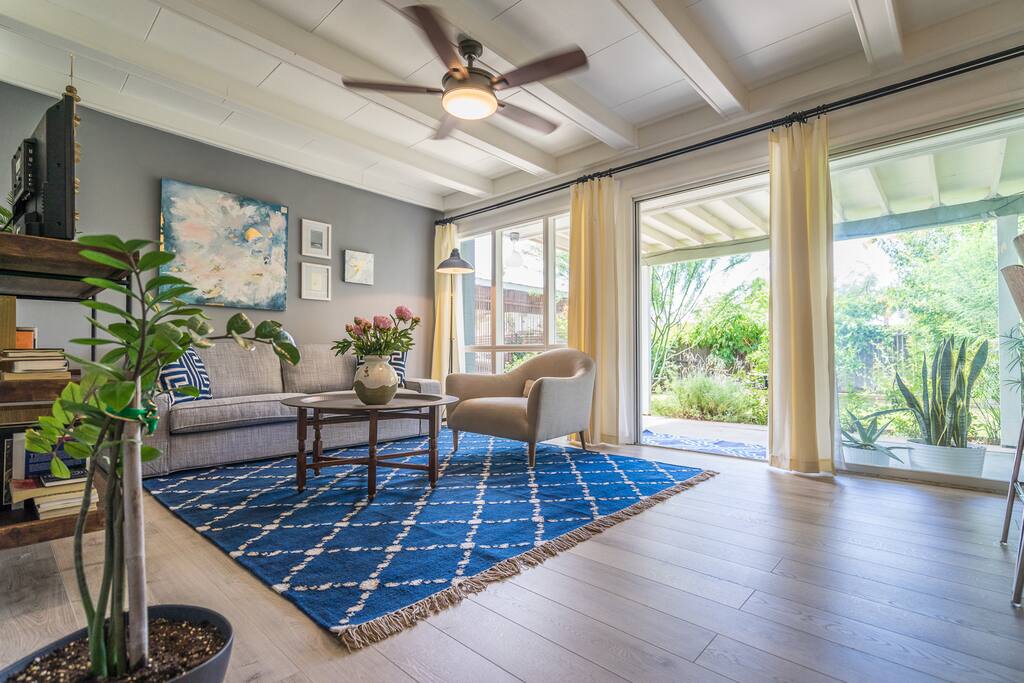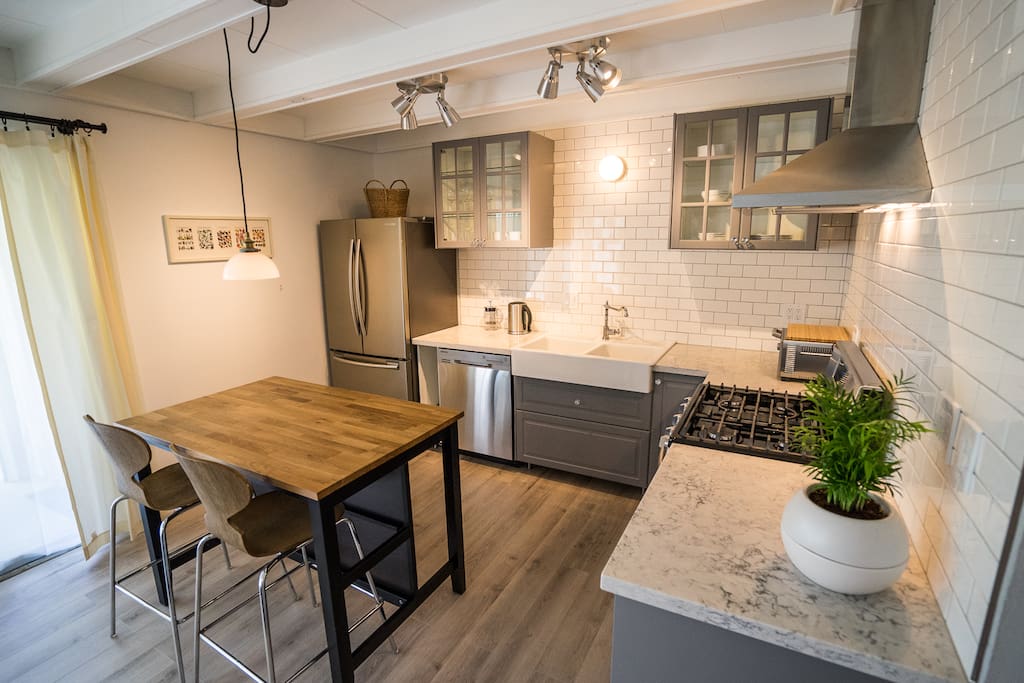 A quiet, calming and private condo created with your comfort in mind. From the high-quality bedding and a queen bed, the super comfy sofa, plush linens to the beautiful kitchen and relaxing garden with lots of seating options under a canopy of trees.
Central location near the airport (8.2 miles / 15 min.), downtown Phoenix, Scottsdale, the Convention Center (8 miles / 15 min.). Close to many locally owned restaurants, hiking and biking trails in the Phoenix Mountains and Camelback Mountain.
スペース
A clean, bright, comfortable and good looking space, with fast wi-fi, a working space or for relaxing and that's what we created here with you in mind, no matter how short or long your stay. A condo with quick access to the airport, convention center, sports arenas, and hiking.
NO extra junk fees like cleaning fees and NO security deposit.
The entire condo is yours to use - it's as private as you want.
THE FEEL:
We call this The Lavender because of the lavender plants just outside. It's a space that's comfortable and calming: from the colors, textures, decorations and even the lighting, it was all a deliberate selection.
The condo is about 650 square feet - third party measurement.
The KITCHEN:
This is a full kitchen made with style and high quality throughout. Heat up your food in toaster-oven (No microwave) or go full out and make a dinner from scratch - the tools are here as are the basic spices and condiments.
The island has multiple functions. It's a large comfortable space to work on your computer, more space for cooking, and an eating area.
LIVING ROOM:
Calm, clean and clear and open - that is this space with tons of natural light flowing in through the wall of floor to ceiling windows. The windows have both sheers and curtains.
The sheers are great for privacy and letting light in during the day or close the curtains for more privacy, in-comfort. The living room looks out into the garden - please use it. It's a shared garden, but it's here to enjoy and use with lots of sitting areas and even a grill.
TV:
There are about 50 local television channels plus a Roku 3 with about 20 cable channels via Sling (choose sling app to watch CNN, ESPN and others) or login to your Netflix, Amazon Prime or other accounts via Roku 3. There is also an Apple TV you use.
BATHROOM:
The bath is both vintage and modern. We kept the solid well made tile and tub, but added new touches and lots of places to hand towels and clothes plus a raised shower head.
High quality towels are just wonderful and you'll have them here. Please don't use them to clean shoes or stuff they are not meant for.
BEDROOM:

The bedroom is peaceful and relaxing with a Queen bed that really comfortable. The bedding is all high quality - we did not skim here - or anywhere for that matter.
SECOND SLEEPING AREA:
Sleeping arrangement in the living room. A third/second person may sleep on the sofa (see photo in photos). It is very comfortable for someone up to about 5 foot 9 inches tall. The large pillows come off and it's like a twin bed (73" long by 33" wide).
This condo - The Lavender is here for you - for two days or two months. I believe you'll be comfortable and content here.
ゲストの立入り範囲
You have full access to the backyard with lots of grass, shade, tables, chairs, flowers and a grill.
The back yard is shared, please feel comfortable using it: relax on the lounge chairs, get a tan or sit on the grass with a book and smell the roses. There are now 10 rose bushes.
ゲストとの交流
The place is all yours. It's as private as you want or we're here next door in no. 1, if you have questions about getting around or which restaurants to go to.
Access is through a lockbox - it's really easy and convenient - allowing you to arrive anytime day or night on or after the 3pm check in time.
その他の特記事項
Check in is 3 pm and check out is 11 am.
There is an iron and ironing board.
A laundry room is on the premises for use by all persons.
Parking: 1 covered space in the back - right side of parking, no. 3. OR you can park in the street - there are no restrictions on street parking. It's your choice which to use.
FYI: We wash ALL bedding - ALL OF IT - every single time - even the comforter cover - WITHOUT EXCEPTION. This is what we would expect and that is what we provide. I take pride in cleanliness - it is no. 1 on my list.
---
---
---
Please be considerate to neighbors - NO loud music. No smoking inside or outside on the property.
NO pets.
No guns on the property.
Don't leave stuff in your car. While we don't have issues here - don't tempt anyone, please.
Please enjoy the backyard. It gets irrigated twice a month so watch you step in the evening or you may just step into a few inches of water.
* Please don't use the bath towels for cleaning shoes, makeup or anything that will stain.
***If you choose to park in the street, please don't block the walkways.***
Check with us first, before booking, if you plan on having guests other than yourselves or using the space for other purposes like photo or movie shoots.
If you leave anything it and you'll want it back/shipped, there is a cost of $35.00 to this - standard shipping- or more if the items are heavy.
There are security cameras pointed at the parking spaces in the back.

Please be kind to our condo. Thank you.
---
The five condos we have on Airbnb are meant to be the kinds of places we would stay in, with easy access, cleanliness above all, lots of comfort, style, and utility, and good quality products, in great locations.

As a frequent traveler I try to take note of what types of places provide the ideal characteristics, and often it's not the luxury hotels that are most comfortable or memorable, but sometimes they are and use what I learned to make our places just as welcoming and comfortable.

Now a bit about me: when in Phoenix, I work from home - mostly in performance marketing and on my real estate properties. I enjoy mowing lawns and gardening while sipping beer or wine. And, riding my bike around the city or the mountain bike trails in the Phoenix Mountains Park just a couple of miles away.

When I do adventure travel, I do it as a 'rational flaneur': I don't make plans, unless it's an organized mountain bike trip or maybe food tours, but rather move along and change as I get new information. That's always worked out great for me. Often I rent a bike where ever I go. Some of the best memories I have are on heavy and uncomfortable rental bikes - yeah, I'm even smiling now thinking about those times. While I feel the pull toward Europe mostly, I have been in Asia and South America.

My motto, if I have to choose one is, Tempus Edax Rerum - time devours everything.
ArturさんはAirbnbのリビングウェイジ宣言をサポートしています
こちらのホストのリスティングの清掃スタッフにはリビングウェイジが支払われています。
もっと詳しく
言語:
English、Polski