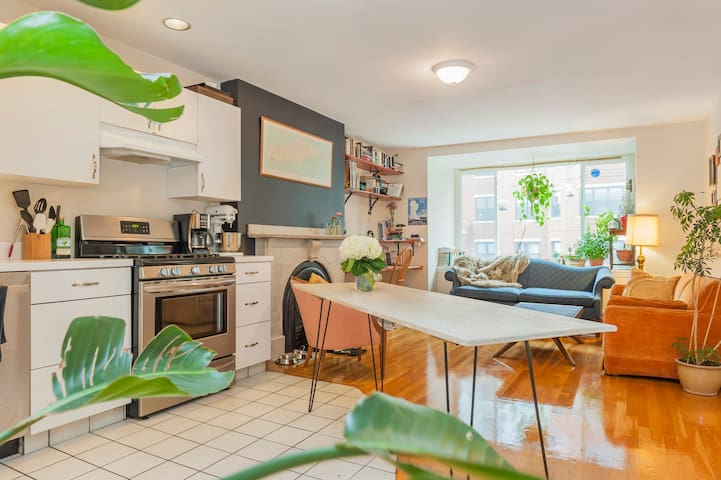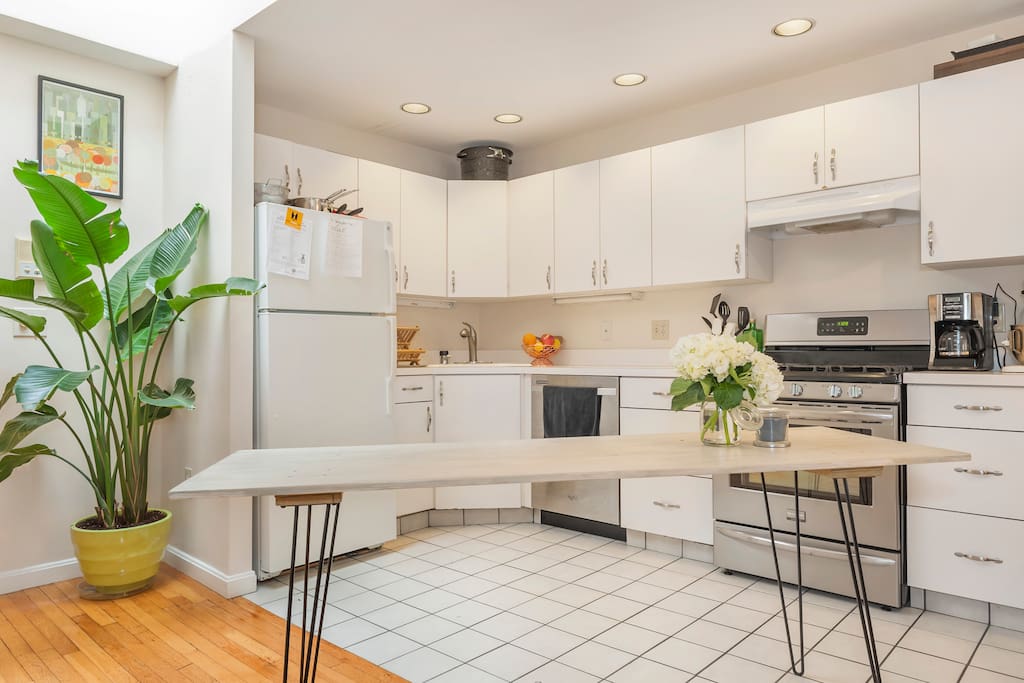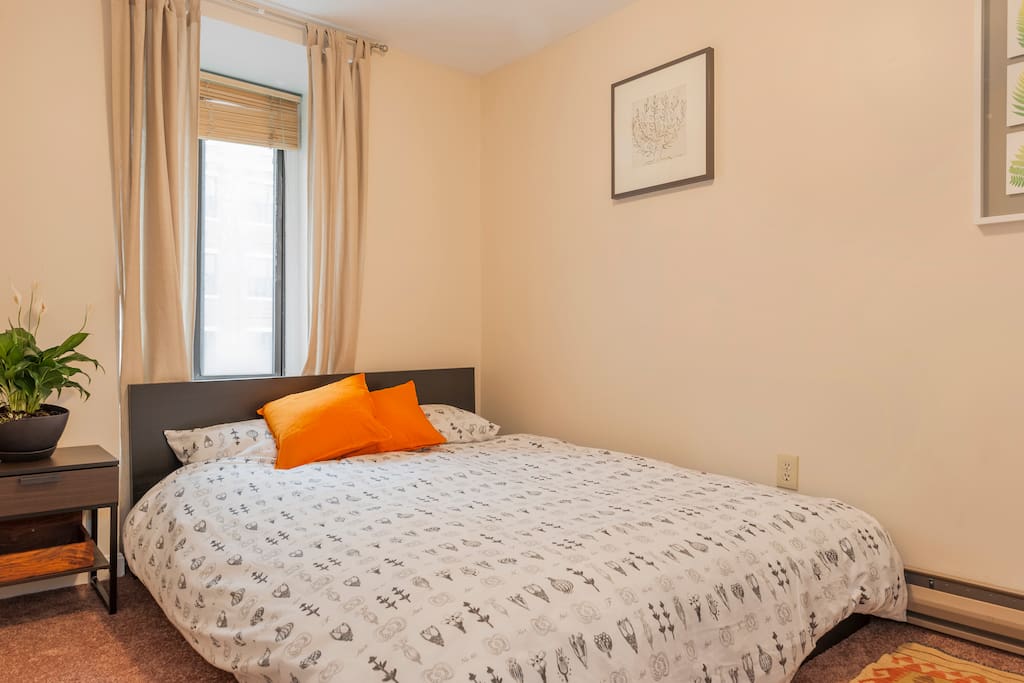 Enjoy our sunny home!
We're close to Copley Square, Boston Common, shopping on Newbury St, (seriously) amazing South End restaurants, and more! Public transportation is located right across the street.
スペース
Our central location, with easy access to public transportation, makes it simple for out-of-town guests to find us and get around Boston.
We've been told that we are the perfect location!
ゲストの立入り範囲
We share the kitchen, living room, and bathroom. We also have a great people-watching stoop!
ゲストとの交流
We're happy to point people in the right direction and to share a drink on the roof.
Our puppy is very interactive with guests and loves to cuddle and steal your socks! In general, we get up early and go to bed early during the week, and on the weekends we're happy to spend time getting to know you.
その他の特記事項
We share a bathroom and we're located on the 5th floor of a building, which is great for a rooftop view and a glute workout. We leave our puppy at home some days, and if you're not comfortable around dogs you may be better suited to a different listing.
Early arrivals are difficult for us to accommodate due to our work schedules and other guests checking out at 11:00 AM. If you're arriving early there are places to store your luggage .
South Station options:
1. If you're taking a train (and have the ticket to prove it), there is storage available at South Station through Amtrak. They don't have lockers, but for $3 per bag, you can store your suitcases in the Amtrak Baggage Room.
The baggage room is located at the very beginning of track 12, on the left. It operates between 7am and 9pm. They don't do overnight storage, so the luggage must be picked up by 9pm.
If you have any questions, you can reach the baggage room directly at (PHONE NUMBER HIDDEN). FYI, they won't always answer right away if they're busy.
2. If you're not in possession of an Amtrak ticket, anyone has access to the Package Express storage area. When we used them, it cost $5 per item, and they were open until 10pm.
If you have any questions, you can reach Package Express at (PHONE NUMBER HIDDEN). They're located on the 5th floor of the South Station Bus Terminal.
Non South Station Options:
1. Rowes Wharf Water Transport. Their services vary from water taxis to cruises, and they offer free luggage storage to all of their customers (in a locked private room at Rowes Wharf).
There are free Massport buses to the Logan Airport dock where you can request to be taken to Rowes Wharf. For more info, check out their website or call them at (PHONE NUMBER HIDDEN).
---
---
---
We're always happy to welcome considerate and respectful guests into our home. To us this means picking up after yourself (dishes in the dishwasher, coats hung up), bringing your own food, enjoying our space quietly after 11PM, and letting us know what we can do to make your stay enjoyable.
1. Please make sure to keep your bedroom door and the door to the bathroom closed or our puppy will steal all of your socks/drag the toilet paper across the living room.
2. Feel free to use whatever you need:
-cups are in the cabinet to the right of the sink
-there are towels on your bed if you'd like to shower
-the roofdeck is a great place to unwind after traveling- just push up on the handle (it's a little heavy).
-feel free to put food in the refrigerator.
-there is tea in the cabinet to the right of the stove.
3. Shoes off in the house please.
4. We try to keep the living room and common areas free of "stuff" and there's a decent sized closet in your room, but if you need more space let us know and we'll figure something out!
5. We have a puppy cam in the living room. You can tell that it's on when the light is green, and if you're uncomfortable with it just let us know and we'll take it offline.
6. It's getting warmer in Boston right now so please use your AC when you're in your room. When you're out and about please turn the AC off to limit wasted electricity.
7. No smoking anywhere (not even on the roofdeck)
8. No visitors
9. Please don't feed the dog.
We want you to enjoy your time here, so let me know if there's anything I can do to make your stay comfortable!
---
---
---
Ashley and Dennis were great hosts, they really made me feel at home in their apartment. The apartment was beautiful, and matched the pictures they have posted online very well. They gave me suggestions for local places to eat and taking some shortcuts to get to the convention center, which were really helpful. Their dog Pickles is adorable and one of the friendliest dogs I've ever met! I've visited Boston for 6 years in a row, and this was my first time staying in an airbnb instead of a hotel, and the experience was significantly better, for a much lower price!
---
Ashley and Dennis live right in the heart of Boston - ideally located within a 5-minute walk of Copley and subway stations. It was the perfect location for my four-day conference at the BCEC. It is a charming apartment with skylights in a family-owned row home with a cute little puppy who adapted to my presence pretty quickly. I didn't spend a whole lot of time talking with them, but they struck me as being good, down-to-earth people. It's important to know that you will have to walk up a few flights of somewhat steep and narrow stairs to get to their place, and that the room does not have a closet or a place for hanging clothes. That part ended up being okay for me because I thankfully happened to bring mostly wrinkle-free clothing to wear at my conference, for someone else with clothes that need to be hung, that might have been more of an issue (although I'm sure Ashley and Dennis would have looked for a way to accommodate somehow). The room was rather small, but it is clean and comfortable. They do live in a fairly high-traffic area, so there are normal, urban street sounds at night. Ashley and Dennis were totally accommodating throughout my stay, allowing me to store some items in the fridge, running out to buy some more bath soap when they ran out, and offering to install a window AC unit when it got warm and stuffy in my bedroom (which they did). All in all, it was a really good and Ashley and Dennis are good people.
---