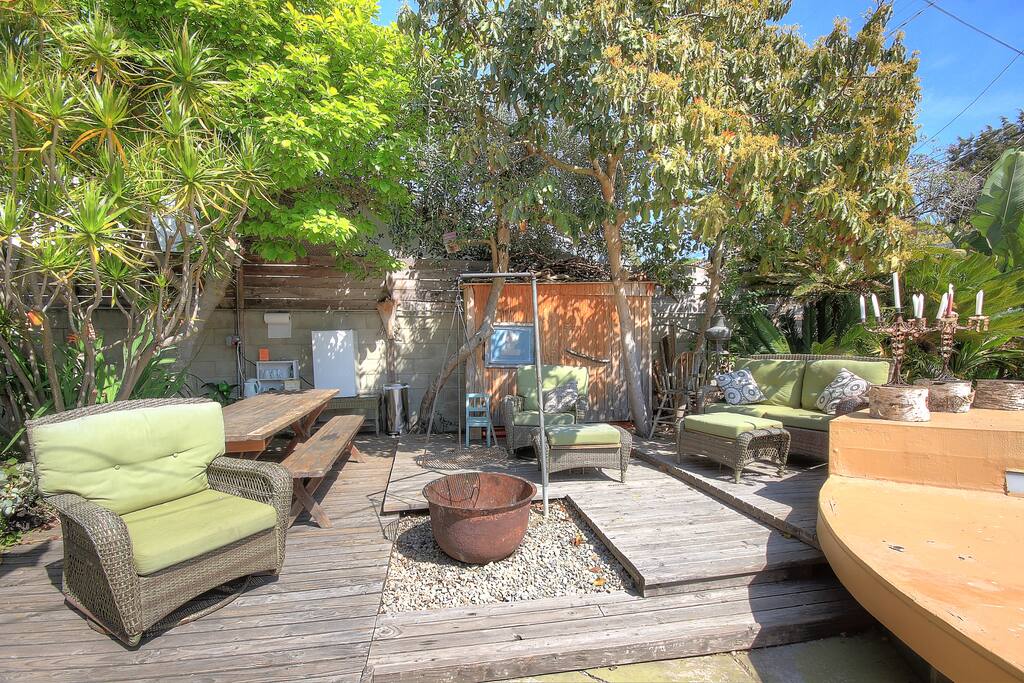 リスティングについて
Our home is located near Venice Beach without being in the middle of the "craziness" and also close to LAX. The Floating Bed offers a great and healthy way to spend the night. You can see about its benefits if you search online what it does for you while sleeping! If you like to be in nature, our backyard is as close as you can get in the City of Angels 8)
---
---
---
---
Our home is located near Venice Beach without being in the middle of the "craziness" and also close to LAX. The Floating Bed offers a great and healthy way to spend the night. You can see about its benefits if you search online what it does for you while sleeping! If you like to be in nature, our backyard is as close as you can get in the City of Angels 8)
Do you want to stay in paradise?
We are close to LAX but you would never think so. It's the most peaceful spot you can imagine in an urban jungle like LA!
One space we rent out is a separate converted garage space, which we have used in the past for meditation and yoga retreats and it still carries a very calming energy. It has a floating bed ( in the center and you can open large doors on either side of the room, which allows you to almost feel like you are outside. The room also has a worktable and you will have Wifi throughout the whole property. The bathroom is shared with whomever is staying at The Circle at the moment.
So if you like to have a large room, don't mind to float while you are sleeping, if you appreciate beauty and conscious people you should consider this space for your stay!
Our home, "THE CIRCLE" is known to the local LA artist community as one of the most relaxing hang out spots on the west side. On occasion we host Sunday afternoon gatherings with good food, music, art and fashion. We have a very enchanting sunny and serene backyard with a large sun deck, a fishpond and many unique structures, all filled with love… Our home is a little paradise in the middle of craziness--- you must see it to appreciate what it has to offer!
Our neighborhood is very quiet but still close to everything.
It's great for biking to the beaches and walking distance to the Shopping Mall. From here you have easy access to many places. By car you reach Venice Beach in 5min, Santa Monica in 10min, Hollywood in 20min.
We in general like people who are conscious + respectful and do things with a peaceful and loving energy (no smoking on the premises, please.)
It's all about the right chemistry!!! 8)
You can hang out in our garden or on the sun deck. If you are planning to use our kitchen, please let us know beforehand and we can see what we can do...
Helene is managing The Circle while we are in Germany during the summer. She is very responsible, super sweet and can be reached easily.
Our neighborhood is very quiet and save. There is a shopping mall area with movie theaters and grocery stores about 10 minute walk from our house. If you go the other direction there are many little eateries, where you can indulge in various cultural foods such as Sushi, Vegan Thai Food, Mexican and much more
You can park right in front of our home if you come with a rental car. There are bus stations right around the corner from us to take you to Hollywood, Downtown, LA or Santa Monica. In summer there usually is a free shuttle to bring you right to Venice Beach so you don't have to worry about parking...
Please be respectful to our neighbors since Airbnb stands and falls with a good relationship with them! Parking is best right in front of our house. There most likely will be more guests at The Circle (our home) during your stay. The Wifi is strong so everybody can get online at the same time.
---
チェックイン時間は、16:00から20:00です。
Important: Please park right in front of our house or near/on Alla Rd!
We in general like people who are conscious + respectful and do things with a peaceful and loving energy (no smoking on the premises, please.)
Please always talk to us if there is anything wrong or unpleasant so we can fix it immediately!
But really the only house rules that matters to us is:
BE HAPPY!! ... and we'll do our best to help you with that 8)
---
普通
開始5日前までに解約すれば全額返金されます(サービス料も返金可)。
---
---
A good place to stay close to Marina del Ray, Venice Beach, Santa Monica. The house is poorly isolated so you need to heat it more than what should be necessary during the nights. Only mugs to do the second B in BnB - Breakfast. No bowls for cereal, no cutting board to cut your bread on, etc which was disappointing. Otherwise nice place. You need an Über account to travel to most things.
Hello Johan, thank you for your notes, Airbnb use to stand for Air-bed and breakfast. It was a couple back in 2007 in San Fransisco who offered guests to sleep on an air mattress in their living room including breakfast in the morning. It has change quite a bit since then, now you can choose to rent a room, an apartment or a house even a teepee. We try to be clear in our description, the Zen room does not have a kitchen. The coffee/tea station outdoors is a complimentary treat we offer our guests. We do have an option to rent our main house as well and with that you'll get a fully stocked kitchen. Helene (Sanni's co-host) PS. It might be easier to travel with an Uber but there is also an option to travel by bus. Arms are for hugging
---
We had a wonderful stay at this relaxing, retreat style premises. The floating bed was a highlight and a very comfortable experience. There are no black out blinds or curtains in the Zen Room so enjoy waking up naturally with the sun. There is a small shared shower room & toilet which are kept clean and tidy although can get a bit busy when all 5 rooms on the premises are booked out. Whilst sitting in the sunshine on the decking we were visited by lots of beautiful wildlife such as hummingbirds and butterflies which add to the tranquility and beauty of The Circle. Although no access to a kitchen there is a kettle with tea and coffee provided and a small fridge is also there for everyones essential items. Public transport is just around the corner which makes it easy to explore and shops/restaurants are no more than a 15min walk away. This Airbnb is located in a lovely safe neighbourhood and we had a great stay overall. Thanks.
Thank you Katrina, we have attended the morning light situation, we now have some black blinds cowering the back doors. Also just to clarify, 3 rooms and not 5 are sharing the bathroom, (Zen room, Hobbit House and Tiny Home). Hope to see you again on your next visit, happy travels, Helene (sanni's co-host)
---
we are loving our home and would like to share our world with positive, conscious people - we have a few different spaces available for you: our newly built **Hobbit House**, the infamous *modern*cave*, a fabulous *floating*bed* or the *Main-House Bedroom*... pick your favorite, come and enjoy!
BTW: we are also living in Germany part of the year. You can stay in one of our tipis and enjoy animals and nature to the fullest... visit us there as well!
Our life motto is CREATE. MEDITATE. CELEBRATE. - if that vibes with you we are looking forward meeting you in person soon somewhere on this planet!!!