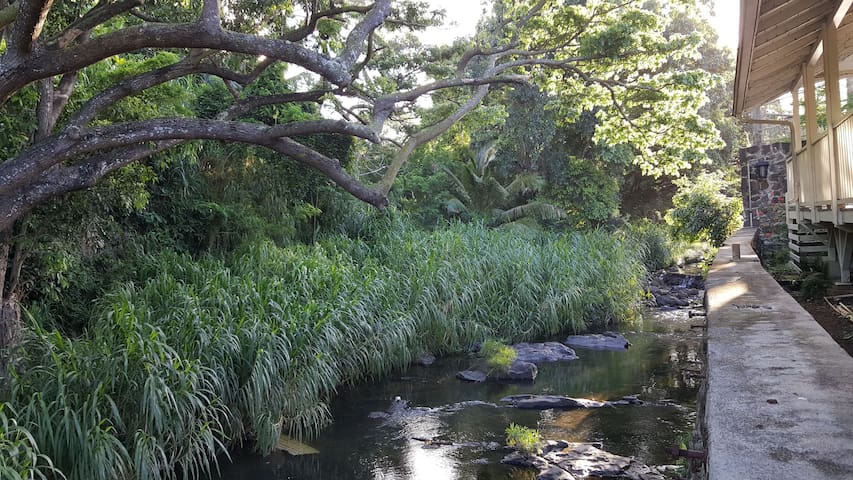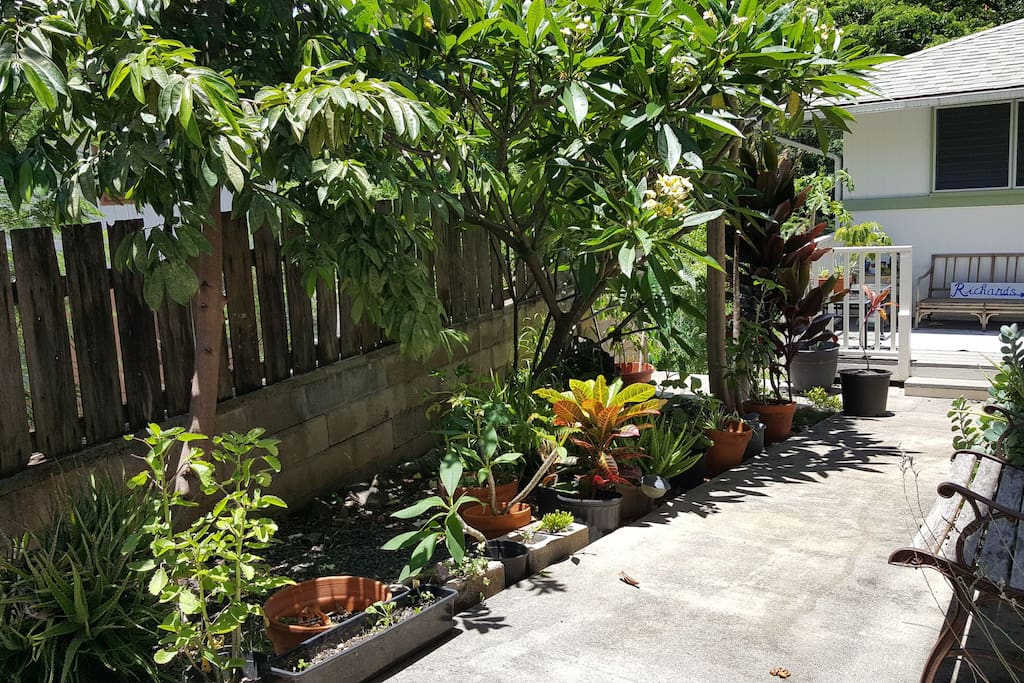 Kalihiの中心部にある落ち着きのある静かなストリームサイドのオアシスは、あなたを驚かせるでしょう。上の通りから隠れています。庭園の隣にはラウンジがあります。 チャイナタウン/ダウンタウン/ HNLに便利ですが、飛行経路の下にはありません!かわいい犬で静かな、都市の住居、庭の子猫と鶏、3軒の家の親切な方々。客室には、貿易風と屋外の熱帯の木々、2人のファン、豊富な日陰を楽しめる2つの大きな窓があります。
Our breezy, quiet stream-side oasis in the heart of Kalihi will surprise you- hidden from the street above, you can lounge outside next to our garden or enjoy a book under the breezy trees.
Convenient to Chinatown/Downtown/HNL...but not under the flight path! A peaceful, urban dwelling with cute doggies, a kitten and chickens in the yard + kind folks in the 3 houses. Our guest room features two big windows to enjoy the trade winds and outdoor tropical trees, 2 fans, and plenty of shade!
スペース
客室には、ベッド、机/オフィスチェア、オーバーヘッドファンとスタンドファン、あなたの持ち物用の棚、ハンガー付のクローゼットスペース、オアフ島/ハワイアン島の冒険書棚付きの本棚、ビーチタオル、バスタオル、ビーチマットとビーチ傘。 忙しいホノルルの真ん中にある、鳥や自然の音に目を覚まし、私たちの裏庭で急いで流れる流れと穏やかな木々の音に眠りにつきます! 私たちの場所は、O'ahuの冒険のための完璧なラウンチパッドです。H-1 fwy、Likelike(Hwy 63)、ホノルル国際空港からわずか数分です(飛行経路なしで!)。 寿司やsaiminのおいしい地元の "ママとポップ"レストランへ歩いて行くか、チャイナタウンへのバスで島の最も美味しい食事を数分でお楽しみください。 静かなラナイの環境をお楽しみください。ストリームの端にあるカクテルでリラックスしたり、風に揺れるマンゴーやココナッツの木を聴くことができます。 ホノルルの町内の他の住宅よりも車/モペット/バス/ハイウェイのノイズがはるかに静かなので、デュプレックスは通り沿いにあります。 ブギーボード、インフレータブル、クーラー、シュノーケルギア、ビーチタオル、ビーチチェア、ビーチパラソルなど、ビーチの冒険のために借りることができます! 私たちは、ハワイ州税務省に登録されたビジネスです。 私たちの夜間料金には、ハワイ州の一般消費税と一過性の宿泊税と、ホノルル市税金と市の郡が含まれます。
The room features: your bed, desk/office chair, overhead fan and standing fan, shelves for your belongings, closet space with hangers, a bookshelf with O'ahu/Hawaiian island adventure books, beach towel, bath towels, beach mat and beach umbrella.
Fall asleep to the sounds of a rushing stream and breezy trees in our backyard, wake up to birds and sounds of nature- all in the middle of bustling Honolulu!
Our place is the perfect launching pad for your O'ahu adventure- just minutes from the H-1 fwy, the Likelike (Hwy 63) and Honolulu International Airport (without being under the flight path!)
Walk to delicious local "mom and pop" restaurants for sushi or saimin, or hop the bus to Chinatown for some of the most delicious food on the island, just minutes away.
Enjoy our peaceful lanai setting and relax with a cocktail along the stream's edge, and listen to the mango and coconut trees sway in the breeze.
Our duplex is off the street and along the stream so car/moped/bus/hwy noises are much quieter than other houses within Honolulu town.
Boogie Boards, inflatables, coolers, snorkel gear, beach towels, beach chairs, and a beach umbrella are all available to borrow for your beach adventures!
We are a registered business with the State of Hawai'i Department of Taxation.
Our nightly price includes State of Hawai'i General Excise Tax and Transient Accommodation Tax, plus the City and County of Honolulu Surcharge Tax.
ゲストの立入り範囲
フルサイズ/ダブルサイズのベッドとキー付きのエントランスがあるお部屋。 共用バスルーム、キッチン(冷蔵庫にスペースを入れる)、リビングルーム(NetflixまたはHuluをお楽しみください)、庭/ラナイ/ガーデン/バーベキューエリア/ダイニングエリア外。 ブギーボード、クーラー、シュノーケルギア、ビーチタオル、ビーチチェア、ビーチの傘など、ビーチの冒険のために借りることができます!
Your own bedroom, which has a full/double size bed and a keyed entry.
Shared bathroom, kitchen (you'll get a space in the fridge to use), living room (feel free to enjoy Netflix or Hulu with us), yard/lanai/garden/BBQ outside dining area/stream areas.
Boogie Boards, coolers, snorkel gear, beach towels, beach chairs, and a beach umbrella all available to borrow for your beach adventures!
ゲストとの交流
私の妻と私はベッドルームの1つを占めています。 2番目の寝室は私たちの素敵なルームメートで、あなたはしばしば私たちのキッチンですばらしい料理を作ることができます。 3番目の寝室はあなたのためです!私たちの愛らしい犬は家と庭のすべてを歩き回り、あなたが好きならあなたの部屋から彼を免除することができます。彼はとてもスマートでよく聞きます。 オアフ島やその他の島々で、地元のハイキング、観光宝石、お気に入りのビーチ、興味のある場所についてアドバイスをしています。 :-)
My wife and I occupy one of the bedrooms. The second bedroom is our lovely roommate, who you'll often find cooking marvelous meals in our kitchen. The third bedroom is for YOU! Our adorable dog roams all of the house and yard, and you can exempt him from your room if you like. He's very smart and listens well.
We are happy to provide advice on local hikes, sightseeing gems, our favorite beaches, and places of interest on O'ahu as well as the other islands! :-)
その他の特記事項
Netflix、Hulu、およびAmazon Primeは、Blu Rayプレーヤーのリビングルームで視聴することができます。また、数百のBluRay + DVDを楽しむこともできます。 =) グリルミールのような気分なら、ラナイのガスと炭のバーベキューをお楽しみください! ブギーボード、フロート(インフレータブル)、クーラー、シュノーケルギア、ビーチタオル、ビーチチェア、ビーチの傘をご用意しています。
Netflix, Hulu, and Amazon Prime are available to watch in the living room on our Blu Ray player, also we have hundreds of BluRay + DVD's to enjoy. =)
Gas and charcoal BBQ available on the lanai for your use, if you feel like having a grilled meal!
Boogie Boards, floaties (inflatables), coolers, snorkel gear, beach towels, beach chairs, and a beach umbrella all available to borrow for your beach adventures!
チェックイン時間: 16:00~02:00 (next day)
***The room accommodates ONE GUEST only. If you're trying to book for 2 or more guests, please do not proceed with booking.***

Children are not allowed to stay on property, per our landlord. This is due to the danger posed by the stream wall (drop down to the stream is over 10 feet), as well as the number of dogs on property (3 houses share the large yard- dogs could be in the yard at any time).
Our check in time is flexible. Your room is guaranteed to be ready by 4pm, but oftentimes we can accommodate early check-ins. I've had people arrive in the middle of the night- just ask!
"Quiet Hours": 10pm-8am. Though you may come and go as you please at all hours, we ask that you please respect our quiet hours. This is a working household- teachers get up early! This includes having telephone conversations/music/movies playing within your room- sound travels through thin Hawaii walls so it is imperative we have a quiet household at night. You may want to bring along some earbuds :-) Mahalo!
In Hawaii, shoes are not worn inside the home. Please leave them at the door or carry them to your room.
Please do not leave any food or beverage waste in your bedroom- this attracts pests. All food and beverage items should be stored/disposed of in the kitchen.
Cigarette smoking in our house and yard is NOT PERMITTED. Please smoke on the street, and place all cigarette butts in the trash can.
Parking is street only- and not hard to find on our cross-street.
Our driveway is for residents only, although you may briefly unload your belongings in the driveway. Mahalo!
Guests are expected to clean up after themselves and not leave dirty dishes or stuff lying around in the common areas of the house. There's shampoo and soap for you in the shower (please ask!), but please do not use loofahs, towels, or personal bathroom products of the residents.
No pets, children, or extra guests allowed, but please enjoy spending time with our sweet dog, Mowgli!
I enjoyed stay! Highly recommend! It was first time to use Airbnb, and I was lucky because I could stay her place. Necole's house was very clean, and I used cozy bedroom. It was quiet residential area. She prepared everything I need, so I could relax and stayed like locals. Also very convenient to go anywhere in Oahu. The bus running until late night. Definitely I'll book her place next time. I miss lovely dog, Mowgli :)
---
It was my first experience to use airbnb and started with some worries but ended up with so much satisfaction and warm hospitality from my hosts. Nicole always replies me very quickly even if it's just a trivial question. Their house is not big but I had everything I needed and they just keep it neat and nice. Whenever you come home, you are so welcomed not only from Nicole and Blythe but also from a pretty dog as everyone says. You would love him for sure. When I told them that I was extending my stay in Hawaii, they still tried to make another room available for me. I was a little worried about how convenient the place is but, it is quite convenient even if you don't have any vehicles. There are two bus stops in less than 10 min walk, even express one is available. You can get to Waikiki and Ala Moana without any transit from there. (it takes like 30min?) Thank you so much to Nicole and Blythe for all your warm hospitality. It was just comfortable and I just can't wait to see you in Japan next year!! and one thing, I was going to wash your towel with my laundry but I forgot... I just did my laundry in the morning I left... Well, please let me know if you have any questions about your trip to Japan! I see you next year and (SENSITIVE CONTENTS HIDDEN)!
---
Nicole and Blythe's home is an amazing place to stay that is affordable, practical (so close to Honolulu airport!), and if you love streams it's basically a haven hidden down from the street. Nicole and Blythe are super lovely people with lots of top recommendations for things to see and do around the island! If you're looking to stay somewhere homely and want to meet some incredible people (and adorable animals) then this is an excellent choice.
---
Aloha! My wife and I are both teachers in Honolulu in our mid-30s. She is from the Big Island originally and I am from Seattle and the Central Coast of CA. We met in Portland, OR and have lived on O'ahu since 2011.

We LOVE living on O'ahu! The weather is AMAZING, the vistas are gorgeous, the hiking thrilling, the beaches...inviting!
Our island has so much to offer every kind of traveler. Our house is centrally located, making it easy to access other parts of the island. The North Shore has huge surf, tasty shrimp trucks, and gorgeous, sandy beaches with turquoise water. West Oahu has hot, secluded beaches with dolphins and whale viewing, and great snorkeling! Hiking abounds all around the island, and I can recommend favorite spots. One of our favorite activities is to take our motorcycle around the entire island, and stop at some of the famous shrimp trucks along the way. Fun times!

Art galleries, live music, fresh food markets, unique shopping, restaurants and nightlife await in Chinatown, just 2 miles from our home. Alternatively, explore the largest outdoor mall in the world- Ala Moana- or hit Kalakaua and Kuhio avenues in Waikiki for nightclubs, shopping, and dozens of restaurants to suit any palate.

I hope you come stay at our Stream-side Urban Oasis and experience the Aloha of the island of O'ahu, the Gathering Place.
言語:
English