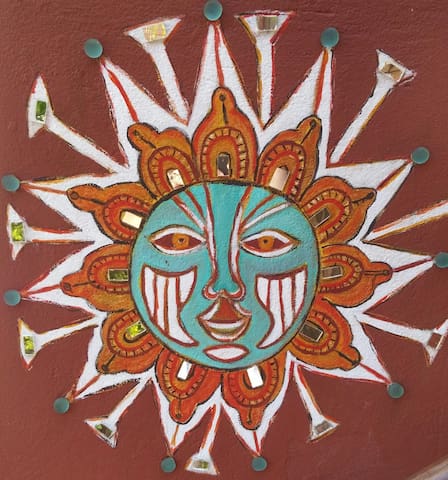 Central, comfortable , warm apartment located in a privileged place Iguazu wonder of the world . From an attractive bedroom you can enjoy a TV 32 " , or a relaxing shower after a pass over the falls. We will waint for you. Welcome!
ゲストの立入り範囲
Internet - Wi-Fi , air conditioning, practical kitchen , private bathroom, SMART TV 32 " , bed linen , towels , free parking .
ゲストとの交流
Visit our country, especially one of the 7 wonders of the world and feel at home. Advice on various trips , hiking trips to neighboring Brazil, Paraguay , transfers.
Our goal is to assist having being helpful.
---
Excellent experience. Casa 24 belongs to two brothers: Alejandro and Nicolas. They also have three more rooms/small apartments. Some of them are advertised on AirBnB and some on (URL HIDDEN) but all of them are located in the same place, all - very comfortable and clean and (GREAT BONUS) all are very artfully and elegant decorated. The reason is that their mother is an artist and owns a small gallery/art shop situated right next to the rented apartments. Needless to say that I greatly enjoyed checking out this small gallery and ended up buying quite a few items (the prices are very reasonable for the quality you get). Back to accommodations. In addition to comfort and elegance, the location is superior: right next to the main bus station and within 5 min walk to two five-star restaurants: La Rueda and Aqua. I was a bit afraid that it would be noisy in the night, but it was not at all. As to the hosts (I met both Alejandro and Nicolas), they are very cheerful and hospitable and make sure that all your needs are 100% taken care of. Big thanks goes to them for staying so pleasantly.
---
Great place to stay. The house is decorated with very good taste and it's right across the central bus stop. There are plenty of restaurant within walking distance. The little apartment I stayed in had a little kitchen, frigde, and a little table for two. Really cozy. The check out time was a little early for me (10 a.m.) since I came back from the Iguazú falls rather late and really tired, so I overslept the next day. I'm sure you can arrange with Nicolás in advance to leave a bit later in the morning.
---
We loved our stay here. We stayed for 4 nights and found it very clean, a great place to relax, enjoy a break from the heat, and explore both sides of the waterfall. The location is excellent-right across from the bus station and laundry, close to a 24 hour diner with good coffee, and an easy walk to restaurants. Alejandro was easy to reach on (SENSITIVE CONTENTS HIDDEN) and his English is great! He helped us arrange a taxi to and from the airport. Our apartment had everything we needed for making small meals. We were in Sueno, which does have narrow stairs down to the kitchen. Something to consider if you don't do well with stairs. Overall great stay and highly recommended!
---
The room here was great - very self contained and had a nice shower room double bed and mini kitchen. This place is very much a mini 'private' hostel - three private rooms around a central courtyard owned by a family. If you're looking for lots of interaction with the hosts then this is not the place for you - they very much kept themselves to themselves. They gave me useful info at the start but I didn't see them really the whole time I was there. However if you are looking for a nice private room and some space to yourself - this place is perfect and convieniently located next to the bus station for all your Iguazu falls needs!
---
Alejandro and Nicholas were very kind and attentive to all my needs. From the moment Alejandro picked me up to the end with Nicholas making sure I got to my next destination with ease. He even went out of his way and got me step by step directions from the bus to my doorstep. Highly recommend this apartment to anyone coming to the city. If it's not booked already take advantage of it and book before someone else does. The apartment was very nice and clean, almost felt like I had stepped into a hotel room. The apartment is located perfectly, right in front of the bus stop with cafes and restaurants all around. Need a taxi there's one waiting outside by the bus stop. Even the neighborhood markets and restaurants were a pleasure to stop by and have a chat with. Thank you Alejandro and Nicholas for everything you did to make my stay so comfortable!!
---