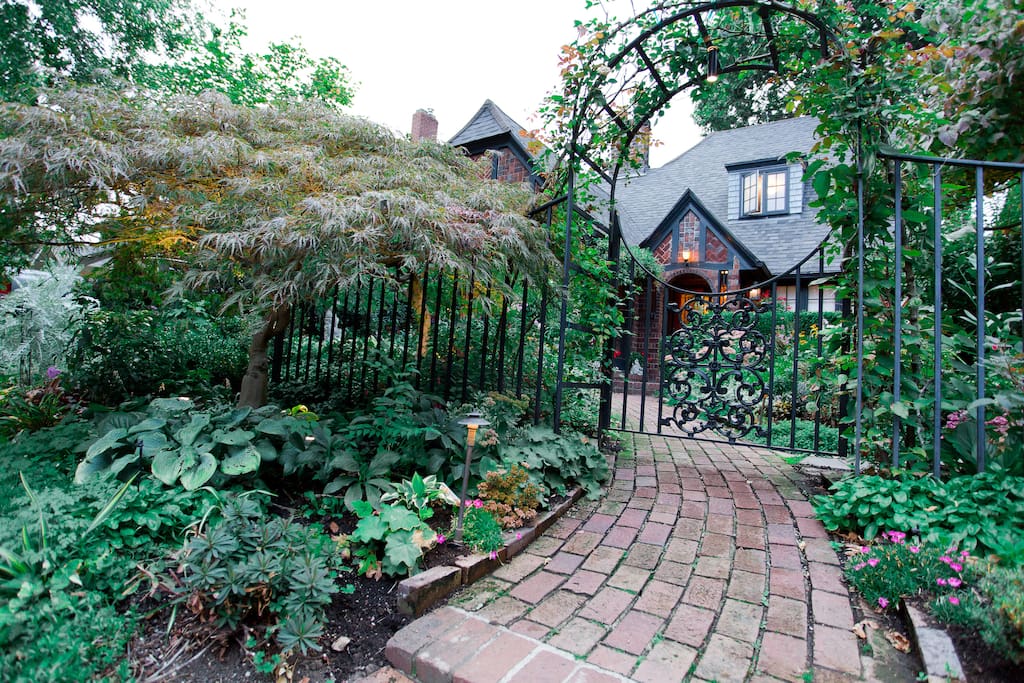 この趣のある全体的に家具付きの庭コテージ、1ベッドルームアパート。美しい古いポートランドのコミュニティ、Laurelhurstにある私たちの歴史的なレンガ造りの英会話教室の階下に、それ自身の鍵、プライベートエントランス、中庭があります。レビューを読む!
This quaint totally furnished garden cottage, one bedroom apt. is private with it's own key, private entrance, and courtyard in the downstairs of our historic brick English tutor home in Laurelhurst, a beautiful old Portland community! Read our outstanding reviews!
スペース
この趣のある1ベッドルームは家具付きアパートです。歴史的な英国の家庭教師の家の階下に位置しています。独立した鍵、専用入口、中庭があります。スペースは2つの窓でよく照明され、裏庭には美しい庭とパティオのバックドアと中庭のサイドドアがあります。場所はLaurelhurstです - ポートランドの最も古い、最も美しい計画されたコミュニティの1つは、街から10分以内の静かな並木通りで、15分です。空港から。主要なショッピング、素晴らしいレストラン、ポートランドの最も美しい公園のいずれかが徒歩圏内にあります。この理想的なロケーションは、主要なバスラインからわずか2ブロック、MAXトレインから5ブロックです。また、Hawthorne、Belmont、28th streetなど、東側のショッピング街やダイニングエリアから徒歩圏内です。 この中世の装飾されたアパートに入るとすぐに家にいるでしょう!あなたは最新のメッシュ技術のワイヤレスインターネット、ケーブル付きの薄型テレビ、ブルーレイCDプレーヤー、寝室の映画のコレクションを備えた快適なクイーンサイズのベッド、寝心地の良い椅子と机を見つけるでしょう。新しくタイル張りのバスルームには浴槽とシャワーが付いていますが、別の「リビングルーム」はありませんが、キッチンやパントリーには、電子レンジ、ガスコンロ、冷蔵庫、ミキサー、コーヒーメーカー、食器、鍋/鍋、スパイス、調味料など)。その他の設備には専用中庭、洗濯機/乾燥機があり、バス、電車、レストラン、ショッピングまで徒歩圏内です。 歴史的な家の詳細は、オレゴン百科事典のウェブサイトをご覧ください。 "Brick House Beautiful"を検索してください。私たちの家は「Better Home and Gardens」誌にも掲載されており、「Old House Journal」のカバーに2回掲載されています。 ご到着時に帰宅している場合は、ご滞在中に英語の庭園、中庭、バーベキューへのアクセスが完備されている間、私たちはあなたの家のツアーをお楽しみいただき、お茶またはワインをお召し上がりいただけます。私たちの美しい歴史的な家にある「Quaint English Garden Apartment」に滞在することをお望みなら、喜んでいただけると思います!
This quaint 1 bedroom furnished apt. is located downstairs in our historic brick English tutor home. It has a separate key, private entrance, and courtyard. The space is well-lit with two windows and has a back door to a beautiful garden and patio in the backyard as well as a side door to the courtyard. The location is Laurelhurst - one of Portland's oldest and most beautiful planned communities on a quiet, tree lined street within 10 minutes of the city and 15 min. from the airport. Major shopping, wonderful restaurants and one of Portland's most beautiful parks are all within walking distance. This ideal location is only two blocks from a major bus line and 5 blocks from the MAX train. It is also within walking distance of favorite east side shopping and dining areas, including Hawthorne, Belmont and 28th street.
When you enter this mid-century decorated apartment you will immediately feel at home! You will find a comfortable queen sized bed, overstuffed chair and desk with the latest mesh technology wireless internet, flat screen TV with cable, Blu-ray CD player, a collection of movies in the bedroom. The newly tiled bathroom has a tub and shower and, although there is not a separate "living room", the kitchen and pantry is fully furnished with everything you may need to make your own meals if you choose (i.e. microwave, gas stove, refrigerator, blender, coffee maker, dishes, pots/pans, spices, condiments, etc.). Other amenities include a private courtyard, washer/dryer in the apt., and easy walking distance to bus, train, restaurants and shopping.
More information on our historic home can be found on Oregon Encyclopedia website. Search for "Brick House Beautiful". Our home has also been in "Better Home and Gardens" magazine and has been twice on the cover of "Old House Journal".
If we are home when you arrive, we will be happy to give you a tour of our home and offer you a cup of tea or a glass of wine while you have complete access to our English gardens, courtyard and barbecue during your stay. We think you will be pleased if you choose to stay in the "Quaint English Garden Apartment " located in our beautiful historic home!
ゲストの立入り範囲
ご宿泊のお客様はエントランスを持っており、予約後、ロックボックスの情報をお知らせ致します!
Guests have their own entrance and after booking, we will send them lock box info!
ゲストとの交流
私たちはいつも私たちのゲストを個人的に迎えて、家や周辺のツアーをしています。ご要望があれば、訪問、食事、遊びのエキサイティングな場所へのご提案をお待ちしております。私たちは新しい友達と会うのが大好き!
We always try to greet our guests personally and give them a tour of the home and surroundings. Upon request, we are happy to provide our guests with suggestions for exciting places to visit, dine and/or play! We love meeting new friends!
その他の特記事項
私たちは楽しんで、バーベキュー、ディナーパーティー、または小さなパーティーのために友人を持っていることがあります。ご宿泊のお客様はいつでもご参加いただけます。しかし、プライベートな中庭には外で食事をし、素敵な花の鉢を楽しむことができます。
We like to entertain and will sometimes have friends over for a barbeque, dinner party or even a small party. Guests are always welcome to join us. However, guests do have their own private courtyard with privacy, a place to eat outside and enjoy the lovely pots of flowers.
---
---
---
---
Check in is 3:00 unless you have made other arrangements with hosts.
Check out is at 11:00 so we will have time to clean the apt. for new guests.
No smoking or pets please.
Leave apt. as found including dishes washed and put away.
Upon departure please put used sheets, pillowcases and towels in laundry basket.
Outside quiet time before 8:00 am and after 10:00 pm.
No maid service is provided.
Please park along curb in front of our house.
---
---
---
We live in a historic home in Laurelhurst, in Portland. Sue is a retired principal and Bob retired from the big aerospace company in Seattle (Boeing). Sue has a passion for decorating and gardening (is very creative and good at both), Bob is into art and also enjoys and appreciates creating and living in a tasteful environment. We both enjoy entertaining, hosting frequent social gatherings in our home in our English garden or just having friends over for a "glass" of wine. We also have a house on the Oregon Coast that we love and enjoy sharing with family and friends and that is also available for short term rental. We stay constantly busy with our "projects" spending time with the grandchildren, try to fit some time in for a little golf and getting away for a few days from time to time.

As hosts and your staying in our Portland apartment, we would be happy to invite our guests for a tour of our historic home, sit with us and enjoy a glass of wine in front of the inglenook fireplace or on the patio in the garden. If our guests prefer to left alone we are sensitive to that as well. Our goal is to provide a welcoming, comfortable, and tasteful environment for our guests, and possibly develop new friendships.

If you are staying in our beach house, you will have total privacy. We will not be there to greet you. We provide you with a code to the lock box and you are have the home to yourself. If you need something you can call us and we will do what we need to address your needs.

As guests we appreciate friendly hosts, but we do appreciate a host sensitivity to our privacy. We also appreciate hosts that provide recommendations and insight into places to visit and things to do.

As to a life motto we both think that, Live, Love, Laugh and Learn is how we approach life.