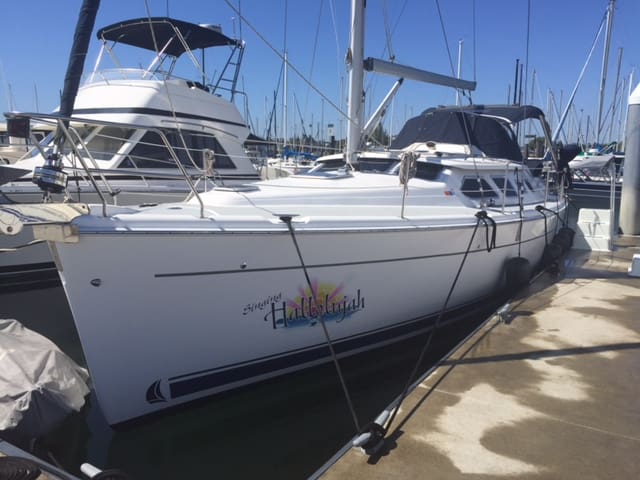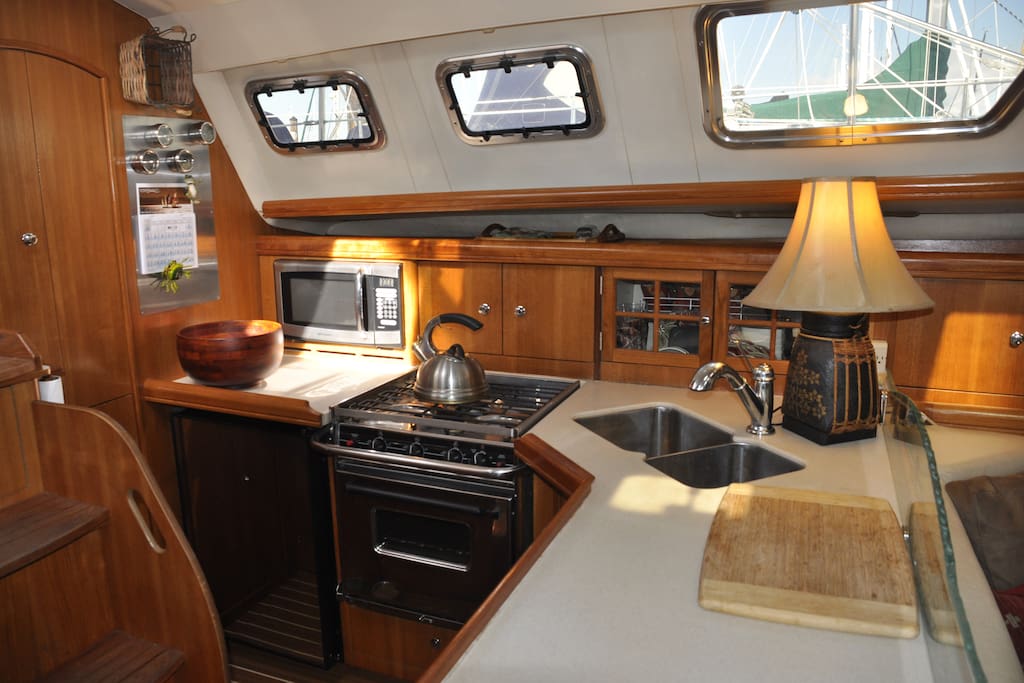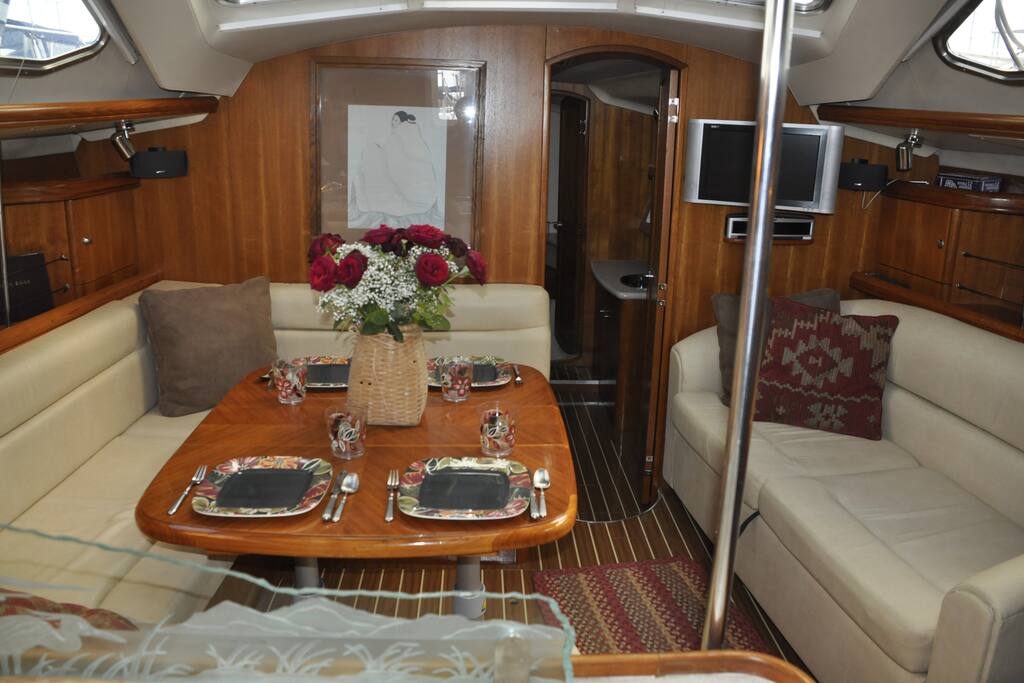 Summer is revving up and Anacortes is the place to be. ... so many choices of things to do; whale watching tours at your doorstep; A beautiful ferry ride through the San Jauns to the quaint town of Friday Harbor; Local hiking is available; A sumptuous Saturday market that is just a block away; kayaking at it's best; if you are a shopper there are lots of fun stores to explore And there is lots of good food to eat; or you can just relax on board and watch the marina activity pass by.
スペース
Our beautifully appointed sailboat offers a fun alternative to staying in a more conventional setting; Beautiful Marina; walk to the charming town of Anacortes; shopping; whale watching tours; top drawer restaurants; doorway to the San Juan's;

Our sailboat is comfortable and cozy with all of the amenities of home. If you want you can do your own cooking with our fully appointed galley.
You can also read through our Cruising Log and learn about our adventures in the San Juans and the northern parts of British Columbia
If your are curious you can peruse the cruising books that we have used as we have taken Singing Hallelujah North into British Columbia as far as the Broughton Archipelago (to be exact the Broughtons are located just off the mainland at the northern most part of BC).
Two things make staying on a boat unique. If there is wind you can hear it whistle through the rigging. That can be somewhat daunting if you are out at anchor... wondering if the force of the wind will knock your anchor loose from the bottom. But no worries for you are safe and snug at harbor. The other thing that I thoroughly love is the gentle rock of the boat when I sleep at night. This tends to happen when the wind is up or a boat has passed by. I have found that this rocking motion is always a fun surprise for friends who by definition are landlubbers :).
For those of you who love music, we have a great Boze entertainment system on board and we have an IPOD hook up ... so bring your music.
PLEASE NOTE: there is a slight increase in the nightly rate as we will need to refill the water tanks and pump out the holding tank. That needs to be done weekly.
We have it all; great restaurants, interesting shops as well as Art Galleries. If you want you can catch a bus and take the Washington State Ferry to Friday Harbor on San Juan Island or stop off and visit the town of Orcas on Orcas Island, just off the Ferry landing.
One of my favorite suggestions is to take one of the whale watching tours that will give you a front row seat to watch the Orca whales playing and feeding. The Sea lions are always fun to watch too and of course the seals are always popping up to take a look at the world passing them by.
Other than all the above you can also relax in the Cockpit of our boat... read a book...bask in the sunshine with a glass of wine to add to the overall relaxing and gentle rock of Singing Hallelujah created from the wakes of other boaters going out for a short adventure.
We will not be present but will have someone available should there be any problems. If you do have problems call us at (PHONE NUMBER HIDDEN) or text us at (PHONE NUMBER HIDDEN) and we will get someone there to help where needed.
The Marina is absolutely beautiful. There is a great restaurant (Anthony's Homeport) at the entrance to the Marina where guests can eat or enjoy happy hour. The Whale Watching excursions should not be missed. Anacortes is a small Artsy Town with delightful art galleries and gift shops. Saturday Market just walking distance from the boat is also lots of fun with interesting food, vegetables, and crafts... not to mention the people. You can walk just about everywhere and there is lots to explore
Parking is at the top of the marina; first come first serve. There is a short walk to where the boat is moored. Island buses are available. The Washington State Ferries are about 15 miles away. You can either drive on or walk on. The Ferries take you to the Charming towns of Orcas and Friday Harbor. It is also fun to watch the Marina boat traffic coming and going.
Please note: I am charging more for longer stays...not much but will have to service the boat more than once.
etched glass divider between the Galley(kitchen) and Salon(living area); Original Gorham Indian print hanging on the Salon Bulkhead(Wall); Boze Entertainment center for CD,s IPOD and DVD's; Large Cockpit(outside seating area) as well
ゲストの立入り範囲
The entire boat is at your disposal
ゲストとの交流
We live 3 hours away. However I do check my texts and emails if you should have any questions. If you need me to call you please text me and I will call back as soon as possible. Being that we live in the mountains I don't always get my phone calls but I do check my texts regularly and well get back to you promptly when I see that you are trying to reach me. Text at (PHONE NUMBER HIDDEN)
その他の特記事項
Rain or high winds could affect you stay but don't worry about it. Check the weather and bring rain gear to stay warm as you walk on and off the dock. Don't worry however you will always be safe at the dock. It is actually kind of fun to feel the slight rock of the boat and hear the wind blowing through the rigging.
---
---
---
Respect the neighbors. No smoking. No dogs or cats. Turn propane off when you are not cooking. Don't leave water running as tanks only hold so much water. Read the boat instructions carefully. Do not mess with boat control panel. The only time you would go there would be if you ran out of water to turn off the pump or you trip the breaker. Be careful with Red wine while out on the exterior of the boat. It is recommended that you wear rubber soft soled shoes when walking on the boat exterior. A mariner would call them boat shoes :) Black soled shoes leave scuff marks and it is hard on the gel coat to get the scuff marks off. Thank you
---
What a wonderful experience! Our only regret is that we couldn't stay longer. The harbor location in downtown Anacortes cannot be beat. You can easily walk to all the nearby restaurants, shops, grocery stores, local bike trail, etc. There is a state park on the opposite shore of the harbor, which can also be easily walked to, and which beautifully frames the view of the docked boats in the marina. The hosts are super helpful and responsive, and their boat is beautiful. Five star rating from this happy camper.
---
Barb & Byron are simply amazing hosts! We felt like "yachties" living in Anacortes!! Very responsive in answering questions that arose. We felt like family and friends!! You simply wont find a better deal for lodging in a truly amazing place. Think outside the box & try this..you wont be disappointed!! One of the best vacations I have ever had, including trips to the Maldives, Thailand & Indonesia aboard live-aboard dive vessels. Once you become accustomed to life on a boat & the routines involved, it becomes such an adventure. Just strolling down the dock to our slip each evening..the many times we just chilled in the cockpit over wine & stories of the day's happenings...the many awesome & fun eateries & bars with great music...the Saturday farmer's market...the list is endless!! Truly a home away from home. Way above just renting another vacation home. Gorgeous yacht!! Wonderful hosts!!
---
No one should miss this adventure! What a beautiful and incredible boat Barb and Byron have. The information is provided to you, along with the communication, from Barb is spot on. It was such a pleasure to share this wonderful gem out in Anacortes. Whoever reads this I highly recommend that you book a weekend you will not be there
---
My Husband and I live 35 minutes from the Bavarion Town of Leavenworth WA. We chose to temporarily abandon out Mariner(Boating) life style and move to a remote area of the Central Cascade Mountains. We currently are building a log cabin which nestles itself up along the banks of…