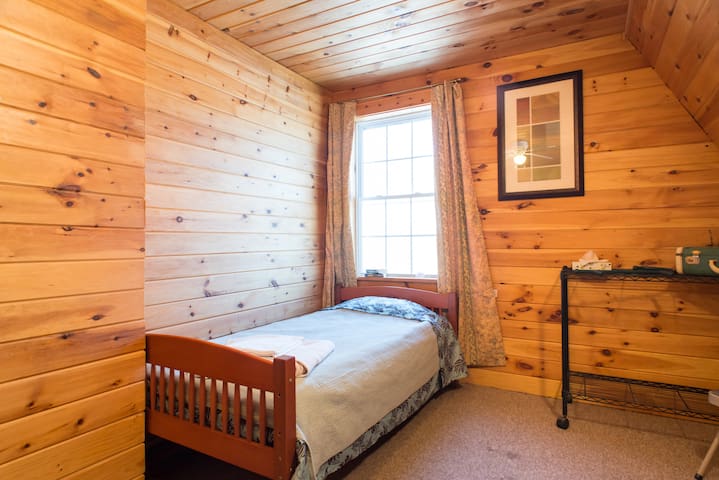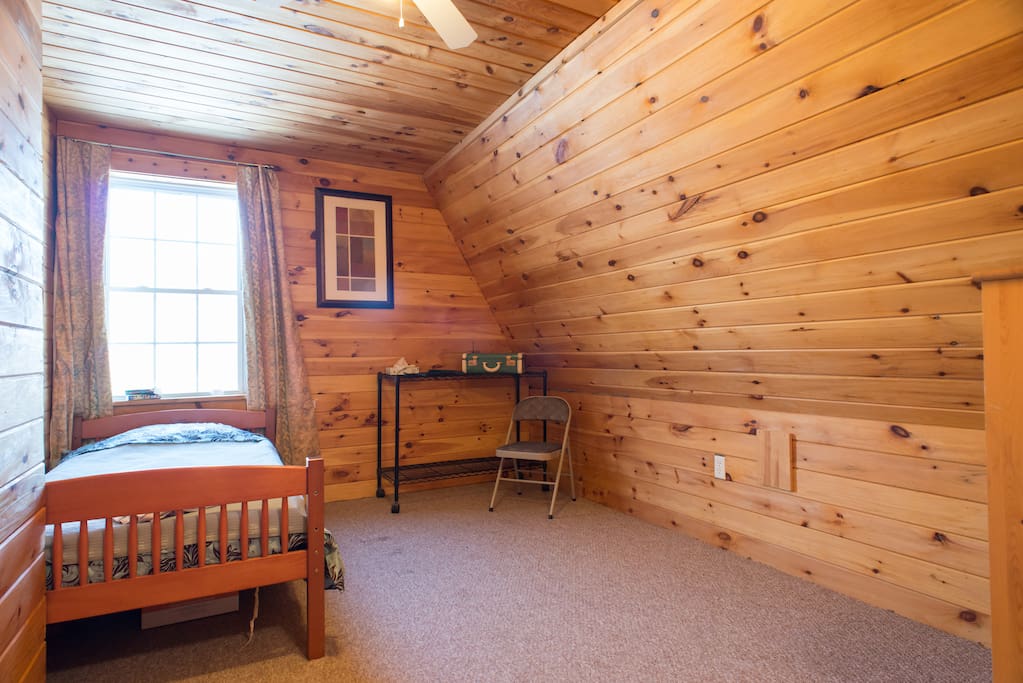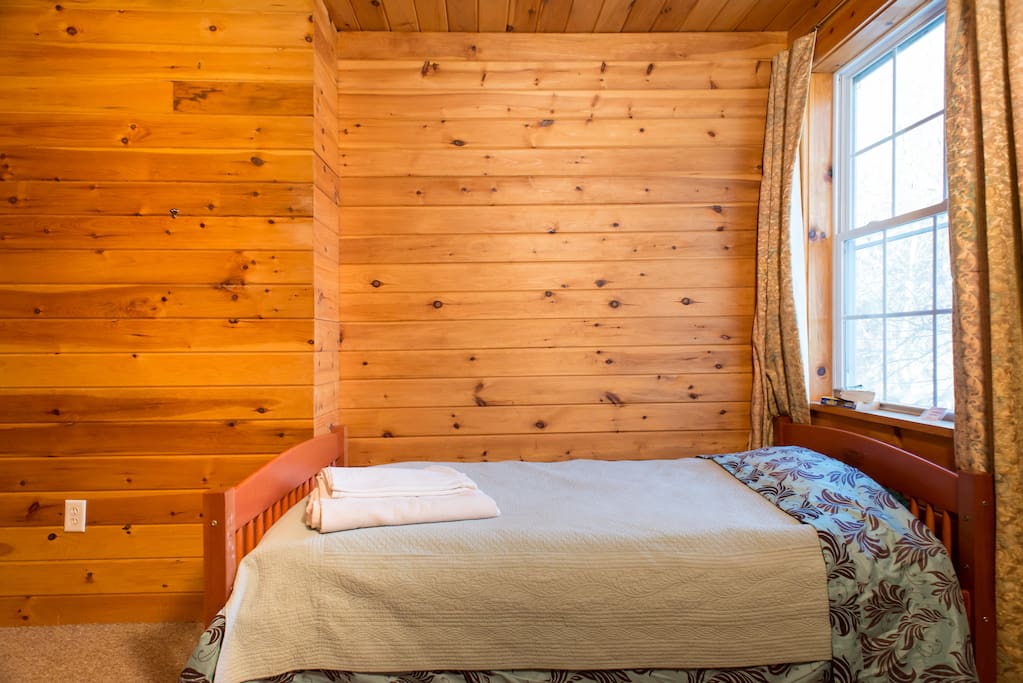 これは1888年に建てられた美しい古いビクトリア様式の家庭内の部屋です。私たちはいくつかの客室をエアバッグのお客様と共有しています。キッチンとバスルームはすべて新築です。 3階のゲストエリアには木製のキッチンと大聖堂の天井があります。
This is a room in our families beautiful old victorian built in 1888. We share a few of our rooms with airbnb guests. The kitchens and bathrooms are all new construction. The 3rd floor guest area has an all wooden kitchen and cathedral ceiling.
スペース
私たちの家は、歴史あるウォルサムで1888年に建てられた大きな古いビクトリア様式の家です。私たちは大規模な活動的な家族を持っており、私たちの家をエアバッグのゲストと共有して楽しんでいます。私たちの家には、3階にあるすべての木製の大聖堂の天井のあるバスルームとキッチン、古いスタイルのビクトリア様式の客室があります。家は、専用車線の丘の上にあり、通りにはたくさんの駐車場があります。私たちの通りにはいくつかのバスがあり、通勤電車駅(電車/地下鉄)とバスステーションである「ウォルサム駅」から1マイル離れています。
Our home is a large old victorian home built in 1888 in historic Waltham. We have a large active family and enjoy sharing our home with airbnb guests. Our home has new construction for the bathrooms and kitchens and old style victorian rooms with an all wooden cathedral ceiling on the third floor. The house is up on a hill on a private lane with plenty of parking available on the street. There are a few busses that come to our street, and we are 1 mile away from "Waltham Station" a commuter rail station (train/metro) and bus station.
ゲストの立入り範囲
家には4つのバスルーム、2つのキッチン、2つの洗濯機と乾燥機、2つのリビングルーム、図書室、デン、庭園があります。私たちのエアバッグのお客様は、3階に台所、洗濯場、バスルームを共有する傾向があります。ただし、お客様は1階と2階のバスルーム、デン、図書室、1階のキッチン、必要に応じて2台目の洗濯機にアクセスできます。プロジェクターを使用して、3階にあるシネマスタイルの映画を見ることもできます。私たちはカヤックとパドルボード(そしてライフジャケット)を用意しています。
There are 4 bathrooms in the house, 2 kitchens, 2 washers and dryers, two living rooms, a library, den, and a garden (we're happy to share). Our airbnb guests tend to share the kitchen, laundry, and bathroom on the third floor. However, our guests have access to the 1st and 2nd floor bathrooms, our den, library, and 1st floor kitchen, and second laundry machines as needed. You may also use our projector to watch cinema style movies on the 3rd floor. We have kayaks and paddle boards (and life jackets) we're willing to share with guests who have experience with them too.
ゲストとの交流
私たちは忙しい一家で、ゲストも忙しいと理解しています。私たちは出かけるときに素敵な "こんにちは"と言うのがうれしいですが、大部分はあなたにスペースを与えて、私たちの日に行くことを好む。それは言われているように、私たちは、ゲストがここに1~2泊され、あなたが快適で快適であることを確認した後、チェックインを行い、質問に答えたり、必要に応じて問題や要望にお応えします。我々は、お客様が私たちの家に滞在している間に、皆様のご要望が満たされているように、歓迎しています(しかし、気に入らない)ように感じていただきたいと思います。 あなたはペットとやりとりする必要はありませんが、あなたが望むのであれば歓迎します。 (食べ物、水、トイレにトイレがある場合は常にトイレを閉めないでください。)
We're a busy family, and understand our guests are busy too. We're happy to say a nice "hello" when coming and going, but for the most part we prefer to give you your space, and go about our day. That being said, we do check in after a guests has been here a night or two and make sure you're comfy and cozy, and are available to answer any questions or help with any issues/requests as needed. We want our guests to feel welcome (but not put upon) and to feel like all your needs are being met during your stay in our home.
You do not need to interact with the pets, but you are welcome to if you so desire. (Please do not shut them in your room as they should always have access to food, water, and a place to have potty breaks.)
その他の特記事項
どの国籍、民族性、宗教、LGBT、その他の背景の人も歓迎します。我々は平等を強く信じ、多様性を楽しむ。 私たちの家はベッドバグ、ノミ、シラミフリーです。私たちがそのように保つことは非常に重要です。あなたが最近暴露されているか、これらの害虫のいずれかを運んでいた可能性がある場合は、ここにいないでください。 何かがあなたのニーズを満たしていない場合は何よりもコミュニケーションを歓迎し、私たちに知らせてください。
We welcome anyone from any nationality, ethnicity, religion, LGBT, or any other background. We believe strongly in equality, and enjoy diversity.
Our home is bed bug, flea, lice free - it's very important for us to keep it that way. If you have recently been exposed or could be carrying any of these pest we request you please do not stay here.
We welcome communication above all if something isn't meeting your needs, let us know, we're happy to help and see what we can do.
---
---
We do not wear shoes in the house, and request you don't also (if you need to for orthodics that's fine).
Check in time is after noon, and no later then 9:00PM. We request at least 24 hours notice of preferred check in time, so we can do our best to meet your needs.
There are extra linens in the closet at the top of the 1st floor stairs if you need any extra blankets or towels help yourself, or don't hesitate to ask us.
Please turn off lights as you leave a room (as opposed to assuming someone else wants them left on). Also, kindly unplug any appliances you're not using (heaters, fans, kitchen appliances, etc.) when you leave for the day.
You are responsible for cleaning up your own food messes and dishes. We greatly appreciate not leaving food or dirty dishes out as it helps keep pests and bugs away. There are large black & grey garbage bins by the garage. There are large blue bins in the same location for recycling. We also have two compost bins near there too should you want to do that. For long stay guests, the garbages get taken to the street on Tuesday mornings, and can be brought up whenever they're empty. PLEASE do not store food in your room. There are two kitchens and plenty of cupboard space. If you need more for any reason, just ask. Also there is tons of cook wear in the first floor kitchen, and mostly the basics in the 3rd floor kitchen, if you need anything you see in one kitchen, just ask, we're happy to swap things around.
The sphinx is not allowed outside (he can get a sunburn!). The dog can go in or out, but it's usually best to leave her where you found her when in doubt. Please do not shut any pets into your room. If you enjoy them and want to play with them, you're welcome to let them in, but we don't want a pet to get accidentally shut in.
Please pull all the way up in the parking area to the tree line (usually at a 45 degree angle). Sometimes people drive quickly down the street at night and (even though it's never happened) we wouldn't want anyone's car to get clipped.
Long stay guests, feel free to bring up the mail and leave anything that's not yours on the white desk by the front door. We'll do the same.
If you want to be on the city of Waltham's alert list for weather warnings or advisories or any public service announcements you can subscribe here: (URL HIDDEN)
There is emergency bottled water, candles, matches, and such in a box under the kitchen counter on the third floor, and on the first floor. The two 3rd floor guest rooms have emergency window escape ladders located in the closets.
Most importantly, while this isn't a hotel, it's our home we're sharing, we still want every guest to have a good and comfortable time. We love to problem solve over finding out after the fact if we didn't meet some need - so please don't hesitate to speak up if there's anything you want or need we didn't provide, and we'll see what we can do!
Welcome!
下記事項もご了承ください
Dog(s)とother pet(s) live in the house
---
Xavier is a retired professional ballet dancer who now works in the world of 3D biomedical printing. Natasha is retired from xenotransplanation research and now runs an educational center and science camps for children.
言語:
English、Français、日本語