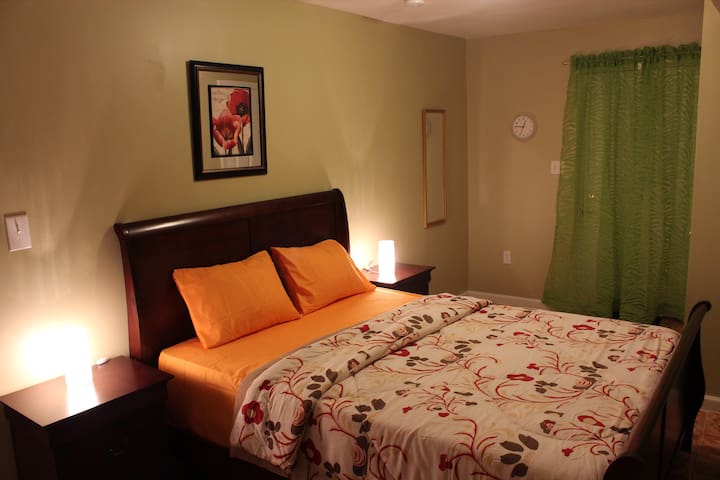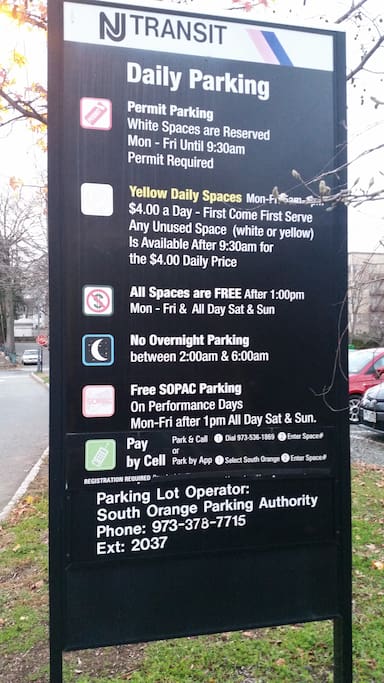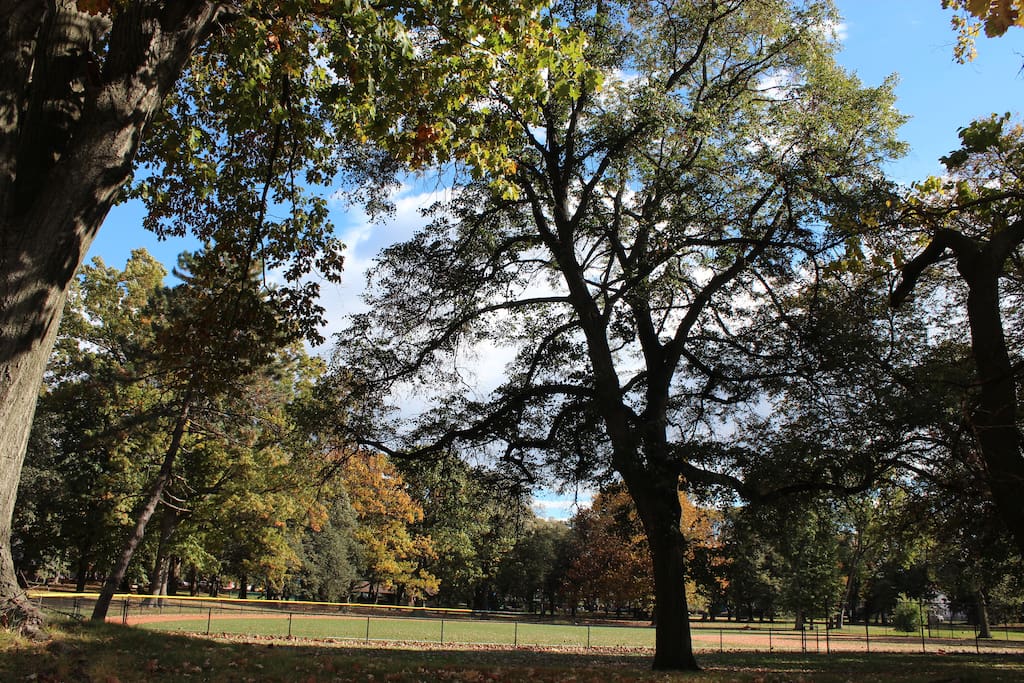 2ベッドルームアパートメント(大人1~4名、PVTフルバスルーム、バスタブ&シャワー付)、機能的なキッチン&ダイニング&シーティングスペース(大人4名様用)、大人2名様用のベッド1台、その他の客室には2名または3名用のエアマットレス。 2人目以上の予約が必要な場合にのみ、2ベッドルームをご利用いただけます。追加料金でのリクエストも承ります。
2 bedroom apartment for 1-4 adults with PVT full bathroom with Bath & shower facilities, fully functional kitchen & dinning & seating space for 4. 1 Queen bedroom with real bed for 2 adults and other room has air mattresses for 2 or 3 extra guests. 2nd bed room will be available only if more than 2 person reserve. Also on request with extra cost.
スペース
2ベッドルームアパートメントSMART TV、PVT、バスタブとシャワー設備を完備したフルバスルーム、機能的なキッチン&ダイニング&シーティングスペース(4名様用)。大人2名様用のベッド1台、その他のお部屋には2名様用のエアーマットレス、 3名の追加ゲスト。 高速バス(aprox。30分)とNewark Liberty International空港とNewark Penn駅を利用してニューヨークへ簡単に公共交通機関をご利用いただけます。タクシーでわずか8~10分です。ペン駅からマンハッタンまでは、NJ経由でわずか1駅です(aprox:10分)。 また、無料のパーキング(午後1時~2時)@南オレンジ駅から15分でマンハッタンへ(約)アパートから南オレンジNJのトランジット駅までは車で8~10分です。 このカレンダーで日付が利用できないようにしたい場合は、私の他のリストをチェックしてください。
2 bedroom apartment for 1-4 adults with SMART TV and PVT full bathroom with Bath & shower facilities, fully functional kitchen & dinning & seating space for 4. 1 Queen bedroom with real bed for 2 adults and other room has air mattresses for 2 or 3 extra guests.
Easy Public transportation to NYC by express bus (aprox. 30 min) & Newark Liberty International airport and Newark Penn station is just 8-10 mins taxi ride. From Penn station to Manhattan is just 1 stop (aprox: 10 minutes) by NJ transit.
Also You will have free parking (1pm-2am) @ South Orange Station to go to Manhattan in 15 Min.(Approx.) From the apartment South Orange NJ transit station is 8-10 minutes drive.
If You desire dates are not available in this calendar please check my other listing.
ゲストの立入り範囲
ADTあなたのアパートへのプライベートエントランスを確保しました。あなたのスマートキーはあなたのユニットだけにアクセスできます。クイーンベッド、フルバスルーム、キッチン(ケトル、電子レンジ、トースター、冷蔵庫付) &4のダイニングエリア きれいなベッドシーツ、枕カバー&タオルはホストから提供されます。 私たちのプライベートランドリールーム(洗濯機/乾燥機)は、1回のロードにつき$ 10でアクセスできます。 アイロン/アイロン台とヘアドライヤーは、わずか3.00ドルで利用できます。 到着時にインターネットパスワードが与えられます。 アパートメントの正面には、無料のストリートパーキングがたくさんあります。ストリートスウィーピーの日々に気をつけてください。月曜日は反対側の公園と火曜日の公園側です。
ADT Secured private entrance to your apartment . Your smart key gives access to your unit alone. Includes queen bed, full bathroom, Kitchen (includes kettle, microwave, toaster, refrigerator)
& Dinning area for 4.
Clean bed sheets, pillow cases & towels will be provided by host.
Our private Laundry room (Washer/Dryer) can be accessible with only $10 per load.
Iron/Iron board and hair dryer will be available with a little cost of $3.00
Internet password will be given on arrival.
Plenty of free street parking available just in front of the apartment. Please be mindful of street sweeping days. Monday opposite side of the park and Tuesday Park side.
ゲストとの交流
私はこのプライベートハウス(2階建て)に住んでいるので、常に電話/電子メールまたは個人でゲストと交流することができます。
As I am living in this same private house (2nd Flr), always available to interact with guest via Phone/email or in person.
その他の特記事項
1)4名まで(プライマリゲストを含む)。 2)私たちはきれいな場所を維持し、あなた自身の後であなたがきれいにすることを要求する。 3)タオル/リネン、ボディウォッシュ、シャンプーが提供されます。 4)タオルを変更する(要リクエスト)。追加料金(2つのタオルは5ドル)。 5)マンハッタンに行くことは簡単で費用効果が高い。 South Orange Stationで駐車する場合は無料です(午後1時から午前2時まで)。サウスオレンジ駅はアパートメントから車で5-8分です。またはあなたはNewark Penn駅で駐車することができます1日あたり約8-15ドルの費用がかかります。
1) No more than 4 guests (including Primary guest).
2) We keep a clean place and request that you clean up after yourself.
3) Towels/linen, body wash, shampoo will be provided.
4) Changing towels (on request) with an extra cost ($5 for two towels).
5) Going Manhattan is easy and cost effective. If you park by South Orange station is free (from 1.00pm till 2.00am). South Orange station is 5-8 minutes drive from the apartment. OR you can park by Newark Penn Station could cost around 8-15 USD per day.
---
---
追加人数の料金 ¥1160 / 泊 (1名を超えると1名様増毎に加算)
連絡は常にAirbnbを通して行いましょう
お支払をお守りするためにも、Airbnbのサイトやアプリ以外の場所では決して送金や連絡を行わないようご注意ください。
詳細はこちら
---
チェックイン時間: 17:00~02:00 (next day)
******* Infant will be charged 10 USD per night per infant.
******* Pet will be charged 15 USD per night per pet Plus 35 additional cleaning fees.
******* Please make sure you locked House main door & apartment door properly while you are checking out like you do for your house :) :).
1.Please take off your shoes. Host provides flip-flop to use in the house.
2.No smoking, absolutely no drugs, no partying inside the house, no eating in the bedroom. Trace of any of these could cost cleaning fees $100 or more.
3.Please leave TV remote control on the TV stand after watching TV. Loosing TV remote could cost deposit.
4.Please keep your kitchen clean. Wash kitchen utensils right after use. Throw food waste in the kitchen waste bin only. Please leave your garbage or kitchen waste before check-out to the garbage can located outside (left hand side of the House).
5.Please clean your toilet bowel after use.
6.Overall leave the apartment as you found at the time of check -in.
7.No other guest allowed at any time without host's consent.
8.The main entrance must be keep locked at all times.
We also ask that you keep your apartment entrance door locked when you are out. Your apartment key is for your use only. Please return all keys before departing.
9.Guest is responsible for all his/her belongings in the apartment. Host will not take any responsibility for guests missing or damaged item/items.
10.Host will not take any responsibility for any guest injury or incident.
11.Guest should not be loud at any time. We should respect others who are living or may be sleeping in this multi-family house.
12.Checking out before or sharp 12.00pm is ok. If you checking out later than the mentioned time could cost extra cleaning fees for the cleaning team. I pay them per visit. They charge me extra if they had to wait longer than 10 minutes for the apartment keys.
13.Host reserves the right to access to your apartment anytime or if any emergency.
14.Host reserves the right to remove all guest belongings from the apartment if guest is absent at the time of check out.
15.Guest can leave their luggage in my store room and collect in 24hrs if necessary.
16.All Furniture in the apartment is for guests to use. Guest cannot bring any furniture or equipment in the apartment at any time.
17.Guest should not move any furniture in the apartment too.
18.Plenty of free streets parking available. Only on street sweeping days (Monday & Tuesday) please park your car/vehicle accordingly. Otherwise ticket will be issued by the authority.
19.Street Sweeping days: Monday - Right side of the road, Tuesday- Left side (Park side) of the road. Please find parking spot accordingly.
20. Street parking is free 24/7. Please do not block/park on any ones driveway.
---
---
---
The hostess was very good about communicating however the experience is not at all what we had expected based on listing. The apartment was listed as a two bedroom the second bedroom was locked and could not be used. The apartment was in back of the garage. The bed mattress was very thin and the only comforter that was there was a thin quilt that didn't really cover the whole bed. The stove top was dirty and the sheets did not seem very clean. The area is not at all what was described. The houses on the street had bars on windows and we were told by our uber drive that the area was not safe and to not be outside after dark. The park that is in the picture is across the street however we were also told by our driver to not go to it because the police will think you are either buying or selling drugs. We did not feel safe here what's so ever. We were also informed by our driver who was familiar with the area that the train station that is near the area was not a safe place and he wouldn't even go there. We ended up speaking with the owners and was told we would get a full refund because the area was not safe and the house was not at all what was described. Ended up only getting half of it refunded. Air BnB was gracious enough to refund the remaining part. In my opinion I would be very cautious if you are to rent this.
---
Great communication. Place was accurate to the pictures. Not the best area but great security within the household. Check in & check out were simple. Well priced for what you get. Overall clean place apart from couple of insects. Toilet clogged during my stay but this was something they tried to fix as quickly as possible. Overall, i recommend this place for anyone trying to stay within a budget, get free parking while visiting the area or New York.
---
Hrid's place is a comfortable and cozy den located right by the park, perfect for anyone wishing to grab that morning walk/jog. She has maintained the apartment very well and went out of her way in arranging for extra comfort for us. Everything was very clean and Hrid was excellent with her communication and in arranging for any help we needed during our stay. The only downside I would pick is that her place is quite far from New York and Jersey City. Anyone looking to travel frequently to Jersey City, Midtown and/or Financial District during their stay must keep this in mind. Overall, I would definitely recommend staying at Hrid's place.
---
Horrible location, may not be worth paying less for the stay here since transportation to NY ends up being consult and adding up and the location of the air BNB in Newark would not be safe unless traveling in a group. There isn't much around the place for food, not any safe reliable places within walking distance. If you really need to stay here for whatever reason, I don't recommend taking the public transportation as it is very unclean and poorly regulated, if at all. Make sure if you are walking in the neighborhood to have some sort of protection and walk in pairs, it is a bit of a sketchy neighborhood. The people are nice, but the overall feel and look (restaurants, neighborhood, public buildings/parks nearby, etc) is sketchy.
Hi Selena Thanks for staying with us. My listing details are detailed and pin pointed. You just have to read this listing detail properly honey . Cleaning issues you had I'm sorry to hear that . You would have tell me while you were staying @ my place then I would have taken action by calling the housekeeping company . It's been long time i'm hosting and have the opportunity to meet many people . You sounds depressed honey. Get yourself together. Before making reservation beside reading listing details please (SENSITIVE CONTENTS HIDDEN), call, Msg as many time you want to HOST to get clear idea of the location or communication rather playing blame game. And please don't tell all your stories to the host after you checked out. This way host may have the opportunity to upgrade (who knows). You knew you are getting the apartment in bargain price in NEWARK . Still you are acting like you booked something in time Sq. Please be reasonable. Some people can't effort to stay anywhere (coz of their cheap mentality). I have many 5 star reviews you may like to check those too. Good Luck honey(URL HIDDEN)
---
My husband and I are veterans to AirBnB at this point, and have never had a poor experience with the owner of a rental property - until now. First, the good things: the security to the home is excellent, as it should be due to the Newark area. There is a code to get into the front door of the home itself, and then another code to get into the apartment. Communication regarding check-in and these codes was very clear, which we appreciated. The other good thing is that free parking was always available out front. Onto some things that we found troubling. The apartment pictures and description on the site suggest a different vibe than what it actually is; in reality, this is a relatively dark basement apartment with just one window in the bedroom. There is a table, chairs, and a kitchen area, although there's no microwave and the oven doesn't work, which was strange. There's no couch or living room area, and we had no climate control in the space, which made for a very cold stay - my husband wore a hoodie to bed every night, with the hood actually over his head, and I now am suffering from a pretty massive sinus infection, exacerbated by air conditioning (per doctor diagnosis). The bathroom offered a variety of necessities, although we had to ask for bath towels when we arrived. The handle in the shower to control the water is confusing as well - there's no point at which it stops to fully stop the water flow. There was also dirt on the bathroom rugs and mold in the shower. In fact, there was also mold in the bedroom, which threw us off quite a bit, since Hrid mentioned a housekeeper. In our experience, housekeepers don't miss crucial issues like black mold. In the bedroom, there appeared to be a stain on the sheets and bed linens otherwise didn't fit the size of the mattress. My husband and I are both relatively small people, and yet, we were wrestling with the small sheet and fleece blanket all night. Additionally, on the first night, we saw a large centipede and then a couple of small ants in the bed, which made us a little paranoid about bugs in the space - rightly so, given the ant infestation we encountered later on in our stay. Long story short, when we got home late on the last night, we found about a thousand small black ants by the small refrigerator eating the remains of a large, unknown bug. The most frustrating part: when we made Hrid aware of the bugs and mold, she half-heartedly apologized, but said we should have told her sooner. No offer for a partial refund or even a genuine apology... Overall, if these "troubling" things are adequately addressed, then we might be able to recommend this space in the future. For now, we just don't feel comfortable doing so.
Right after you I had guest stayed at the same apartment and gave me 5 star review . I don't want to answer any of your stupid comments . You did all coz of refund Honey . I know that very well now. By the way try to mention all your issues right way to your host to rectify unless you are lying. Good Luck
---
言語:
Bengali、English、Hindi