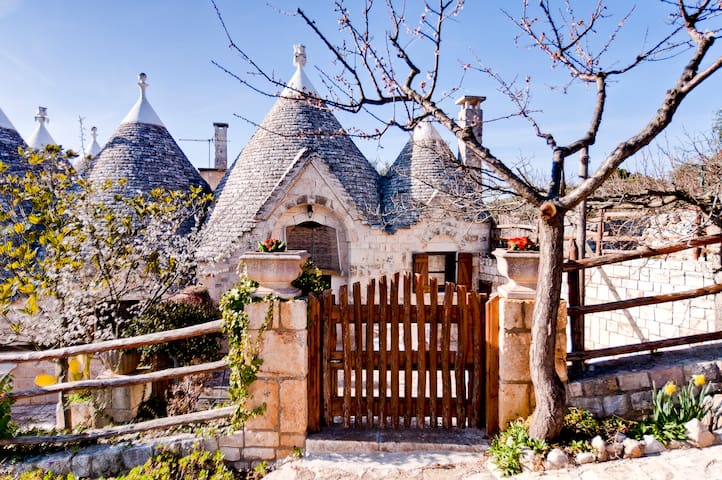 スペース
Cisterninoの町の魅力的な周辺(バリとブリンディジの近くの空港から到達可能)で忘れられない休暇を過ごしましょう。 トゥルーロ・エデラは平穏と静けさの天国を提供しています。 あなたが自然を好むなら、それは完璧な場所です。あなたは良い本を読んでいるオリーブの木の下に滞在することができます、小さな国道で散策するか、または最寄りのビーチに行くことができます。 カステッラーナの洞窟、アルベロベッロのトゥルーリ、レッチェとマルティーナ・フランカのバロック様式の街、イグナシアの掘削、ファザーノの洞窟、フレデリックの城を持つカステル・デル・モンテ、グロッタリーのグロッタリアーなど、プーリアの名所を簡単に訪れることができます。陶器、タラント、ブリンディジ、レッチェの博物館で有名です。 料金は期間に応じて異なり、含まれるものとみなされます:出てくる清掃、タオル、シート、水、ガス、電気。
Spend a unforgettable holiday in the enchanting surroundings of the town of Cisternino (reachable from the near airports of Bari and Brindisi).
Trullo Edera offers a heaven of peace and tranquillity, set in an elevated position with a stunning view.
It's the perfect place if you like nature. You can stay under an olive tree reading a good book, you can have a walk in the small country streets or go to the nearest beaches.
You can even easily visit any of the sights in Apulia such as the caves of Castellana, the trulli of Alberobello, the baroque cities of Lecce and Martina Franca, the excavations of Egnazia, the zoosafari of Fasano, Castel del Monte with Frederick's castle, Grottaglie famous for its ceramics, Taranto, Brindisi and Lecce museums.

Prices vary on period and are to be considered included: in-outcoming cleanings, towels, sheets, water, gas, electricity.

---
Wij hadden een heerlijke week in Anna's trullo. Het warme welkom met alles voor een ontbijt, de laatste verse vijgen, zo van de boom en een schaaltje eitjes, was al bijzonder. De locatie is prachtig: in rustig gebied en niet te afgelegen. Het contact met Anna en haar familie was heel plezierig.
---
You will love this unusual, beautiful and comfortable Trullo! Three of us stayed there and felt so at home. The whole property is so picturesque and quiet. You will love it! Cisternino is also such a charming town. Anna is a delightful person and great Airbnb host. Very accommodating,friendly, and helpful. The preserves, produce from their crops, and staples to get by on for your first breakfast, were perfect. Lovely views from the windows.
---
Anna's place was fantastic for my husband and me. Our three-day stay was perfect; it gave us time to explore the area easily from this country location that is close to Cisternino, a small town that we thought was among the best in the area. One of the wonderful things about Airbnb is interaction with your host, and we were able to do that on the final afternoon of our stay. Over limoncello and cookies, Anna and her parents told us the story of her grandfather and great-grandfather, whose land their homes are built on. This is a place that despite the Internet, is in another space and time and time is less hurried. What a treat to stay in a trulli house with wonderful outside spaces, where we enjoyed a lunch and breakfast.
---
Can't say enough about our trulli stay at Anna's. We were concerned because our first experience in Ravello was not the best intro to Italian airbnb, as there wasn't anything for a traveler just arriving in Ravello, no soap, just a few sheets of toilet paper, no welcome bottle of water. We changed our airbnb plans for the trip and stayed in hotels until we got to Anna's trulli. It was packed with all a home could have and more! Her mother gave us a jar of homemade cherry jam, farm eggs, orange juice, etc. I have an airbnb and have learned to offer more than normally expected because I am aware that a traveler may not have the opportunity to buy even basic supplies before arrival. At Anna's this was nit the case. The trulli is close to Ostuni, nearby to Cisternina, but central to visit many beautiful towns. We hope to return with family someday!
---
Anna's trulli was a delight! Larger than expected and containing everything you could wish for. One of the best equipped kitchens I've ever seen in rented accommodation. You must have a car when you stay...and you must be ok with traversing narrow stone walled country lanes! There are lovely restaurants in nearby Cisternino and a visit to Alberobello and Matera are must do trips. Also on the must do list is a cooking lesson from Anna's talented sister Veronica. We learnt how to make authentic focaccia and orecchiette pasta...then had the pleasure of eating the results of our work. Delicious. Thanks go to Anna for the supplies when we arrived, and to Anna's brilliant mother for the apricot jam... Final note for future guests...take or hire a GPS! We would have literally been lost without our satnav!
---
Hi! I'm Anna and the one with me in the pic is my mum Tonia. After some years spent in different european cities, I decided to come back home and work in this area. At the moment I'm living in the cottage close to our trulli therefore if you have questions, you need something or …
言語:
Deutsch、English、Italiano