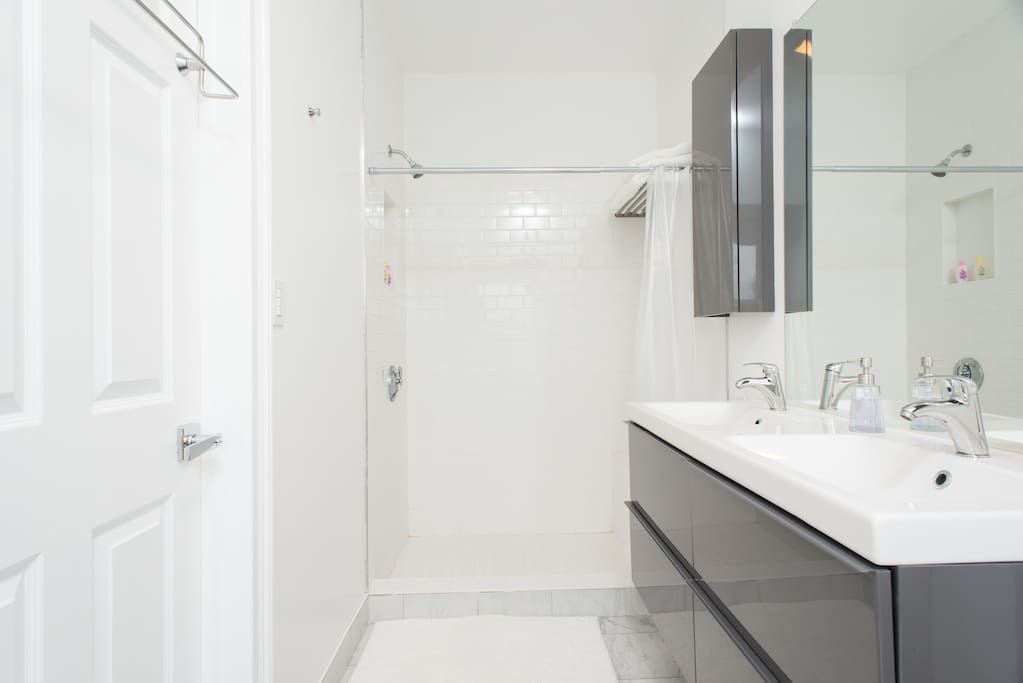 歴史的な19世紀のボストン・ブラウンストーンのプライベート・バスルーム付きの、よく設計された広々としたマスタースイート。公園/広場&コミュニティガーデンを見下ろす大きな日差しの南西向きの窓からの昼光がいっぱい。国際的で専門的な家庭で。歴史的なフォートヒル/ハイランドパーク周辺に位置し、T(メトロ)オレンジラインまで徒歩5分、バックベイ市内中心部から3駅、ロングウッド医療エリア、MFA、ノースイースタン、フェンウェイ&サウスエンドまで徒歩。
A well designed & spacious master suite w/ private en-suite bathroom, in a historical 19th century Boston Brownstone. Full of all daylight from direct sunny south/west facing large windows overlooking a park/square & community garden. In an international & professional household. Located in historic Fort Hill/Highland Park neighborhood, 5 min walk to the T (Metro) Orange Line, 3rd stop from Back Bay city center, walk to Longwood Medical Area, MFA, Northeastern, Fenway & South End.
スペース
Fort Hill / Highland Parkの歴史的でフレンドリーで多様な地域にあるAlvah Kittredge Brownstoneの私の家へようこそ。 ハウス: 私の142歳の新しく復元されたクラシック・ボストン・ブラウンストーンの家には、この3つのレベルのペントハウス・アパートメント(カスタム・ベッドルーム、モダン・ベッドルーム、&ロフト・ベッドルームも参照)で利用可能な4つのユニークなベッドルームがあります。 部屋: モダンで歴史的なバランスのとれたブレンド。マスターベッドルームスイートはカップルまたは個人のために設計されており、短期または長期の滞在に理想的です。スイートには、広々としたウォークインシャワーとベンチの座席、ダブルフローティングの洗面化粧台があります。内蔵のクローゼットや引き出しに収納するのに十分な収納力。 220 +平方フィート(20.4平方メートル)、すべてのアメニティが可能で、アパート内のミニアパートのような感じです。
Welcome to my home at Alvah Kittredge Brownstone in the historic, friendly and diverse neighborhood of Fort Hill/Highland Park.
The House:
My 142 year-old, newly restored classic Boston Brownstone home has four equally unique bedrooms available in this 3 level penthouse apartment (see also Custom Bedroom, Modern Bedroom, & Loft Bedroom).
The Room:
A well balanced blend of modern and historic. The Master Bedroom Suite is well designed for a couple or individual and ideal for short or long term stays. The suite has a spacious walk-in shower and bench seating, double floating vanity. Plenty of storage to unload into the built-in closet, and drawers. 220+sqft (20.4sqm) with every amenity possible, it feels like its own mini apartment in the apartment.
ゲストの立入り範囲
寝室、冷蔵庫、キッチン、リビングルームの隣に専用の台所用パントリー(あなた自身の白いパーソナルカップ、マグカップ、ボウル、皿、鍋、食器類付)、洗濯機と乾燥機があります。
Dedicated kitchen pantry (with your own white personal cups, mugs, bowls, plates, pans and utensils), washer and dryer located next to the bedroom, fridge, kitchen, and living room.
ゲストとの交流
I'm a social and hospitable host who loves to share his home with others. I was born and raised in Boston, went to university literally down the road at Northeastern and so with plenty of knowledge I would be more than happy to help. I work from home and so usually around if you ever needed anything. My mother lives in a separate apartment downstairs (so please feel free to say hi if you cross paths with her) and I stay at my girlfriend's apartment across the park. So I'm always close by and available, but you can have your space as well.
Share your experience and take a bit of your stay with you by following us on social media:
Facebk: akbrowstone
Instagrm: @akbrowstone
Hashtag: #akbrownstone
その他の特記事項
その家は実際に毎日写真のように見えます。よく管理された共通スペースを使用しているので、共通スペースを整然としたままにするために、ゲストに自分自身をきれいにするよう依頼します。 マスターベッドルームスイートは私の4ベッドルームアパートメントの一部です。それは他のゲストと共通のエリアを共有します。 (階段合計3便) 私たちの地域はボストンにとって安全で静かだと考えられていますが、これは都市であり、何時でも何処でも起こりうるので、私はいつも都市全体の旅行で一般常識を持つよう人々に伝えたいと思います。私たちはT(地下鉄駅)を過ぎてトレモント通りを降りる多くの良いカフェ、バー、レストランまで歩いていて、バックベイ市内中心部のナイトライフには~8ドルのウーバーライドをしています。
The house is actually as it seems in the photos everyday; well maintained common spaces, so I simply ask guests to clean after themselves to leave the common space in order.
The Master Bedroom Suite is part of my 4 bedroom apartment. It shares common areas with other guests. (3 flights of stairs total)
Our area is considered safe and quiet for Boston, but this is the city, and anything can happen anywhere at any time so I always like to tell people to have general common sense in travels in the whole city, that's all. We are walking distance to many good cafes, bars, restaurants down Tremont St past the T (metro station) and a ~$8 Uber ride to the nightlife of the Back Bay city center.
Shoes off apartment (slippers available to guests)
No smoking of any substance on the property
Respectful
Friendly
Quiet
Leave things as they were found, clean after yourself
No dishes left in the sink
Please use white cups, bowls, utensils and plates and
Store dry foods in pantry cabinet below the microwave for your personal food storage and store food in the fridge on the left half of the 3rd row
Guests may not have additional guests without clearing them with me first
下記事項もご了承ください
階段を登らないとたどり着けません - 3 flight of stairs total
敷地内に駐車場なし - Free on street parking, usually plenty next to the house.
Born and raised in Boston, to parents from former Portuguese islands in the Atlantic ocean. I'm an international, global citizen who loves travel, food, cultures, languages, history, current events and much more. I'm a former biomedical engineer (cardiovascular, sports medicine) …
言語:
English、Español、Português、中文