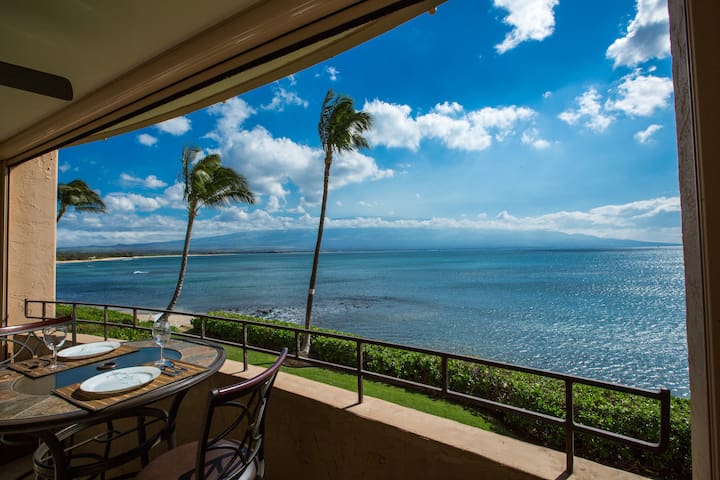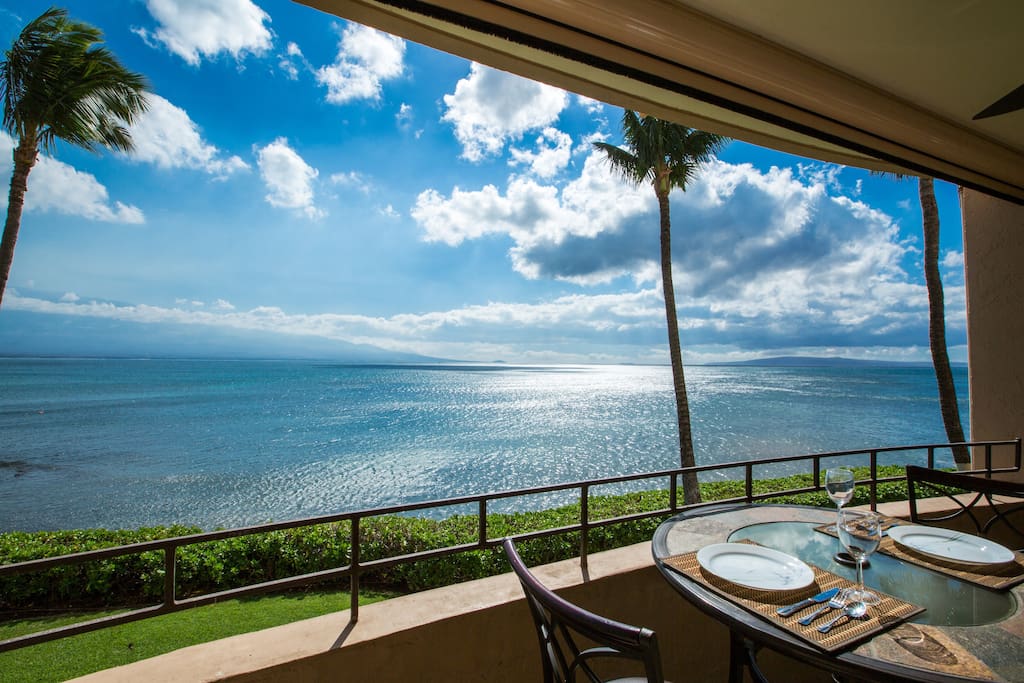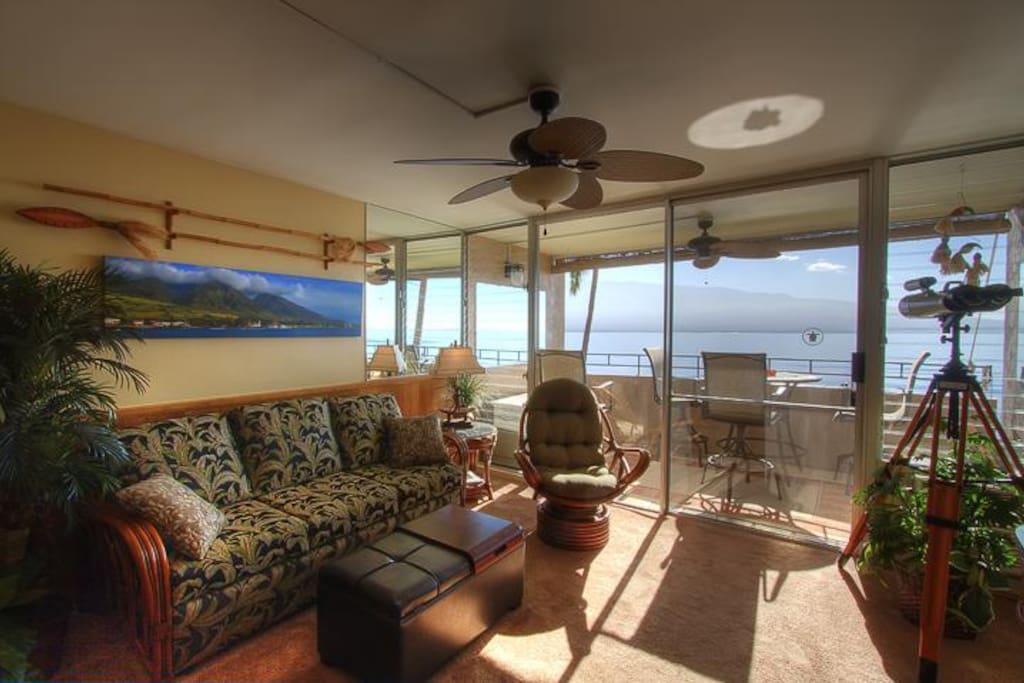 リスティングについて
Only steps to the water's edge. Enjoy panoramic views across the bay of Maui's south shore, Mt. Haleakala, and Molokini & Kahoolawe islands or watch the whales and turtles from your kitchen, living room or Lanai. Private & central to everything Maui!
スペース
You Can Not Get Closer to the Ocean on Maui!
Maalaea is quiet & private yet central to everything and it has some of the most pristine and lightly visited beaches on the island - it is absolutely the best kept secret on Maui!
Look no further for a perfect Honeymoon or Anniversary get-away, whether it's your first or your 50th!
* Our nightly rates already includes all Hawaii State tax! So no additional taxes will be added.
New granite counters, bamboo cabinets, remodeled bathroom, furniture, and new king bedroom suite and mattress! And, in our cozy unit you'll have a front row seat for viewing whales, turtles, dolphins and boating activities.
You can't get closer to the ocean than this unit that is ideally situated and centrally located for all points on Maui.
Maalaea is famous for the bay the humpback whales use each year to birth and mate, and you'll see it all during the fall and winter months. Thinking of coming in the spring or summer? Why not sign up for a turtle patrol and watch for nesting green and hawksbill turtles as you walk the longest beach walk on Maui. Walk to Kealia Pond or Sugar Beach one direction, or walk to the Harbor shops and restaurants the other direction.
Our beautiful 1 bedroom/1 bath unit on the second floor so the ocean feels like an extension of the living room and lanai. It is perfect for a single user or couple that wants a quiet retreat, yet central to everything on Maui. There are two elevators and stairway nearby, a security screen door to allow wonderful cross ventilation all night long, King sized bed, large TV's in both
bedroom and living room; ceiling fans in the living room, bedroom, and on the lanai; free secured wireless internet. Eat out on the large lanai as you gaze at the great Pacific or walk to what will easily become your favorite Maui restaurant.
We have thought of everything to make your home away from home comfortable and inviting; there are beach chairs, umbrella,
coolers, and beach towels for your use and enjoyment. We even have binocular to help you get up close to the many sea turtles just off the beach or the migrating Humpback whales.
Because we are on-island owners, we can attend carefully to the needs of our condo and our guests. In addition we employ a management company to be certain our guests can reach someone anytime of day or night.
- Maalaea Harbor where you can book any of the many ocean activities available on Maui including whale watching, snorkeling adventure and sunset dinner cruises.
- A number of fine restaurants including Buzz's Wharf, Beach Bums Bar and Grill and The Waterfront.
- There are also a couple of stores with most grocery needs as well as delis and fast food options.
- Maui Ocean Center aquarium (voted best attraction on Maui)
- Maui Golf & Sports Park is perfect for family fun
- Haycraft Park and Sugar Beach, one of the most pristine, white sandy beaches on Maui, it stretches five miles all the way to Kihei.
- The Shops at Maalaea offers a variety of shopping and snacking options.
- Great snorkeling and surfing is right off your lanai!
Public Transportation: Most parts of the island can be reached from Maalaea via Maui bus services for only $2 per route.
We like to upgrade and make improvements from time to time. So while some things may change slightly from the photos, the property will remain mostly as you see it. We update our photos as needed.
ゲストの立入り範囲
Read our description to see all the amenities included in your home and property.
ゲストとの交流
We live on Maui and employ a full time management company which assures you will have access to someone in the event you have any issues during your stay on Maui.
---
---
---
---
Pretty simple: Respect others peace and enjoy!
---
厳格
開始7日前までに解約すれば50%返金されます(サービス料も返金可)。
---
Victoria was an excellent host! Maalaea is a quiet location in central Maui, it is 20 minutes away from anything so rental car is advised for sure! The Sugar Beach is at the end of the street and is a good for taking a stroll. We walked outside a few steps and saw a sea turtle resting one night. The condo is as described in listing. I would pass on Maui Ocean Center aquarium that is on the end of the street as well as Pride of Maui tours that take off in the harbor on the same street! We had a perfect honeymoon in Maui and enjoyed Victoria as our host!
Aloha Kristalyn. We're so happy you had "a perfect Honeymoon" - that means a lot to us! Also glad the central location worked out so well for you. It's nice to know you made use of both the small private beach by your lanai where you saw turtles resting, and the 5 mile Sugar Beach a short stroll away. I'm sure you discovered it is hardly used at our end of the beach - still one of the best kept secrets on Maui. Thank you so much for taking the time to give us a couple little tips to make our place even better. We take joy and pride in making the experience as perfect and memorable as possible for all of our guests. Thank you for mentioning "The condo is as described in listing" because as travelers ourselves we know how important that bit of information is. We hope you come visit Maui again from your home in Shreveport, Louisiana very soon. Warmest Aloha, Victoria and Jim
---
The place was wonderful and exactly as described and Victoria and Jim were great with the communication. Here's the quick info: -Great Ocean View/Ocean Front -The bed was comfortable! -True NO smoking, you won't find old musty smell here. -The sandy swim beach (Sugar Beach) is just a short walk from the condo. And there are usually turtles there! -The Condo is in a central location, so traveling around doesn't take as long. -Interior of the condo is updated and has a good warm vibe. -Great Hosts! You can tell they really care about your experience. -Would stay at any of Victoria and Jim's places again! Good experience overall. Thank you! Jonathan and Jade
---
WOW ! What a great place for couples . Not anti kid but appseition of the wonder of Maui is not for someone under 17 . This condo was full of the little things you would not think of . The central location is a must for people that want peace and quiet , and want to be close to all Maui has to offer. The sunrise each morning was so wonderful you looked forward each day . This was our 3rd trip to Maui , loved this location. It's in area with land on three sides so the water clarity is not the same as north Shore or Kaanapali area but the near buy beach is a great place to swim and sun . Saw more Wales from lanai then on a boat tour. Also a shark got hung up on the rocks in front of the lanai. It got away but was pretty cool. Sounds of the waves rolling over those rocks was so soothing at night.
---
Victoria and Jim's condo was absolutely perfect! We stayed Novemb(PHONE NUMBER HIDDEN) for a belated honeymoon/retirement celebration. Their condo was clean, beautifully decorated, and felt like home! Victoria communicated with us often to make sure everything was perfect for us. We loved waking up and watching the sun rise from the lanai. We walked to the beach and watched the turtles. We spent time at the pool and talked to other guests. We look forward to renting from Victoria and Jim again in the future!
Denise and Tom, we are so lucky and honored that you chose to celebrate your landmark Honeymoon and Retirement at our Romantic Oceanfront! One of our favorite comments we hear from our guests is "felt like home!" because that is something we consciously strive for. Equally important is that we accurately describe our place and make our guests experience as perfect and stress free as possible from the first contact to booking and all the way to check out. We're so happy you found everything to be "absolutely perfect!". We know that Canastota, New York is quite a flight but we are hopeful that we can share this or one of our other condos (also front-row oceanfront) with you very soon. Warmest Aloha, Victoria and Jim
---
Location, Location, Location!! This condo was perfect for our first vacation. The perfect size, view and location. Everything is within walking distance or just a short drive away. The beach is perfect and never crowded. We were able to sit in the same spot on the beach each day. And if you enjoy snorkeling with turtles and many fish...go no further than out your door and to the left! Wow! So much of our vacation was on the beach or in the water right outside. Just incredible! Even though we had many excursions and tried some lovely restaurants, eating on the lanai and spending time on the beach and in the water was by far the best part. What I love about being able to rent a condo is how affordable and comfortable a vacation can become. Many people miss out on such incredible experiences due to cost, but staying in a place such as this perfect condo can afford anyone an opportunity to take a wonderfully long and relaxing vacation. To be able to pay a reasonable rate per night, have the same freedoms as being at home, fill a kitchen with groceries, eat all of your meals with a beautiful view, walk to the deli or shopping and take a short stroll down the beach to swim with sea life or just bask in the sun, is far more appealing than a crowded strip and a depleted pocketbook. That is what sets Victoria and Jim's services apart from many other options. Personal communication with hosts that make you feel like family and you leave knowing that this little slice of heaven is another comfort in an otherwise chaotic world. A note on how incredible Victoria and Jim are as hosts! They are not only wonderfully attentive and easy to work with, they also went above and beyond to help my now fiancé set up our engagement! Without their help, his months of planning would not have come to fruition. I cannot thank them enough for helping us start a new chapter in our lives! I highly recommend staying in any of their condos, but I am partial to this one as it is such a memorable place for me. :-)
Thank you Amber! We really appreciate that you took the time to write such a wonderfully detailed and complimentary review. We love to know that you spent time on our local beach and found it to be "perfect and never crowded" - it is possibly THE best kept secret on Maui. It was also great that you pointed out how much less expensive we are than staying in a hotel. Also you will never get this close to the water in any hotel on the island. You really made our day with your very kind comments regarding our service and in particular "hosts that make you feel like family". One of our primary goals, that we believe helps to set us apart, is that we consider our guests as part of our Hawaiian "Ohana" family and we do all we can to make them feel at home. That includes a perfect and stress free experience from initial inquiry to booking and all the way through check-out. We're so grateful you came to Maui from Reno, Nevada "The Biggest Little City in the World" and chose to stay at our Romantic Maui Oceanfront Chalet. In your private note to us you mentioned, "We are going to miss that place so very much!" and we are going to miss you! Please make a point of visiting again very soon. If this place is booked we have another that I bet you will like just as much. Warmest Aloha, Victoria and Jim
---
We loved our stay at the condo! It was perfect for our honeymoon! The location was very central to everything that we wanted to do on the island. It was quiet and the beaches around there made us feel like we were the only people in Maui! We will definitely be back!!
Thank you Aubrey for coming from you beautiful home in Tucson, Arizona to celebrate your Wedding at our place on Maui. We are truly honored and appreciative that you chose our place as your Honeymoon retreat. As you discovered, "It was quiet and the beaches around there made us feel like we were the only people in Maui!", this area and the local beaches are the best kept secret on Maui. This and the central location were huge for us when we were deciding on the perfect place. We love that you "will definitely be back!!" and will be waiting your return with Warmest Aloha, Victoria and Jim
---
Aloha,

Thank you for viewing our homes. We work hard to keep our properties clean and up-to-date. Judging by how many repeat bookings we get and how full our calendar is, it appears others love it as much as we do. We hope to have the opportunity to share our place with you.

Warmest Aloha,
Victoria