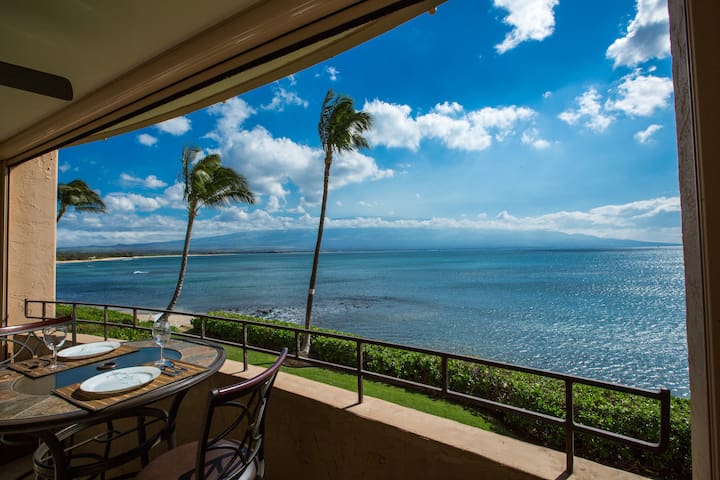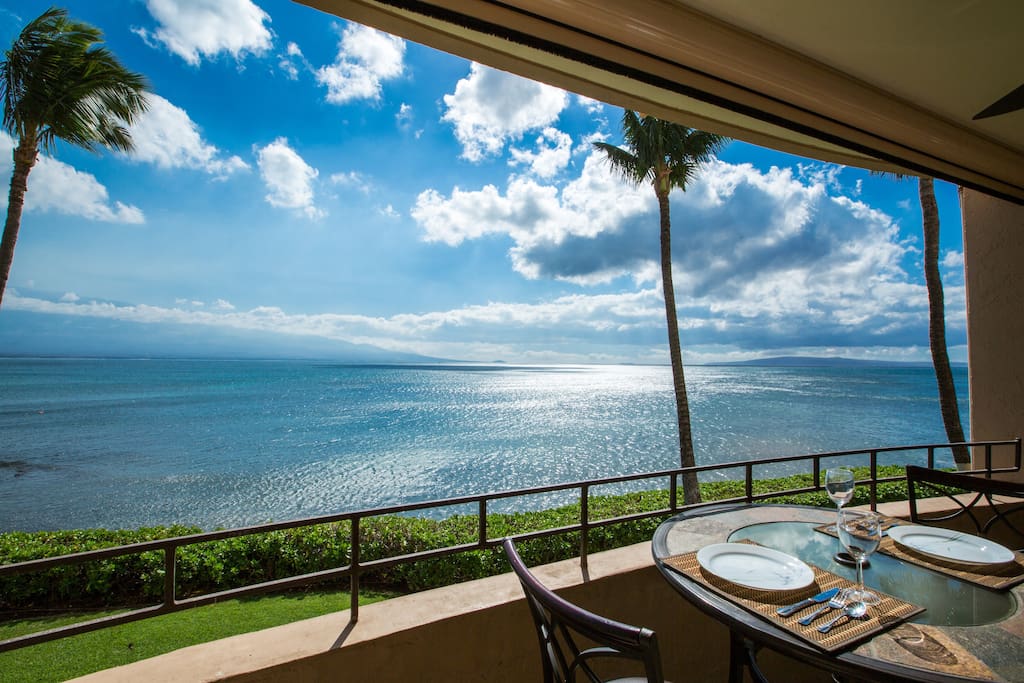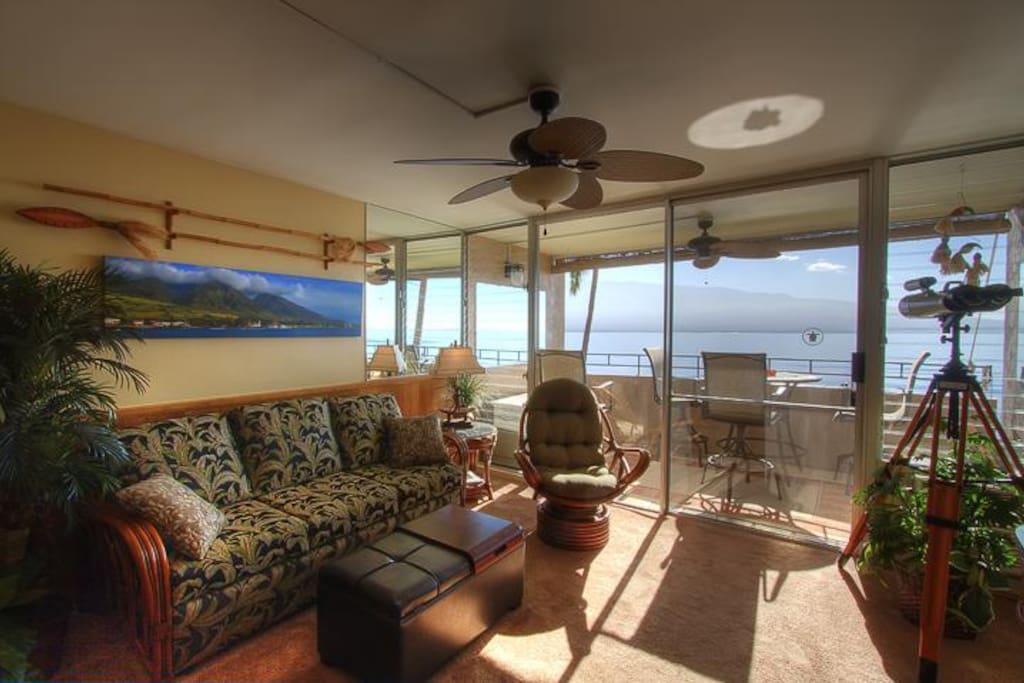 水辺まで歩いてください。マウイ島の南側の海岸、マウンテンビューのパノラマの景色をお楽しみください。ハレアカラ、モロキーニ&カフラウエ諸島を訪問したり、キッチン、リビングルーム、ラナイからクジラやタートルを見ることができます。プライベート&すべての中心にマウイ!
Only steps to the water's edge. Enjoy panoramic views across the bay of Maui's south shore, Mt. Haleakala, and Molokini & Kahoolawe islands or watch the whales and turtles from your kitchen, living room or Lanai. Private & central to everything Maui!
スペース
あなたはマウイ島の海に近づくことはできません! マアラエアは静かでプライベートですが、すべての中心にあり、島に最も元気で、軽く訪れたいくつかのビーチがあります。マウイ島で最高の秘密です! 完璧なハネムーンや記念日の逃避行は、それがあなたの最初のものか50番目のものかを見てください。 *私たちの夜間料金にはすでにハワイ州税が含まれています!したがって、追加の税金は追加されません。 新しい花崗岩カウンター、竹キャビネット、改装されたバスルーム、家具、新しいキングベッドルームスイートとマットレス!そして、居心地の良いユニットでは、クジラ、カメ、イルカ、ボートのアクティビティを見るための最前列の座席があります。 マウイ島のすべてのポイントに理想的に位置し、中央に位置するこのユニットよりも、海に近づくことはできません。 マアラエアは、ザトウクジラが毎年誕生と仲間に使う湾で有名で、秋や冬にはそれをすべて見ることができます。春や夏に来ることを考えていますか?なぜあなたはマウイ島で最長のビーチウォークを歩くように亀のパトロールにサインアップし、巣作りのための緑とマングローブのカメを見ないでください。ケアリア池やシュガービーチへ向かい、またはハーバーのお店やレストランへ歩いてください。 私たちの美しい1ベッドルーム/ 1バスルームは2階にあるので、海はリビングルームとラナイの延長のように感じます。マウイ島のすべての中心にある静かな隠れ家を望む1人のユーザーやカップルに最適です。近くに2つのエレベーターと階段があり、一晩中素敵な通風を可能にするセキュリティスクリーンドア、キングサイズのベッド、両方の大きなテレビ ベッドルームとリビングルーム。リビングルーム、ベッドルーム、ベランダのシーリングファン。無料のセキュリティ付きワイヤレスインターネット。大きな太平洋を注視したり、簡単にあなたの好きなマウイレストランになるように歩いて、大きなベランダを食べましょう。 私たちはあなたの家を快適に過ごすためのすべてのことを心地よく歓迎しています。ビーチチェア、傘、 クーラー、ビーチタオルをご用意しております。私たちは双眼鏡を持っていても、ビーチや移動中のザトウクジラから離れた多くのウミガメに近づくのに役立ちます。 私たちは島の所有者であるため、私たちはコンドミニアムとゲストのニーズに注意深く従うことができます。さらに、私たちは管理会社を利用して、いつでも昼夜に誰かに連絡することができます。 - マアラエア港では、ホエールウォッチング、シュノーケリングアドベンチャー、日没のディナークルーズなど、マウイ島で利用可能な多くの海洋アクティビティを予約できます。 - Buzz's Wharf、Beach Bums Bar and Grill、The Waterfrontなどの数々の高級レストラン。 - デリとファーストフードのオプションだけでなく、ほとんどの食料雑貨のニーズを持つ2店舗もあります。 - マウイオーシャンセンター水族館(マウイ島で最高のアトラクションに選ばれた) - マウイゴルフ&スポーツパークは、家族の楽しみにぴったりです - ヘイクラフトパークとシュガービーチは、マウイ島で最も元気な白い砂浜のひとつで、キヘイまでずっと5マイルにわたります。 - Maalaeaのショップでは、様々なショッピングやスナックを提供しています。 - すばらしいシュノーケリングとサーフィンがラナイのすぐそばにあります! 公共交通機関:マアラエアからマウイ島のバスサービスを利用して島のほとんどの部分には、ルートあたりわずか2ドルの料金がかかります。 私たちは時々アップグレードして改良を加えたいと思っています。写真から少し変わるかもしれませんが、ほとんどの場合、その物件はそのまま残ります。私たちは必要に応じて写真を更新します。
You Can Not Get Closer to the Ocean on Maui!
Maalaea is quiet & private yet central to everything and it has some of the most pristine and lightly visited beaches on the island - it is absolutely the best kept secret on Maui!
Look no further for a perfect Honeymoon or Anniversary get-away, whether it's your first or your 50th!
* Our nightly rates already includes all Hawaii State tax! So no additional taxes will be added.
New granite counters, bamboo cabinets, remodeled bathroom, furniture, and new king bedroom suite and mattress! And, in our cozy unit you'll have a front row seat for viewing whales, turtles, dolphins and boating activities.
You can't get closer to the ocean than this unit that is ideally situated and centrally located for all points on Maui.
Maalaea is famous for the bay the humpback whales use each year to birth and mate, and you'll see it all during the fall and winter months. Thinking of coming in the spring or summer? Why not sign up for a turtle patrol and watch for nesting green and hawksbill turtles as you walk the longest beach walk on Maui. Walk to Kealia Pond or Sugar Beach one direction, or walk to the Harbor shops and restaurants the other direction.
Our beautiful 1 bedroom/1 bath unit on the second floor so the ocean feels like an extension of the living room and lanai. It is perfect for a single user or couple that wants a quiet retreat, yet central to everything on Maui. There are two elevators and stairway nearby, a security screen door to allow wonderful cross ventilation all night long, King sized bed, large TV's in both
bedroom and living room; ceiling fans in the living room, bedroom, and on the lanai; free secured wireless internet. Eat out on the large lanai as you gaze at the great Pacific or walk to what will easily become your favorite Maui restaurant.
We have thought of everything to make your home away from home comfortable and inviting; there are beach chairs, umbrella,
coolers, and beach towels for your use and enjoyment. We even have binocular to help you get up close to the many sea turtles just off the beach or the migrating Humpback whales.
Because we are on-island owners, we can attend carefully to the needs of our condo and our guests. In addition we employ a management company to be certain our guests can reach someone anytime of day or night.
- Maalaea Harbor where you can book any of the many ocean activities available on Maui including whale watching, snorkeling adventure and sunset dinner cruises.
- A number of fine restaurants including Buzz's Wharf, Beach Bums Bar and Grill and The Waterfront.
- There are also a couple of stores with most grocery needs as well as delis and fast food options.
- Maui Ocean Center aquarium (voted best attraction on Maui)
- Maui Golf & Sports Park is perfect for family fun
- Haycraft Park and Sugar Beach, one of the most pristine, white sandy beaches on Maui, it stretches five miles all the way to Kihei.
- The Shops at Maalaea offers a variety of shopping and snacking options.
- Great snorkeling and surfing is right off your lanai!
Public Transportation: Most parts of the island can be reached from Maalaea via Maui bus services for only $2 per route.
We like to upgrade and make improvements from time to time. So while some things may change slightly from the photos, the property will remain mostly as you see it. We update our photos as needed.
ゲストの立入り範囲
あなたの家と財産に含まれるすべてのアメニティを見るために私達の記述を読んでください。
Read our description to see all the amenities included in your home and property.
ゲストとの交流
私たちはマウイ島に住み、フルタイムの経営会社を雇い、マウイ滞在中に問題がある場合に誰かにアクセスできるようにします。
We live on Maui and employ a full time management company which assures you will have access to someone in the event you have any issues during your stay on Maui.
Pretty simple: Respect others peace and enjoy!
We had such an enjoyable experience staying here! The location couldn't have been better, very central and great for people who want to explore the island and not just stay in one place. The view from the lanai was unbelievable and we loved watching the sunrise every morning while eating breakfast. Also, we saw many turtles from the lanai, it was SO awesome. I definitely recommend this place for its value, location and ocean view! Mahalo!
Thank you Lisa for visiting Maui from Atascadero, California and choosing our front-row direct oceanfront "chalet" for your Honeymoon celebration. It means a lot to us to know you enjoyed yourselves enough to comment, "I definitely recommend this place for its value, location and ocean view!" That truly makes our week! And thank you for the lovely note you sent us just prior to your check-out, "Our trip has been so amazing and we absolutely loved the condo" We're so happy that you found the "The view from the lanai was unbelievable" You can't get any closer to the water on Maui and we're so grateful for the "turtle shows" that go on daily as well as the occasional dolphin and whale viewings that can sometimes been seen further off shore. We agree with you that this is the best, most central location on the island and was one of the main reasons we chose this place. We hope to have the chance to share our place with you again! Warmest Aloha, Victoria and Jim
---
We loved our stay in Victoria's condo in Ma'(URL HIDDEN) was just as described. The condo is centrally located in Maui. The views from the lanai were amazing and seeing the turtles everyday was a real treat. I would definitely recommend staying here on your trip to this beautiful island.
Bill and Rosemarie, we are extremely honored and proud you chose our place to celebrate your landmark 30th Wedding Anniversary and that you "would definitely recommend staying here". It's difficult for us to express how much it means to us to know that we helped to make such an important celebration special for you. We're fortunate that the turtles like to frolic just below the lanai and sometime climb onto the beach to rest at night. It's a great source of entertainment while enjoying a cool drink on the lanai. It's particularly good to know that our place was " just as described" because that may be the number one most important item when choosing a place online. We're happy the central location worked out for you and hopefully you were able to make use of some of the extras we like to supply in our large "Beach Bin". Lastly we want to say we appreciate your taking the time to leave us the kind note following your departure: "Thank you Victoria for the great week in Maui. We had such a great time. Your condo was perfect and we enjoyed our stay. Thanks for all of your help and advice which helped to make this such a special trip for Rosemarie and me." We hope you return to Maui from York, Pennsylvania in the very near future! We will always welcome you with open arms and a spirit of aloha. Warmest Aloha, Victoria and Jim
---
We had a wonderful time at Victoria and Jim's place: location is really perfect (direct view on the Ocean – 10 meters from the patio – in a quiet area but few miles only to shopping centers and more touristic areas), with access to the almost "private" Sugar Beach (nobody on this beautiful beach with so many turtles), and a great spot to start excursions in the North and South cost, as well as the Road to Hana. Victoria was an outstanding host, providing all kinds of useful tips to enjoy our stay. Warmest Aloha!
I think you may be our first guests from Paris, France. Thank you for choosing our Maui oceanfront as your vacation getaway. We greatly appreciate the wonderful message you sent us upon your return to Paris, "Hi Victoria and Jim. We just arrived back in Paris. We wanted to thank you, we had a great time in a great place with great hosts! 5 star review well deserved! Cheers! Guillaume & Orsetta" Also thank you for mentioning how incredible our Sugar Beach is. Sometimes guests will drive around looking for great beaches when one of the best is right under their nose. It's probably the least used beach because most people use the far end of this nearly 5 mile long beach because it's easy to see from the road on the other end. Most visitors don't know how to get to our end of the beach. We're delighted you found the location perfect, and liked the proximity to the water - you can't get accommodations any closer to the water on the island. We hope you make it back to Maui and choose to stay with us again - we would love it! Warmest Aloha, Victoria and Jim
---
Victoria's place was an amazing spot for our honeymoon. Couldn't have asked for anything better. Location was great - it was secluded but we could easy get to South Maui and West Maui. Loved that we were so close to Sugar Beach - so few people during the week, it felt private! Also, so many sea turtle sightings!
Dominique and Jimmy we are so honored and grateful you chose to celebrate your Wedding / Honeymoon at our romantic front row on-the-ocean "chalet". We love that you made use of and explored Sugar Beach and discovered how little it is used and how private it is on our end of the beach. As we often say, it's still the best kept secret on Maui. I don't think there's a better place on Maui to relax and watch the turtles than from our lanai that looks directly down on their playground. Thank you so much for the very kind private feedback, "Everything was great, thank you so much for being such an awesome host. We'll definitely be back!" We appreciate the very kind compliment and we would definitely love to have you back! Keep an eye on our calendar here on AirBnB because most dates are taken at least 9 to 12 months in advance. Warmest Aloha, Victoria and Jim
---
Victoria's place was great! It had everything anyone could want. We spent each morning having coffee admiring the gorgeous view from our patio. The ocean is 30 feet from the patio. What we liked the most is that although this apartment is quite convenient to lots of things, it's not in a super touristy area. We felt like we were locals. It is well maintained, clean, and super easy communicating with Victoria about the whole process. You should stay here!! Amy and Michelle
Thank you Amy and Michelle for making our place your home away from home for Michelle's landmark birthday celebration. We're really happy you were able to appreciate this "secret" area of Maui. We chose it for exactly the reasons you mentioned, ie., the breathtaking vistas from the living areas and lanai. And the fact that it's the most convenient location to all parts of Maui while being in one of the more private and quiet areas. Perhaps most importantly, you can not get closer to the ocean anywhere on Maui. Please come visit us again from you beautiful home in Austin, Texas very soon! Warmest Aloha, Victoria and Jim
---
Victoria was an excellent host! Maalaea is a quiet location in central Maui, it is 20 minutes away from anything so rental car is advised for sure! The Sugar Beach is at the end of the street and is a good for taking a stroll. We walked outside a few steps and saw a sea turtle resting one night. The condo is as described in listing. I would pass on Maui Ocean Center aquarium that is on the end of the street as well as Pride of Maui tours that take off in the harbor on the same street! We had a perfect honeymoon in Maui and enjoyed Victoria as our host!
Aloha Kristalyn. We're so happy you had "a perfect Honeymoon" - that means a lot to us! Also glad the central location worked out so well for you. It's nice to know you made use of both the small private beach by your lanai where you saw turtles resting, and the 5 mile Sugar Beach a short stroll away. I'm sure you discovered it is hardly used at our end of the beach - still one of the best kept secrets on Maui. Thank you so much for taking the time to give us a couple little tips to make our place even better. We take joy and pride in making the experience as perfect and memorable as possible for all of our guests. Thank you for mentioning "The condo is as described in listing" because as travelers ourselves we know how important that bit of information is. We hope you come visit Maui again from your home in Shreveport, Louisiana very soon. Warmest Aloha, Victoria and Jim
---
The place was wonderful and exactly as described and Victoria and Jim were great with the communication. Here's the quick info: -Great Ocean View/Ocean Front -The bed was comfortable! -True NO smoking, you won't find old musty smell here. -The sandy swim beach (Sugar Beach) is just a short walk from the condo. And there are usually turtles there! -The Condo is in a central location, so traveling around doesn't take as long. -Interior of the condo is updated and has a good warm vibe. -Great Hosts! You can tell they really care about your experience. -Would stay at any of Victoria and Jim's places again! Good experience overall. Thank you! Jonathan and Jade
---
Aloha,

Thank you for viewing our homes. We work hard to keep our properties clean and up-to-date. Judging by how many repeat bookings we get and how full our calendar is, it appears others love it as much as we do. We hope to have the opportunity to share our place with you.

Warmest Aloha,
Victoria