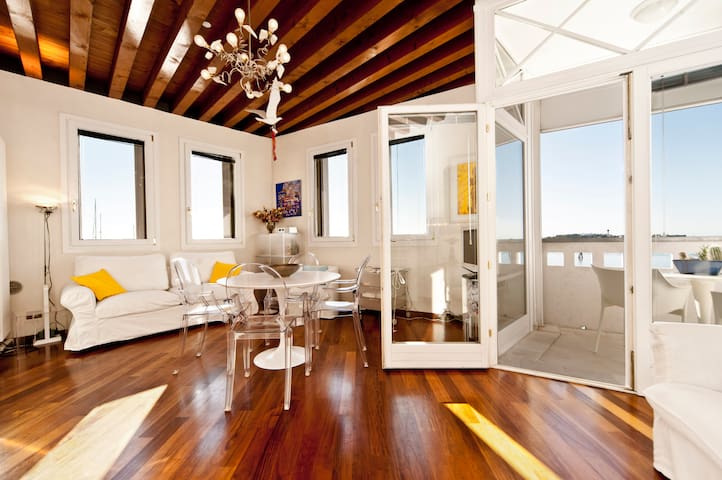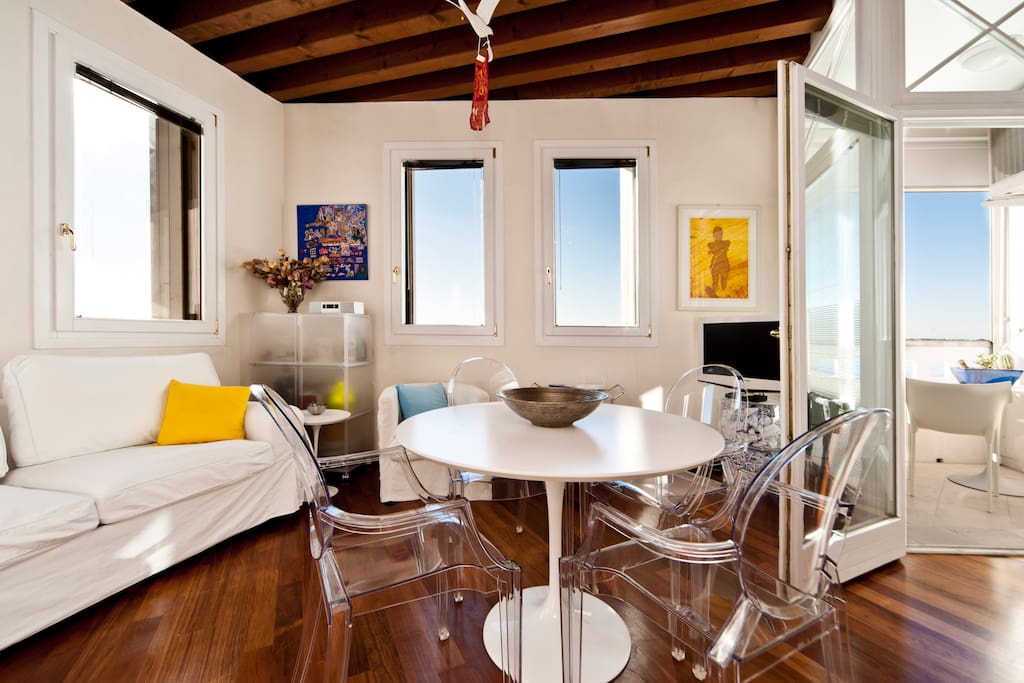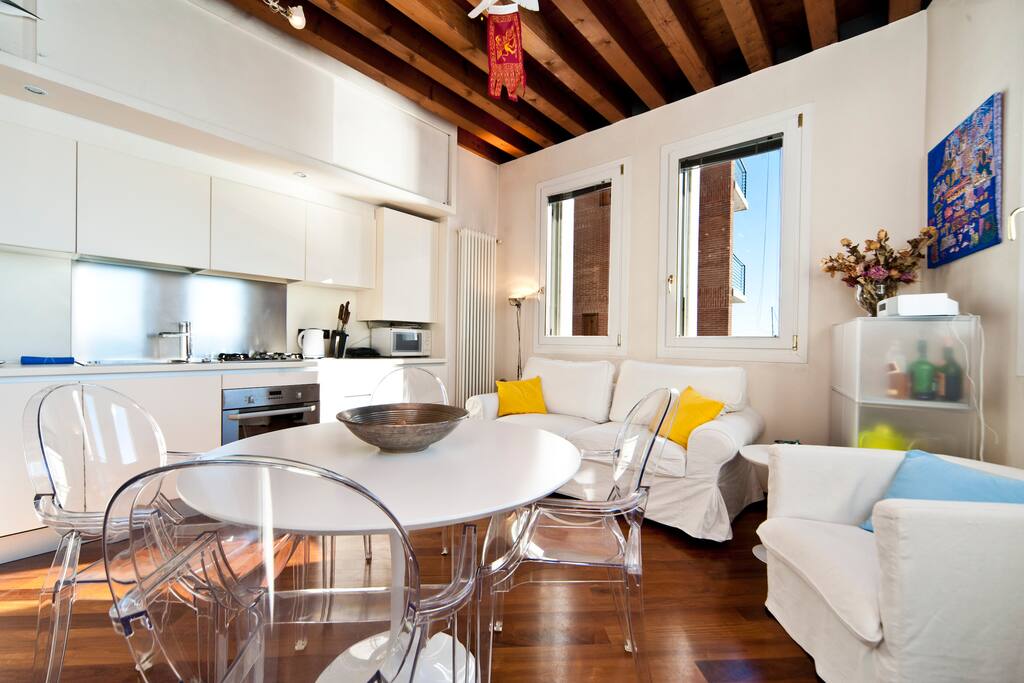 ヴェネツィア・ラグーンに面した魅惑的な場所。群衆から離れているが、世界で最も魅力的でユニークな街の美しさに近い。
A charming place, in front of the Venice lagoon, far from crowd, but very close the beauties of the most fascinating and unique city of the world.
スペース
アパートメントには南ラグーンの景色を望む機能的でクリーンなデザインが施されており、季節ごとに素晴らしい夕日、秋の霧の魅力、そして唯一目に見える漕ぎボートの魅力を感じることができますラグーンのこの側から。ベッドリネンとバスルームを含む2名様用の設備の整ったアパートメントです。キッチン(電気ケトル付)が備わります。 アパートメントはエレベーターで1階にあり、面積は78㎡です。 必要な場合や特別なご要望がある場合は、指定された番号までご連絡ください。私たちはいつでもご自由にご利用いただけます。 Giudecca Islandは、利便性、スーパーマーケット、店舗、バー、レストラン、銀行、郵便局、薬局などあらゆる種類の、親切で親切な人々でいっぱいの静かで安全な場所です。 近くには有名なCipriani Hotel、Harry's Dolci、歴史あるMariano Fortuny Venetian Fabric Factoryを訪れることができます。 アパートのすぐそばにある素晴らしい教会、パッラディオの作品、サンタ・ユーフェミアの古代教会、ヴェネツィア・ビザンチン様式のIX世紀、そして1895年の美しい建物であるモリーノ・スタッキーを新産業建築で鑑賞することができます、元の工場、2007年以来、ヒルトンホテル。 到着のための表示 アパートへのアクセスは、どのターミナルからもとても簡単で簡単です。空港からはヒルトンホテルの近くのジュデッカ(Giudecca)、ローマ広場(Piazzale Roma)まではバス5番です。 ローマ広場、Stazione、Tronchettoから2番線のGiudecca Palancaまで。 停留所から左折し、運河沿いにまっすぐ進み、3つ目の通り、Calle dell'olioで右折し、通りの端まで直進し、スーパーマーケットに行き、Calle dell'olioに沿ってまっすぐ進みます。道路の終わりには、左手に橋を渡って、橋を渡って、学校の橋を見つけるでしょう。右側のジュンハン畑を渡り、右側の橋を渡り、小さな橋を渡って直進し、右側の2番目の橋に行くと、階段のカルレが見えます。道を行く道のりは492Hです。 ライン2(Giudecca)のPalanca駅からSan Marcoまで10分、Zattereまで2分です。 。
The apartment, furnished with a functional and clear design, enjoys a view of the South Lagoon, which allows to admire beautiful sunsets during any season, the charm of autumn fogs and the passage of rowing boats, which is visible only from this side of the lagoon. The apartment is furnished and accessorized for 2 (+2) people, and includes bed linens and towels. The kitchen is equipped with everything you need, including a kettle.

The apartment is located on the first floor with elevator and has a surface of 78 square meters.

I will be available for any request and need, you will be able to contact me at the number listed.

Island of Giudecca is a very peaceful and safe place with very friendly and helpful people. It offers any essential service: supermarkets, shops of any kind, bars, restaurants, banks, post office and pharmacies.
Nearby you can visit the famous Hotel Cipriani, harry's Sweets and the Venetian textile factory Mariano Fortuny.
A few steps from the apartment, you can admire the splendid church of the Savior, operate of the Palladium, the ancient Church of Saint Eufemia, of the IX century and the splendid Molino Stucky, 1895 building, in industrial new-Gothic architecture, ex twirl and, since 2007, the Hilton Hotel.


The apartment can be reached very quickly and easily from any terminal: from the airport, Alilaguna takes right to Giudecca, near Hilton Hotel, or by bus 5 up to Piazzale Roma.
From Piazzale Roma, the Station and Tronchetto by line 2 to Giudecca Palanca.
From Palanca stop, line 2 ( Giudecca) takes you to San Marco in 10 minutes and the Zattere in 2 minutes.

Other paid services: tour of lagoon and islands with a typical Venetian boat driven by an expert "sailor", tour of the city with a tour guide, typical Venetian dinner or lunch delivered at home.
ゲストとの交流
ご要望や特別なご要望については、ご到着時の指示に記載された番号までご連絡ください。いつでもご利用いただけます(AndreaまたはEnrica)。
I will be available for any request and need, you will be able to contact us (Andrea or Enrica) at the number listed in the arrival instructions.
その他の特記事項
重要: 1日あたり1ユーロ50ユーロ(EUR 1.50ユーロ)のチェックイン時間に鍵を払う必要があります。 チェックイン時に市税(1.50人/ 1泊)と清掃費(50ユーロ)を支払う必要があります(市税は1日ごとに1.50€、清掃料は50ユーロです)。
IMPORTANT:
CITY TAX (1,50 PER PERSON PER NIGHT) AND CLEANING FEE (50 EURO) MUST BE PAID UPON DELIVERY OF KEYS AT CHECK-IN.
CITY TAX (1,50 per person per night) AND CLEANING FEE (50 euros) HAVE TO BE PAID AT THE CHECK IN. (CITY TAX IS 1,50€ EACH PERSON PER EVERY PERMANENCE DAY, CLEANING FEE IS 50 EUROS).