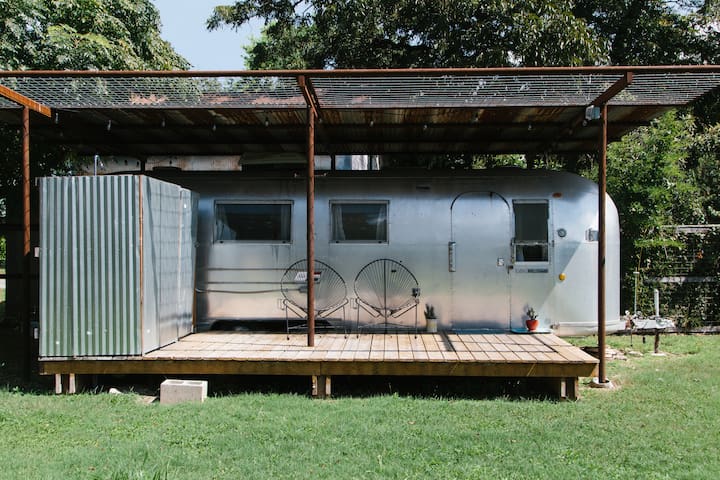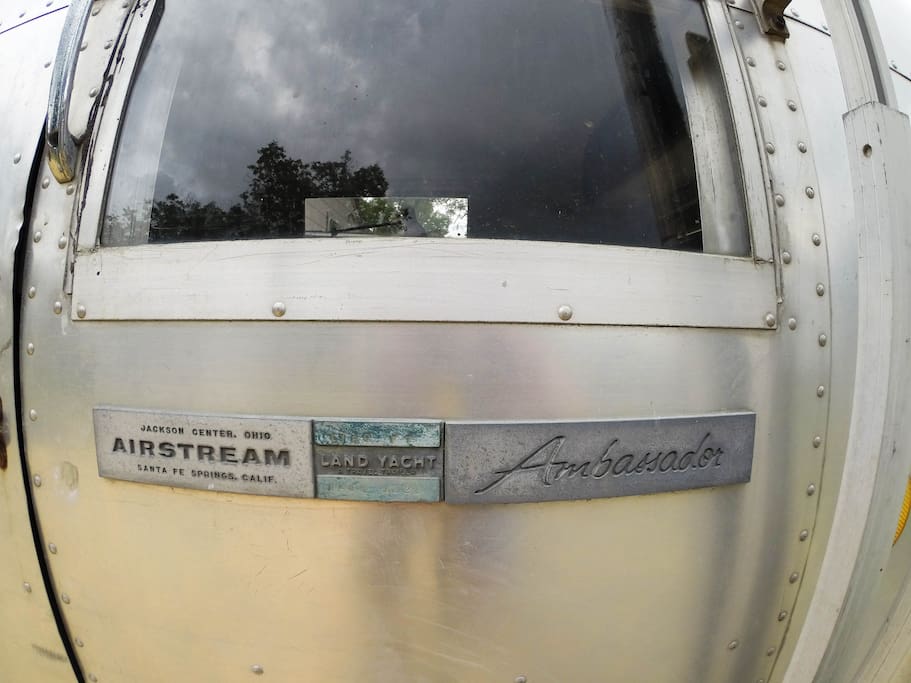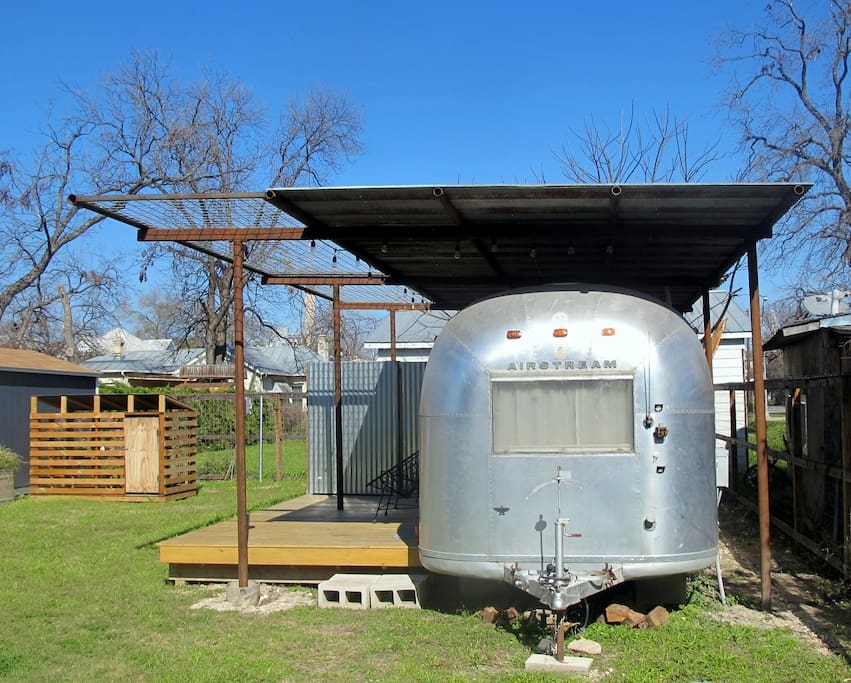 サウスタウンの中心部、多くのバー/レストランの隣に改装されたエアストリーム。ダウンタウン、コンベンションセンター、アラモドームから徒歩圏内です。簡易キッチン、フルサイズのトイレ、屋外シャワー、クイーンベッド、布団ソファ、新しいAC +ヒーターが備わっています。
Renovated Airstream in the heart of Southtown, next to many bars/restaurants. Walking distance from downtown, Convention Center, and Alamodome. Furnished with kitchenette, full size lavatory, outdoor shower, queen bed, futon couch, and new AC + heat.
スペース
ヴィンテージAirstreamの予告編では "グレンプティング"を実行してください。 Airstreamはサンアントニオの最愛のサウスタウン地区に位置し、リバーウォークや数々の素晴らしいレストランやバーから徒歩わずか7分です。ダウンタウン、コンベンションセンター、アラモドームも徒歩圏内です。
Go "glamping" in our vintage Airstream trailer. The Airstream is located in San Antonio's beloved Southtown neighborhood and is just a 7 minute walk from the Riverwalk and several great restaurants and bars. Downtown, the Convention Center, and the Alamodome are also a quick walk away.
ゲストの立入り範囲
あなたは私たちの裏庭でfirepitを使用することを歓迎しています(そして、そのエリアにデッキの椅子を動かす)。あなたはまた、育ったガーデンベッドのハーブや野菜を選ぶことができます!
You are welcome to use the firepit in our backyard (and move the chairs on the deck into that area). You can also pick any herbs or veggies in the raised garden bed!
ゲストとの交流
Airstreamは、私たちの裏庭に位置しています。裏庭全体があなたの滞在中に占有しています - 私たちはあなたの訪問中にほとんどあなたの方法のままに滞在し、水の植物に戻って時折旅行を保存する、流しからアイテムを取得するか、私たちはまた、仕事のためにかなりの金額を旅行しますので、訪問中に私たちが一緒になることはまずありません。しかし、何かに助けが必要な場合は、私はAirbnbの電話アプリを常時オンにしており、あなたが持っている特定の質問や懸念に迅速に答えることができて嬉しいです。 典型的には、このリストは、近くのダウンタウンにある観光スポットだけでなく、市内の好きな地区の両方を体験することに興味を持っている自立した自給自足の旅行者であることがわかっています。真正性、歩行性、地元のお店やレストランの収集などがあります。
The Airstream is located in our backyard, which is gated and fenced in on all sides. The entire backyard is yours to occupy during your stay -- We will stay mostly out of your way during your visit, save for occasional trips back there to water plants, retrieve items from the shed, or hang laundry on our clothesline. We also travel a fair amount for our jobs, so it is not unlikely that we will be gone altogether during your visit. That being said though, if you need help with anything, I keep the Airbnb phone app on at all times and am happy to promptly answer any specific questions or concerns you have.
Typically, we have found the best fit for this listing to be guests that are independent, self-sufficient travelers that are interested in experiencing both the tourist attractions that nearby downtown has to offer as well as one of the city's favorite neighborhoods, loved for its authenticity, walkability, and collection of local shops and restaurants.
その他の特記事項
私たちは、1968年のエアストリームを裏庭のゲストハウスに改装する過程にあります。化粧品の改良を終えつつ、それを割引率で記載しました。写真を慎重に見直して、改善がまだ進行中であることを理解してください。私たちのプロジェクトは、訪問したすべてのゲストと少し良くなるので、私たちと一緒に滞在して、私たちがこれを恒例のゲストハウスにするために必要なフィードバックを提供してください! Airstreamは断熱され、新しい冷暖房システムを備えていますが、あなたはまだヴィンテージトレーラーに滞在しており、典型的な家やアパートの場合よりも要素にさらされています。ご滞在の天候をチェックし、それに応じてパックしてください。
We are in the process of renovating our 1968 Airstream into a backyard guest house. We have listed it at a discounted rate while we are finishing up some cosmetic improvements. Please review photos carefully so you understand what improvements are still in progress. Our project gets a little better with every guests that visits, so please stay with us and be part of providing the feedback we need to make this a stellar guest home!
Please also note that while the Airstream is insulated and has new cooling/heating systems, you are still staying in a vintage trailer and will be more exposed to the elements than you would be in a typical house or apartment. Please check the weather for your stay and pack accordingly.
---
---
1. Absolutely no pets!
2. We cannot accommodate early check-ins and late check-outs -- The times on our listing are as tight as we can go. The Airstream is booked nearly every night, so we need guests to respect these times so we can make sure the trailer is ready for our next visitor. If you require early check-in or late check-out, please consider booking an additional night so the Airstream is reserved for you.
3. We are not able to check bags if you plan to arrive before check-in time or leave after check-out time. Several hotels near us offer this service for free though -- We recommend that you make arrangements with a hotel if you need this service.
4. Please do not throw any food down the sink or shower drains. If you have food to dispose of, please do so in the trash cans provided. Compostable waste can be added to the wood slatted compost bin by the raised garden beds in the backyard.
5. Please do not light any candles/incense or smoke inside the trailer or on the deck.
6. The designated smoking area is by the firepit. A container for cigarette butts is located there.
7. If you have a car during your stay, please find parking on the street.
8. To avoid any potential electrical accidents, please turn off all lights and appliances when you are not occupying the Airstream. If the weather is mild, please turn off heating and cooling equipment as well to conserve energy.
9. By booking this suite, you agree to exempt the host from any liability charges due to any accident or injury during your stay.
下記事項もご了承ください
ペットがいます - We have a mostly indoor cat that we allow to go outdoors occasionally
敷地内に駐車場なし - Please do not park in our driveway.. There is plenty of on-street parking available for you directly in front of our house.
---
A delightful and blissful stay. The airstream was thoughtfully designed and furnished - a crossroad of glamping and tiny-house living. Given San Antonio's high humidity, expect to wake up slightly sticky. (And that should be okay since you'll probably spend most of the day walking outside anyway.) Showering under the stars was necessary after a long day touring the city. The outdoor shower got the job done, and though expect low water pressure and to wait 5' for the water to warm up.
---
I am a mechanical engineer and work as a sustainability and building science consultant at an architecture firm in downtown San Antonio. My husband, Chuck, owns a salon/barber shop near our house and is in the Army Reserves. We moved to S.A. in 2004 and did not expect to stay h…
言語:
English