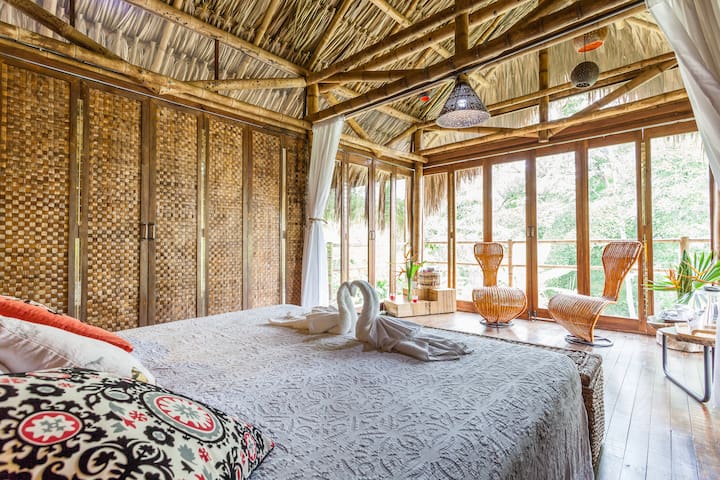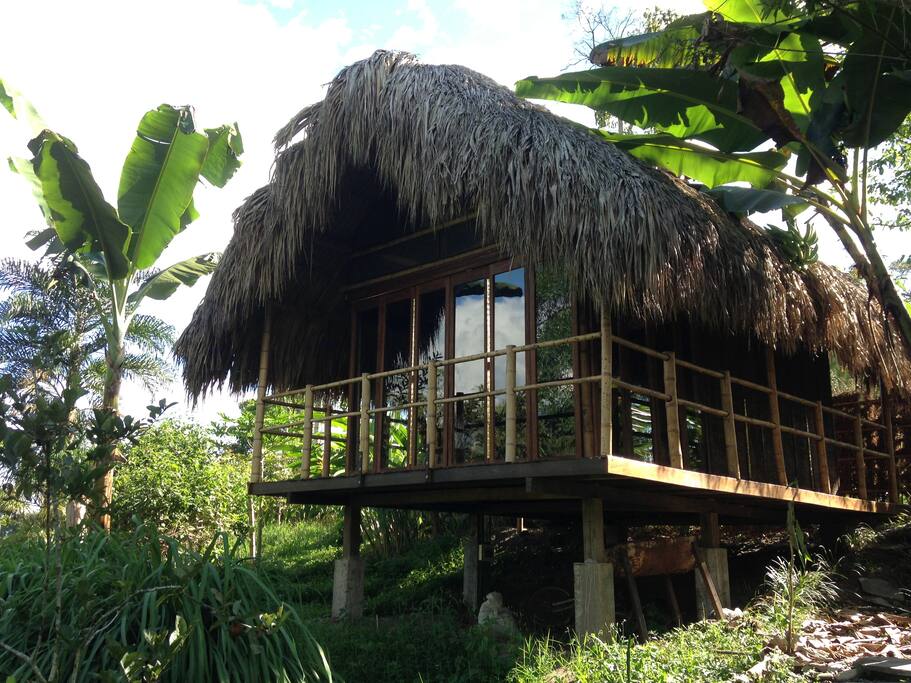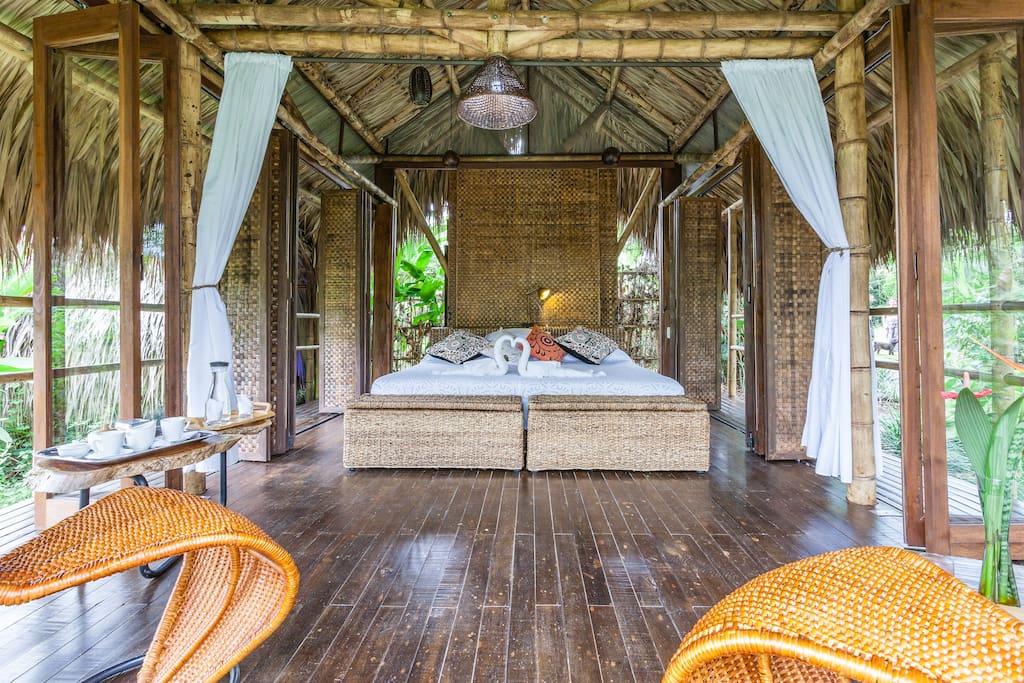 コーヒー畑、南アメリカのコロンビアのアンデス山脈に位置し、竹で作られた魅力的なカバナです。素晴らしい眺めと5センチの有機農場を横切る竹林を通る "センダー"または通路があります。ストリームに。リラックスして自然とコミュニケーションする場所。
Located in the coffee region, in the Andean mountains of Colombia, South America, a charming cabana made from bamboo, with a great view and a "sendero" or pathway through the bamboo forest which criss-crosses our 5 acre organic farm, leading down to a stream. A place to relax and commune with nature.
スペース
美しい熱帯雨林植物に囲まれ、プライバシーのために戦略的に配置され、庭に屋外シャワーが付いています。自然と共生し、朝にクリケットや夜と鳥を聞く。 小さな有機農場に位置しています。私たちは熱帯の果物や樹木、花、アロエベラを主な作物として栽培しています。私たちの竹の森には、渓流と小さな滝につながる魅惑的な道があります。近くの蜂農場を訪れ、近隣の蜂の農場を訪れ、絶滅の危険にさらされているミツバチ、地元のコーヒーツアー、蝶のエンポリアム、ハンググライド、ジップライニング、白水ラフティング、乗馬、近くの歴史的な町や世界遺産にも足を運んでいます。
Surrounded by beautiful rainforest plants, strategically placed for privacy, with an outdoor shower in a garden. Commune with nature, listen to crickets and night and birds in the morning.
Situated on a small organic farm. We grow tropical fruits and trees, flowers, with aloe vera as our main crop. There is an enchanting pathway through our bamboo forest, leading down to a mountain stream and a small waterfall. Near many coffee region tours and attractions, including our own organic farming workshops, visiting a nearby bee farm where our neighbor propagates bees in danger of extinction, local coffee tours, butterfly emporium, hang gliding, zip lining, white water rafting, horseback riding, hiking, visiting nearby historic towns and world heritage sites.
ゲストとの交流
私たちは毎日朝食を提供しています。客室料金に含まれています。ツアーの計画や予約の手伝い、交通機関の計画と運営の手助け、現地でのその他の食事の提供、空港やバスターミナルのピックアップなどがあります。 (20万ペソ)私たちはあなたの世話をしていることを確認し、必要なものは何でも手伝ってくれます。
We offer breakfast daily, included in the room price, help to plan tours and make reservations, help to plan and facilitate transportation, other meals on site are offered, as well as airport or bus terminal pick-up. (20mil pesos) We will make sure you feel taken care of and have help with whatever needs you have.
その他の特記事項
Yudyはおいしい料理で、お好みの朝食に加えて、一人20,000ペソでランチやディナーを楽しめます。 キングサイズのベッドは2つの双子に分けることができます。
Yudy is a good cook and in addition to a breakfast of your choice, she offers lunches or dinners for 20 mil pesos per person.
The King size bed can be separated into 2 twins.
追加人数の料金 ¥2338 / 泊 (1名を超えると1名様増毎に加算)
お支払をお守りするためにも、Airbnbのサイトやアプリ以外の場所では決して送金や連絡を行わないようご注意ください。
Yudy and I (Victoria) are sisters-in law. Yudy lives in Colombia and would be your hostess on the property. I live in California and am the owner of the property. It is my goal to create a "boutique eco-resort" on the approximately 5 acre farm we have in the coffee growing region in the Andean mountains. We have tried to create a retreat that will soothe your soul and rejuvenate your spirit. Yudy speaks fluent Spanish and some English, punctuated with laughter and hand gestures. She is warm, friendly, capable and a very good cook! Yudy will help you arrange transportation, reservations, tours, and anything you may need.
言語:
English、Español