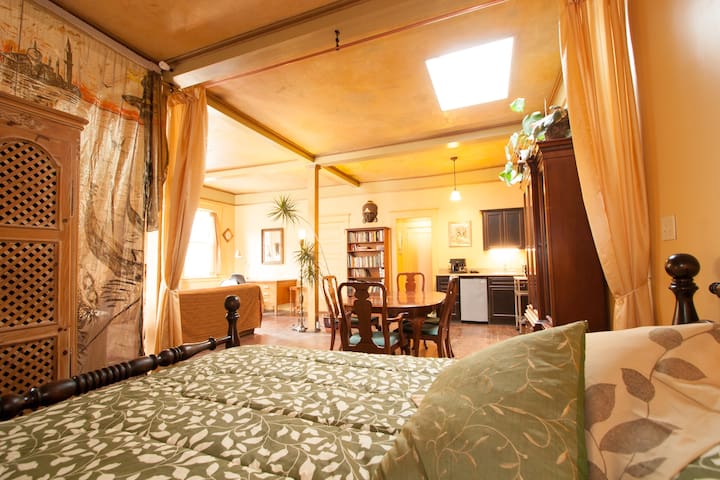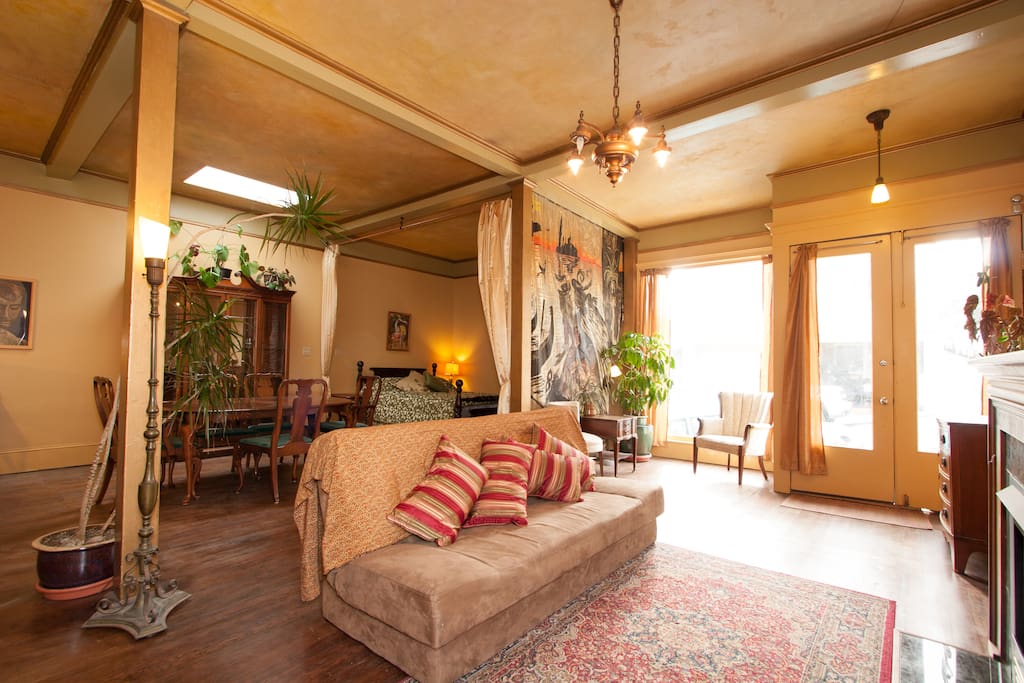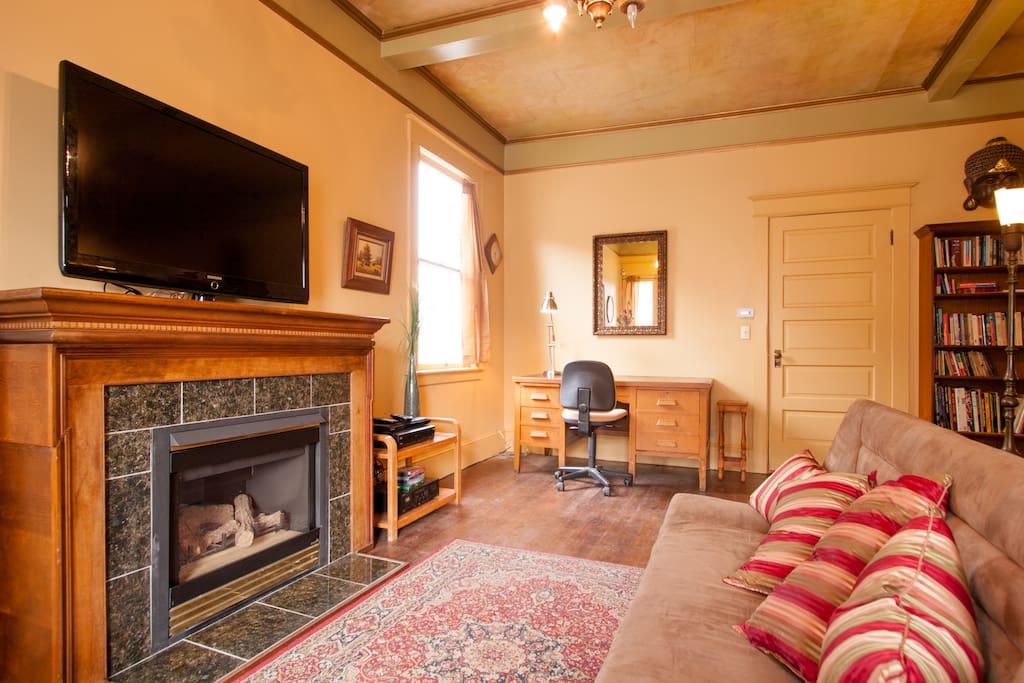 サンフランシスコの魅力的で便利なベルナルハイツにある大きなスタジオをお楽しみください!あなたはロマンチックなガス暖炉、木と石の床と芸術的なインテリアであなた自身の居心地の良い、プライベートな宿泊施設をお楽しみいただけます。サンフランシスコの世界的な景観に近く、美しい湾です。バスラインは近くにあり、駐車はとても簡単です!
Come enjoy our large studio in San Francisco's charming and convenient Bernal Heights! You'll enjoy your own cozy and private lodging with a romantic gas fireplace, wood and stone floors and artistic decor. You will be close to world class views of San Francisco and it's beautiful bay. Bus lines are close by and and parking is very easy!
スペース
私たちの完全な説明は、この都市の生成通知に従います: サンフランシスコ短期居住用賃貸番号:STR-920。サンフランシスコ短期賃貸登録証明書の所持は、登録証明書所有者がサンフランシスコ短期住宅借家規則(サンフランシスコ行政コード41A)の条件に同意したことを証明します。この条例は、建築、住居、火災、またはその他の法律違反の可能性について、市がユニットを点検する必要はありません。 この美しいアパートメンツはかつてコーナー・ストアでした。非常に快適な生活空間を作るために趣のある改装を終えました。それはカーテンで区切られた寝室を備えた1つの非常に広い部屋から成っています。魅力的なバスルームとクローゼットもあります。寝る、食べる、料理する、働く、リラックスするための領域があります。簡易キッチンには、冷蔵庫、バーナー2台、電子レンジ、オーブントースター、コーヒーメーカー、蛇口でろ過された水、必要な台所用品や食器があります。ベッドは非常に快適なクイーンサイズのマットレスを持っています。それはまったくロマンチックですが、快適な折りたたみ式ソファーでさらに2人を寝ることもできます。ワイヤレス高速インターネットとワイドスクリーンテレビとDVDプレーヤーをご利用いただけます。アパートは私たちの生活空間から完全に分離されているので、あなたはそれをあなた自身に持っています。それは壮大で優雅な、しかし完全に居心地の良い雰囲気を持っています。 私たちは訪問者を歓迎しており、リクエストに応じて情報やヒントを提供しています。市内の一番の日当たりの良い天気、最高の手頃な価格のレストラン、素敵な景色、簡単に駐車できる街が大好きです。路上駐車は安全で、一般的には右外部またはブロック内にあります。この家はベルナル・ヒル・パークから2ブロックの閑静な住宅街にあり、街とザ・ベイの壮大な景色を見渡せます。私たちの電気は屋根のソーラーパネルから来ます! あなたが必要とするものは、クオリティーで興味深く手頃な価格のレストラン、カフェ、バー、食料品店、サービス、ベーカリー、書店、図書館、アートギャラリーなど、Cortland Streetを歩いてすぐです。土曜日には近くに農家市場があり、2つの素敵な公園があります。とてもフレンドリーで住みやすい私たちの近所が大好きです! ダウンタウンへの交通機関(シビックセンターまで約3.5マイル)またはサンフランシスコのアトラクションのいずれかが頻繁にバスで簡単です。正面玄関から2分のところにMUNIバスがあり、近くのBART(地下鉄)駅まで行くことができます。またベルナル丘を散歩してBARTやミッション・ディストリクトに行ったり、街と湾の素晴らしい景色を見たりすることもできます。高速道路へのアクセスはすぐ近くにあります。
Our complete description follows this city generated notice:
SAN FRANCISCO SHORT-TERM RESIDENTIAL RENTAL REGISTRATION NUMBER: STR-920. Possession of a San Francisco Short-Term Rental Registration Certificate certifies that the registration certificate holder has agreed to comply with the terms of the San Francisco Short-Term Residential Rental Ordinance (San Francisco Administrative Code 41A). This ordinance does not require an inspection of the unit by the City for potential Building, Housing, Fire, or other Code violations.
THIS BEAUTIFUL APARTMENT was once a corner store. It has been tastefully remodeled to make a very comfortable living space. It consists of one very large room with a sleeping area sectioned off by curtains. It also has an attractive bathroom and a closet. There are areas for sleeping, dining, cooking, working and relaxing. The kitchenette has a fridge, two burners, a microwave, toaster oven, coffee maker and filtered water on tap, as well as all the kitchenware and tableware you may need. The bed has a very comfortable queen size mattress. It's all quite romantic, but you can also sleep an additional two people on the comfortable fold down sofa. You'll have the use of wireless high speed cable internet and widescreen dish TV and dvd player. The apartment is completely separate from our living space so you'll have it all to yourself. It has a grand and gracious yet completely cozy feel.

We like to host visitors and we'll be happy to give you information and tips on request. You'll love our neighborhood where you'll find some of the city's sunniest weather, best affordable restaurants, great views and easy parking. Street parking is safe and generally available either right outside or within a block. The house is on a quiet residential street two blocks from Bernal Hill Park, which has spectacular views of the city and The Bay. Our electricity comes from solar panels on the roof!
Everything you need is a short walk away on Cortland Street including quality, interesting and affordable restaurants, cafes, bars, groceries, shops, services, a bakery, a bookstore, a library, even an art gallery! There's also a farmer's market nearby on Saturdays, and two lovely parks. We love our neighborhood which is so friendly and livable!
Transportation to Downtown (about 3.5 miles to Civic Center) or any of the San Francisco attractions is easy with frequent buses. Two minutes from the front door you can catch a MUNI bus to the nearby BART (underground) station. Or take a walk over Bernal Hill to BART and the Mission District and see some amazing views of the city and the Bay. Freeway access is nearby and easy.
ゲストの立入り範囲
プライベートエントランスを持つプライベートアパートです。それはあなたのものです!
It's a private apartment with a private entrance. It's all yours!
ゲストとの交流
私たちは必要に応じて利用可能ですが、最初の会議の後に尋ねられるのを待っています。
We're available as needed, but we wait to be asked after our initial meeting.
その他の特記事項
Airbnbでホスティングすることで、私たちは芸術や音楽をするのに多くの時間を費やすことができます。世界各地の多くの人々にとってとても楽しかったこのスペースを共有しています。
Hosting on airbnb allows us to spend more time doing our art and music. We are happy to share this space that has been so enjoyable for so many people from all over the world!
---
---
---
---
Please follow our house rules:
No smoking inside the apartment.
No pets
No candles or open flames.
No loud music or partying, especially after 10:30 PM
Be gentle with the wood furniture and softwood floors. Always use coasters for hot drinks. Definitely no spiky high heels inside. Shoes off at the door is coziest!
If you've had the heat up (gas fireplace) please turn it down when you go out..
Clean up in the kitchen if you use it.
Books, art, dvd's, cassettes, tableware, etc. are not to be removed.
---
---
---
We love it! It is even cuter, bigger and more homey than in the pictures. Mike and Nic have done a wonderful job with decoration - extremely well organized and clean. I slept on couch bed and had perfect sleep. The location is very quite and safe. We enjoyed our morning walk to the street (1-2 blocks away) where all the restaurant and cute shops were located. Then walked to delicious Mitchell's ice cream, Mission district for the best burrito and even to Dolores Park. Check out our favorite brewery spot: Barebottle Brewing too! We highly recommend this place to anyone who are looking for a big flat in pricey SF and quite neighborhood. Thank you for your kind and thoughtful hospitality, Mike and Nic :)
---
We loved the spacious home and quiet neighborhood but if you're not used to climbing hills I would think twice about this home. However we found that the #67 Muni bus stop was a short 1 block away which took us to the BART station. And all the amenities of downtown! Don't forget to order a Clipper card before your arrival which will save you on transit fares. Also keep in mind that this home is advertised on Airbnb as a 1920s home and you will find that the home's design is definitely from the 20s and very eclectic. Available WiFi is a plus. Kitchenette has a hot plate, toaster oven and microwave, so no major cooking.
---
A wonderful little gem to stay in. Great neighborhood with tons of restaurants and stores. Easily walkable (though hilly). The apartment itself is well appointed with TV, full cable and fast internet. Small but functional kitchen. Apartment is basically 1 large room cordoned off with curtains for the sleeping area. Plenty big for 2 people. Three if someone slept on the couch. Would happily stay here again on my next trip to SF.
---
Mike and Nic are friendly, welcoming and warm hosts. Their place is large, and most comfortable with all the amenities we needed for our six-night stay--TV, WiFi, books, lots of towels, hot water, and outfitted kitchen. For us, the location was perfect for walking or taking public transit. The fish markets and grocery stores in the Latino neighbourhood were amazing! We would definitely stay here again.
---
My brother and I stayed at Nic and Mike's place for about a week in September. The flat is in a really nice, quiet neighbourhood of San Francisco; there are a few good places to eat just down the road on Cortland Avenue and plenty of grocery shops within walking distance of the apartment. It's a little out of the way from downtown San Francisco but definitely not inconvenient - a lyft/uber is only $8-14 to get pretty much anywhere in the city and that's the only minor drawback of the place. The flat itself is very cosy and is an ideal size for two people. It has a very spacious feel, it's one big airy open plan room with the main bedroom separated from the rest by a curtain. The rest of the room is a living room/dining room/kitchen - they've managed to fit in every amenity you'd need for a short stay without making it feel at all cramped. All in all I was a massive fan of the layout. Nic and Mike kindly set up the sofa bed for us, and were very friendly and helped us out with buses when we were leaving. They left loads of great information on things to do so we had a packed week of activities (try to rent bikes to cycle over the Golden Gate Bridge to Sausalito), we had a great time when we were there and would definitely stay here again.
---
Life is a play so enchanting! Mike is a songwriter/ musician/ carpenter. Nic is a painter/ trash fashion designer/ musician. We're friendly and easygoing.
Nic and I met in Italy and we love to travel to visit friends and family. We also love to see beautiful views, historic places, great museums and different cultures. We really love being outdoors in nature. Nature is divine! We're vegetarian and non-smoking. Our space in SF is listed as 'Grand and Cozy 20's Bernal Studio'. Please come check it out!

言語:
English、Español