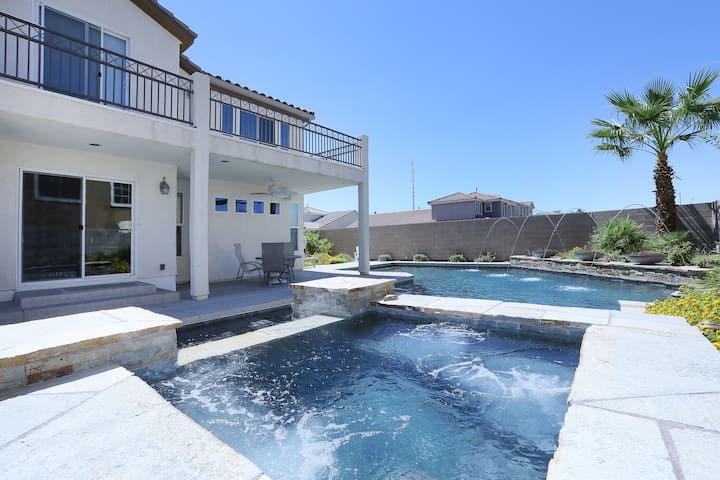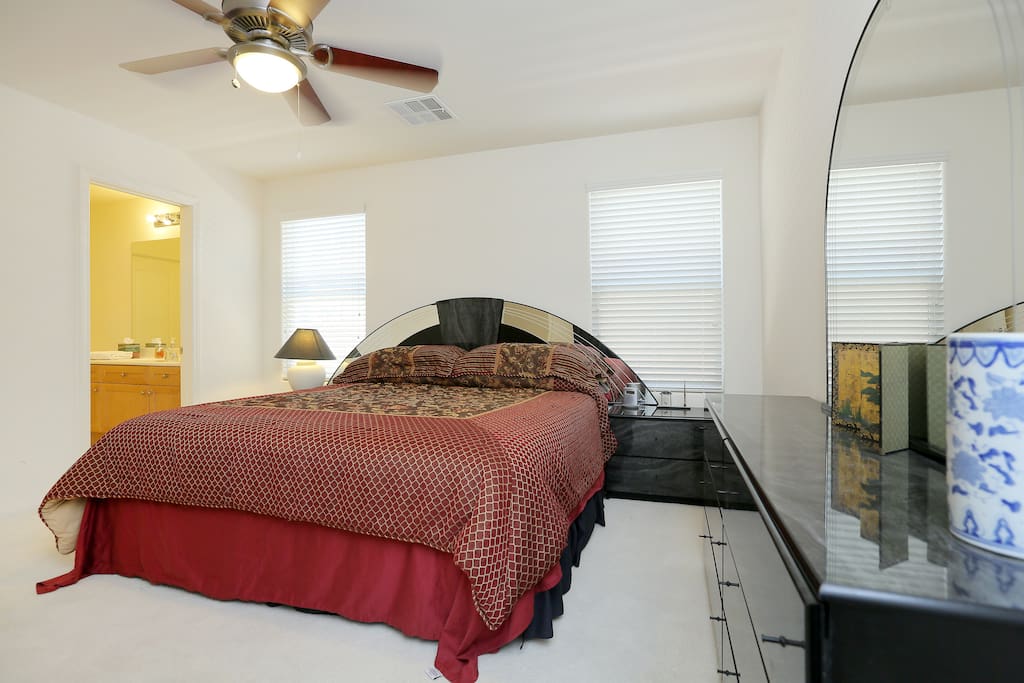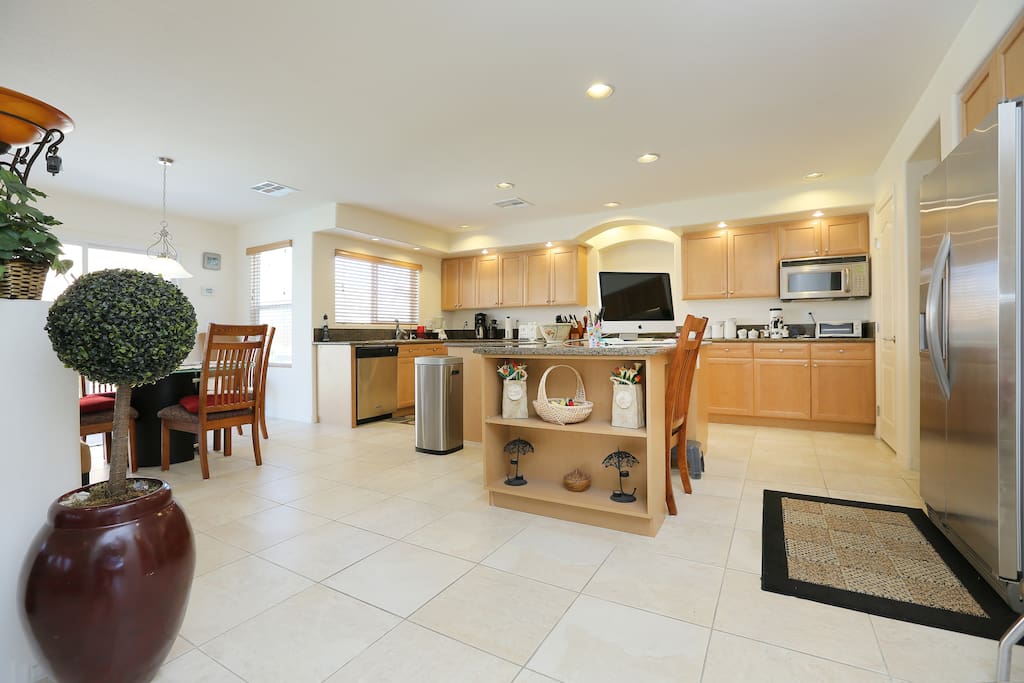 Private attached full bathroom. Hot Tub Available (small fee Oct. through May). Shared kitchen, family room and swimming pool just outside your door. Private attached en suite bathroom, private refrigerator, high speed internet, DirecTV, DVR, king size bed. Christian home. New affluent neighborhood in Henderson. 10 minute drive to the airport and the strip. 25 min walk to Green Valley Ranch Casino. 10 min walk to Starbucks, Trader Joes, Smiths (Kroger), Sushi, Applebee's, many others.
スペース
For security reasons I won't allow more than one adult male per group.
Master Bedroom with en suite, private, attached full bathroom and King size bed. Private refrigerator. You won't see other Airbnb guests here. This is not a little casita. You have use of a large kitchen, stove and family room right outside your door. Relax by the pool. No bottled water needed here. We have clean filtered ice and water for you to use. Directv and high speed internet. I can give you a PDF of my very complete guidebook shown below. Full shared access to our first floor and backyard shown in the pictures.
When you stay here you won't have to pay extra for drinkable water, internet access, hotel access, resort fees, hotel taxes, city taxes, parking, valet gratuities, storing your luggage, having your boarding passes printed out and printing out show tickets.
This room accommodates two adults and two children. There is one king size bed. A child or adult can sleep on the floor, the carpet is thick, we have extra blankets and pillows.
ゲストの立入り範囲
Come and go anytime of the day or night. You will have a house key. You have usage of all areas in the pictures. Access to your bedroom is through the kitchen on the first floor. You are welcome to bring your own food and use the kitchen, stove and refrigerator. You can eat in the kitchen or out by the pool.
Please park on the street right in front of our house. There is plenty of parking on the street nearby. No charge.
Shampoo, liquid body wash, liquid hand soap, iron and ironing board are provided in your room. You have shared access to the entire first floor. We have good filtered water and ice, you don't need to buy bottled water. Bring your water bottles.
The sun heats the pool, we don't. It is very warm in the summer, about 85 degrees depending on the wind. Strong wind can and will blow the heat out of the pool. The swimming season runs May/June through September/October. There is a small charge ($5 to$10) to heat the hot tub during the cold seasons. Winter pool temperature is about 60 degrees.
ゲストとの交流
You will not be sharing with other Airbnb guests here. We have only one Airbnb room so you will only share the common areas with us.
Please tell us when you will be arriving at least three days before you get here. There is no hotel lobby here. We must be here to check you in. If flying, please text me when you land and when you get into your car.
I am available to help you, give advice or to fix things for you. Please speak to me if I am around. If I am not around please call me, email me or text me. If you are shy, please break out of your shell and ask me for help anyway.
I have loaded a lot of restaurants and sites on the guidebook map on this page. I have also loaded many restaurants from "best of" lists in local papers as well as Yelp, Tripadvisor and many other web sites. The guidebook is too large to print but I can email you the pdf, just ask me.
その他の特記事項
So far we have hosted international guests from Anguilla, Austria, Australia, Belgium, Canada, China, Fiji, France, Hong Kong, Italy, Japan, Madagascar, Mongolia, Netherlands, New Zealand, Poland, Singapore, Slovakia, South Korea, Thailand and Trinidad.
We have hosted U.S. guests from everywhere. It has been a real pleasure to meet people from other countries and other parts of the U.S.
追加人数の料金 ¥1754 / 泊 (2名を超えると1名様増毎に加算)
お支払をお守りするためにも、Airbnbのサイトやアプリ以外の場所では決して送金や連絡を行わないようご注意ください。
I apologize this is a bit long. I am not a mean person. We need to be clear about the rules and you are about to agree to them. Previous guests created all of these rules.
You must be present at check in. No substitutions allowed. You must resemble your portrait picture I see on Airbnb. If you don't resemble your picture there will be no check-in and no refund. No portrait, no check in.
I will require the names and ages of everybody in your group when you book the room. Those are the only people that can stay here with you. No special guests, no sleepovers, no small parties in the room.
We have young children and appropriate behavior is required. This is not the place for a single person that wants to bring newfound strangers into the house at night. Guest nudity is not appropriate at this house. G-strings in the pool are not appropriate. Men in bikini briefs are not appropriate in the house.
For security reasons I won't allow more than one adult male per group. The capacity for this room is two adults and two children. If two adult males try to check-in there will be no check-in and no refund.
This room is not available to Las Vegas locals looking for a short-term rental.
Late checkouts are not available. Check out time is 11am. Early check-ins might be available if the room is open the night before you check in.
I don't accept check-ins after 9pm. Absolute last check in will be 11pm PST if you have a major setback of some sort while traveling. Your flight should be scheduled to land by 7pm. After 11pm PST you will need to find a hotel room, we can check you in the next day. No refunds.
Please tell me when you will be checking in a few days before you arrive. When flying please "text me or call when you land" and also "text me or call when you get into your car". If your plane takes off late, please text or call me as well. If you show up with zero communication before you arrive then you might have to wait several hours before you can check in because I might not be home.

The second story of our home is off limits. Our laundry room is upstairs so there is no laundry usage available at this home, we can make special laundry arrangements for guests that stay more than 7 days.
Please take off your shoes and dirty socks when you enter the house. We require clean feet, clean socks or clean slippers in the house. Dirty bare feet are not allowed inside, we have white carpet.
All outside windows and doors must be kept closed and locked at all times. We will make an exception for open doors if your body is in the way. The front and back doors of this house must be kept locked at all times. If you are forgetful about locking the outside doors you will be asked to check out early with no refund.
There is no daily maid and towel service. Please hang your towels to dry so you can use them again. Piles of wet towels left on the floor will get moldy. There will be a charge for damage.
No feminine products (pads/tampons) in the toilets, those go in the trash. No baby wipes in the toilets. If a toilet gets clogged call me after the first flush. Don't flush again, please call me.
This is a smoke-free, pet-free and drug-free home. Light drinking is fine. Smoking outside by the pool is also fine, we have ashtrays you can use. Quiet time starts at 10pm inside and outside of the house. TV in your room is ok anytime at a normal volume. TV in our family room is not available. The outside Barbeque is not available.
You are welcome to use the kitchen, your private mini refrigerator, stove, microwave and common areas. Please bring your own food and clean up after yourself. Please don't eat meals in your room.
We only use paper plates and plastic cups outside near the pool. We can provide those for you. No glass, glass bottles or ceramics of any kind outside at any time. If broken glass gets into the pool the cost to drain, clean and refill the pool is $900. Responsible party will be charged that fee.
When it comes time to rate your stay with us, please keep in mind that we are not the Bellagio and we are not the Wynn. You are paying one tenth the price of a stay with them and you are getting a very nice place to stay. We believe that we do provide five star accommodations, please tell us if we are not measuring up but please don't compare us to them when you rate us, that would not be fair.
We had one couple that never left the house for three days. They were out in the common areas all day each day. We don't want to repeat that experience. We are looking for guests that will go out and enjoy Las Vegas. We enjoy getting to know our guests. Please enjoy our home and don't feel pressured to leave. I know for 99% of you this will not be a problem. You are here to visit Las Vegas and have fun.
下記事項もご了承ください
騒音の可能性あり - The kitchen is outside of the guest room door and hallway. There is a potential for light kitchen noise during the day and until midnight.
敷地内に駐車場なし - We have plenty of safe parking on the street right in front of our house and along the side of our home, we are on a corner lot.
共用スペースあり - Kitchen, Family Room, Jacuzzi and Backyard Pool is shared. Your bedroom, TV and bathroom is private.
一部アメニティは最低限のものです (例: ネットが遅い) - We don't share the family room TV, formal dining room and the backyard BBQ Cooking areas. Washer/Dryer are not available.
I am a late blooming Father of two children. I am into parenting right now. I don't have any motorcycles for the first time since I was 8. I am a Scuba Instructor, have done thousands of Dives in Hawaii, hundreds of dives in Palau and the Philippines. I met my Wife in the Philippines, she is amazing, she keeps us on track.

5 things I can't live without? God, My Wife and My Children. Can't think about two more right now.

I grew up in Silicon Valley, used to ride my minibike through the exact orchard where Apple's Headquarters are now located. I have lived in Scottsdale, AZ. Carefree, AZ. Kailua-Kona, HI. Falcon, CO, Gunnison, CO, Bear Valley, CA, Twain Harte, CA, Columbia, CA, Strawberry, CA, all over Silicon Valley (Saratoga, Santa Clara, San Jose, Mountain View, Cupertino) and now in Las Vegas, NV.

I have also lived overseas on job assignments in Tokyo, Japan, Eindhoven, Netherlands and the Islands of Palau, Micronesia aboard the Palau Aggressor.

Our experience with AirBnB has been amazing. We have met really great people from all over the world. We are available to give advice on things to do and places to see. We have some opinions on food in the area as well.

I have loaded our favorite restaurants and sites on the guidebook map on this page. I have also loaded many restaurants from "best of" lists in local papers as well as Yelp, Tripadvisor and many other web sites. The guidebook is too large to print but I can email you the pdf, just ask me.

Our hosting style is very "hands off". We can talk if you are in the mood. Come and go as you please, we are not worried about the hours you keep. That is why we don't serve breakfast. During the day it is quiet downstairs. I am working upstairs and the rest of the family is out of the house at school and work. You can sleep all day if you like or hang out by the pool.
言語:
English