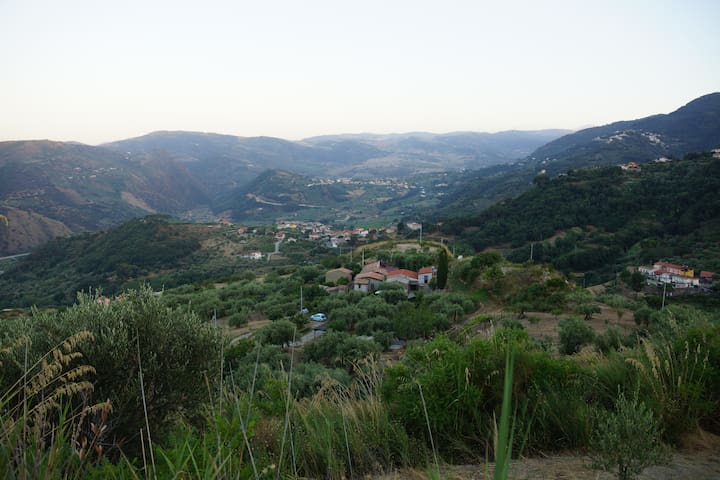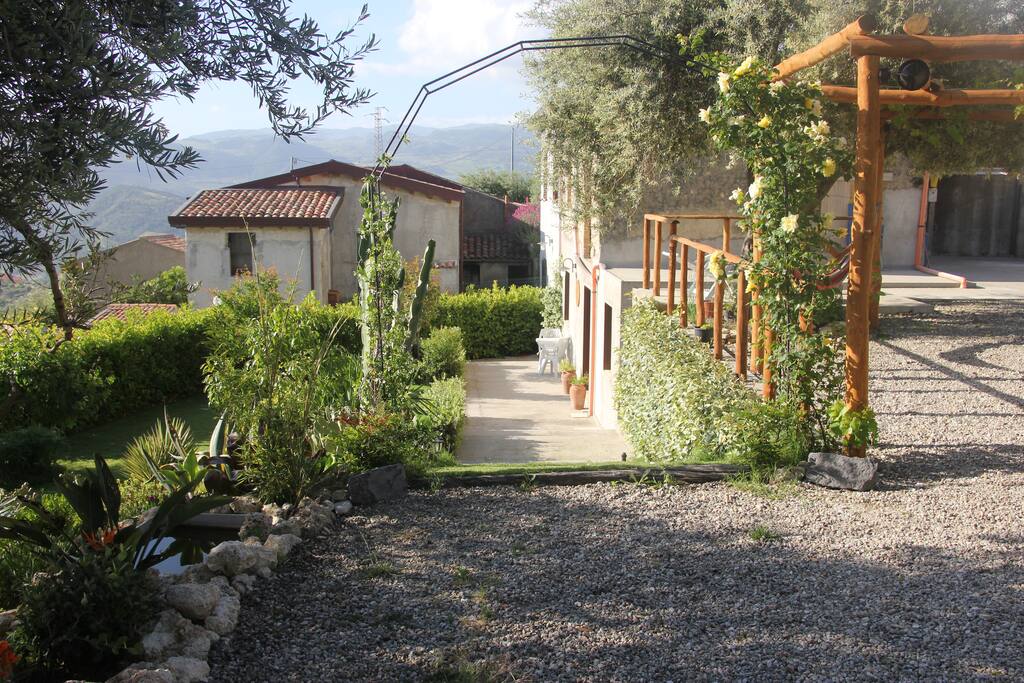 Unsere Ferienwohnung für 3 Personen liegt unweit der Stadt Patti an der Nordküste Siziliens oberhalb des kleinen Ortes Gallo.
Hier in den Bergen kan man abseits vom Trubel der Stadt eintauchen in die Stille und dem Lärm der Strände entfliehen.
---
Die Bestätigung der Buchung kam umgehend und die Information zur Anfahrt der Wohnung wurde per SMS geschickt. Imma hat uns herzlichst auf Sizilien willkommen geheißen und uns innerhalb kürzester Zeit am vereinbarten Treffpunkt abgeholt. Durch viele Kleinigkeiten und Aufmerksamkeiten hat sie unseren Urlaub zu etwas ganz Besonderem gemacht. In der gemütlich eingerichteten Wohnung, auf dem großzügigem Grundstück haben wir uns wie zuhause gefühlt. In der Wohnung ist eine super Grundausstattung vorhanden, mit allem was man für den Urlaub braucht! Das Haus ist liegt an einem Berg, abseits von allem Trubel. Es ist wunderbar ruhig und der Blick auf das Meer ist fantastisch. Dennoch erreicht man Patti und traumhafte Strände in wenigen Autominuten. Ein Mietwagen ist aber zwingend erforderlich. Imma ist eine super Gastgeberin und man kann einen Urlaub bei ihr nur enpfehlen! Danke schön!
---
Nous avons passé de superbes vacances chez Imma !! D'une part, le logement est propre et bien équipé. L environnement est agréable et la vue imprenable sur les montagnes. Il est idéalement situé pour des excursions à la journée (palerme, etna, catane, îles éoliennes..) et à 10 minutes en voiture des plages. D'autre part, l'accueil d Imma a été très chaleureux et sympathique, toujours prête pour nous donner des renseignements et nous rendre le séjour toujours plus agréable . Si vous souhaitez un endroit tranquille en sicile avec la possibilité de visiter et de partager des moments avec les siciliens, nous vous recommandons vivement cette location !
---
We had a great time our nine nights we stayed at Immas house. Really clean and tidy house with all the commodities you may need when you are in vacation. The house is situated on a hill so you have a fantastic view over the patti bay when you sit in the beatiful garden relaxing. Imma was a fantastic host who let us try her home made sausage and wine, wich of course was fantastic! Grazie mille!
---
Imma met us at the strade provenciale on our arrival and guided us to her house - no delay and just perfect. Her apartment is VERY nice for two persons (and maybe one child) and everything you need to make your stay comfortable is either already there or will be readily provided from Imma. As the view from the apartment on airbnb indicates the setting is completely rural, quiet and peaceful. The apartment comprises a beautiful attained garden where you can have your sunbath or grill your favourite food. You may also enjoy dinner with the host. However, if you wish to stroll to some town streets in search for a nice restaurant and enjoy the evening out: you need to drive AND not be afraid driving the narrow and steep access road back to Imma's house in the dark ... We surely recommend to stay with Imma if you and eventually your kids like the country side or look for change from the city life including roosters, chicken, pigs, dogs, cats and tortoises, which you all can find on her premises. We enjoyed it!
---
We met in the little town near her house, picked us up as soon as we send a message we were there. Driving up the hill to there house, you know you wouldn't have found it on youre own. The house/apartment has everything you need; good bed, kitchen with everything, a good shower and a washing machine. The outside is a nice patio with all the shade and sun you want. The house itself and the fact that it's fully stuffed with the things you need would have been far enough for me, but Imma really went out of her way to make our stay great! She put in a bed for our daughter (19 months old) helped us to find our way around, had the fridge stuffed and on the last night (stayed 2 nights) cooked for us, and made us a really nice basket with food for the trip the next day. The view is amazing, it's just a few 100 meters from the town, but you feel relaxed, and in nature. A great place, a great host. Would definitely stay again, would recommend to a friend, would recommend to a reader of this review. Ciao
---