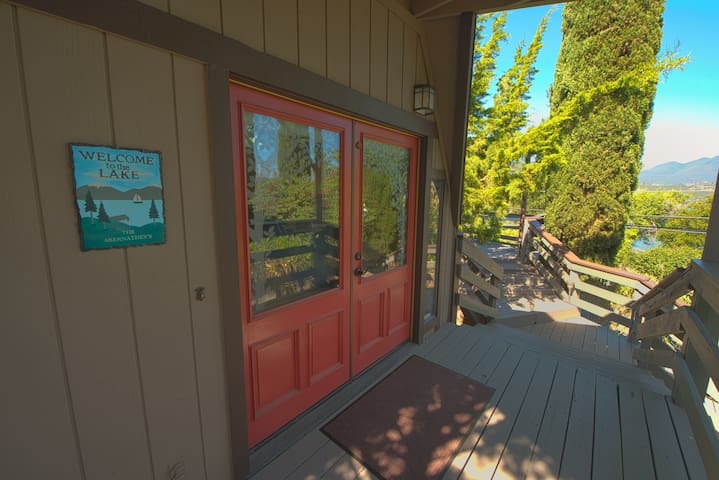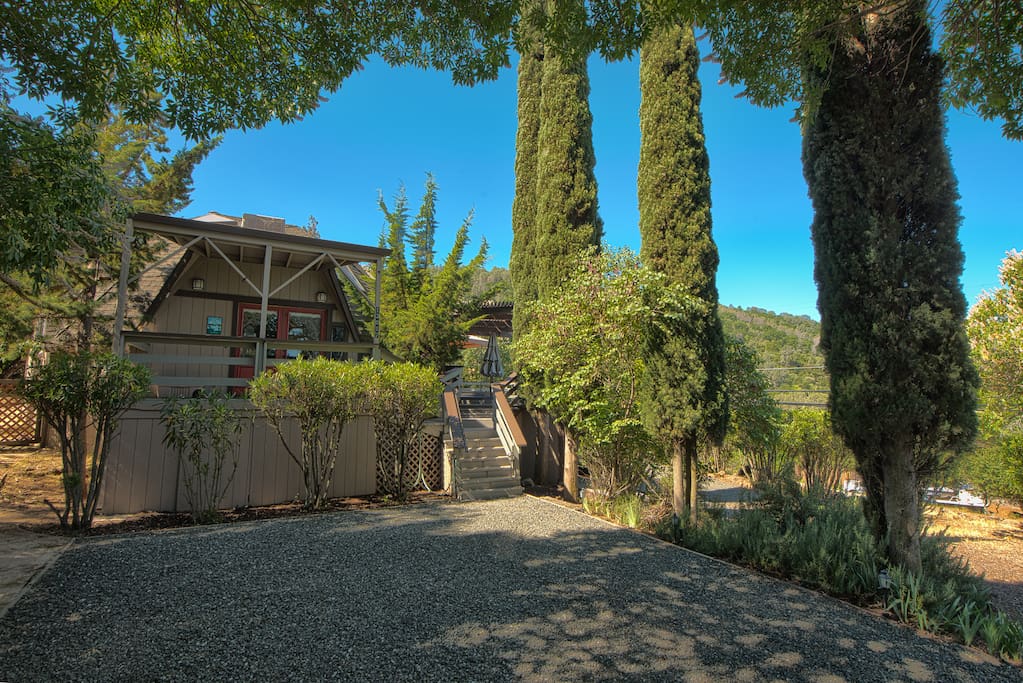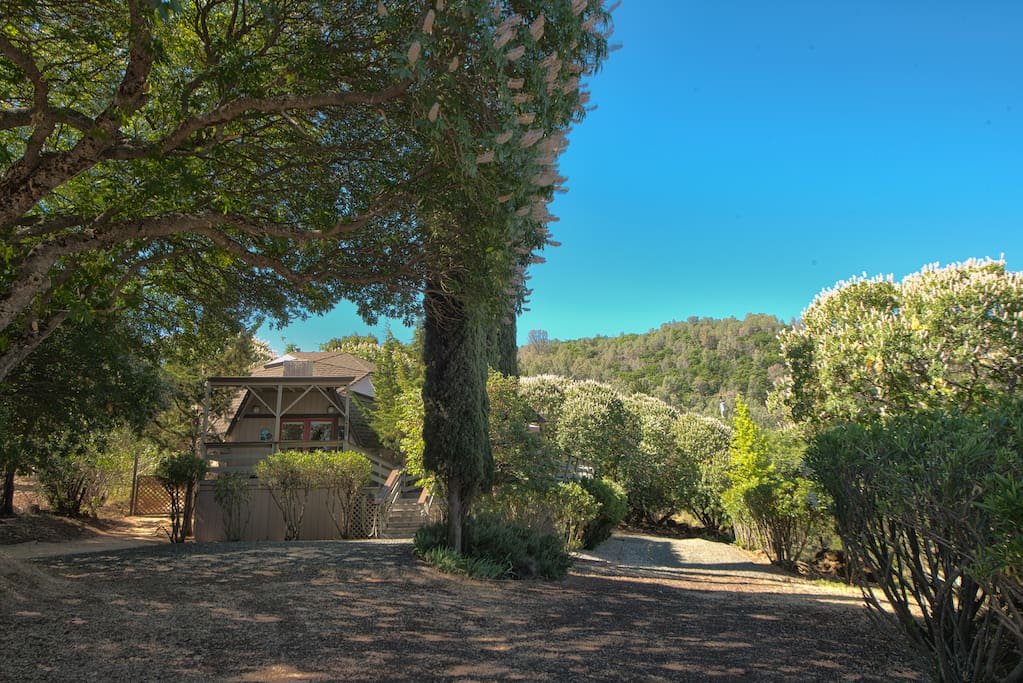 どのくらいの頻度で測地線ドームの家にいますか?ジャゴ湾の静かなエリアに位置する、2ベッドルームのプライベート家具付きの休暇用のロフトと2つのバスルームで、ドームハウスの穏やかな静けさをお楽しみください。
How often do you get to stay in a geodesic dome house? Come enjoy the peaceful serenity of our Dome House at the Lake, a 2-bedroom private furnished vacation home with loft and 2 bathroom, located in the quiet area of Jago Bay.
スペース
あなたは、あなたの上にドームが伸びている広大な部屋に2つの美しいエッチングされたガラスのドアを通って、エントリーポーチ(ラップアラウンドデッキに接続されている)からこの珍しい家に入る。あなたはすぐにあなたがどこかでユニークであると感じるでしょう。 クイーンサイズベッド2台とフルサイズベッド1台が備わるドームハウスの快適さの下で、眠っている間にエネルギーを元気づけましょう。リラックスしておくつろぎいただける快適な空間を備えた設備の整ったキッチンとリビングスペースがあります。 トレリス、ガゼボ、湖と山を見渡せるシッティングエリアがあるラップアラウンドデッキがあります。 Konocti。デッキでリラックスしたり、夕食を食べたりします。 Konocti。
You enter this unusual home from the entry porch, (connected to the wrap-around deck), through two beautiful etched-glass doors into an expansive room, with the dome extending high above you. You will immediately feel that you are somewhere unique.
Rejuvenate your energy while sleeping under the comforts of a dome house with 2 queen and 1 full-sized beds. We have a fully equipped kitchen and living spaces with comfortable areas to relax and visit.
There is a wrap-around deck with trellis, gazebo and sitting areas for viewing the lake and Mt. Konocti. Relax or eat dinner on the decks while watching the setting sun over the top of Mt. Konocti.
ゲストの立入り範囲
無線インターネットは、VHSとDVD / CDプレーヤーに接続されたスマートテレビと一緒に、レンタルに提供されます。多くのDVDやVHSムービー、ゲームのクローゼットが楽しめます。 Smart TVは、Hulu、Amazon Video、Netflixなどのアカウントにログインすることができます。居心地の良い上層階のベッドルームには、VHSプレーヤー付きの小さなテレビや子供用のビデオがたくさんあります。 レベルのプロパティでボート/トレーラーと一緒にあなたの車を駐車するための十分な部屋。 3つのトレーリングドリグ用の十分なスペースがあります。 ハウス: メインレベルについて: - クイーンベッドとヘッドボードの装飾的なデザインのマスターベッドルーム。 - タイル/シャワーコンボと2つのシンク付きの全タイル張りのバスルーム。屋外のドアからプライベートデッキと屋外シャワーに向かいます。 食器洗い機、冷蔵庫、オーブン、電子レンジ、トースターオーブン、コーヒーメーカー、トースター、ワッフルメーカー、ミキサーなどの設備が整ったキッチン。 - テーブルを食べると、ラップアラウンドデッキにドアがあるキッチンに隣接しています。 - ソファと椅子を備えたリビングルームでリラックスしてラップアラウンドデッキを出ている大きなスライドガラスドアを見渡します。 リビングルームのシーリングファンは座席エリアの上にあります。 - 主な居住エリアを冷やして暖めるための壁のAC /ヒートポンプ。 - ドームハウスのユニークな特性を管理するためのシステムを冷却し、排気システムを冷却する。 - マスターベッドルームのポータブルACユニット。 上のレベルで: - ダブルベッドを備えた上階のベッドルーム - 快適なクイーンベッド付きのロフト(広いオープンエリア) - シャワーエンクロージャを備えた上階のフルバスルーム エクステリアデッキ: -Gas BBQ、そのランチや夕食の準備。 - デッキの盛り上がった部分にテーブルと椅子が付いた展望台。ガゼボはドロップダウンシェードを持っています。 - ガラスドアをスライドさせる居間以外の領域を覆うが、景観を妨げることはない。 - フリースタンディングハンモック - スタンドの傘 その他のアメニティ: ボートとトレーラーのために十分な大きさの平らな駐車スペースがたくさんあります。
Wireless Internet is provided in the rental, along with a Smart TV, which is connected to VHS and DVD/CD players. Lots of DVD's and VHS movies to enjoy, along with a closet of games. Smart TV is available to log-in with you accounts to Hulu, Amazon Video, Netflix and more. A small TV with VHS player and plenty of children's videos are available in the cozy upstairs bedroom.
Plenty of room to park your vehicles along with boat/trailer in level property. There is sufficient room for three trailered rigs.
The House:
On the Main Level:
−Master bedroom with queen bed and decorative design for headboard.
−Full tiled bathroom with tub/shower combo and two sinks. Head out through exterior door to private deck and outdoor shower.
−Fully equipped kitchen with dishwasher, fridge, oven, microwave, toaster oven, coffee maker, toaster, waffle maker, blender, and other items to enjoy your stay.
−Dining table and adjacent to kitchen with door out to wrap-around deck.
−Living room with sofa and chairs to relax and look at the views out the large sliding glass door going out the wrap-around deck.
−Living room ceiling fan above the sitting area.
−Built-in wall AC/Heat Pump to cool and heat the main living area.
−Swamp-cooler system and exhaust system to manage the unique properties of a dome house.
−Portable AC unit in master bedroom.
On the Upper Level:
−Bedroom on upper level with double bed
−Loft (large open area) with comfortable queen bed
−Upper level full bathroom with shower enclosure
Exterior Deck:
−Gas BBQ, ready for that lunch or evening meal.
−Covered gazebo with table and chairs on raised portion of deck. Gazebo has drop-down shade.
−Trellis covering area outside of living room sliding glass door, but not obstructing views.
−Free-standing hammock
−Umbrella in stand
Other Amenities:
−Lots of level parking with large enough area for boat and trailer.
ゲストとの交流
あなたは滞在中にあなた自身のために家と財産を持っています。ご滞在中にご不明な点がございましたら、電話またはテキストでご連絡ください。メンテナンス項目や緊急事態が発生した場合は、情報マニュアルに追加の連絡先情報があります。
You have the house and property for yourself during your stay. We are available by phone or text if you have any questions during your stay. In the event of a maintenance item or emergency, there is additional contact information in our Information Manual.
その他の特記事項
注意: 1.毎日、毎週、毎月の料金には、9%のレイク郡滞在税が含まれています。これは、ゲストレンタル税を徴収して提出する必要があります。 2.月額賃貸料の保証金は$ 500です。 1週間に1回ハウスキーピングを含む月額レンタルの場合は、毎週125ドルのクリーニング料金が課金されます。 3.ドームハウスの徒歩圏内には、湖やビーチへの公共アクセスはありません。湖の周りにはボートのレンタル場所や公共のビーチがたくさんあります。私たちは詳細を提供し、あなたのレンタルに続く湖のアクセスをリンクします。 4.ご予約のリクエストは、ご予約日までの滞在時間に応じて、24時間から48時間の間ご利用いただけます。私たちはリクエスト中に日付を塞いでおかなければならず、同じ日付に興味があるかもしれない他の人に公正ならば作成する必要があります。あなたの決定ができるだけ早くなることをお知らせください。 5.休日に最低3泊以上の滞在が必要です。大統領の日、メモリアルデー、独立記念日、労働日、感謝祭、クリスマス、新年はすべてハイシーズンです。その他のすべての予約は最低2泊以上の滞在です。ウィークリーとマンスリーの滞在は割引されます。 6. "湖のドームハウス"ツアーをリクエストするには、オーナーに予約を依頼してください。ゲストを邪魔しないでください。 7.到着日のチェックイン時間は通常3-4pm、出発日のチェックアウトは12pmです。ご到着が早い場合や遅れる場合は、ご連絡ください。
Note:
1. Daily, weekly and monthly rates includes the 9% Lake County Occupancy Tax, that we are required to collect and submit for guest rental taxes.
2. Security deposit for monthly rentals is $500. $125 cleaning fee will be charged each week for monthly rental, which will include housekeeping once per week.
3. There is no public access to the lake or beaches within walking distance of the Dome House. There are plenty of boat rental places and public beaches around the lake. We will provide details and links lake access following your rental.
4. Reservation requests will be held for 24-48 hours depending on how close the request is to the reserved dates. We have to block out the dates during requests and need to make if fair to others that might be interested in the same dates. Please let us know what your decision will be ASAP.
5. 3-night minimum stay required for holidays. Presidents Day, Memorial Day, Independence Day, Labor Day, Thanksgiving, Christmas and New Years are all at high season rates. All other booking is a 2 night stay minimum. Weekly and Monthly stays are discounted.
6. To request a tour the "Dome House at the Lake", contact Owner for appointment. Do not disturb guests.
7. Check-in time on day of arrival is normally 3-4pm and check-out on day of departure is 12pm. Please contact us if you require early arrival or later departure.
---
---
---
---
RENTAL RULES
1.Smoking is NOT allowed.
2.People other than those in the Guest party set forth above may not stay overnight in the property. Any other person in the property is the sole responsibility of Guest. Please be conscientious about the neighboring community and respect normal quiet hours.
3.The Dome House at the Lake vacation home is privately owned; the owners are not responsible for any accidents, injuries or illness that occurs while on the premises or its facilities. The owners are not responsible for the loss of personal belongings or valuables of the guest. By accepting this reservation, it is agreed that all guests are expressly assuming the risk of any harm arising from their use of the premises or others whom they invite to use the premise.
4.Keep the property and all furnishings in good order.
5.Only use appliances for their intended uses.
6.Pets are NOT allowed.
7.Cooking and odors: Please refrain from using cooking products that might leave excessive odors in the unit, such as curry, excessive garlic, etc. Small amounts are acceptable, but use care not to leave house in condition that would not be acceptable to others. Please refrain from heavy scents and perfumes. Violations may require additional cleaning costs.
8.Parking: There is sufficient parking off-street in the property for the number of scheduled guests. The parking areas can accommodate up to three boat/vehicle rigs. Please use care if using trailers to not damage any landscaping or exterior elements.
9.Housekeeping: There is no daily housekeeping service. While linens and bath towels are included in the unit, daily maid service is not included in the rental rate. We suggest you bring along beach towels, although there are a few in the cabinet in the lower bathroom.
10.Wrap around deck: There is a large wooden deck structure around the main parts of the Dome House. One section is raised, and does not have rails. Note, the perimeter rails are not small-child friendly, as there are openings large enough for a small child to fall through. Renter accepts responsibility and risk of choosing the Dome House.
11.Pellet Stove: The pellet stove is provided as a source of heat and visual enjoyment, as the glass doors are visible, similar to a regular fireplace. Please do not throw any paper or other combustible materials in the pellet stove, as there should only be authorized started chips or pellets within the stove. Renter agrees to carefully review the provided instructions on use and management of the pellet stove. Do not leave pellet stove running if leaving or not occupying the premises.
12.Water and Septic: The Dome House at the Lake is on a private restricted water system and it's own septic system. The water is very drinkable and there is a filtered water outlet in the fridge. The septic system is very effective; however, it will clog up if improper material is flushed. DO NOT FLUSH anything other than toilet paper. No feminine products should be flushed at anytime. If it is found that feminine products have been flushed and clog the septic system, you could be charged for damages. Do not wash cars or use water for outside purposes.
13.Garbage Disposal: The garbage disposal at the kitchen sink is to be used for minimal food scraps only. Large amounts of food should be bagged and thrown out in the trash.
14.Trash & Recycling: Trash and recycling pick-up is scheduled for early Monday mornings, on a weekly basis. There is a brown trashcan and a blue recycling can. Please be conscientious about not mixing trash or recycling. If guest is leaving on Sunday, or staying through Monday, please remove trash from house on Sunday and put trash can out at end of driveway. Blue recycling can only needs to be set out if getting full.
15.Gas Grill: A gas grill is provided for guests use. Please clean grill after use and leave in clean enough condition for future guests. Turn tank gas valve off after use. A spare gas tank is located on premises (refer to Dome House Manual). There is a gauge on the tank. If looking like running low, please leave a note to this effect on departure checklist.
---
---
---
---
The house is just as described. Wonderful location and easy to get to. Gps directions works great all the way. Very peaceful place with a great view of the lake. The deck was nice to relax on after a day of boating or exploring. Grilling by out and watching the sunset over the lake was the best part for myself. Plenty of places to explore if you do your homework. Harvey has brochures of most places around the area there. Golf is fairly close and plenty of hiking trails. We would definitely come back.
---
We had such a wonderful trip to the Dome House! The kitchen is fully stocked with any tools you can think of, you will not be left wanting! The house was very clean and well maintained. My daughter (6) was most impressed with "the coolest kids room ever!" and we were extremely pleased overall. The view from the balcony is to die for, and we had a great time laying on the deck and looking up at the stars after dark. Well worth the trip!
---
If you are unfamiliar with the area around Clearlake, you cannot select a better place to stay. If you are familiar with Clearlake, you will be 100% happy with the Dome House - and all your friends who visit will too. Areas that I consider superior: Wrap-around spacious deck with ample elevated eating area; Perfectly clean (for me, perfect because I am even anti-clutter); Organized; Stylish, local artists have their works on the walls (I want the photo of the tree with the Milky Way as backdrop); Outside yard area large and uniquely landscaped; Bougainvilleas (I hope the spelling is correct) provide the ideal amount of privacy all round the Deck; and then there is Harvey, our Host. Communication is perfect - I needed Harvey's help upon arrival. He was instantly available, calming, accurate, and provided what I needed - way to go Harvey. I am using Airbnb exclusively - the most important factor in my (the) experience has been the Host. Harvey is the Perfect Host, thank you Harvey. Always, I will check availability of Harvey's Dome House when I visit my adopted family and my friends of Clearlake.
---
The house is very well furnished with a scenic view. The highlight for me was the outside seating area with a great view of the lake and the night-sky. For 90s nostalgia, they have a vhs player and a huge collection of movies as well :) Many board games and books as well. Spotted carefree deers in the backyard, which added to the overall experience. Would recommend !
---
The Dome House was wonderful! A group of 6 of us stayed for a wedding we were attending and the house was the perfect size for all of us. Most of the time we spent at the house we were lounging and visiting with each other. The weather was great so we got to enjoy sitting outside on the awesome porch. We had a very good time and would definitely stay again! Thanks Harvey and Linda!
---
The Dome House was perfect for our Wine Adventure visit. There were 5 adults, ages 55-84, 2 couples. Check in was a breeze, instructions were clear, amenities were great. Everything we needed was provided. The view from the deck was extraordinary. The beds were comfortable. Kitchen was well appointed. Communication with the host was excellent. A few things of note. The bedrooms are 1 downstairs private queen bedroom and 1 upper level with two small rooms. The setup is probably ideal for a family to sleep downstairs, and non-toddler children to sleep upstairs. Toddlers, as advised by the host, are probably not well suited to the dome house because the back deck is beautiful but not child proof. One serious issue we had was the lighting on the back deck. Several times we almost stumbled on the steps down from the elevated seating area. The outdoor lights did not work and those that were either on timers or motion activated were sporadic. We spent most of the time on the deck in complete darkness and had to be very careful stepping done the two steps on each side of the platform. The end chair on the rear is very close to the back drop off which is one large step. This could have been quite calamitous. Two of our party tripped down the stairs but thankfully no one was hurt. While the lights should have been functional, because one wouldn't want to attract bugs or detract fro the lovely stars I would advise putting a small lip on the back double step, and subtle solar lighting on the edges of each step. This would solve the problem elegantly. This issue did not detract from our 5-star rating. But it is of note. The Dome House is unique and beautiful. We would stay there agin.
So glad you guys enjoyed your stay and we really appreciate the feedback. I will definately check on the deck lights and install additional lights around the deck. It is great that you got to appreciate the night sky, as the light pollution is limited around Clear Lake. We look forward to hosting your group again.
---