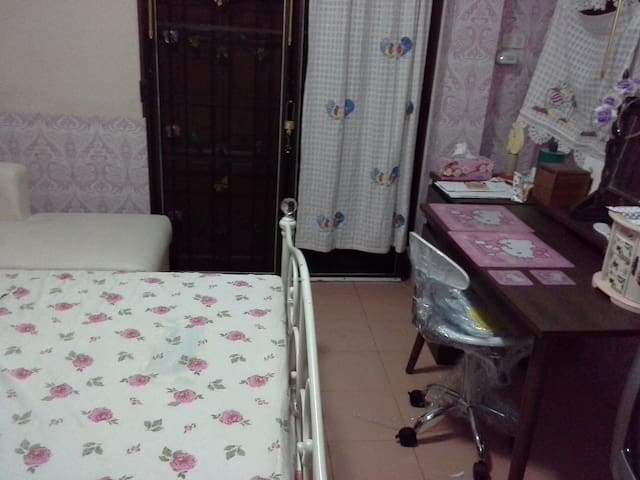 タイへようこそ。フルバイアンプMRTとセントラルウエストゲート、次の数ヶ月とほぼ..
Welcome to Thailand..full Violet MRT and central west gate next couple months and nearly..
スペース
ペット可またはサイクリング可能な100平方メートル
100 sqms with pet allowed or cycling available
ゲストの立入り範囲
aspirationlawhostel次の紫色P1 MRTとサトウキビの黒い鶏へのタクシー
aspirationlawhostel next violet P1 MRT and taxi to sugarcane black chicken
ゲストとの交流
Private for your vacation
その他の特記事項
今年中に簡単にアクセスでき、今すぐあなたのスペースをつかむことができます。
Easy access within this year,grab your space right now..
Keep warm and cool balancing
i like this rule but really not punctual strict
**[[Out of respect to other guests, I employ a 3 Strikes Rule = If you break the below listed rules 3x, you may Be Asked To Leave Without Refund. I reserve the right to ask you to leave at any time depending on severity of infraction]]**
General Guest Rules:
**Be reachable via text or phone on check-in day & communicate any delays immediately**
Be kind and respectful to fellow guests, property, neighbors, assistant hosts & host**
Communicate any concerns privately with Assistant Host or T**
If guests watching TV or resting, any phone calls should be made on balcony, or on Beachwood Drive if during Quiet Hours**
Each guest is entitled to 1 towel upon check-in, but may request a second one from host**
Do not take fellow guest's food or belongings**
Unplug any chargers from outlets when done & secure them with your belongings**
No outside guests permitted on property without host consent**
No roof access**
No cars parked in driveway at any time [including uber/taxi]**
Headphones used for music/show watching on personal tablets/phones/laptops**
Ask fellow TV watchers before changing channels - feel free to record on DVR **
Front door must be locked if last to leave & security gate must closed at all times**
Keys must be returned to assistant host the night before check-out & $10 fee is key set lost**
If "floating tenant," must be willing to sleep on any bed available on any given night**
For smokers: cigarette butts must be cleaned immediately after use**
Quiet Hours: 10PM-10AM**
Whisper if on balcony past 10PM**
Headphones should be used for any personal tablet/laptop/phone gaming, music or video watching**
TV sound must be turned way down, and if any guests are wanting to sleep, muted with captions unless otherwise all guests consent to TV being on**
Any late night phone calls can be taken on Beachwood if cannot whisper on balcony**
Front door must be kept closed**
Immediately upon Quiet Hours ending, airbed must be put up & those on futons or loveseat must put their bedding in closet and allow other guests to use as common seating**
Bathroom Guidelines:**
AC must remain off unless guests are present inside the studio - 1hr limit AC use at time [fans available & open windows]**
Bathroom Door must remain open if AC is on & Bathroom Door should remain closed if AC is off**
Towels must be hung in bathroom only**
30 Minute Time Limit when people are waiting**
Cleanliness Rules: **
All personal belongings must be in the closet & tidy before leaving each day**
All clothing must be contained in bag or luggage**
For those sleeping on futon or loveseat: Must be used as common seating during the day. blankets & pillows must be put away in closet 10AM-8PM**
For airbed sleeper: Airbed must be put up between the loftbeds & blankets/pillow in closet until Quiet Hours**
No personal items or trash should be left out on Balcony**
Kitchen Rules [Open 8am-Midnight]
**Must take, throw away or donate to studio any food you brought before check-out**
Must clean & put away dishes immediately after use
まだレビューがありません。泊まると、あなたのレビューがここに表示されます。
Welcome to MRT metro access violet or purple line to Bangkok downtown this year2015.I work in international field,i had been worked as nurse ,lawyer and psychologist..please enjoy to have time in my home for long stay..nearly my retired time soon..you can enjoy music and mixed media activity concert too,my son is band and movie maker creative with new songs ideal initiative style.. i travel not much,only for strategic trip,Keeping on my fighting in life as Tiger..
言語:
Bahasa Indonesia、Bahasa Malaysia、Deutsch、English、ภาษาไทย、中文、日本語、한국어