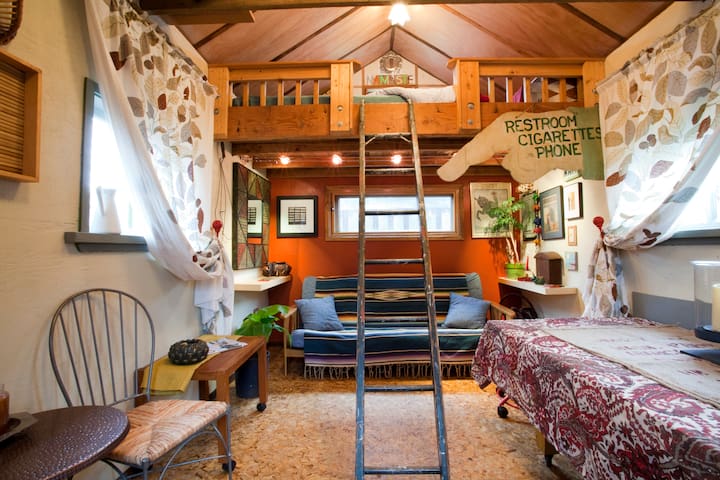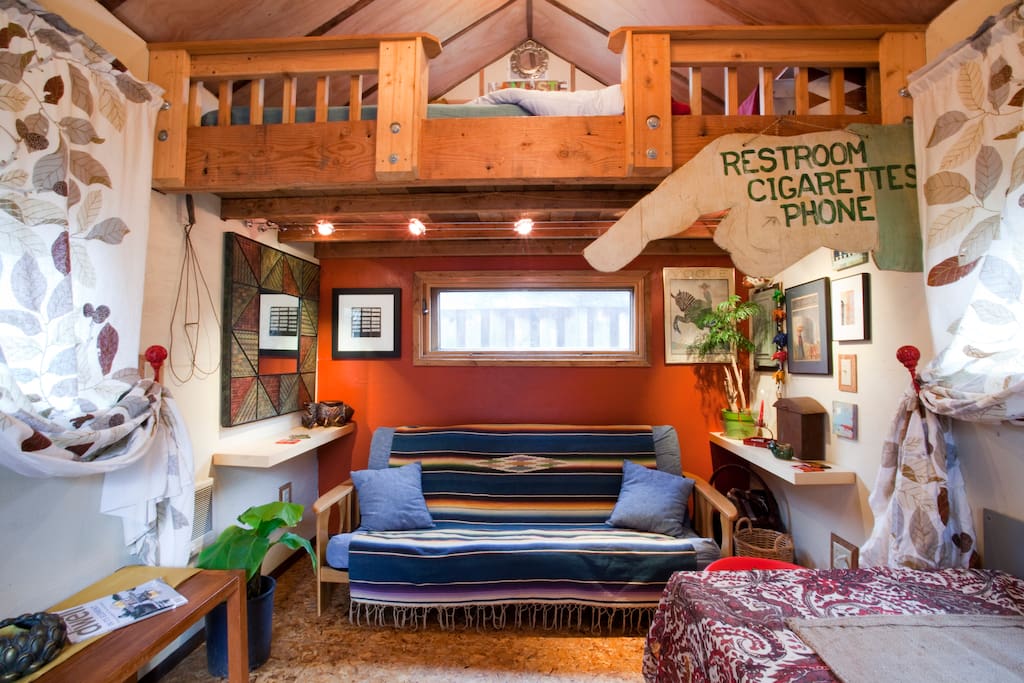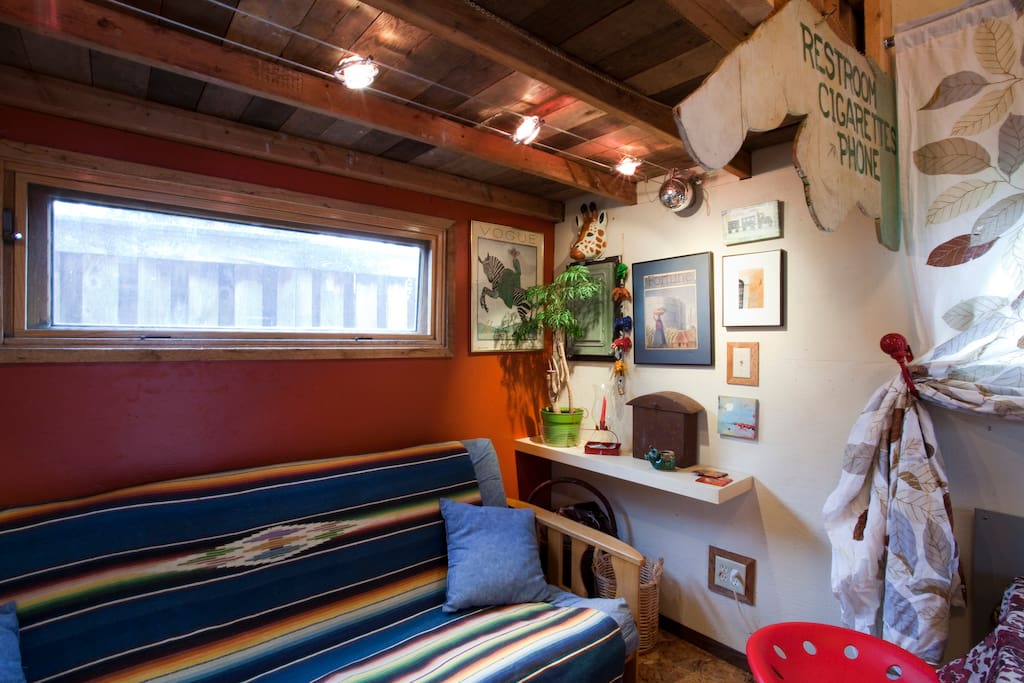 この素敵なプライベートの小さな宝石は、豊富な飲み物、食事、調剤、ヨガ、コーヒースポットから徒歩ですぐの場所にあります。 Woodlawn Parkから1ブロック、バスから2ブロック、Alberta Shopping and Arts Districtから車で5分です。それはあなたのリラックスした甘い隠れ家を妨害するのに十分近いほど近くにあります。家から離れたこの小さな芸術家の小さな家に住んでいるうちに、それをすべて手に入れてください!
This wonderful, private little gem is just a few easy walking blocks from plentiful drinking, dining, dispensing, yoga & coffee spots. You will be one block from Woodlawn Park, 2 blocks from a bus and a 5 minute drive from the Alberta Shopping and Arts District. It's all so comfortably close by, but not close enough to disturb your relaxing, sweet retreat. Come have it all while living small in this tiny, artsy home away from home!
スペース
このスペースは、1925年のバンガローの後ろに1926年にモデルTガレージとして建設されましたが、フェイスリフトがあり、リサイクルされた材料で作られた居心地の良い暖かい独立したスタジオとして新しい生活をしました。果物の木と庭の座っている場所の間に甘い場所に置かれた "小さな家"。 眠っているロフトは2人で快適に眠ります。ロフトの下には、上のナップがある間に本を楽しむことができる布団があります。時々あなたは懐かしさのタッチを追加する距離の列車を聞いて、このエリアは都市農場と成熟した木のたくさんの素晴らしい飛び散りを持っているので、あなたは近くの鶏のリラックスしたcluckingとcooingに目を覚ます。 あなたの快適さのために、これは "ペットのふらふらのない空間"として。いいえ、ペットありがとう。 ここに描かれているテーブルは、小さな取り外し可能な洗面器のシンクを収容する「ガーデンシェッド」カウンターに置き換えられています。また、衣服を掛けたり、バックパックを抱きしめるための素朴で荒い切り取った鎧もあります。小さな簡易キッチンのコーナーには、調理器具、2つのバーナークックトップ、ミニ冷蔵庫、電子レンジ、コーヒー、コーヒー・プレスが備わっています。 スタジオのセットアップはキャビンに似ており、多くのキャビンが行くので、バスルームはありません。あなたはメインハウスに鍵が与えられますので、来て、施設を利用するのに十分な気分を感じてください。 ところで、それは断熱され、暖かく、毛布がたくさん敷かれているので、秋や冬には素晴らしい、暖かい隠れ家です。うん、すっごくいいwifi。 庭には、夏には花や果物(イチジクとおいしい黄色のプラム)、庭園にはたくさんの野菜が並んでいて、Powells Booksで忙しい一日を過ごした後は、 ショップ、飲み物、踊り、食事をする素晴らしい場所があるWoodlawnの中心部から徒歩5分以内です。 -Firehouse Restaurant、ややロマンチックな、良いサービス -Woodlawn Coffee House、たくさんの人が見ている -Breakside Brewery、一口をつかんでゲームに追いつく - 陸軍居酒屋、あなたの豚肉を持っている...豚肉:) - おいしい隣人のピザ、余韻と深夜 -P's&Q's Marketではおいしい食事といくつかの食料品を提供しています - スクエアダンスと特別イベントのための村のボールルーム - アップタウンサイクル、販売および修理 - ポートランドの女の子、誰がスパの日? - 定評のある診療所 -Koken Market、お好きなビールのほとんどはスナック カフェ11、アート、コーヒー、ランチ、ペストリー オレゴン公営住宅、国の最初の非営利のパブ - ハイウォーターマーク、最後の金曜日のプール&ヒップホップ付きのロックパブ - タメールボーイ、本物&美味しい、外の席がたくさんあります。 -Bassato Gelato、朝に12種類の回転風味+ベーグル -HighWheel Mead、木曜日 - 日曜日を開く - (季節的)Woodlawn Farmer's Market、Woodlawn Triangle、Sat. 10-2 ダウンタウンへは車で15分です。 アルバータアート地区もわずか数分の距離にありますので、自転車に乗って、最後の木曜日のアートウォークの真ん中にいても、ショッピング、ディナー、悪夢のソルトの美味しいアイスクリームで一日を過ごすことができます& ストロー。その後、リラックスしてハンモックに座って静かな場所に "家に帰ってください"。ああ、ああ。また、美しく成熟した木々に囲まれているので、パーゴラの下の愛の席の席で夕食を楽しみ、夜空を見ることができます。小さなコウモリが遠くに彼らの空のルーチンを見ているのを見るのは素晴らしい劇場です。 飛んで?このスポットは空港からわずか10分です。 そして、ポートランドでは、車輪がほしいかもしれません!まあ、この場所はZipcarsに非常に近いので、滞在前に自分のサイトに登録することができます。車に道具をつかむためにTuroかGetaroundをチェックしなさい しかし、2つの車輪で街を探索したい場合は、Everybody Bike RentalsまたはEbikes(電気自転車レンタル)が最初のヒットスポットです(バスで10分)。彼らはヘルメットとロックも提供しています! ***あなたが望んでいたカレンダーで利用可能な日付が表示されない場合、または2人以上の人と一緒に旅行している場合は、同じプライベートスタジオである私の他のリスティング(#95313)をチェックしてくださいロケーション。それは大きく、プライベートエントリーとバスルームを完備しています。ちょうど私に尋ねる! 駐車場は近くにあり、リビングはとても簡単です。だから、そのプロフィールを完成させてから、私に連絡して、あなたのかかとを蹴って、しばらく滞在してください! ああ! PSすべての人が同じページに来るように、あなたのプロフィールの説明、家のルールを読んで、あなたの写真をあらかじめ投稿してください。とても有難い。乾杯!
This space was built as a Model T Garage in 1926 behind a 1915 bungalow but it has had a face lift and has taken on a new life as a cozy, warm freestanding studio made mostly from reclaimed materials. A "tiny house" if you will, sweetly positioned between fruit trees and a garden sitting area.
The sleeping loft comfortably sleeps two and there is a futon below the loft where one can enjoy a book while the other naps above. Occasionally you will hear the trains in the distance which adds a touch of nostalgia and you get to wake to the relaxing clucking and cooing of the neighborhood hens as this area has a nice spattering of urban farms and lots of mature trees.
For your comfort, this as a "pet dander free" space. No pets, thanks.
The table pictured here has been replaced with a "garden shed" counter that houses a small, removable basin sink. There is also a rustic, rough hewn armoire to hang clothes and tuck away your backpacks. The little kitchenette corner is stocked with utensils, a two burner cooktop, a mini fridge, a microwave, coffee and a coffee press.

The studio's setup is more akin to a cabin, and as many cabins go, there is no bathroom. You will be given a key to the main house so please feel comfortable enough to come in and use the facilities.
By the way, it is insulated, well heated, and stocked with plenty of blankets so it is a wonderful, warm hideaway in the fall and winter months as well. Yep, snuggly wifi too.
The yard is plentiful with flowers and fruit bearing trees (figs and delicious yellow plums) in the summertime, as well as an array of veggies in the gardens where you can sit amongst the trees and regroup after a hard day at Powells Books.
It's within a 5 minute walk from the heart of Woodlawn which has some fantastic spots to shop, drink, dance, and dine:
-Firehouse Restaurant, somewhat romantic with good service
-Woodlawn Coffee House, for plenty of people watching
-Breakside Brewery, to grab a bite and catch up on the game
-Grand Army Tavern, have some pork with your...pork : )
-Good Neighbor Pizza, laid back & late night too
-P's & Q's Market serves yummy meals and a few grocery items
-The Village Ballroom, for Square Dance and Special events
-Uptown Cycles, sales and repairs
-Portland Girl, spa day anyone?
-Greener Grasses, well-rated dispensary
-Koken Market, for almost any beer you want, snacks
-Café Eleven, art, coffee, lunch & some pastries
-Oregon Public House, the nation's 1st nonprofit pub
-The Highwater Mark, rock pub with pool & hip hop on last Fridays
-Tamale Boy, authentic & delicious with lots of outside seating
-Bassato Gelato, 12 rotating flavors+bagels in the morning
-HighWheel Mead, open Thurs-Sunday
-(Seasonally) Woodlawn Farmer's Market at Woodlawn Triangle, Sat. 10-2
Downtown is a 15 minute drive.
The Alberta Arts District is also just minutes away so you can hop on a bike and be right in the middle of the jam-packed Last Thursday Art Walk or make a day of it with shopping, dinner and some delicious ice cream from the infamous Salt & Straw. Then come "home" to your quieter retreat where you can just relax and lay in the hammock.....ahhhh. And as the area is well surrounded by beautiful, mature trees, you may decide to enjoy dinner in the love seat swing under the pergola and watch the evening sky. It is a wonderful theatre for watching small bats do their sky routine in the distance.
Flying in? This spot is only 10 minutes from the airport.
And while in Portland, you may want some wheels! Well, this location is very close to Zipcars and you can sign up with them or Car2go on their sites in advance of your stay. Check out Turo or Getaround to grab a vehicle to tool
But if you want to explore the city on two wheels, Everybody Bike Rentals or Ebikes ( electric bike rentals) are the spots to hit first (10 min. by bus). They provide helmets and locks too!
***If you don't see the dates available on the calendar that you had hoped for or if you are traveling with more than two people, please check out my other listing (#95313) which is also a private studio at the same location. It is larger and complete with a private entry and bathroom. Just ask me!
Parking is close and the livin' is pretty easy. So please get that profile completed, then contact me and come kick up your heels and stay a while!
Oh! P.S. Please read the description, house rules and post a pic of you in your profile beforehand just so that everyone is on the same page. Much appreciated. Cheers!
ゲストとの交流
あなたを迎える時間をスケジューリングして周りを見回した後、私はあなたのことをやり遂げ、質問や提案に自分自身を利用できるようにします。 「ブードゥーを気にしないでください。それは観光トラップです。トナリとブルースターのドーナツははるかに優れています!本当に!
After scheduling a time to greet you and show you around, I let you do your thing and just make myself available for questions or suggestions; like "Don't bother with Voodoo. It's a tourist trap. Tonalli's and Blue Star doughnuts are far better!" Really!
その他の特記事項
リストに記載されているように、いくつかのレストラン、バー、コーヒーハウス、デリ/ミニ食料品店、バス停があります。
As mentioned in the listing, there are several restaurants, bars, coffee houses, and a deli/ mini grocer and bus stop all within a few blocks of the house.
A photo of you in your completed listing profile is much appreciated for obvious security reasons.
I will check messages on this site long before I check my personal email or search through texts so please send your messages here to confirm details, check in times, etc. This way I can refer to your message thread and it helps keep communication clear.
PLEASE do not wait until your arrival time to inform me you will be late; a 1hour notice (or more) is helpful so I can re-configure my work day if possible.
My typical check ins are negotiated with you to be (a specific time) between 3pm and 10pm. If you want/need a check in time after 11pm on the date your booking begins, there will be an additional late check in fee of $25
Please help me to keep the peace with neighbors by parking in front or alongside my house only, not theirs.
Thanks for not leaving propaganda pamphlets or affixing stickers anywhere on the property.
.
This is a no smoking and no pets area so thanks for smoking outside with door closed. I do provide an ashtray for butts.
Thanks for NOT pouring food/beverages into yard, garden or garden plants.
***The electrical box will go out if lighting, cooktop, and micro are running simultaneously.
Please do not burn candles (or anything) in the loft area.
Lock the door to the main house when you leave.
No Shoes Rule in Main House...thanks!
While in the main house to use the bathroom please keep in mind there are other Airbnb guests in the studio just below. For this reason, I ask that you shower between 9am and 8:30 pm in case they need to get to bed early or sleeping in late. Of course you may use the bathroom as needed otherwise.
Also, before booking please be sure that you and your travel partner will feel comfortable coming in to use the house bathroom as opposed to urinating in the yard....cuz that Stinks!
It is a violation of your reservation agreement to add additional guests to your reservation without discussing with me. An additional overnight guest is only an extra $12/night. Please do not jeopardize your entire reservation by sneaking others in.
Thank you for washing your dishes and otherwise leaving the cabin as you found it when you check out. You can leave the sheets in the hamper with your towels for me to launder.
Let me know if there are any maintenance issues that come up.
Thank you for turning lights (including outside light) and heaters or fans off when you check out.
Check out time is 11am. Thanks!
I love music, dancing, gardening, and eating yummy meals with friends....maybe not at the same time though. My sense of humor is slightly warped but I do enjoy making people laugh. I, too love to travel and have enjoyed being a tidy, respectful guest in Rome, Paris, Halifax, V…
言語:
English