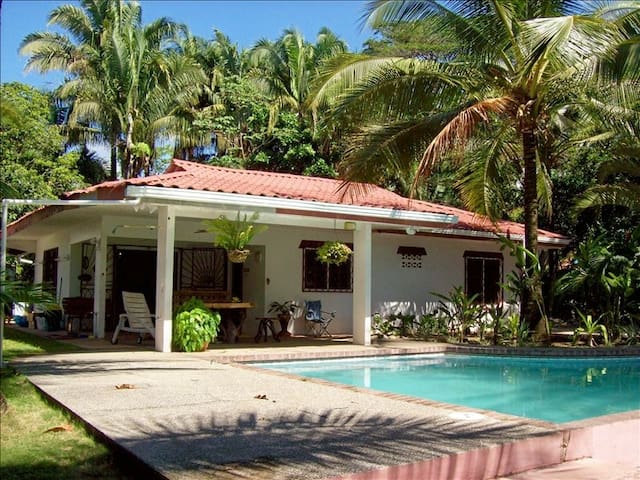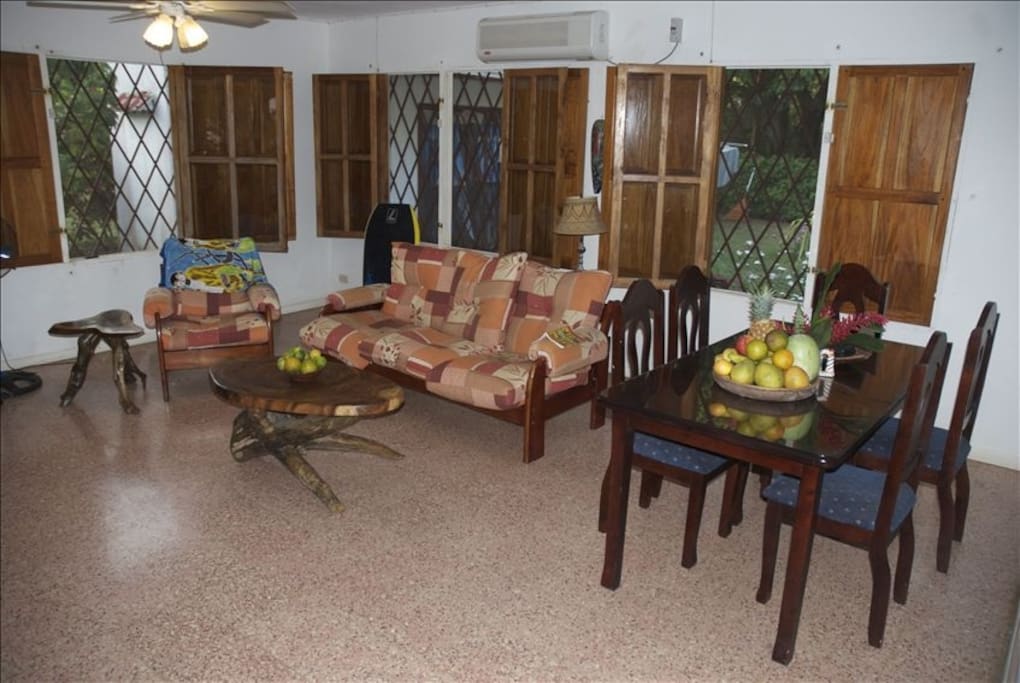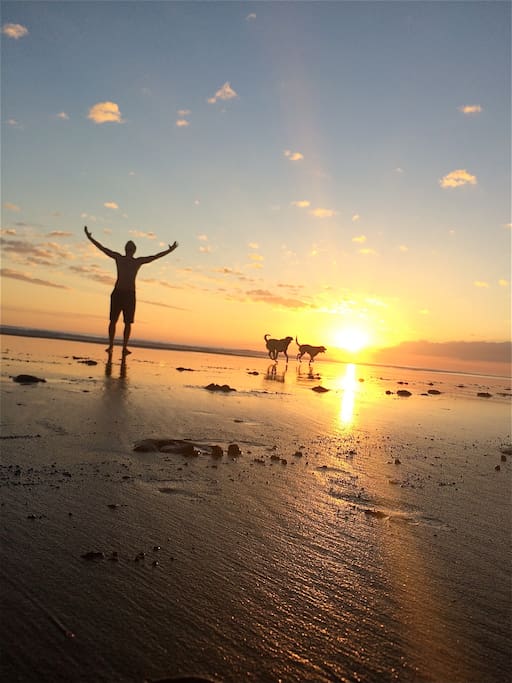 Come enjoy our beautiful slice of paradise. Our home is located on the beach in Esterillos Este, Costa Rica. The house accommodates 8 people and includes a swimming pool and amazing sights. You'll love the velvet sand and warm waters of our beach!
スペース
Let's put it this way-- when the final day of your stay arrives, you just won't want to leave!
Our home has many great features. There are comfortable accommodations for 8 (5 beds total). The house is air-conditioned, safe and secure. The pool and grounds are beautiful, including some fruit trees and a variety of flora & fauna.
There is also a recently remodeled "casita" (the 4th bedroom) in the back of the property that features a bathroom and its own patio. Great for the parents or anyone in the group wanting a little extra privacy. The house also includes a washing machine should that morning hike get a little muddy...
Wifi available should you want to connect (hopefully not too often). A crib can be provided upon request.
There is a front yard with lush grass and a swimming pool to relax by. There is also a backyard underneath the edge of the forest-- perfect for watching for Capuchin monkeys. There is a family of Capuchins that live behind our home. If you're lucky, you just might spot them around dusk or dawn. You can leave a few bananas on the fence line and see what happens!
Our beach is right in front of the house. It is technically a public beach, like all beaches in Costa Rica, but you would never know it. You have it all to yourself. The black, volcanic sand is very fine and soft like velvet. You might find some sand dollars and pretty shells, but there are rarely any discomforts. The beach is unique in that there isn't much rock or coral in the water. Not only does this mean a safe and comfortable swim, but it also means clearer water, devoid of any large predators.
You won't believe how warm the water is all day long. There are perfect, medium sized waves-- attractive to the novice and experienced surfer alike. Also great for boogie/bodyboarding and just jumping around in. I have traveled the world and I can objectively say this is one of the best beaches I have ever been lucky enough to enjoy.
And then, there is the sunset. The sunsets in Esterillos Este are the kind of sunsets that can rejuvenate the soul. All the colors in the rainbow will dance in front of you as the Sun nears, and dips below the horizon. On the other side of the day is the sunrise, reflected in the perfect mirror that is left in the sand after the tide rolls out to sea.
Our beach is the perfect vacation away from stressful lives. A place where you can be free, a place where you can reconnect with what is most important-- family, friends, and the serenity of nature.
ゲストの立入り範囲
You will have access to the main house (6-7), guest house (2), yard, beach, pool, washer/dryer, wi-fi, and a couple wonderful restaurants are just a short walk down the beach.
ゲストとの交流
I am here to make sure everything is perfect during your stay at our beach home! I am committed to you having a delightful time in Esterillos Este. It truly is paradise.
We will mostly communicate via e-mail, though we can share other contact information. I am happy to offer recommendations (restaurants, parks, activities, etc) for your adventure. I know of many things to do in the area, both near and farther from the house. I can help set up surf lessons/rentals, or fishing trips through some local friends. You will also meet our property manager. He lives close by and will greet you on your first dat and help you get settled in. He is also a great resource for things to do in the area.
Before confirming your reservation, we can chat about your group and what you are looking for in your vacation, and I will give an honest assessment of our home/property based on your needs. During your stay you can e-mail me if you need anything and I will do everything in my power to help out.
We look forward to sharing our little paradise with you!
その他の特記事項
Feel free to message me with any questions or requests. I also have a youtube video available that features our house if you want a more in-depth look. Simply navigate to YouTube and enter the following phrase into search: "Casa Costa Rica - Tranquil Beach Home for Rent"
Pura Vida
Mike
I would only ask that guests have respect for our home—our pride and joy— and treat it just as they would treat their own. Please lock up the house while you are not present. We also ask that guests are conscious of their energy usage. The A/C is provided for your comfort, but it can be wasteful to run the A/C during the hot Costa Rican days while you are enjoying the beach. Only use A/C with all doors/window closed, including bathroom door. Thank you for your understanding.
My name is Mike and I travel in seek of adventure all over the world with my friends and family. I love to manage properties and interact with the community. Few things make me happier than helping my guests to have a magical vacation. The place closest to my heart is my home in …
言語:
English、Español