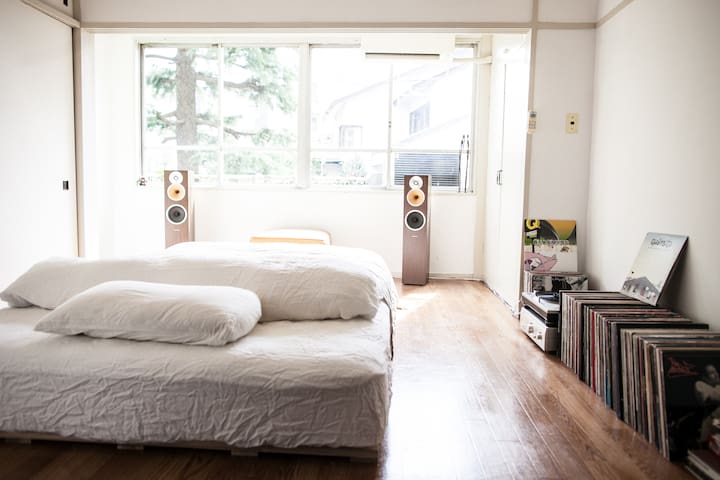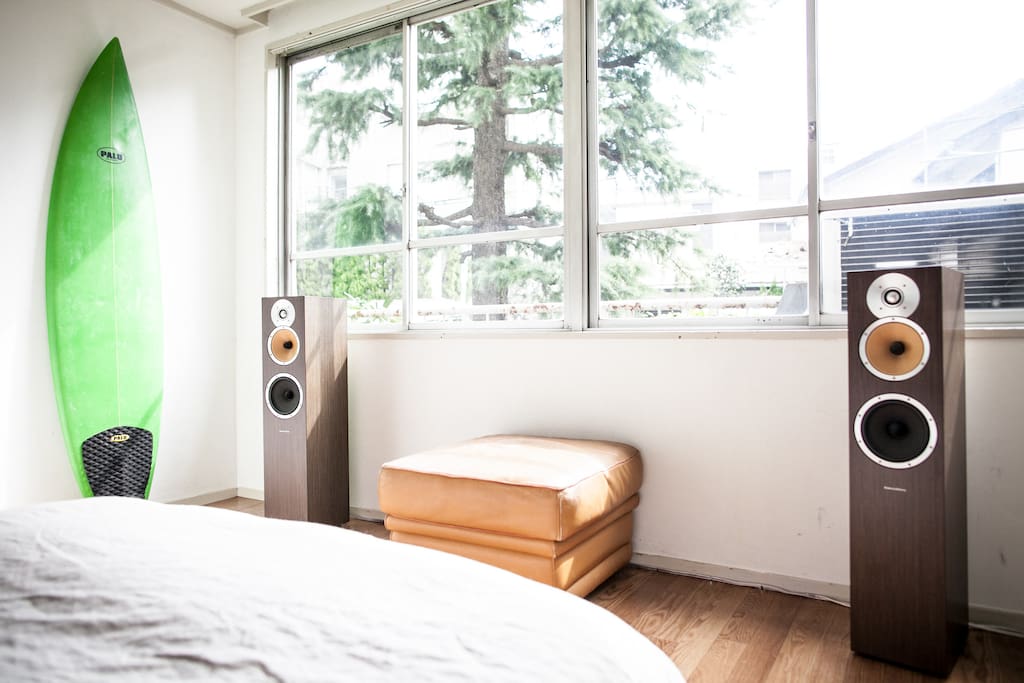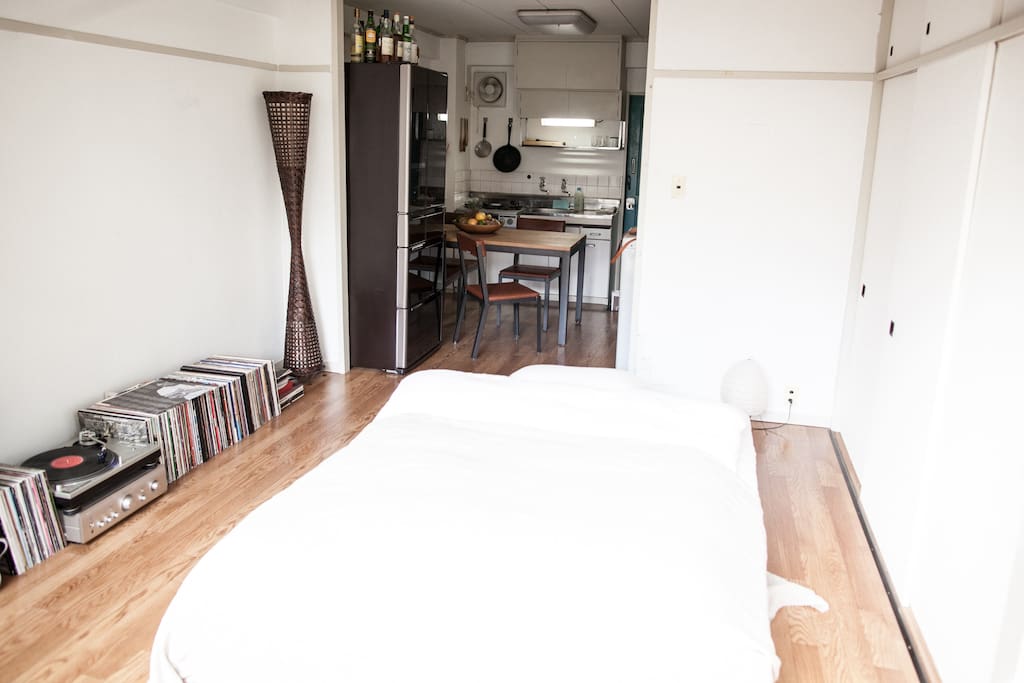 リスティングについて
This is my creative space located in a quiet street by the river in the center of Tokyo's coolest neighborhood Nakameguro. Walking distance to Shibuya.
The one bedroom apartment has this cool 80's Showa Period vibe. Open the window, enjoy the sun.
---
このリスティングには、出張者用の基本のアメニティが揃っています。
---
---
---
---
スペース
An open one bedroom apartment with nice flooring and big windows facing south gives you a peaceful space to relax from Tokyo's busy streets. You can enjoy a lot of sunshine. Open the window, get a lot of fresh air and chill on the small patio. You'll look at a nice garden surrounded by tall trees and bushes. This is rare in this extremely dense city.
## Bed
This is a good bed. It's a very high quality queen size mattress placed on a custom made wooden grid. Perfect for two souls. It gives the space a Japanese vibe with the highest western standard in comfort. Further the duvet is custom made in Germany. Super light and heat regulating. I consider the bed as the most important piece in a house. You just spent 1/3 of your life in it.
## Shower
After your flight the first thing you want is a nice hot shower. The shower is classic and has a modern update with heat regulation. Just enter your temperature and enjoy. I'll provide fresh towels. Off course it's clean!
## Kitchen
When you enter the apartment you enter the kitchen area with a very prominent dinner table made in Japan with wood from Nara. Very solid and perfect for all kind of activities. Place your Notebook there and work a bit, or plan your day while enjoying your breakfast.
You have enough kitchen utensils in high quality to make a good meal in case you get bored by those thousands of great restaurants in the city. The fridge has a lot of space and makes nice ice cubes for drinks as well.
## Safety
The space is on the first floor of a steel reinforced apartment block. No worries about earthquakes.
There is a working smoke detector above the bed and a CO sensor in the kitchen.
ゲストの立入り範囲
You're my guest, so feel free to use nearly anything you need to have a good time. I will provide enough storage and hangers for your clothes.
## Music
I love music. Feel free to use my system if you know what you are doing. You can play Vinyl or just plug in your Smartphone. Be very careful with volume please!
## Internet
The Space has a fast connection to the internet. Just log in via WIFI.
## Roof
A little secret of this building is its rooftop. Just check it out. It's stunning. At night as well.
ゲストとの交流
I will be around whenever you need something just text or call me. Further I will take my time to introduce you to the area if you like.
エリア
I call it the golden triangle. Shibuya-Ebisu-Nakameguro. You are in between those areas. Very cool and independent atmosphere. Tons of bars and good restaurants. Nice fashion stores and two of the best bookshops in town.
## Specific
From the apartment you walk 30 seconds and you enter a big park. Another 30 seconds and you enter one of the most popular spots for the cherry blossom. The Nakameguro River. It's quite, small streets, small bars, shops and restaurants, a lot of cherry trees. Just beautiful.
In 3 minutes you enter Donkihote. 24/7 everything market. If you don't know it yet, it's an attraction itself.
Further at the Station you'll find a great supermarket and vegetable stores.
Also nice; down the street is a Sento - a bathhouse - they just renovated. You should check it out.
I could go on and on... It's the perfect spot in Tokyo.
移動の足
Tokyo's public transport is the best in the world. So dense that you always have multiple options to get around. From the apartment you are in 10min at Nakameguro Station and in 20min at Shibuya Station. In between you also have IkejiriOhashi Station, Daikanyama Station and Shinsen Station. So no worries, you are central.
その他の特記事項
## Laundry
There is a 24/7 coin laundry just down the street which I use. About 500Yen for one bag with drying.
---
Respect the neighbors. Be polite if you meet them. Avoid any noise. Separate your trash. Thank you.
---
柔軟
チェックインの24時間前までに解約すれば、サービス料を含めて全額返金されます。
---
---
Jazz was a great selection for us. After spending our first trip to Tokyo near Tokyo Central Station, the change of pace of staying at Jazz in Naka-Meguro/ Daikan-Yama was great. The neighbourhood can't be beat and the apartment's location within it is great. Very clean, Bartek provides great communication, and we would definitely stay here again. Thanks Bartek!!
---
Great apartment, was really clean, and in the best location we could've hoped for, there are so many cool cafes, restaurants, shops and bars nearby, just walking along the river we found so many of our favourite spots. Safe neighborhood, walking distance to Shibuya, Naka-Meguro, Ebisu and Daikan-Yama stations. Perfect base to explore the hippest parts of Tokyo! Bartek was great with communication and his directions on how to find the key and get to the apartment were spot on and made check in super easy. Definitely recommend staying here.
---
I am a german product designer and cybernetic engineer.

Japan is a magical place. I love sharing my Tokyo experience with other interesting people.

Be my guest!