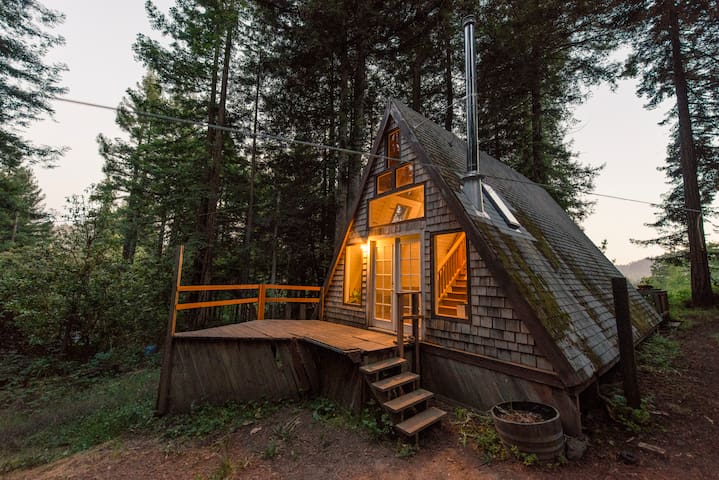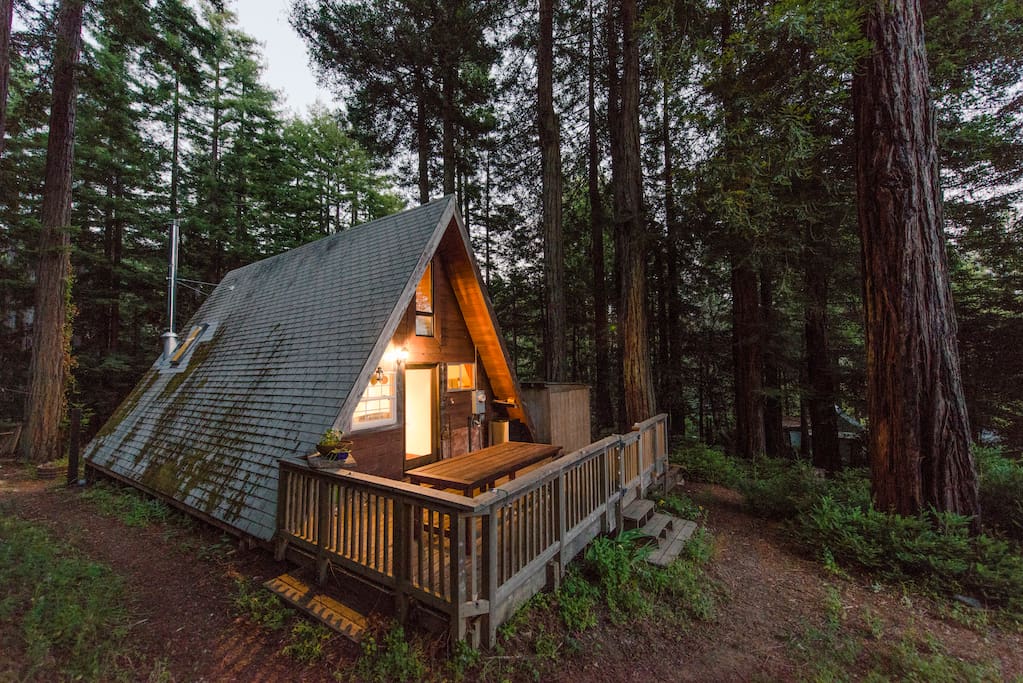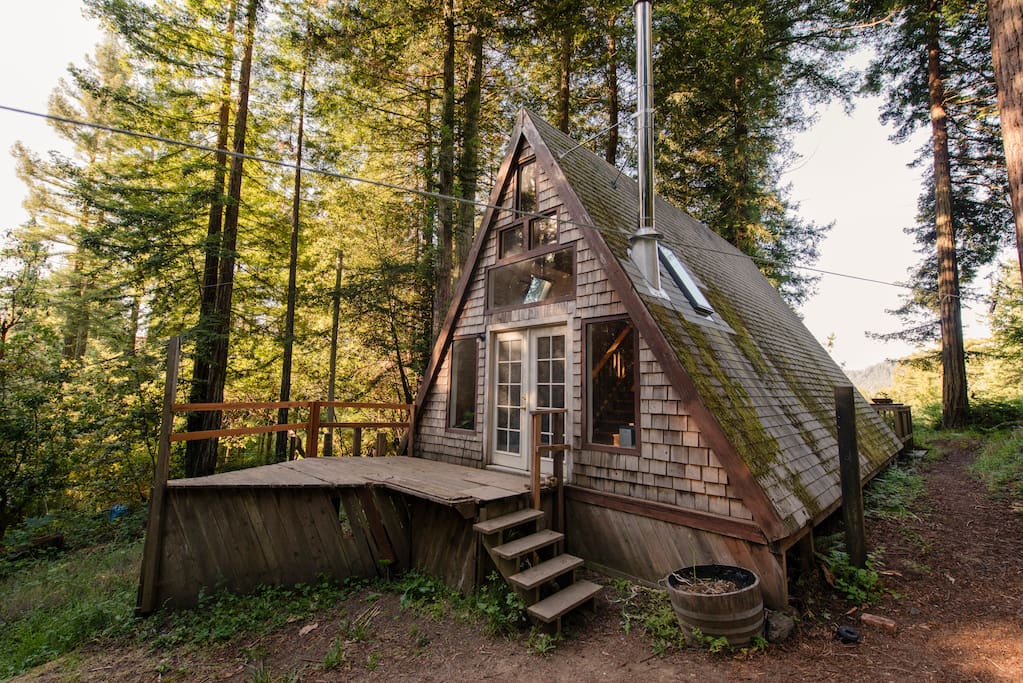 リスティングについて
Enjoy peace, quiet, and beautiful views in Cazadero.
For each rental, $50 will be donated to Raphael House, a San Francisco organization whose goal is to help at-risk families achieve stable housing and financial independence.
---
---
---
---
Enjoy peace, quiet, and beautiful views in Cazadero.
For each rental, $50 will be donated to Raphael House, a San Francisco organization whose goal is to help at-risk families achieve stable housing and financial independence.
This little a-frame cabin would make a productive retreat for an artist, writer, or musician, or a romantic getaway. Surrounded by redwoods on a private road in Cazadero, my cabin is an hour and forty-five minutes north of San Francisco: a roughly ten-minute drive to the beautiful Sonoma Coast, and just fifteen minutes to Guerneville and wine country in the other direction. Head west and you'll hit the charming town of Duncans Mills; go east to Monte Rio, and catch a movie at the historic Rio Theater.
The full bed sleeps one or two comfortably. No TV or microwave; yes record player, wood-burning stove, equipped kitchen, and lots of cookbooks. The backyard is sunny and sloping with a view. There's a table and bench on the deck for al fresco dining. And there's speedy wireless Internet, too.
The house is small, so please keep your party size to one or two.
The bed is a cozy full size, and the mattress is memory foam. If you prefer a luxuriously large and super firm bed, this may not be the place for you!
The house has been lovingly restored, and continues to be. But it's a work in progress, so please don't expect sleekness and perfection: the fridge lives on the deck and on the smaller side (4.6 cubic feet to be exact), and there's no freezer; the bathroom light is a lamp you have to turn on. If you're the sort of person who might find these quirks endearing, this might just be the place for you. If all that sounds uncomfortable and horrible, it might, unfortunately, not. Any questions, please ask me!
** ATTN GUESTS BOOKING FOR THE WINTER (JAN & FEB) ** The cabin is heated by wood stove, two small space heaters, and lots of blankets. If you prefer central heating, please search out other accommodations on Airbnb. This is not the place for you!
And a word of warning about the weather: Please note that Cazadero is the 2nd wettest city in California! In the woods that means possible power outages, and in an A-frame, that means the rain can be quite loud against the roof. Travel insurance is highly recommended; last-minute cancellations due to weather will not be accepted.
---
乳児・子どもに安全とは言えません/不向き(0-12歳)
No smoking or pets.

Absolutely NO campfires in the backyard.
NO VISITORS without written permission. NO PHOTOSHOOTS OR FILMING without written permission.
The neighborhood is quiet and there are houses close by, so please be respectful of my neighbors and keep your noise level to a minimum.

The house in on a septic system, so don't flush anything that isn't #1, #2, or toilet paper.
---
厳格
開始7日前までに解約すれば50%返金されます(サービス料も返金可)。
---
---
Such an amazing place! My wife and I stayed here for two days. We made breakfast every morning while looking at Rachel's amazing collection of cookbooks and listened to the incredible records she has. Super close to a cute town where we got dinner both nights and we also went to the coast and red woods all in two days. It definitely got cold, especially because it rained while we were there. We used some of the firewood she had but I definitely recommend buying starter firewood from Safeway. We fell in love with this cottage. Would definitely recommend staying here!
---
Enjoyed our stay very much. Highlights: charming and cozy cabin, deck with view, full kitchen, shower with good water pressure, wood-burning heater, vinyl record player with excellent selection of music, library with loads of cookbooks, charcoal bbq, proximity to Russian River, Sonoma coast, and Guerneville. Rachel provided lots of helpful information. Cabin is closer to neighboring houses than expected, which makes it feel less private and brings some noise. Overall, wonderful cabin for couples looking to get away for a few days.
---
Rachel's cabin was exactly wanted we hoped for - a nice cozy getaway. It was the perfect space for two people. We enjoyed our nights listening to records, reading endless amounts of foodie magazines and cookbooks, and playing chess. The cabin is located in a quiet neighborhood, but close enough to Guernville if you want to go out for meals or stop by Safeway. (Be sure to stop by Big Bottom Market for their biscuits!) Rachel's instructions for check in was completely thorough and made sure we were prepared for our trip! Thanks again Rachel!
---
Rachel's place is the most charming little cabin you could ask for. The cabin can get chilly in the morning (we stayed during late March) but the space heaters upstairs and downstairs help a lot, and theres also a wood stove if you find it necessary. My husband and I stayed here for a portion of our honeymoon, and found ourselves not wanting to leave! The surrounding towns have lots of charming little shops and restaurants/coffee shops, with really welcoming locals who made us feel like we really belonged. Rachel's place is really close to the coast, with lots of scenic outlooks and cool beaches, but it's also right in the redwoods, which are absolutely breathtaking. Rachel is super nice, and so helpful; she put together a whole list of things to do while in town based on our interests! The place has a rustic charm, so don't expect the same furnishings as you'd find in a 5 star hotel, but honestly this was just what we were looking for. Loved it, and we definitely want to return for an anniversary trip in the future!
---
Our stay at the cabin was so wonderful. The space is cozy and clean. It's the perfect location if you want quiet and R&R. We went out for a few hours each day but spent most of our time in the cabin cooking, reading and listening to music. The wi.fi was great, the record player was a treat and the sleeping loft was so comfortable. Would definitely stay here again. Thank you Rachel
---
I'm a writer and editor living in the Bay Area.