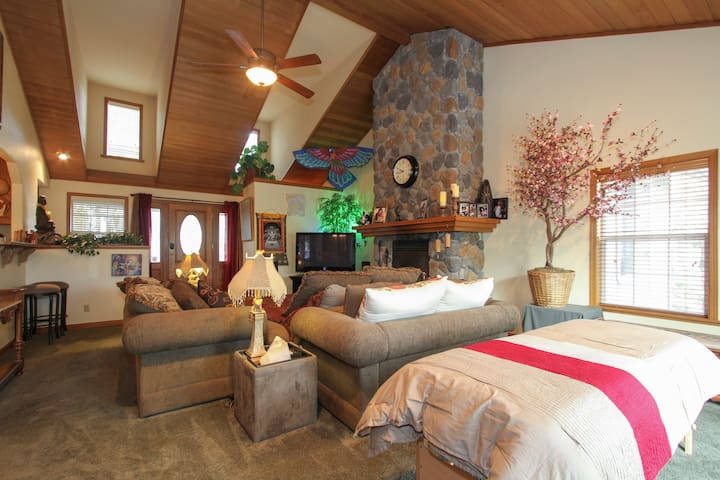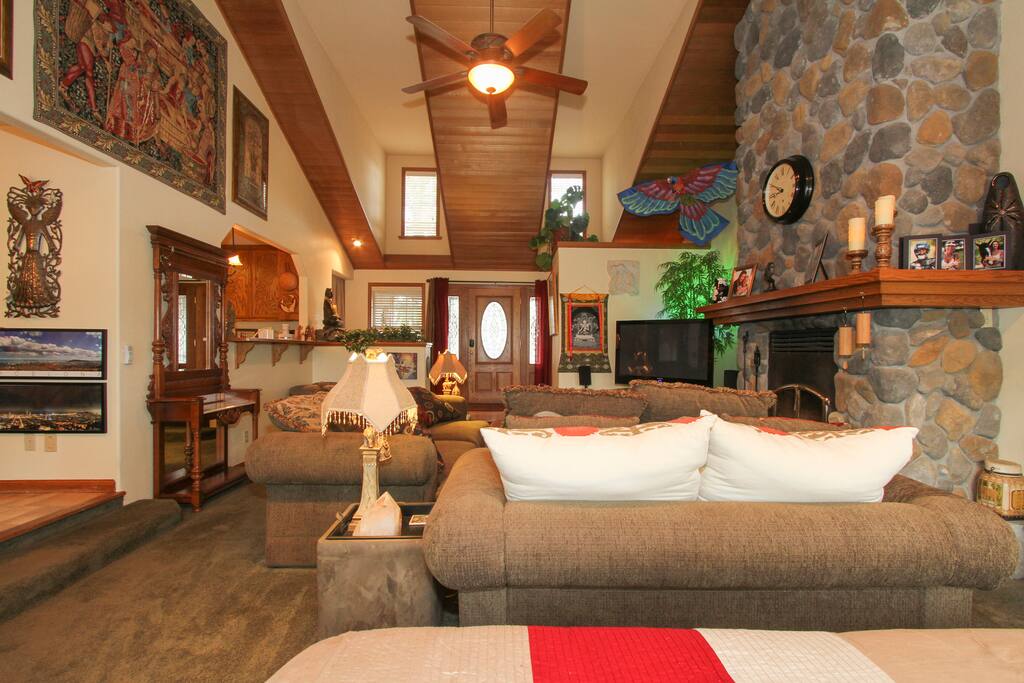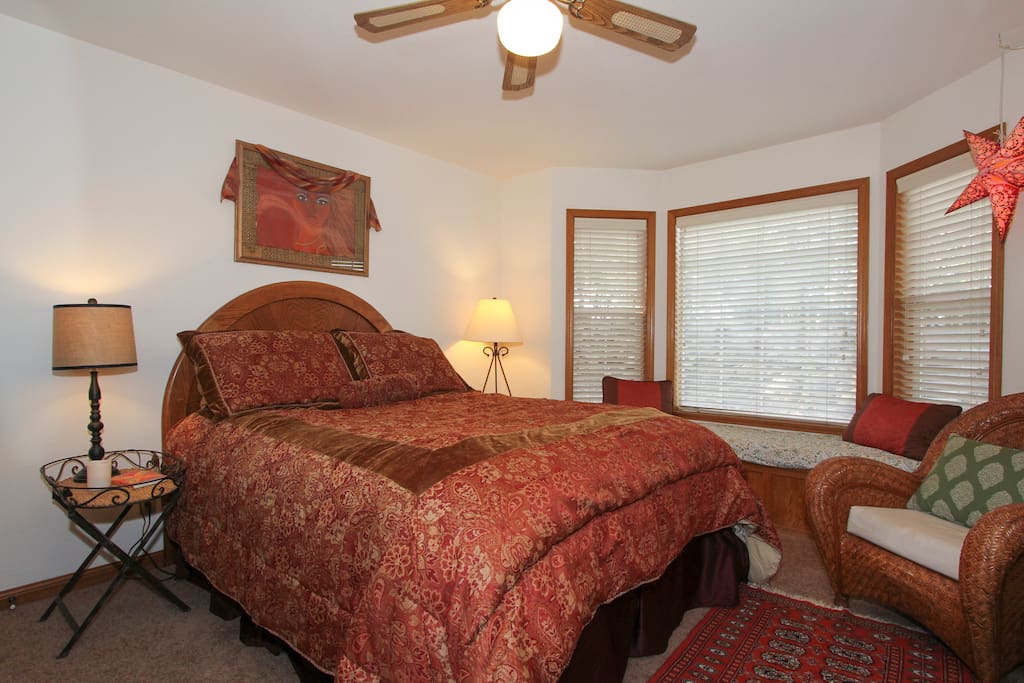 Watsu/Tree House Private Room/Bath
Come enjoy the serenity and beauty of our home. Two private rooms with a comfy king bed in one room and queen bed in another, with a shared bathroom. Most of the time it is your private bathroom unless you have more than two people in your party. If you are a party of two and would like to reserve both rooms, the cost would be $89 for the first room and $50 for the second room. If you are interested in receiving a Watsu/Waterdance or a massage see details below. Just minutes from Middletown
スペース
Our home is in a very secluded part of our neighborhood. We are located on a cul-de-sac with only three other homes. The views are amazing. And there is plenty of parking. Your room is one of two Airbnb rooms located in the home. Each room can accommodate two people. You will have your own full bathroom and you will have access to the kitchen and amenities. We do not serve breakfast and we have a fully equipped kitchen for your use if you would like to cook any of your meals. We also have a nice restaurant just 2 minutes away for breakfast.
A king and queen size bed, ALWAYS with fresh linens. You will LOVE it! We can also accommodate up to six people, two in the additional bedroom and two more if they are willing to sleep on a king size feather bed ("nest") in our living room. It is a semi-private space and VERY comfortable. There is an additional $50 fee for each person who uses an additional sleeping space, up to six people. FYI our living space is on the other end of the house. We DO NOT rent out our whole house. You may be sharing common areas with us.
ゲストの立入り範囲
Both of us are Certified Massage Therapist (CMT), if a massage is in your plans we can offer you a session in our home for an additional fee($65/hr).
Val is also a certified WatsuWaterdance practitioner. We have access to our own private Watsu therapy pool. Watsu is a wonderful healing modality that is given in a warm water(94-96 degrees) therapy pool. Watsu includes a combination of Shiatsu and Tai Chi movements along with complete silence and stillness (if you prefer). Watsu can be very similar to a "rebirthing" experience. The client is held by the practitioner while the session is given. The session can either be 60 minutes or 90 minutes. It is truly a "magical" experience, one you will always remember. Val received his first Watsu session in 1998 and in one hour it changed his life forever. Watsu is a very moving and relaxing healing modality. Together we, Val and Veronica, have given over 5500 sessions. It is one of our primary passions; to share with as many people as possible the wonderful healing powers of Watsu. Come and enjoy a session with us. The 60-minute session is $70 and the 90-minute session is $85. If you choose to have a session please let us know in advance.
We also offer a combination package that includes a one-hour Watsu/Waterdance session given by Val and a one hour massage given by Veronica. The combination package is $130 per person or $230 per couple. It is an amazing offering that creates a complete, relaxing and very healing experience. Come enjoy complete bliss!
Val is also an ordained minister who can perform wedding ceremonies. If a wedding is in your plans we have a lovely location available. There is a fee for this service. Please let us know if you have any interest. We are centrally located to many famous wineries. We can surely create for you a lifetime memory. Just allow yourself to be pampered!
ゲストとの交流
We may or may not be at home during your visit. If we are at home, we will interact with you as much as you like, depending on availability, or as little as you like for complete privacy. Just let us know your preferences. Please call well in advance if you are interested in body, massage and/or Watsu.
その他の特記事項
There are many beautiful hiking and biking trails in Lake County. Let us know if your plans include either and we will fill you in on the best locations.
Lake County calls itself "The Undiscovered Wine Country," encouraging visitors to come and explore its high-elevation vineyards and vast and varied territory. Less well-known than its neighboring Wine Country growing regions, Lake County is an ultra-premium wine-
grape growing region with a growing reputation for producing truly excellent wines.
In addition to the numerous world renown wineries to visit here are some of the other activities that we can arrange for you:
1. Hiking Mountain/Lake/Marsh
2. Mountain Biking
3. Hot Air Balloon
4. Massage/Watsu
5. Petrified Forest Visit
6. Wild Safari
7. Ocean Visit/Hike w/Oysters
8. Championship Golf Course
9. Horseback Riding
10. Mud Baths
11. Paddle Boarding
and more...
---
---
---
Please, remember that we live in the house. This is NOT a whole house rental. The house is perfect for Airbnb because we live an reside on one end of the house and your living and sleeping accommodations are on the other end of the house. The kitchen is a common area. Which means we could, not likely, be sharing the kitchen. We try to give our guest as much privacy as they prefer. It is entirely possible that you may never see us during your stay!
We are a NO smoking home. We do not allow smoking anywhere on the property. Please do not create an uncomfortable situation. If you smoke this is NOT the property for you. We are 420 friendly for medical use and mild use of alcohol is fine. We do have two outdoor cats, Rumi and Hafiz, who are NEVER in the house.
Please notify us in advance if you plan on having guests in the house, who are not part of the reservation.
We ask that you not use the kitchen for COOKING after 9:00 pm. Please feel free to use the kitchen for beverage preparation when ever you need it.
Lights out at midnight in the main part of the house. In your private room(s),
you can stay up all night if you prefer.
Please remember that check-in is after 3:00 pm and check out is at noon.
Thank you in advance for your cooperation with these issues.
下記事項もご了承ください
ペットがいます - We have two OUTDOOR cats, Rumi and Hafiz, who are NEVER in the house.
共用スペースあり - We may share the kitchen space.
---
---
---
Woodland setting up a very steep hill. Great to walk down to the local pizza joint but a real slog coming back up.
Thanks Tracey for your feedback. We actually use the "big bed" in living room to sit on while entertaining and watching movies with friends and grandchildren, as well as providing extra sleeping space for larger parties. It's very comfortable. Have a safe and wonderful journey.
---
Very beautiful home and gracious hosts. The ambiance and patio were beautiful for a couple of cups of coffee in the morning. Highly recommended.
---
Val and Vicky are gracious hosts and go out if their way to ensure their guests are taken care of. I would definitely recommend this secluded and quaint location in the mountains.
---
Val and Veronica were very accommodating from the moment we met. Their house was exactly as described and they were readily available even for a last minute trip like the one I had. Although my friends and I only stayed for one night as we stopped for rest on our road trip to Northern California, we still got a taste of their generous hospitality. Thanks for a great stay!
---
We are a middle aged couple loving life. We are semi-retired, Val was/is a corporate trainer and certified business and life coach, Veronica is a certified Health Coach, and owns and manages Lake County Organics Plus ( a virtual marketplace, an online storefront where you can purchase local, certified organic produce and other fabulous products. We are both body workers and are crazy about feeling alive and thriving!

We welcome the opportunity to share our home with you during your visit to Lake County. We are all about comfort and ease when staying with us. We do have two black cats, Rumi and Hafiz, who are brothers. The cats are outdoor cats. You probably won't even see them but they are here. If you have special needs of any kind let us know and we will see if we can help.

We are very fortunate to live in such an amazingly beautiful area. Even though the Valley Fire has temporarily shut down Harbin Hot Springs there are many other beautiful attractions and sites to see in Lake County. We would be delighted to tell you about them when you visit us, including our favorite hikes, bike trails and special spots and special wineries/eateries. If you are interested, and have the time, with enough notice, we would be glad to escort you on a wine tasting adventure of Lake County's finest world renown wineries. Let us know in advance if you are interested. There is a small but very reasonable fee for this service. And you get to sit back, relax and create a wonderful memory! We also do bodywork. We are both Certified Massage Therapist (CMT) For four years Veronica was Apple Computers massage therapist for their corporate staff. Val is also a Watsu/Waterdance practitioner. We have access to our own private warm water therapy pool. If you have an interest in receiving body work let us know in advance and we can tell you more and schedule you in.

We would love to be part of creating a wonderful experience for you while getting away and treating yourself to an amazing visit! Just let us know how we can help.

Thanks for your consideration and for letting us be part of a delightful memory!!

See you soon!