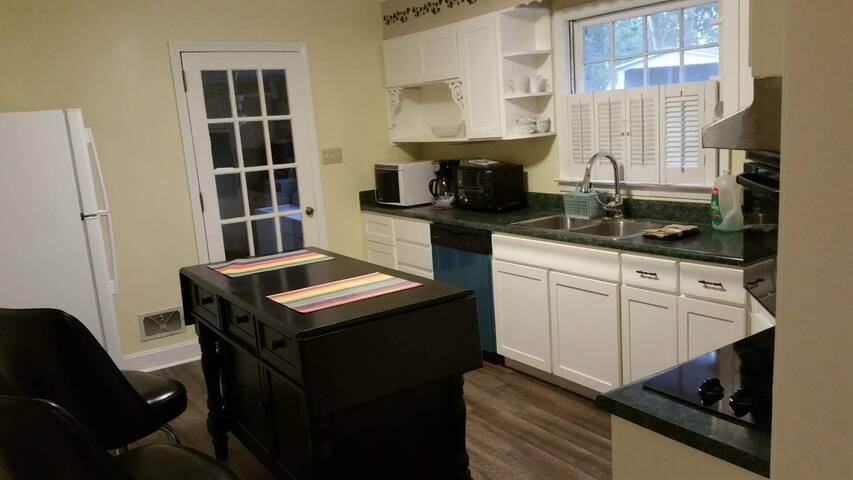 立地が大好評
最近泊まった人の100%がロケーションに5つ星を付けています。
入室がスムーズと大好評
最近泊まった人の100%がチェックイン手順に5つ星を付けています。
You will love our location! This spacious brick ranch is 1.5 miles away from the Masters, minutes from shops, banks, the best collection of restaurants, and I-20.
Our place is clean, quiet and comfortable. It has 3 bedrooms, 2.5 bathrooms, and an office. Overall it has 1 King bed, 2 queen beds, 1 television, and 2 large sofas. It has a full kitchen and laundry. We have a big front yard, a big fenced backyard, and a nice back porch. Free fast wifi. Park in the carport or in the driveway.
チェックインは15:00以降いつでもOK、チェックアウトは10:00まで
Good size, close to the highway. There were pests in the house though.
Stellaさんの返信:
Thank you for spending one week in our Augusta home. We hope you had an enjoyable experience and feel sorry for the problem that you encountered "pests in the house". We try very hard to provide our guests and all future guests a clean, safe, convenient house to stay. As you might have noticed, all the walls and ceilings inside our house have been repainted recently. The floors in the house, hardwood throughout except the tiled floors in bathrooms and laundry room, have been thoroughly cleaned and mopped 24 hours before guests' arrival. All linens provided were either brand new or very close to. And all were freshly washed. All cabinet spaces inside the house have been thoroughly cleaned and maintained. All appliances inside our kitchen, many of them were new and never used before your check-in, have been kept clean. To prevent house pest, no food or drink has been stored in the house by us. We ourselves have never cooked inside this house although we provided you pots and utensils so that you could cook. We have not encountered pest problems before. Upon reading your comments, we have walked through the whole house and failed to identify roach activity. Although this discrepancy may be due to that we did not spend long enough time during our inspection, we spend only about 1 hour, it is also possible that it was because we removed the dishes and mugs left by you in the sink and opened food left by you inside the kitchen fridge. (We can provide you with pictures upon request.) Alternatively, we were told by a professional exterminator that February weather, which makes it warm inside, might have contributed to pest invasion. On the other hand, pest control service did not identify any ongoing active infestation and told us it is not uncommon, especially in winter and early spring to have pest entering houses from outside through small gaps or opened doors. As a preventative measurement, in response to your review, we now have yard along the exterior walls sprayed and baits placed inside the crawl space and attic. As we have messaged you, we do NOT think the low rating left by you was fair, even if you have seen very occasional pests. You gave us two stars on the cleanliness, complete disregarding the facts that almost all surfaces inside the house have been thoroughly cleaned and all sheets and towels were brand new or close to. You also gave us an overall rating of 2 star even though you had no issue other than "pests". You gave us this rating despite our efforts to allow you to cancel and rebook, to wait for your check-in hours past the time you informed us, to accommodate without any charge the extra person who was not in your initial booking. I walked with you around the house when I checked you in and showed you where everything is. I also provided you my phone number in case of any extra need. Both you and your friend were impressed about the location and condition of the house at the check-in. You also mentioned that by charging for the whole house the same price what a nearby hotel such as Wingate by Wyndham on Washington road, we provide a great value. (Besides three bedrooms, a large living room, a dining room, a big back porch, designated high-speed Xfinity internet, driveway parking, we also provided free use of laundry facility.) When I asked you during check-in walkthrough, no issue was raised. Nor was any issue raised when I stopped by two days before your departure. Thus, we are very surprised by your bad review. We know we can always improve. However, we are also very confident about the value our house provides; we are at very least as clean as highly rated nearby hotels, and we provide a lot extra at a fraction of their cost. In spite of our disappointment about your overall very unfair review, we thank you for bringing pest control to our attention. We will always strive to improve in order to provide our guests a great value and most importantly a comfortable home-alternative during their visit. We are in a prime location in Augusta in term of safety and convenience. We will do our very best to make our house clean, comfortable and welcome. We hope, if you were to visit us again in the future, you will a completely satisfying stay.
I'm a CPA travel often for work. I understand what travelers need when they are away from home.
連絡は常にAirbnbを通して行いましょう
お支払をお守りするためにも、Airbnbのサイトやアプリ以外の場所では決して送金や連絡を行わないようご注意ください。