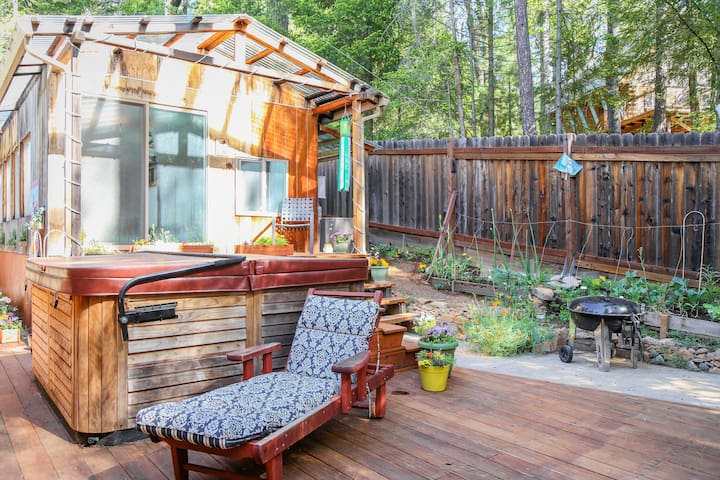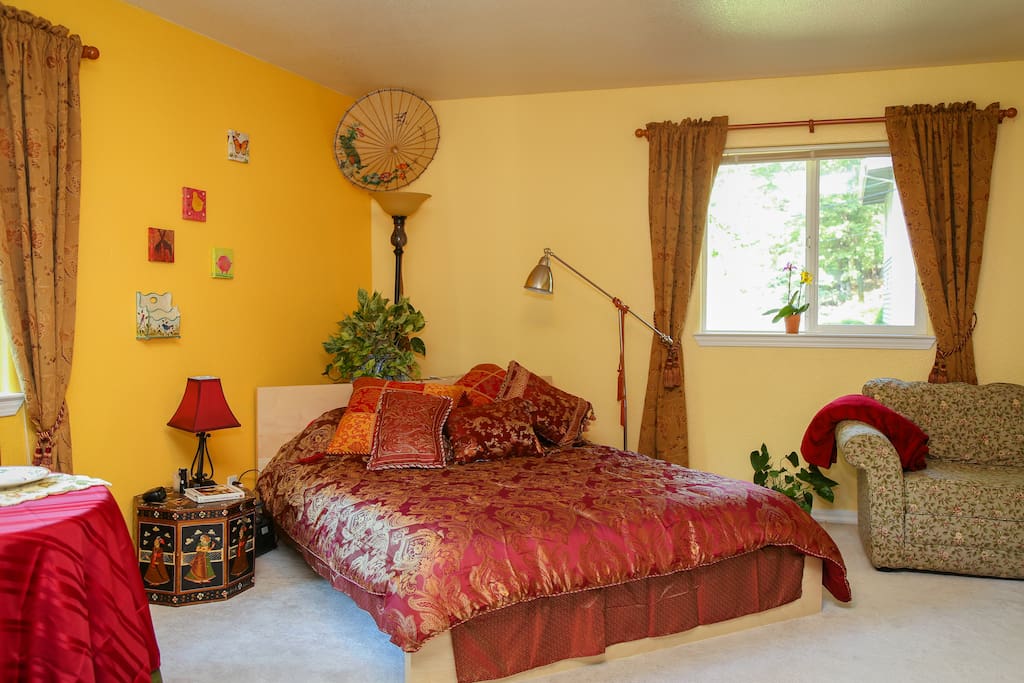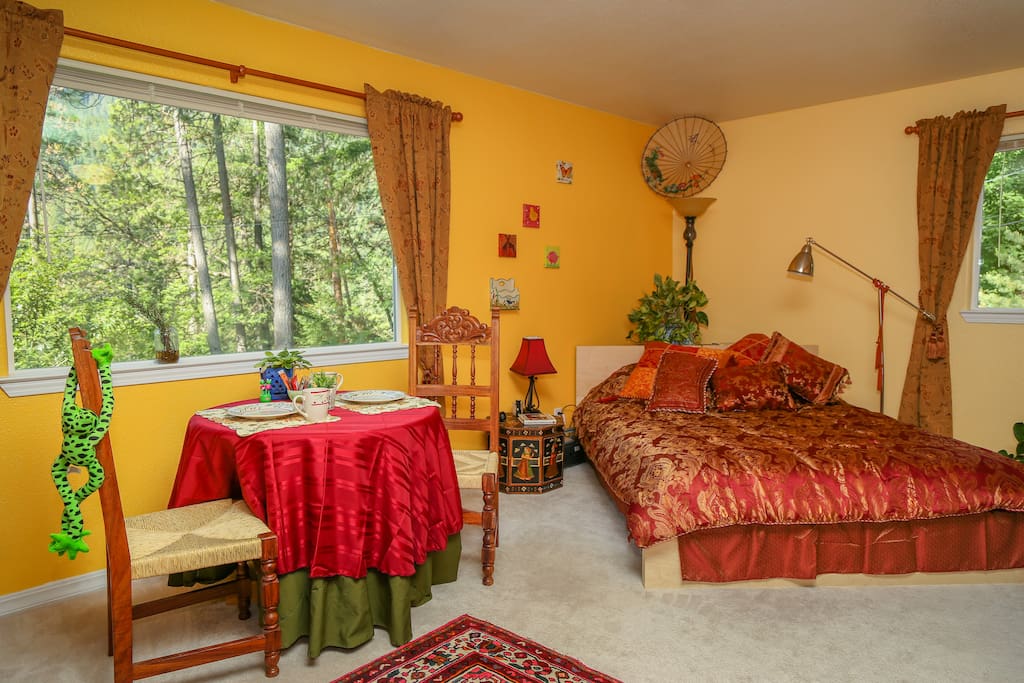 For people who just lost their homes in the fires, apt will be available around Nov 7/8th! :-)
Sunny, Roomy studio apt. About 500 square feet, maybe larger. Above garage. Attached to main house, separate entrance. Big windows, solar/electric. W/D. D/W. Fridge. Coffee maker. Oven. Well-equipped kitchenette. No stove. Large electric wok & electric skillet. Pots/pans/hot plate. Fresh Spring Water = no chlorine.
Come see the the Crystals and Fossils in the main house, just ask :-)
スペース
For people who have lost their homes in the recent fires, the apt will be available on Nov 7/8th. We have 160+ reviews!
Book Mondays, get Tuedays Free. No Hot Tub heating during weekdays. Come see high-grade crystals, fossils, meteorites and hard to find minerals in the main home. Just ask :-)
Christmas week, Fri Dec 22 - 28 is a 5/6 night minmum stay. New Years week, Fri Dec 29 - Jan 5 is a 5/6 night minum stay.
Delphinium, Alyssum, Poppies, Foxglove, Lupine, Pansey, Blue Flax, English Primrose, Lobelia, Sweet William, Begonia, Star Jasmine, Yellow Roses, Tulips, Daffodils, Clematis, Columbine, Marigolds, Mint, Oregano, Lemon Balm, Rosemary, Roses, Chives, Scallions and Strawberries! Nice views from decks. Plenty of stairs.
Beautiful Alpine village with Fantastic views all over the place. Apt has fresh Spring Water = no chlorine. (The main photo showing hot tub and a small building is on back deck - this is Not the Guest Apt) Two night minimum. If, you wish to use hot tub, let us know at least in afternoon, day before you arrive in advance, to heat and have ready.
You can see the Humming Birds, Foxes, Squirrels, Deer families and Blue Jays/Cardinals. Look out onto the the forests and mountains, through Huge picture window next to dining table. Book on weekdays Mon-Tue, 2nd night free of charge. Please do not book Tue-Wed, unless you are booking all week days that week. Two night minimum. We aim for a 5 star rating. Slightly higher cleaning fee for 3 nights or 3rd guest. Pet fee is going up due to pets causing serious damage. $40 for for each pet for each weekend stay. Stays a week, will have a higher pet fee of $80 to be included in reservation fee.
This is a great fit for Social People. We Never intrude, we enjoy friendly interactions. Cold springs and swimming pools about 5 minutes by car, one mile. Open Memorial day weekend -- close in Sept. Hot Springs in Calistoga and Wilbur. Harbin Hot Springs pools are hoping to be reopening by Summer of 2017! Blue Lakes & Clear Lake open year round.
It is our Intention to earn a 5 star rating! If, for any reason, something is not to your liking please let us know in person :-) We will do our best to fix the issue immediately, while you are here :-).
Pet fee $40 per pet, per weekend. This is charged to your Airbnb reservation. Pet fees increase with week long stays $80. Please let us know about pets ahead of time -- due to the expensive Persian carpet. Pet fees included in reservation. This fee will be used to clean the carpet after you leave.
Persian Rug and Tapestry draperies. Kitchenette is fairly well stocked. Large electric wok, large electric skillet, oven, too. New Queen bed, sleeps two adults. One daybed, sleeps one adult. Small sofa, fits a child.
You Must have at Least One or Two Positive review & be Fully Verified! :-) Two night minimum, always. Grilling is no longer an option in our county. We now have to have permits for grilling and for any type of wood, gas or charcoal fire due to the recent fires in 2015 and 2016. Our home insurance does not allow any type of Grilling, now :-(
Sun. Strawberries, Alyssum, Clover, Columbine, Cosmos, Delphinium, Ferns, Foxglove, Lobelia, Lupine, Marigold, Nasturtium, Poppies, Pansies, Primrose, Roses, Sweet Peas, Violas in flower beds. In Dec through March ... most flowers are gone The potted plants on back and front decks have Cilantro, Basil, Lemon Balm, Mint, Oregano, Parsley, Rosemary, and many flower varieties, for your use.
You must be fully verified by Airbnb before you book this property and have One or Two Positive Reviews :-) Please take care of all the fancy pillows, Please :-)
We have fabulous cold springs within minutes of the property. Hot Springs are in Calistoga (35 minutes and Wilbur ( 55 minutes). Swimming pools close by, Pools close in September. Fifty plus, ......... wineries within 15/30 minutes, of the property.
Housekeeping fee is about $60/80 for a week stay, depending on number of guests.
See our other listing. This will offer even more ideas on what to do in our area. Please, take care of all the fancy pillows :-)
OPTIONAL Rental Available: Additional Private Guest Suite attached to main home. Private entry. Large windows with views of Forest & Deer families = private. Roomy private bath with large indoor Jacuzzi.
*The huge front window in the apartment allows for plenty of nonstop viewing. Bird & deer families are easy to watch. On your FIRST night - it is best for you to arrive while it is light out, the place can be tricky to find in the dark. We often leave by 6:00 PM for evening events. If, you do arrive after 5:30 PM, we will plan to give you your orientation the next day. The property is gated at all times to keep out critters.
From S.F. it is about 90 miles. BUT, the traffic in Napa .... makes for a ........ S-L-O-W drive. 101 N. is faster in time. Plus, driving on the winding scenic mountain roads, slows you down. Allow 3 hours to get here on your first drive here. Almost no one arrives on time, as they stop to enjoy the amazing views!
IMPORTANT: The first two adults are included in the price, each additional adult runs $25. There are different factors which affect this :-) Reminder: two night minimum.
IMPORTANT: For all stays that are a week in length, the cleaning fee is $70 + ( this depends on the number of guests ). Please remember that we have light colored carpeting and we have to hire someone to clean the carpets when we have several guests. Guest days longer than four days or longer have a minimum cleaning fee of $60.
ゲストの立入り範囲
The Apt is attached to the main house. It is over the garage and has a separate entrance. There are three walls separating the Apt from the main house :-) Private entrance on front deck - your own chairs & table. Best for healthly in shape people, due to stairs. Guest entrance is 15 feet away from main house entrance on the redwood deck. No wheel chair access - lots of front stairs. Front & back Redwood decks in excellent condition. Our intention is to earn a 5 star rating! Please let us know in person, if, anything is not to your liking. We will do our best to fix the issue immediately while you are here! Back yard ammenities, deck, forest views, such as hot tub, outdoor dining table and chairs and umbrella. Available in back of house.
Back redwood deck and small flower beds. Sidewalk on both sides of the house. Normally, We do not go out on back deck when you are here. CiCi, ( one year ) will go out to play. If, you would rather Not have CiCi be on back deck, we can put her in front yard or possibly take her with us when we leave. You must let us know ahead of time if a small friendly doggy is not to your liking. The only other time we go out there is to water flowers, herbs and Strawberries during hot weather.
*Tons of bird viewing on all decks ( Humming birds, Cardinals, Blue Jays, Sparrows, Hawks, etc ). Enclosed and fence back deck Outdoor table, umbrella, chairs for dining. Chaise lounge chairs for reading & napping.
There is parking in the driveway, and, in the vacant lot across the street. This is a very safe area. Gated property to keep out Deer. ( please note: driveway is steep - when you are facing the main gate ..... stay on left side = less steep). If, for any reason the steep driveway feels uncomfortable - you can park on the street or across the street in the vacant lot. Just ask :-) People tend to forget about steep driveway - then become upset. :-)
). Wi-Fi. Wide Flat screen DIRECT T.V. w/100's Music/ TV channels. You can invite friends to visit the property, if, we are home. Please note: due to drought the grass is no longer watered.
When driving from S.F. here, we suggest taking highway 101 North to Santa Rosa. Then, take Mark Springs Rd, East, to Calistoga. At Calistoga, take highway 29 North. You will need GPS to manage best through the winding roads :-). Otherwise, it can be confusing.
Please note: On your FIRST day/night, it is Best for you to be here before Dark to pick up the keys :-). The property can be tricky to find in the dark. Gated property. Please print our directions from Mapquest, keep them in the car. GPS systems may not work in the tiny valley next to Golf Course - we are next door.
ゲストとの交流
We very social, yet, we will not intrude. We leave it up to our guests to decide whether or not they wish to socialize, come and hang out in the main house. Many Guests like to come into the main house, drink tea/coffee/wine, laugh, joke, get silly, share stories & play board games, watch movies. On cool evenings you can come into the main house and sit near the wood burning fireplace on the sofas.
Waterfalls and creek minutes away. Sometimes the road to the waterfalls is closed though. Cold spring pools, 5 min away. Instructions in book.
We LOVE having all types of guests and lots of guests. All guests are free to come and go at any time of the day or night.
その他の特記事項
IMPORTANT :-)
We now charge a non-refundable $40 per pet, fee. Plus, we take take out the Persian rugs. Pets who stay longer then two days, have a higher fee. The fee will be added to the reservation
On your way up here, there are many restaurants in St. Helena & Calistoga. About 10 minutes away is Buddha Thai restaurant and St. Helena Brewery for lunch/dinner in Middletown. There are others, too. The Gorgeous Golf Course is a five minute walk from home. Nice restaurant there, too.
*Awesome coffee shops, with indoor/outdoor seating, breakfast/lunch two minute drive.
*Very nice grocery store next next to coffee shop, w organic food selections.
*Pizza place next to coffee shop.
*Spring fed swimming pools are located within one mile from the house.
*Waterfalls with swimming hole are 10 minutes away, sometimes the road to waterfalls is closed. Local teenagers can get a bit rowdy at the waterfalls, when this happens, the road will close for a week.
*Drive-In movie theater is open all summer!
---
---
---
Shoe rack by front door in entry. PLEASE, no shoes in apt :-) No cigarette smoking on the property. Red wine on outside decks ok, inside has light carpet = no red wine. We LOVE doggies. Over the year, Countless guests' dogs, .... have caused damage. We now charge $40 per dog - this is not negotiable :-) Please write an accurate description of your puppy if you want to consider bringing your canine :-) Laughter/silliness highly encouraged. If, you wish to use hot tub, let us know a minimum of 14 hours or more in advance to heat and have ready for you!
You can pick flowers for your room, just ask which ones. If, you arrive after 5/5:30 PM, on your first night we may be out for the evening. It can be difficult to find the house in the dark :-(. It is best for guests to arrive early on their first night. Sometimes GPS systems do not work near our golf course. Best plan = make a print out from Mapquest.
---
---
---
We are outgoing and friendly people who enjoy many interests. Hosting on Airbnb is fun, we do it meet warm, friendly people from around the world. We love it when guests are social. Many guests have had meals with us inside the main home, they share many lively stories about their lives! We now have repeat guests :-)

Scott is a writer w/ scientific background. Holistic Physician & Chemist, and Scientist who now formulates Organic, wild-crafted health supplements for his businesses. His products are sold all over the U.S. in spas, gyms, stores, holistic retreat centers, etc. Scott is originally from Washington, D.C. He has spent most of his life in California. For all of his adult life, Scott has a deep interest in Spirituality, Philosophy and The Vedic Scriptures.

Suze is very social and loves international cities where she has spent her life, until recently. She sees each new person has a potential new friend. Some interests include Taoism, Buddhism, Theosophy, Theology, and Philosophy, etc. Currently creates art pieces from Crystals, Gemstones, Fossils, Arrowheads, Ammonites, Stalagmites, Bone, Gold, Silver. These creations are sold on the East and West coasts. Guests receive 20% to 50% off if interested on stones.

We are both silly and fun loving. CiCi is a young puppy, about 15 months old. She LOVES squeaky toys and enjoys meeting new doggy and human friends. She too, .... is highly social, just like her human mom.
言語:
English、Español、Hindi