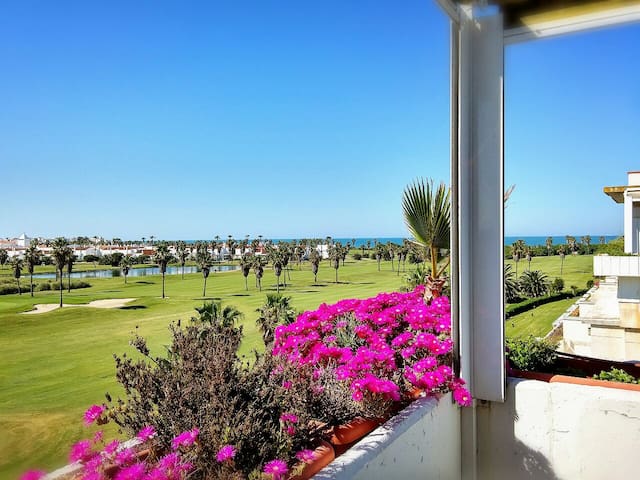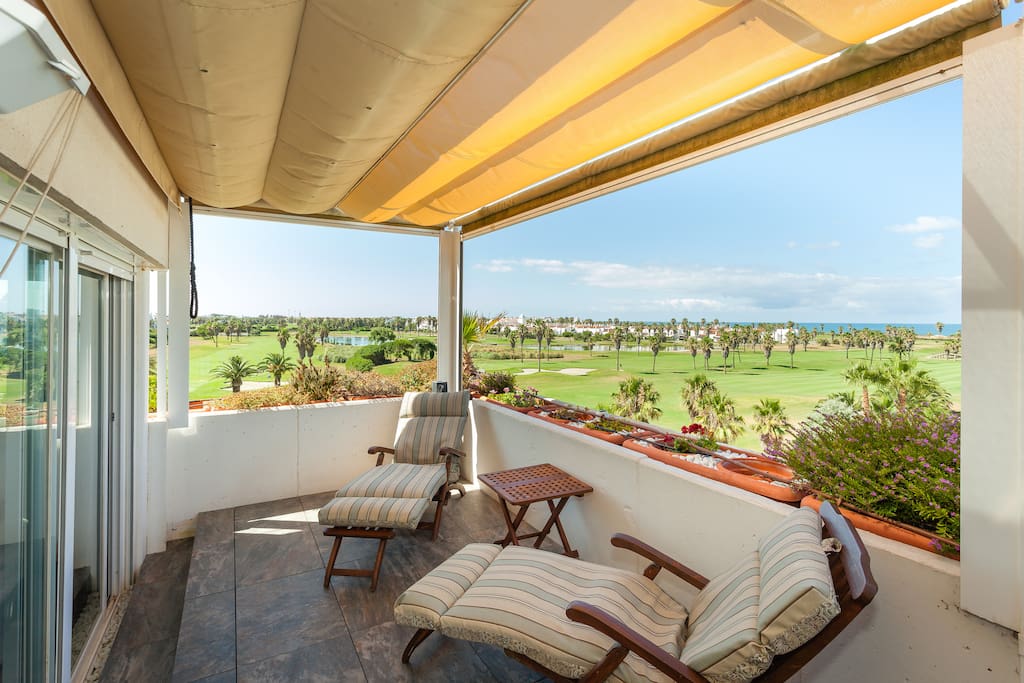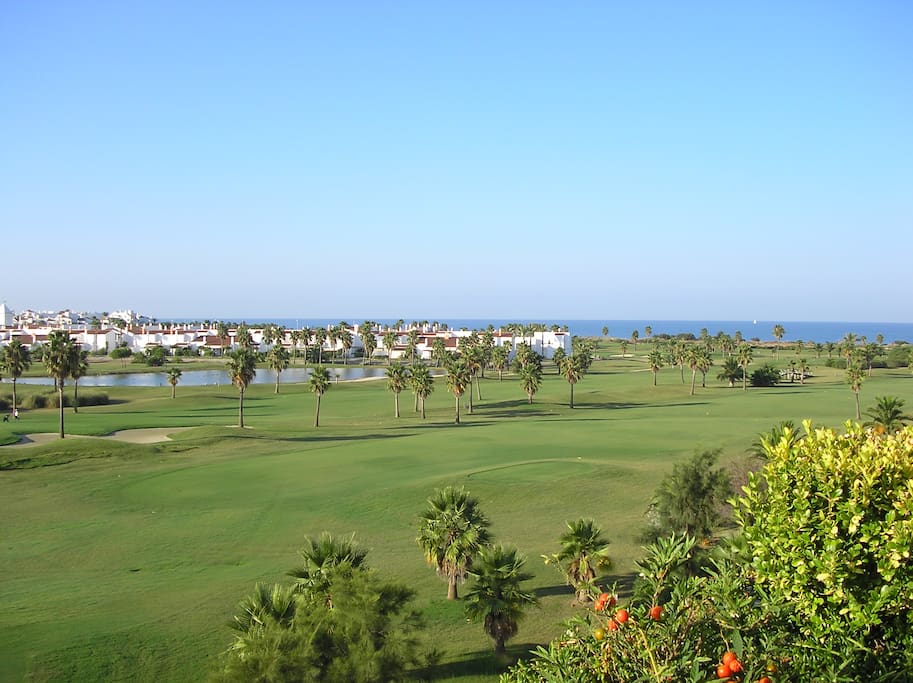 *AUTUMN & WINTER OFFERS :
-From 6 th. Nov. until 6 th. January ,stays of 3 to 6 nights = 10% off
-From 69 euros/night ( 2 guests )
-7 nights (or more)=15% disccount off
-Duplex Penthouse
-5 minutes walking distance to beach
-Terrace 400 sqf
-Fully equipped design kitchen
-Nicely decorated
-Air conditioning/Heating in 3 bedrooms+living room
-Parking
-Elevator from parking to attic
-Wifi
-2 condominium pools+green areas
スペース
Nº de Registro vivienda de Uso Turistico : VFT/CA/00106
If the dates that you required ,were already booked, check for availability these other properties :
-In JEREZ DE LA FRONTERA ( Cadiz ) :A huge lux Loft located in a ancient Sherry wine "Bodega " in the hystoric quarter :
http://www.airbnb.com/rooms/297806
OFFERS :
*AUTUMN & WINTER :
-From the 6 th. of November until the 6 th. of January , for stays of 3 to 6 nights = 10 % disccount off ( airbnb system will deduce it automatically ).
-From 69 euros/ night + airbnb fees ( price for 2 guests ).
-7 nights stay ( or more )= 15% disccount off
* REST OF THE YEAR OFFER ( excepting summer ) :
-During certain dates ,If you BOOK 7 nights ( or more), Airbnb program will automatically apply the a 15 % DISCCOUNT OFF from the Total Rental Price of 7 ( or more ) nights.
* NOTE : During Special dates , DISCCOUNTS in Weekly and Monthly stays , may NOT BE APPLIED.
* The "CHECK IN" time will be done from 15.00 P.M. until 23.00 P.M of entry day. Depending on availability and circunstances , an EARLIER or LATER TIME FOR "CHECK IN" COULD BE ARRENGED , and this could cause an additional EXTRA CASH FEE. PLEASE DO NOT DOUBT TO CONTACT WITH HOST ABOUT THIS RULE:
-CHECK-INs AFTER 23.00 p.m. = + 30 EUROS to be paid in CASH when CHECK-IN.
-CHECK-INs AFTER 01.00 a.m. = + 50 EUROS to be paid in CASH when CHECK-IN.
I rent a Duplex Penthouse with stunning views of the Atlantic Ocean and the Golf.It is located in the Condominium called "Terrazas Golf" in the worlwide prestigious resort called COSTA BALLENA in Rota ( Cadiz ).
Firstly ,i wanted to thank you for taking your time in reading this explanation. Probably once you have read it ,many of your doubts would be solved :
*THE CONDOMINIUM :
The Condominium is located at first line of building housing on the shore. Several predestrian exists head to the Park called "Paseo de la Montaña" that leads only 5 minutes walking to La Ballena Beach. So you do not have to cross any roads to arrive walking to the beach ,which is very convenient if you have kids.
There are well cared green areas all over around the building.
There is a long big swimming pool ( 25 meters long ) and a small one for kids.
The swimming pool term will be from the 15 th. of May until the 30 th. of September ( the Condominium could decide to change this callendar by extending or reducing it , unfortunately that decission would not depend on me ).
There is a doormar during the day and a gardener during the afternoons.
In the lot located in front of the Condominium , there is a Public Sports Center with 4 paddel and 2 tennis courts.
*THE PENTHOUSE :
It is a Duplex Penthouse located in a corner of the building ,so there are 3 frontages. That means it is has a lot of natural light and it is fresh during the summer.
The access is located at the Attic Floor and through the indoor stairs ,yo go down to the Second Floor. The distribution is as follows :
-ATTIC FLOOR :
-Entrance.
-Kitchen. Moder design Kitchen with a huge counter with all the utilities you could need : fridge , freezer, dishwasher, oven , microwave , wine-fridge , deep-frier, stove...Views to the Terrace.
-Laundry room+ toilet . There you have the washing machine and drier. Also a WC and a sink.
-Dining room. A big cherry wooden table for 6 ( that can get bigger up to 8 ).
-Living room. There are 2 big confortable sofas for 6 people. Flat screen 42¨ TV and DVD sound system. There are views of the sea and the golf. Access to the big Terrace.
-Terrace. It is a big terrace of 40 m2 ( 400 sqf ) .From there you will enjoy the stunning views of the sea and the golf course. There are 3 different areas. .The 2 armchairs area , the dining table for 6 ( can get bigger up to 8 ) and the"lounge" area with a modular sofa. It is the "heart" of the appartment as due to the nice weather ,you will do a lot of life there : breakfasts, lunch , dinners ,naps, having a relaxing drink enjoying the views...
-SECOND FLOOR :
-Master bedroom. There is double bed of 160 cms wide x 200 cms. long. Two closets. Access to the second small terrace of 10 m2. From that terrace you can also enjoy the views of the sea and the golf. There is an ensuite bathroom with a small window that also have views to the sea and golf.
-Second Bedroom. There is a double bed of 150 cms wide x 190 cms. long. Flat TV with DVD and one closet. Views to the Park called "Paseo de la Montaña".
-Third bedroom. It is decorated as working lounge. There is a "fouton" type sofa-bed , that once it is opened and putting a high density viscolatex mattress , it turns into an individual bed of 105 cms wide x 180 cms. long. There is closet.There are golf views.
-Second Bathroom. A big marble bathroom with 2 separate areas : first one with the 2 sinks and the second ,with the WC ,bidet and bath. There are views to " Paseo de la Montaña" Park.
*There is air conditioning inverter system ( very quiet) in the living room/dining room and at the 3 bedrooms.
*There is a parking space in the Basement.
*The elevator stops at the basement ,so you can go directly to the Attic from there.
*Renting includes electricity ,water , gas , wifi , towels and bed linen.
V.I.P : This is NOT the typical summer appartment for renting with "cheap furniture". I have been living here for 14 years, and i have been constantly improving the decoration and utilities with care and effort , in order to help you enjoying an unforgetable stay in my appartment. On the same way ,i expect from guests to take care of it as if it was their own home too.
* NOTE : Take in mind that prices change depending on term and on weekends .If you check "calendar" information ( in the Airbnb version por PC ,not the one for phones or tablets ) ,you will be able to check the prices night by night.The prices listed in "calendar" are the base price for 2 people per night. Add from 15 euros more per person per night extra.
* Prices set in calendar are promotional prices to encourage bookings in advance ; but closer to Spring and Summer ,will be increased.
* During Special dates DISCCOUNTS in Weekly and Monthly stays may NOT BE APPLIED.
* MINIMUM STAY : 2 nights
- Christmas and Easter = 4 nights .
- SUMMER = 7 nights.
Eventually i would accept shorter stays for available dates between 2 confirmed bookings , or if you were 4 or more guests, so as to fill in calendar.
Open to negotiation for longer stays.
* For Bookings in Advance or Last Minute Bookings ( depending on dates ) ASK for BIDS :
- FIVE guests for the price of FOUR
* For stays during SUMMER please ask before confirming booking.
* I will give priority acceptting bookings that their dates "join" confirmed bookings.. And also , bookings of 2 or more weeks would have priority.
* EXTRA OPTIONAL FEES (to be paid in cash ) :
1.-CLEANING FEE :
Before every "check in" , a complete professional cleaning is done in the Attic . So I DO NOT ASK FOR CLEANING FEE IN ADVANCE ,as i prefer to give the option to my guests to save that money if they clean the Attic themselves and return it almost in the same cleaning conditions as when they did "check in". But if for some reason ,you decide not to clean it ( because you are in a hurry or are used to have a maid at your own home) ,i would have to ask AIRBNB to retain from the damage fee 80 euros , or you could leave those 80 euros in cash by the keys , and i would not claim anything to AIRBNB ( which is probably better as it would not affect to your Airbnb profile reviews as guest).
.-BABY CRADLE ( ASK ALWAYS ABOUT AVAILABILITY )
A cradle for a baby could be provided if required in advance ( not the bed clothes for the cradle , that as it is a very personal thing , the guest should bring) for a Fixed FEE for the whole stay of 30 euros that guest would pay in cash when "check in".Its size is 70 cms wide x 100 cms. long.
3.-EACH GUEST SLEEPING ON EACH BEDROOM:
- If the 2 guests are not sharing the bed and want to sleep in 2 different bedrooms : there is extra cash Fixed Fee of 50 euros for the whole stay.
-If the 3 ( or 4 ) guests want to sleep in 3 different bedrooms : besides declaring you are 3 ( or 4 ) guests so Airbnb calculates the price for 3 ( or 4 ) ,there is an extra cash Fixed Fee of 50 euros for the whole stay.
4.-TRANSPORTATION SERVICE TO AIRPORTS OR TRAIN STATIONS :
If required with some advance ,and depending on availability ,a private driver could pick you up or leave you ( up to 4 people) in the Airports or Train Stations of Sevilla and Jerez. The price would depend on the service required.
5.-CAR AVAILABLE WITH PRIVATE DRIVER :
RANGE ROVER EVOQUE available for rent with private driver to explore the beautiful sights in Andalucia. Rates from 100 euros/day depending on the hours and kilometers you need.
WECOME TO MY PLACE IN HEAVEN ¡¡¡
* I also rent a 1 Bedroom appartment very well located in the heart of Sevilla. Check it in my profile in "wish lists"or in "my other properties" :
http://www.airbnb.com/rooms/131987
* I wanted to inform you that i also rent a charming Loft in Jerez de la Frontera ( Cadiz , Andalucia ) . Jerez is world famous for the Jerez Wine (Sherry) production ,the Flamenco and the Andalusian horses . Allthough it is not by the sea ,it is very well comunicated with the gorgeous beaches of white sand spread along Cadiz County coast and also , with the "Sierra of Cadiz " ( Cadiz mountains) famous for the "Route of the White Villages".
Here you have the link of the Loft,so you can have a look for this trip or a future visit to Spain :
https://www.airbnb.es/rooms/297806
ゲストの立入り範囲
As you are renting the whole property ,you have access to everything inside it... you can use all the utilities of the kitchen. There is free WIFI access.
Guests have access to the Condominium swimmimg pools and to the grass outdoor areas that surround the building.
The swimming pool term is from 15 th. of May until 30 th. of September ( the Condominium could decide to change this callendar by extending or reducing it , unfortunately that decission would not depend on me ).
Also, they can use for FREE a Parking Place located in the basement of the building with direct access by elevator from the Attic.
ゲストとの交流
The "check in" day , we will meet directly in the entrance door of the Condominium "Terrazas Golf ". Then, we will park your car , take the luggage to the Attic , i will give you the keys , explain you the use of the utilities of the Attict and house rules , and also give you some interesting tips about Costa Ballena and Cadiz County.
ENGLISH :
1.-THE "CHECK IN" TIME WILL BE MADE FROM 16.00 P.M. UNTIL 23.00 P.M OF ENTRY DAY. DEPENDING ON AVAILABILITY AND CIRCUNSTANCES , AN EARLIER OR LATER TIME FOR "CHECK IN" COULD BE ARRENGED ,AND THIS COULD CAUSE AN EXTRA CASH FEE.
2.-IN THE "CHECK IN" SHALL BE PROVIDED PHOTOCOPYING OF DNI OR PASSPORT OF EACH OF THE PEOPLE THAT ARE PART LESSEE.
3.-PRIOR TO "CHECK IN", Airbnb HAS TAKEN A PROVISIONAL RETENTION AMOUNT OF 250.00 EUROS FOR BAIL, WHICH WILL BE RELEASED BY WAY Airbnb INTEGRA AFTER THE "CHECK OUT" IF YOU MEET ALL THE RULES SET FORTH BELOW AND NO DAMAGE OCCURRED IN THE ATTIC OR THE CONTENT.
4.-THE "CHECK OUT" WILL BE HELD BEFORE 11.00 A.M. OF DEPARTURE DAY. OCCASSIONALLY AND IF AVAILABILITY PERMITS, BETWEEN THE PARTIES MAY AGREE TO A LATER TIME OUT (ALLWAYS WITHIN THE SAME "CHECK OUT" DAY). IF THE POSTPONED TIME LIMIT AGREED TO THE "CHECK OUT" IS NOT FULLFILLED BY TENANT , LESSOR MAY RETAIN THE PART OF THE BOND AMOUNT EQUIVALENT TO THAT NIGHT PRICE FOR COMPENSATION.
5.-THE TENANT WILL DELIVER THE APPARTMENT AND ITS CONTENT ON THE "CHECK OUT" IN THE SAME CONDITION IN WHICH HE RECEIVED IN THE "CHECK IN". THIS INCLUDES THE HOUSEHOLD CLEANING USED DURING THE STAY AND CLEANING THE LOFT TOO. IF THIS POINT IS NOT FULLFILLED BY TENANT , LESSOR MAY RETAIN THE PART OF THE BOND AMOUNT OF 80, 00 EUROS FOR COMPENSATION.
6.-EVERYTIME THE TENANT LEAVES THE APPARTMENT, ALL ELECTRIC AND LIGHTING EQUIPMENT SHOULD REMAIN OFF. LIKEWISE, ALL WINDOWS MUST STAY CLOSED.
7.-NO SMOKING ALLOWED INSIDE THE HOUSE.
8.-THE SEASONAL LEASE ALLOW ONLY TO OVERNIGHT THE NUMBER OF PEOPLE REFLECTED IN THE Airbnb RESERVATION DETAILS. THE SUBLEASE IS EXPRESSLY PROHIBITED .
9.- PETS ALLOWED IN THE PROPERTY UNDER CERTAIN CONDITIONS ARRANGED IN ADVANCE BETWEEN GUEST AND HOST.
10.-IS PROHIBITED PARTY CELEBRATION.
11.-THE VOLUME OF TALKS, THE TELEVISION OR MUSIC WILL BE MODERATE, ESPECIALLY WITH RESPECT THE HOURS OF REST.
12.-IF THE LESSEE HAVE ANY QUESTIONS ON THE OPERATION OF ANY ELECTRICAL APPLIANCE, MUST CONTACT THE OWNER TO PREVENT DAMAGE TO THE SAME FOR MISUSE.
13.-DO NOT EAT IN THE BEDROOMS.
14.-BE CAREFUL NOT TO DAMAGE THE BED LINEN WITH SUN LOTIONS.
15.-IN THE "CHECK IN" IS PROVIDED A MAXIMUM OF TWO SETS OF KEYS. LOOSING THEM WILL INVOLVE LOSS PAYMENT OF 50 EUROS PER SET.
16. - FOR SAFETY REASONS, THE ACCESS DOORS OF THE CONDOMINIUM WILL BE KEPT ALLWAYS CLOSED.
17.-THE LESSE WILL FOLLOW SCHEDULE AND RULES FOR USE OF THE SWIMMING POOL.
18.-LESSOR IS NOT RESPONSIBLE FOR PERSONAL, JEWELRY OR MONEY PART LESSEE LEAVE INSIDE THE APPARTMENT.
19.- IT IS NOT ALLOWED TO HANG LAUNDRY OR TOWELS IN THE TERRACES.YOU COULD GET FINED BY POLICE.
20.-THE BREACH OF ANY OF THE ABOVE RULES BY THE TENANT, WILL LEAD TO AUTOMATIC TERMINATION OF THIS SEASONAL HOUSING LEASE AND OBLIGATION TO LEAVE IMMEDIATELY THE LOFT. LOSING MONEY AMOUNTS PAID (INCLUDING BOND) IN FULL, AS COMPENSATION DAMAGES. REGARDLESS OF POLICE CLAIMS THAT MAY BE FILED WITH CERTAIN DAMAGES OR ATTITUDES.
21.-IF THE LESSEE DECIDE TO SHORTEN THE STAY DUE TO REASONS NOT DUE TO THE LANDLORD,WILL LOSE MONEY AMOUNTS PAID EXCEPT THE BOND THAT WILL BE RETURNED TO LESSE BY Airbnb , IF LESSE HAVE FOLLOWED THE RULES ABOVE.
22.-FOR ALL CLAIMS ARISING ON THE OCCASION OF THIS AGREEMENT OR AS A RESULT THEREOF, BOTH PARTIES ARE SUBMITTED TO THE COURTS OF ROTA ,CADIZ ( SPAIN).
Hola, Nacido en Sevilla ,criado en San Sebastian y actualmente viviendo en Costa Ballena (Rota , Cadiz ). Me gusta disfrutar de los pequeños placeres de la vida :una comida en compañia de amigos ,una buena exposicion de arte o un viaje con encanto. Necesito el mar cerca... D…
言語:
English、Español