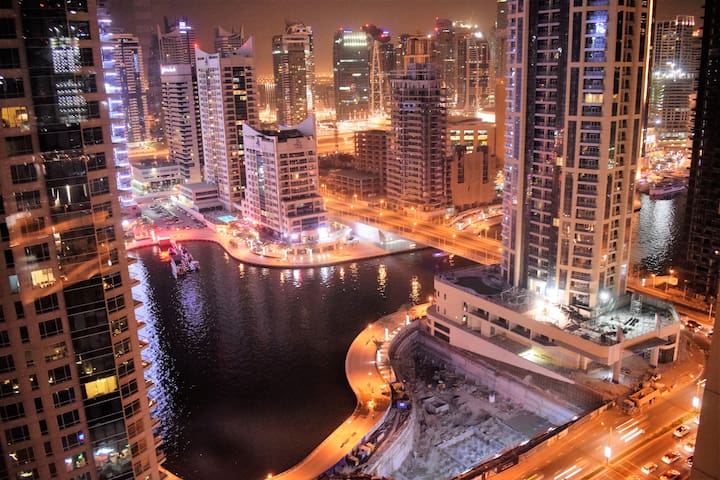 JBR-MARINA LUXURY 4 GUEST ROOM NEXT TO BEACH, TRAM
ジュメイラビーチレジデンスの高級4人部屋1.トラム、ホテル、レストラン、クラブ、スカイダイブ、マリーナウォーク、JBRウォーク、ビーチ&マリーナモールは徒歩圏内です。マスターベッドルームです。バスルームと2つの大きなワードローブが付いています。客室にはキングサイズベッド1台とイケアプレミアム二段ベッド1台が備わります。客室にはテレビ、国際チャンネル、高速インターネット接続、ラップトップデスク(椅子付)が備わっています。設備の整ったキッチン、ダイニングエリア、リビングルームがあります。
Luxury 4 person room in Jumeirah Beach Residence 1. Tram, Hotels, Restaurants, Clubs, Sky Dive, Marina Walk, JBR Walk, The Beach and Marina Mall is just walking distance only. It's a Master Bedroom and it comes with an attached bathroom and 2 huge wardrobes. The room have one King size bed and one IKEA premium bunk bed. The room comes with TV and all the international channels, High speed internet connection, Laptop desk with chair. Fully equiped kitchen, dining area and living room available.
スペース
この部屋は、4人家族または4人の大人のグループに最適です。ゲスト用に無料のシャンプー、シャワージェル、石鹸、タオルを提供しています。アパートメントには大きなバルコニーがあり、美しいマリーナの眺めが楽しめます。建物の下には30軒の料理を含む300以上のレストランがあります。 buidlingの隣には、スーパーマーケット、薬局、サロン、タクシー、そして今までに望んでいたものがあります。
This room is perfect for a family of 4 people or a 4 adult group. We provide free shampoo, shower gel, soap & towel for the guest. The apartment have a huge balcony and it comes with beautiful Marina view. Under the building you have all the facilities including more than 300 restaurants with 30 cuisines. Next to the buidling we have supermarkets, pharmacy, saloon, taxis and everything you ever wanted.
ゲストの立入り範囲
ゲストは、一般的なキッチン、ダイニングエリア、リビングルーム、バルコニー、スイミングプール、GYMにアクセスできます。
Guest will have access to the common kitchen, Dining area, living room, balcony, swimming pool and GYM.
ゲストとの交流
私たちは非常に良いチームを持っており、ゲストを援助する必要がある場合は利用可能です。
We have a very good team and I'm available if it's necessary to assist the guest.
その他の特記事項
2PMにチェックイン チェックアウト12PM アーリーチェックインとチェックアウトは空き状況によります。あなたが非常に早期のフライトをしている場合は、前の夜にダブル予約と混乱を避けるために予約してください。 客室内での喫煙は厳重に禁止されており、バルコニーでのみ許可されています。 建物のアクセスカードとベッドルームの鍵がゲストに提供されます。カードを紛失した場合は、新しいカードの場合はAED 200、ルームキーの紛失の場合はAED 100となります。
Check in 2PM
Checkout 12PM
Early check in and check out will be subject to availability. If you have very early flight, then make sure you book the previous night to avoid double booking and confusion.
Smoking is strictly not allowed inside the room and only allowed in the balcony.
Building access card and the bed room key will be provided to the guest. In case of loss of card it will be AED 200 charge for new card & AED 100 for loss of room key.
---
---
Smoking is not allowed inside the room (only in the balcony). Friends or visitors are not allowed inside the room during the stay. Passport copies are required during the chek in or prior to check in.
---
---
---
Stunning view from room and beautiful location. My family enjoyed alot staying at this place. Best value for money. Definately will come again. Travellers with their own car must manage car parking arrangements and get ready to face traffic jam during peak hours.
---
Dear Fatah, I guess you don't go through the listing description properly because of the last minute booking. Very clearly mentioned that it's a master bedroom and not the whole apartment. When it's mention room mean it's a room not the entire apartment & I recommend next time when you book a property read and understand before rush for booking. If you were looking for an entire apartment, then you have to choose accordingly and not for a private room. As per the listing my property is 100% perfect and this's the first time someone wrote such review but that how it first because u want spend such a small amount and want to get an entire apartment in JBR will be an impossible dream. Thank you for booking with us & once more I recommend read the description before booking because it will help you to save u r time!
---
Great expérience in Dubai in a very nice place in Jumeira beach. Amazing view from this apartment on the marina and the buildings. Very nice and accomodating Guests. Enjoyed it !
---
From where to start!!! Sebastian is a wonderful host, he allowed us to do the check-in early even that we didn't let him know before. The room was so clean. It's a spacious room with a dressing room, the view was amazing just like photos , all the necessities are available, a big choice of restaurants , Carrefour ,swimming pool and gym. You can reach the beach 5 minutes walk. I highly recommend it and if I come back here it will be my choice again and again.
---
Dear Guest, Myself Veronica & I'm one of the few "SUPERHOST" in Dubai, I hope that itself give you confidence to make booking with me as my commitment to the guest is more than 100%. living and doing business in Dubai since past 4 years. As I find out there are no quality accommodation for solo travelers or budget travelers in Dubai Marina, I've decided to host and help people. Myself I had bad experience in some of the places that I've stayed in Dubai, especially fighting for hourly charges for late checkout and early checkin.

I just wanted to change all of that, people have sometimes late checkout or early arrivals, if you will start to count and think to make money out of everything, then definitely you shouldn't be doing hosting. I'm happy if my guest are having a good time while there stay in my city - Dubai. I'm more than happy to assist my guest with any questions or enquiry while there stay and help them as much as I can.
If you are looking quality, super clean & budget stay in luxurious community? Then you are in the right place. Myself I'm a traveler and I know how it feels to being away from home and don't know anyone in the new city. Join me in Dubai for your adventure, I'll take care of you - Welcome to Dubai & This's My Home :)