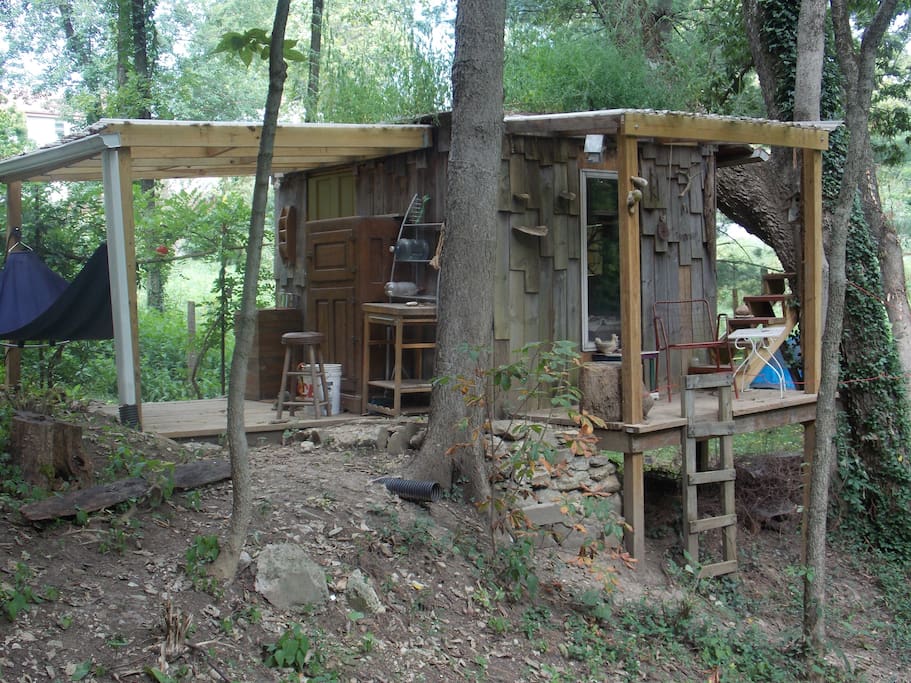 Located in Enright Ridge Urban Ecovillage, 10 minutes from downtown Cincinnati. This rustic hut offers the experience of a peaceful, relaxing forest setting, and the proximity to urban cultural centers. Situated on the edge of Imago Nature preserve which offers hiking trails and programs. A nights stay includes: TinyHut, firepit & camping area for 3 guests, kitchen & bathroom are detached and in main property building, off street parking. Experience TinyHut living, relax mins from downtown!
スペース
If you are interested in off the grid living, the tiny house movement, or just getting away from the hustle and bustle - while still being 10 minutes from downtown, TinyHut is the place for you. This small hermitage is located in Price Hill and on private residential urban farm land.
Tiny Hut B-612 is completely constructed from reused materials and is insulated with 5" cob walls. It features a green living roof and is sided with recycled skid pallets. We also installed rain catchment, to water both the herb and forest garden. The inside is fixed with a comfortable bed, small fridge/freezer, hot plate, room to store luggage, and plenty of reading materials. There are two covered decks with seating, and one hammock. Kitchen & bathroom are detached and are located in the main house. Path to Tiny Hut is unpaved and rugged.
Tiny Hut outdoor space includes: camping space for three guests, fire pit, picnic table, direct access to Imago Nature preserve, and lush urban food gardens to stroll through.
ゲストの立入り範囲
Tiny Hut may be accessed two ways:
-Through the driveway and rugged path provided at 656 Enright, just 2 minutes from parking area
-Imago Nature Center trail access
ゲストとの交流
We're a fun young family and enjoy meeting new people and having thoughtful conversations. We will try to be home at the time of guests arrival, if that is preferred. Will happily offer EcoVillage information and a tour of the neighborhood or gardens, if time allows. There are weekly potlucks if guests are interested.
---
This tiny home is such an incredible unique treasure! Especially for the nature lover. We felt like we were camping on our own island in the middle of a jungle. It was especially beautiful to wake up to see and hear the sounds of birds. We had a beautiful walk and breakfast picnic in the cemetery in the heart of this quiet and peaceful neighborhood. This place is definitely for you if you're into rustic adventure and super kind hosts!
---
Exactly as described, the "TinyHut" is a wonderful cabin-escape experience in the city of Cincinnati. They are located in the urban hills-- wonderful, and the seemingly inconceivable beauty of their property is extraordinary. This place may not be for everyone, but everyone who loves to incorporate adventure into their life experience MUST stay here at least a night or two. Wonderful hosts!
---
A mixture of Han Solo and Krishnamutri.

I'm a permaculturist, father of two, who is seeking a sustainable and happy life!
I live on Enright Ridge and work at our community greenhouse as a urban farmer. We live on a Urban farmstead, which includes: perennial plantings, animals, and a large vegetable garden.
I believe in human empowerment and casting out fear. I can't live with out healthy soil, in fact non of us can. My life for the last 9yrs has been spent caring for the earth and myself.

"Fear is the mind Killer!" -Herbert