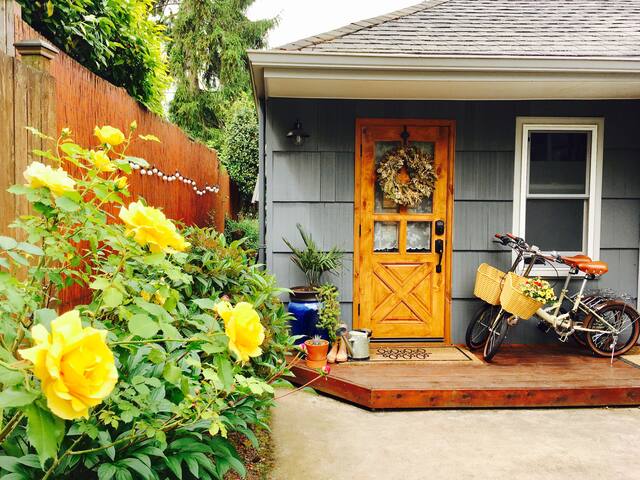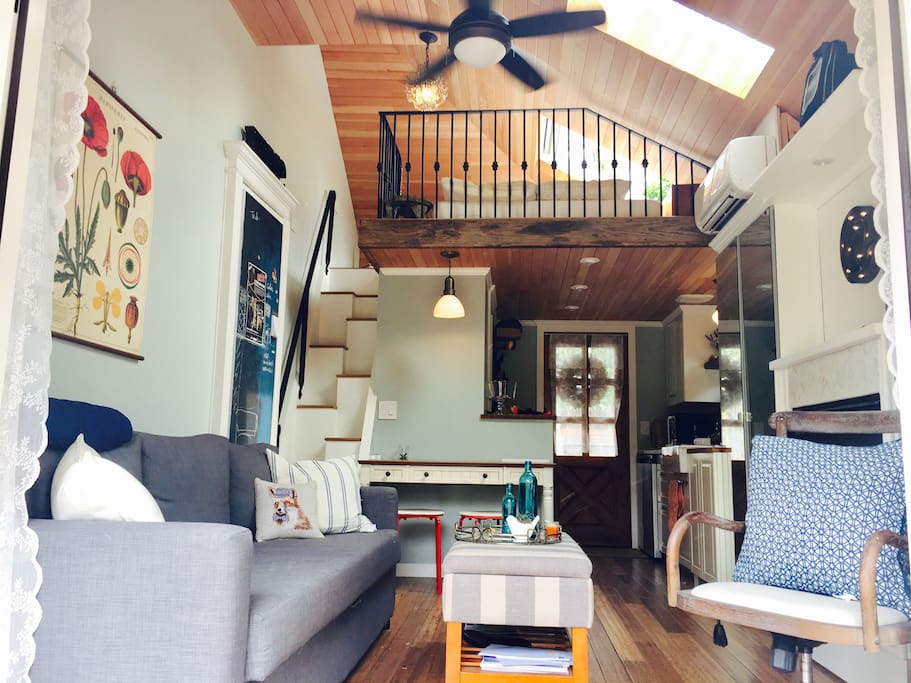 モダンなアメニティとヴィンテージチャームを備えた美しい1942年のアルバータアートアーバンコテージです!ダウンタウン&PDXエアポートから10以上のMIN!素晴らしい場所には、ALBERTA ARTS District、Concordia University、Parks&Fun&Quirky McMenaminsケネディー・スクールがあります。最も人気のあるポートランド地区の1つに位置するアーバンコテージは、静かなエスケープ、快適な環境、素晴らしいレストラン、公園、靴、バー、庭園、アートギャラリーへの距離を歩いています!
A beautiful 1942 Alberta Arts Urban Cottage, with MODERN amenities and VINTAGE charm! 10+ MINs from DOWNTOWN & PDX AIRPORT! A fantastic location nestled perfectly between the ALBERTA ARTS District, Concordia University, Parks & the fun and quirky McMenamins KENNEDY SCHOOL! Located in one of the most popular Portland neighborhoods, the Urban Cottage offers a peaceful escape, a comfortable setting, and WALKING DISTANCE to wonderful RESTAURANTS, PARKS, SHOPS, BARS, CAFES, and ART GALLERIES!
スペース
この職人1942 Alberta Arts Urban Cottageには、あなたが探しているすべての現代的なアップグレードのポートランドの魅力があります。レニーは建築家であり、ブレントはこの250平方フィートのコテージのプロジェクトマネージャーでした。私たちのデザインの優先事項は、コテージが美しく、快適で、高い機能性と十分な収納スペースであることを確認することでした。近代的な設備が備わっていることに加えて、地元の雰囲気と空間を持つことは私たちにとって重要です。このコテージは、100年の歴史を持つ納屋の木材、プレットとラーソンのタイル、時代の照明器具、地元のダグの木製の複雑な天井など、地元の救済された材料で改装されました。木製の門の後ろに入ると、あなたは自分の屋外スペースとコテージへのプライベートエントリーを持っています。リビングルームのフレンチドアは裏庭まで開いています。交互の階段が寝るロフトにつながり、大きな操作可能な天窓が夜の星の素晴らしい眺めを提供します。リビングルームにある快適なソファベッドは、追加のスリーピングオプションを提供しています。簡易キッチンは経済的で、洗濯機/乾燥機を含むすべての必需品が備わっています。バスルームには、青と白の色のテーマとギリシア風の浴槽があり、長い一日を過ごした後、バラの街を探索するのに役立ちます。
This craftsman 1942 Alberta Arts Urban Cottage has all the Portland charm you're looking for and with all modern upgrades. Laney was the architect and Brent was the project manager for this 250 sf cottage. Our design priority was to make sure the cottage was beautiful, comfortable, with high functionality and adequate storage space. Besides having modern amenities, having a space with local flair is important to us. The cottage was renovated with local salvaged materials, including 100-year-old barn wood, Prett and Larson tiles, period lighting fixtures, and an intricately designed ceiling constructed of local doug fir wood. Upon entry behind a wooden gate, you will have your own outdoor space and a private entry to the cottage. The living room french doors open to the backyard. The alternating stairs lead to a sleeping loft, a large operable skylight provides great views of the stars at night. The comfortable couch bed in the living room provides an additional sleeping option. The kitchenette is economical and well equipped with all of the necessities, including a washer/dryer unit. The teal and white color theme and greek soaking tub in the bathroom will help you decompress after a long day of exploring the rose city.
ゲストの立入り範囲
コテージの前には多くの路上駐車場があります。全ゲストコテージとビストロテーブルと椅子を備えた屋外プライベートスペースがあります。町の周りをクルージングのための2つの無料のバイク。
There is plenty of street parking in front of the cottage. You have the entire guest cottage and an outdoor private space with bistro table and chairs. 2 free bikes for cruising around town.
ゲストとの交流
私たちはすべてのゲストと出会うことを楽しんでいますが、プライバシーとスペースも尊重しています。お気軽に私どもとやり取りしてください。 :)
We enjoy meeting all of our guests, but we respect their privacy and space as well. Please feel free to interact with us as much, or as little as you'd like. :)
その他の特記事項
- 無料のスナック、地元のワインとコーヒー、天然ハーブの石鹸とシャンプーを提供しています! - バイク免責条項は、バイクにアクセスする前に署名することが必須です。予約時にお知らせください。 - 私たちの愛するフレンドリーな犬、Molly Booが時には裏庭でくつろいでいるのを見るかもしれません。彼女はあなたのドアが開いている場合、あなたを訪問するのが大好きです:)
- We offer complimentary snacks, local wine and coffee, as well as natural herbal soaps and shampoo!
- Bike waivers are mandatory to be signed before accessing the bikes, please let us know upon booking.
- You might see our beloved friendly dog, Molly Boo occasionally hanging out in the backyard. She'd love to visit you if you have your door open :)
---
---
---
- No shoes in the house. Shoe storage with a bench is to the right after entry.
- Please clean your own dishes
- Please respect our neighbors, we appreciate quiet time after 11pm.
- No smoking indoors
- No pets under any conditions
- Please be sure the wooden gate is shut at all time, as our dog, Molly might sneak out by chance.
- People other than guest party are not permitted to stay overnight in the property.
- No housekeeping service provided. Towels and linens are provided.
- The owners are not responsible for any accidents, injuries or illness that occurs while on the premises. The homeowners are not responsible for the loss of personal belongings or valuables of the guest.
---
It was a great honour to be the first guest of Laney and Brent's new cottage. This is a small dream-house were everything has been built with extreme care and attention to details. Perfectly functional and cozy, with a distinct character that will make you feel as if you were in a mountain cottage. I loved the window next the bed area, it was amazing watching the stars before falling asleep. I could go on listing all the details that amazed me, like the French window opening on the back garden, the cute bathroom, the dimming lights in the entire apartment, the secure door lock, the electric fireplace and the AC, the spacious double wardrobe, the mezzanine and the fully equipped kitchen, but I think the best way to appreciate this place is to simply stay there and to enjoy the experience. Laney and Brent are amazing hosts, they make you feel at home, they care about you and will always be available in case you need them. I will definitely stay here again anytime I'm back in Portland.
---
The key was waiting for us and we really enjoyed our stay. A lovely sunny bedroom with window seat and a pitcher of water welcomed us and we loved the wooden deck just outside the bedroom door surrounded by a privacy fence. We felt like we had the entire house to ourselves, and I enjoyed listening to Brent practicing his drumming after he checked in with me if it was OK. We got a chance to meet both hosts for brief chats and got to meet and play with their dog Molly who is trained not to come near the guest room and bathroom doors. This was our second visit to this great Concordia neighborhood where you can walk to everything so we ended up not renting any bikes as we had previously planned. Brent went above and beyond when he loaned me a set of wrenches to fix up a small roller that we had found out tossed on the curb as someone's trash, we ended up taking it home with us! Thank you both for a comfy stay and we really enjoyed meeting you. A Magnolia tree next door was in full bloom, what a beauty!
---
We had such a pleasant time staying at Laney and Brent's while in Portland. Their home is very beautiful, clean, and modern in design. It's in a great location near some nice local restaurants and bars. Laney was a very warm host and gave us many recommendations of things to do in the area. Highly recommend this place to anyone visiting Portland!
---
Words cannot express how amazing my experience was at Brent and Laney's. I traveled to Portland with my mother for my birthday weekend to get away, relax, eat some amazing food, and do some shopping. I had never used Airbnb before, and I am SO glad that my first experience was at their home. First of all, the area their house is in is INCREDIBLE, the PERFECT area for going out and exploring Portland! It was such a beautiful neighborhood, and although we rented a car while we were there, all of the hottest places to visit were well within walking distance. Their home was SO GORGEOUS, it was every bit as perfect as the pictures make it seem. Brent and Laney were the most amazing hosts, giving us space and privacy, but also interacting with us when we wanted to chat and needed suggestions on where to visit and what to eat. They went above and beyond and even personalized a chalkboard welcoming us and wishing me a happy birthday. And their dog Molly was absolutely perfect, the most beautiful and sweetest little girl! I could truly rave on forever about how amazing my experience was, but instead I'll just say, BOOK YOUR STAY WITH THEM TODAY. You will NOT regret it!!! Thank you so much for making my stay and birthday weekend so special, Brent and Laney! I can't wait to come visit again!
---
Laney & Brett were ** extremely ** accommodating of my last minute booking. I couldn't stay at another Airbnb place because I had an allergic reaction. They were one of very few people who had instant booking & responded almost immediately at almost 9pm!! They were incredibly welcoming & even had a little welcome sign with my name to greet me when I arrived 10 mins later. Beautiful modern home, prettier in person than in the photos. Clean, intentionally decorated, spacious, quiet. Really a haven of comfort, warmth & peace. I feel I have made new friends!
---
I was in town on business, and once my trip was over, I booked this room to have a place to sleep for my last couple nights in town. Brent messaged me quickly after booking, and let me know where to find the key to get into the room. The house is a great house in an area that's very close to many of the fun spots in Portland. It's a short walk to Alberta street where I met up with a local friend and had a great time. The house is really night, and having a private bathroom was really great as well. The bed was comfortable, and I slept great both nights. I didn't get a chance to meet Brent, but I'm sure he's awesome (all Brents are pretty amazing - not that I'm biased or anything). I did meet Laney and Molly (the pooch), and we had a nice short conversation. Unfortunately, my interaction with my guests wasn't much more than that, though, I was gone from the house except for when I needed to get cleaned up or to sleep. 5/5 stars... Would definitely stay here the next time I'm in Portland.
---
We are a fun loving couple with a passion for music, art, architecture, design, food and nature. Laney is an architect, designer, and artist. Brent is a musician, composer and also works in Advertising. Brent moved from Portland to NYC 10 years ago and we recently relocated bac…
言語:
English、中文