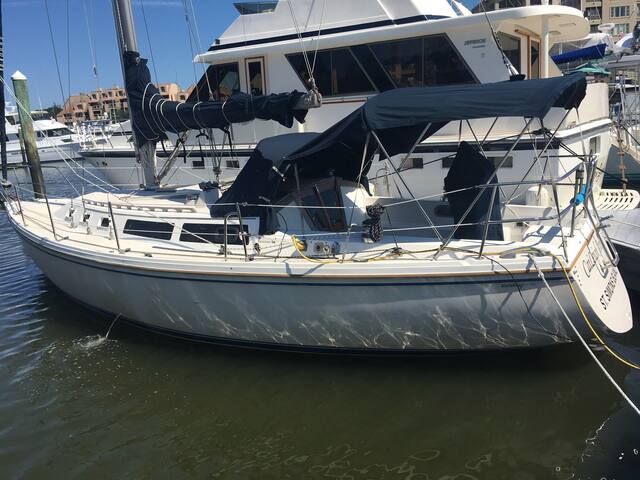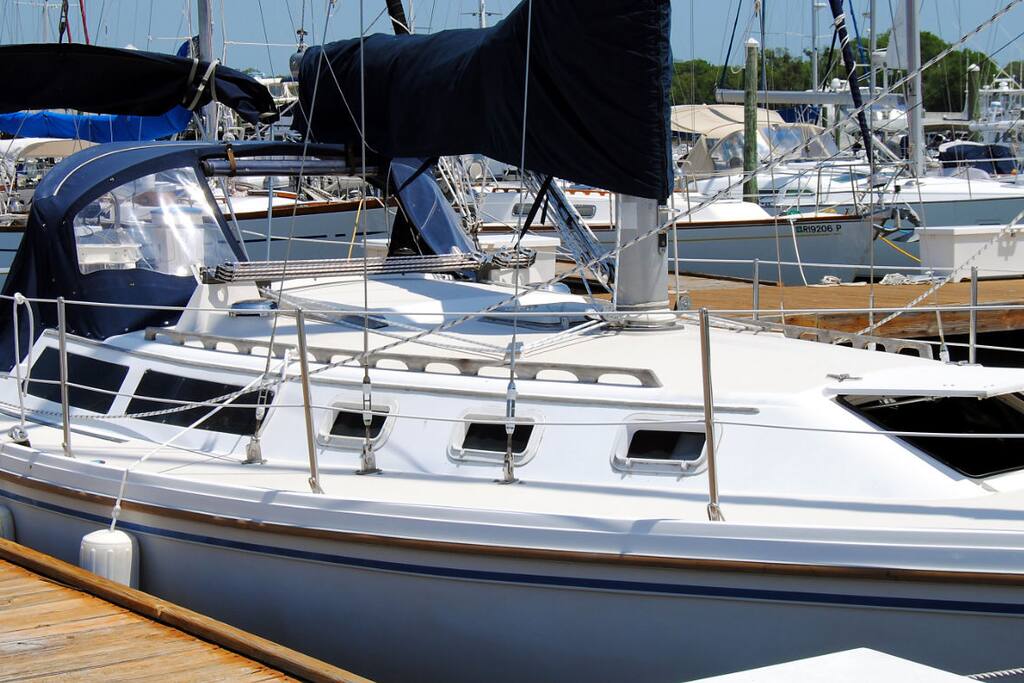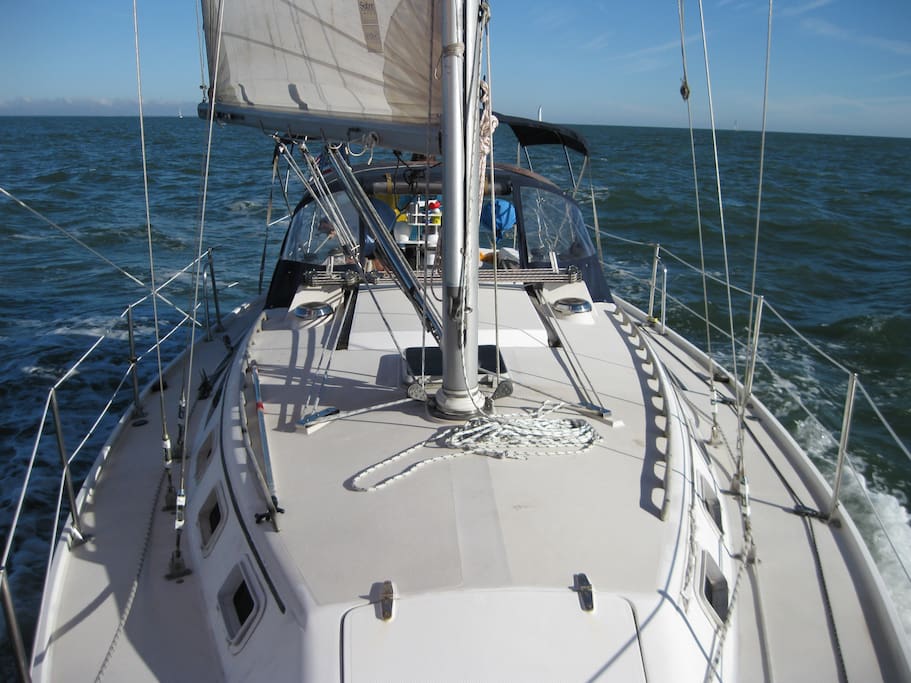 Post Irma Update - CaiLeigh Anna & Shelter Cove made it through Irma fine. We are open & ready for business!
Come experience a taste of boating life aboard CaiLeigh Anna, our 34 foot Catalina sailboat! CaiLeigh Anna provides a comfortable space to enjoy Hilton Head Island along with the fun and excitement around Shelter Cove Marina. Watch the sunset each evening from the cockpit of your private sailboat, and be rocked to sleep by the gentle sway of our boat safely tucked into Shelter Cove.
スペース
The Catalina 34 is one of the most popular sailboats ever built! The design of our 1987 model is noted for its exceptionally spacious interior. Guests will have full use of the boat for living and sleeping accommodations.
Private cabins allow plenty of space for two couples. The aft (rear) cabin offers a full sized bed. The private V-berth (forward cabin) is essentially a queen sized bed; with plenty of room for two people, who don't mind their toes touching, to share! The Catalina 34 is renowned for the spacious V-berth layout.
You will enter CaiLeigh Anna by descending six steps into the main saloon or living space of the boat. There are bench seats with a small table, a kitchen (galley) space, and a small bathroom (head). This mid section of the boat can allow for two additional sleeping spaces if needed.
CaiLeigh Anna is equipped with a central heat and air conditioning system which provides "chilling" comfort for hot summer days. You'll find hot and cold pressurized running water, cable TV, DVD player, selection of DVD movies, and refrigerated cooler add to the amenities aboard the boat.
CaiLeigh Anna's bathroom (head) provides a small sink with a mirror for freshening up. Guests will find a marine toilet for restroom needs. Using a marine toilet is a bit different from what you'll find on land. If staying on a boat is a new experience for you, our hosts will be happy to show how everything operates. The most important thing to note is that paper may not be disposed of in the toilet. A separate trash receptacle is provided for paper disposal.
Shelter Cove offers shower facilities for marina guests. The showers are a short bike ride or a 10 minute walk away. Guests will not be able to shower aboard CaiLeigh Anna.
The kitchen space offers a sink with hot or cold water. There is also a refrigerated cooler (similar in size to a hotel mini-fridge) available to guests. Owner will provide a Keurig coffee maker, coffee, and condiments. Guests may grill outside on our gas grill. Cooking inside is not allowed for reasons of fire safety.
Guests are renting CaiLeigh Anna for use as a living and sleeping accommodation only. If you would like to leave the dock for sailing, fishing or a sunset cruise, there are a number of charter companies operating out of Shelter Cove Marina. Visit the Shelter Cove Marina web site or Ship Store/Marina Office for a complete list of available activities.
CaiLeigh Anna really is a member of our family, and we are excited to share the space with you! Our boat is lovingly cared for, and guests are expected to be respectful of the space.
ゲストの立入り範囲
Guest can use all the interior spaces of the boat as well as cockpit on the outside where they can enjoy sundowners and watch a memorable Hilton Head Island sunset. You will also be allowed access to the amenities available at Shelter Cove Marina.
ゲストとの交流
Guests will have access to owner by text and cell phone as well as co-hosts, who live on their boat on the same dock. Co-hosts are available for any questions or concerns about operating the systems in the boat.
Contact James through AirBNB messaging with any questions.
その他の特記事項
Guests should understand that you are staying on an operational sailboat and that this is inherently different from a hotel or condo. You'll need to be agile enough to step up and onto the boat from the dockside and be prepared to descend the interior stairs into the cabin. The boat is secured safely to the dock at Shelter Cove, but guests should keep in mind that it is floating and anticipate some movement of the boat during your stay. Guests should also understand that any marina is not a perfectly quiet environment. We find the sounds of halyards clinking the mast or other boats passing by to be an enjoyable part of the Shelter Cove experience.
Hilton Head Island lies directly on the South Carolina coast and is therefore susceptible to impact from Tropical Storms and Hurricanes from June to November each year. Guests must understand that these storms are unpredictable and the owner may be required to secure the boat for severe weather conditions, in which case it may be necessary to cancel a reservation. In all cases the owner will communicate with all guests with reservations in order to reach the best possible decision. Cancellations and refunds will be extremely flexible in this circumstances, as much as AirBnB allows.
The owner and co-hosts will be happy to provide early check-in on the arrival date as long as the boat hasn't been rented the prior night. Late check-out on the departure date will be available unless there is another renter arriving on the check-out date.
Two bikes are available for use during your stay on CaiLeigh Anna. Joe and Pat, the co-hosts, will show you where they are stored and share the lock combinations with you during check-in.
CaiLeigh Anna is equipped with a head or bathroom. Toilets on boats operate differently than those in land based homes. Users MUST NOT DISPOSE OF ANY PAPER PRODUCTS in the toilet. This cannot be stressed strongly enough.
Guests are advised to use the marina's bathhouse, located behind the Ship Store/Marina Office, for showers. Since K Dock, where CaiLeigh Anna is located, is across the harbor from the bathhouse it is a 10-15 minute walk around the marina/docks. Therefore, it is suggested to use the bikes or drive to the bathhouse facility.
---
---
---
セルフチェックイン(smart lockとdoorman)
- Smoking outside the boat is permissible.
- Boat is located on a dock with several full time liveaboards. Please respect them with no late outside noisy activity.
- Childen are permitted as long as parents accept full responsibility for their activities on a dock and boat over water. Children must be supervised at all times.
下記事項もご了承ください
階段を登らないとたどり着けません - 1 flight with 6 steps to enter boat
共用スペースあり - Parking in the marina parking lot or Disney resort parking
一部アメニティは最低限のものです (例: ネットが遅い) - Cooking inside the boat is not allowed. Outdoor gas grill is available. No paper products may be disposed of in the on-board marine toilet.
---
---
---
A weekend on the sailboat was so nice! The Marina is lovely. Communication was beyond top notch! I couldn't have asked for more there. I'd only advise being prepared to treat it much like a camping situation. Pack light and bring shower shoes and some air freshener for the tiny bathroom, but above all, come ready to soak in the Hilton Head Island life. The boat is bigger than expected actually once you get inside! We always enjoyed dinner on the deck too. Very nice stay overall!
Kaitlyn Thanks for the positive public review, and I appreciate the private feedback about the odor. We have tried to address this problem in the past and have replaced the toilet and all waste related plumbing hoses , pumps, and holding tank over the past year. There is absolutely nothing leaking. The only issue I'll recheck everything on my next visit in an effort to address any issue. Thanks again for the feedback. James
---
Thank you joe pat and James this was an experience that anyone interested in the relaxing "live aboard " life needs to try. Thanks for the tours joe and thank goodness for air conditioners
Bob, As you know Joe and Pat are great co-hosts and really enjoy meeting and sharing the liveaboard experience with guests. And we could not agree more about the need for good air conditioners. When I installed the unit in CaiLeigh Anna I wanted to be able to cure meat in the middle of August. I came pretty close! We hope to see you again! James
---
It was awesome staying on the Caileigh Ann. Loved sitting up top drinking my tea, hearing the fish jump out of the water, and at night seeing the lights around the marina is so beautiful. Loved feeling the boat with it's gentle sway. It is a long walk to the shower, but the walk is a beautiful walk. It was really fun, looking at all the boats and seeing the name of each boat. James, Joe and Pat have been very nice and helpful and is very quick to respond if there are any problems or if you have any questions. We had so much fun! Kayaking the Harbour River was great, just don't do like we did and get caught in a thunderstorm out there, however it was amazing. We saw so much, including dolphins which we absolutely loved. This was our first time staying on a boat but definitely Will Not Be The Last Time. Thanks again James, Joe and Pat. You 3 have been great.
---
I am an avid sailor, husband, and grandfather. I enjoy cruising and racing CaiLeigh Anna, my Catalina 34 sailboat. CaiLeigh Anna is named for my three daughters - Cail, Leigh, and Anna. She is essentially a member of our family that my girls simply refer to as "CLA."

My wife Susan has been generous enough to tolerate and share my passion (she might think obsession) with sailboats. We have enjoyed cruising the SE coastal area for many years and have met many cruisers who have become our best friends. It really is a wonderful community of caring folks from all walks of life.

I encourage everyone who might share my passion to not wait for tomorrow, but to work hard to make your dream a reality. I know so well that we aren't promised a perfect tomorrow. My goal is to get up each day and do what I want to do, not what I have to do. What's your goal?