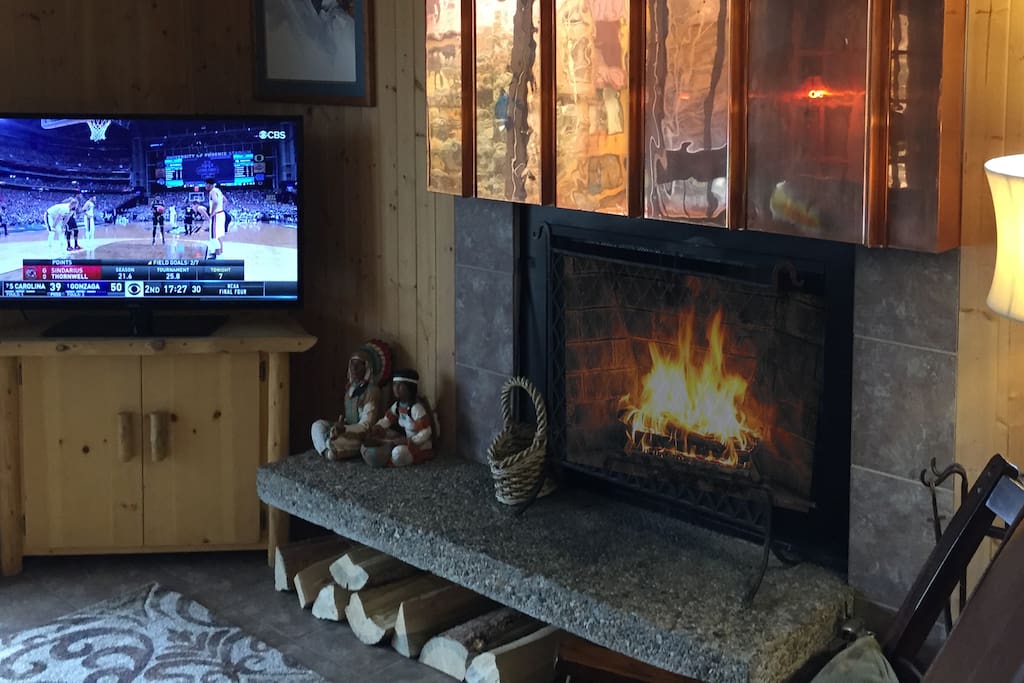 Recently remodeled, true on mountain "Ski-In & Ski-Out" condo, steps away from Copper Mountain's Super B chairlift. Relax in the warm and fully equipped Snowflake Condo with 2 bedrooms, 2 bathrooms, great living space, kitchen, ski storage with mountain life decor and accents...with private garage guest parking stall.
ゲストの立入り範囲
Your stay includes full use of the condo property.
お支払をお守りするためにも、Airbnbのサイトやアプリ以外の場所では決して送金や連絡を行わないようご注意ください。
Welcome to Snowflake 305. We hope your stay is a pleasant one.
Snowflake has been our mountain home for over 20 years, and as part of our rental agreement, you agree to all rules, requirements and information for our condo and some are listed below.
NOTE: PET OWNERS PLEASE READ ALL PET RULES!
Condo Address: 104 Wheeler Place (Snowflake Condos), Unit 305, Copper Mountain, Frisco, Colorado 80443
Accidents/Damage: We know that things happen, so please inform and report any issues or damages during your stay to your Booking Manager.
Animals/Pets: This is "pet friendly condo" and we find that most pet owners do take great care of their pets and the places they stay in. To be fair and reasonable to all our guests we require the following pet rules be followed while staying with us:
• There is "no pet cleaning fee or service charge" for your stay, but guests will be solely responsible for any damages or additional cleaning for issues that occur during their stay.
• All animals/pets are prohibited in the unit and on property, unless guests obtain prior approval with Booking Manager (email confirmation) as part of your initial reservation and booking.
• Only "dogs" are allowed to stay in the unit with guests, no other animals are allowed.
• No more than 2 guest dogs are allowed in the condo per stay, and no visitor dogs are allowed only dogs of the booking guest.
• While staying at Snowflake 305 all pets must stay within the large main living area, kitchen and entry areas of the condo, and pets are not allowed in the bedrooms at anytime.
• Pets must stay off of all furniture.
• No pet bathing is allowed in the condo and bathrooms.
• Guests must be sensitive to and monitor any excessive noise or barking by your pets.
• The Copper Mountain Resort is a dog friendly environment, and provides plenty of dog walking areas, waste bag stations and waste receptacle containers for your use and no waste will be disposed of in the condo or building trash containers.
• Your pets must be on a leash during entry, exit and walking through the building.
• Pet owners must follow and adhere to all condo and resort rules/regulations concerning their pets during your stay.
• A post rental inspection of all stays will be conducted, and any damage or additional cleaning issues will be address by the Booking Manager during the post rental inspection.
Athletic Club and Spa Center: For a small additional entry fee (per guest) you can use and access the resort facilities, for more information contact Copper Athletic Club.
Barbeque Grill: Our condo building offers a propane grill for your use during your stay (propane is provided), which is located in the garage area near the building entry.
Bicycles: Our resort offers great riding opportunities for you, and there are several bicycle racks for your use and securing your equipment. Guests are solely responsible for the security and usage of their bicycles.
Board Games: For extra activities within the condo, the wooden trunk in the living room has a number of board games for your use and fun, please place back in the trunk after use.
Check-IN and Check-OUT: Check in time is 4pm during the first night of your stay, and check out time is 10am the next day at the end of your stay. Any and all changes or modifications to these times must be pre-approved with the Booking Manager.
Coffee/Tea: The condo a regular drip coffee maker located in the cabinet above the refrigerator, and there is a Keurig (K-cup) coffee/tea maker available for your use.
Fireplace: The condo has a beautiful wood burning fireplace in the living room, and firewood is provide a part of your stay. IMPORTANT that you make sure the fireplace flue is open, there are smoke and fire detector in the condo and the building and WILL ALARM the building and fire department if you do not open.
Firewood: Firewood is available in the firewood shed/closet in the garage area, you will need a key to access the shed (which is hanging by the condo front door).
Flammable Materials: No flammable, combustible or explosive fluids, (including gas grills), chemical or substance shall be used, kept or located within any portion of the condominium property.
Food Store/Shopping: Copper Mountain has a small food and sundries store located in the Center Village area, but the local area in Frisco and Silverthorne (10 minutes away) have a number of store for purchasing your food and supplies for your stay (Safeway, Target, Walmart, Whole Foods, and many more).
Golf: 18 hole golf course located steps from the condo, for more information or to book tee times visit the Copper Mountain website, or you can call golf pro-shop, or stop by the Golf Shop inside Copper Station, East Village.
.
Gas Station: There is a gas station located at the resort entrance to Copper Mountain, as well as a number of stations within 10 minutes in Frisco and Silverthorne.
Guest Occupancy: Guests are those identified as part of the initial booking, the condo is limited to a total of six (6) guests during your stay, and other guests or visitors must be addressed to the Booking Manager at time of booking.
Housecleaning: The condo will be cleaned and prepped for your stay with fresh and clean linens and towels. Guests can opt for additional services during their stay which may include a "mid stay clean and linen service" for $100.00, or delivery of "fresh clean linens and towels service" for you for $50.00 (for linen/towel service only please have your linens and towels in a pile by the condo front door (inside). For any additional housecleaning services or needs during your stay please call contact property manager (8am-5pm).
Kitchen: The condo has a fully equipped kitchen with standard electric appliances (refrigerator, oven/range, microwave and dishwasher) with a variety of small appliances, as well as well stock dishes, utensils and food prep equipment.
Laundry: We offer a coin operated laundry room (washer and dryer) on the main floor entry, use the keys hanging by condo front door for access to the laundry room. Guests must not leave there laundry unattended.
Lift Tickets and Ski-Passes: Visit Copper Mountain website.
Linens and Towels: As part of your stay you will be provide one set of linen for each bed and towels for you and your guests.
Luggage Carts: 2 luggage carts are available for guests to use to load in and out of the condo and building, and are located in the lobby near the elevator. Luggage carts should not be used for hauling firewood, typically there will a firewood hauler located near carts.
Owners Lock-Off Closet: There is an interior closet located in the master bedroom, guests will not have access to this closet during their stay.
Parking: The condo unit (Snowflake 305) has one assigned and dedicated and covered garage space for your use during your stay, this space is marked with "305". Guests are NOT permitted to park in any other garage space, and are subject to be towed. One additional parking space is available during your stay at the "Wheeler Parking Lot", which is a short distance from the building. Additional parking is available at the "A Parking Lot" near the entry to the resort (east and south side). All guest vehicle must have a parking pass place on the dashboard of their vehicle while parked at Snowflake or in parking areas. Your Booking Manager will ensure 2 parking passes are available for your use during your stay, and are generally placed on kitchen counter. Guests MUST return all parking passes to the kitchen counter upon check out. Loss of parking pass may result in a $25.00 replacement charge/fee.
Storage Closet/Locker (Skis, Boards and Equipment): There is an assigned and dedicated lockable storage closet for your skis, snowboards and equipment, which is located on the main floor adjacent to the elevator. The key located by the front door of the condo will unlock/lock the storage unit (2 key are provided). Guests will ensure keys are returned prior to check-out, and lost or missing keys are subject to a $25.00 replacement fee. Guest will not store or place skis or snowboards in condo, or in the exterior carpeted hallways.
Pool: For a small entry fee guest can use the Olympic size indoor swimming pool at the Copper Athletic Center, for more information contact Copper Athletic Club.
Smoking: This is a "no smoking" condo unit, there plenty of smoking areas outside.
Television(s): There are two (2) large screen 42 inch HDTVs located within the condo, one in the living room and one in the master bedroom and each has a separate remote. Basic cable service is provided with some premium channels at no extra charge.
Wifi/Internet: We provide wifi internet service during your stay.
It was a great stay. The place had everything you could need - even shampoo in the shower! Lots of kitchen pots and pans. The only thing I would add is maybe some basic spices like salt and pepper so you don't have to buy them for just a meal or two. It was clean and Tim was very helpful. Would definitely recommend the place!
---