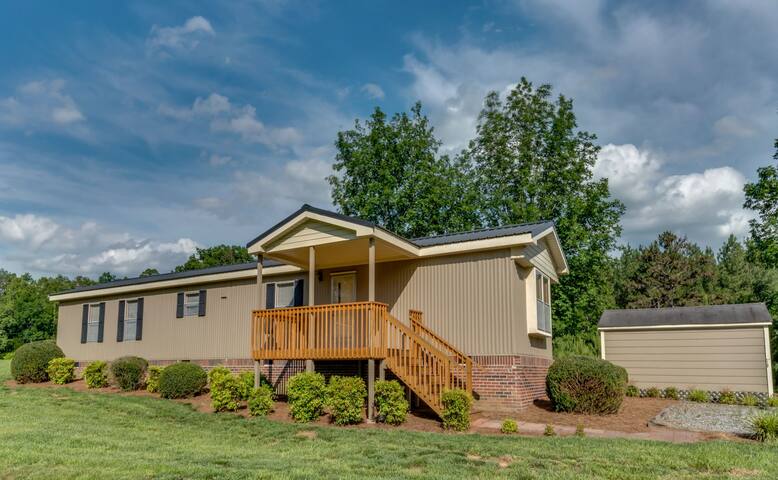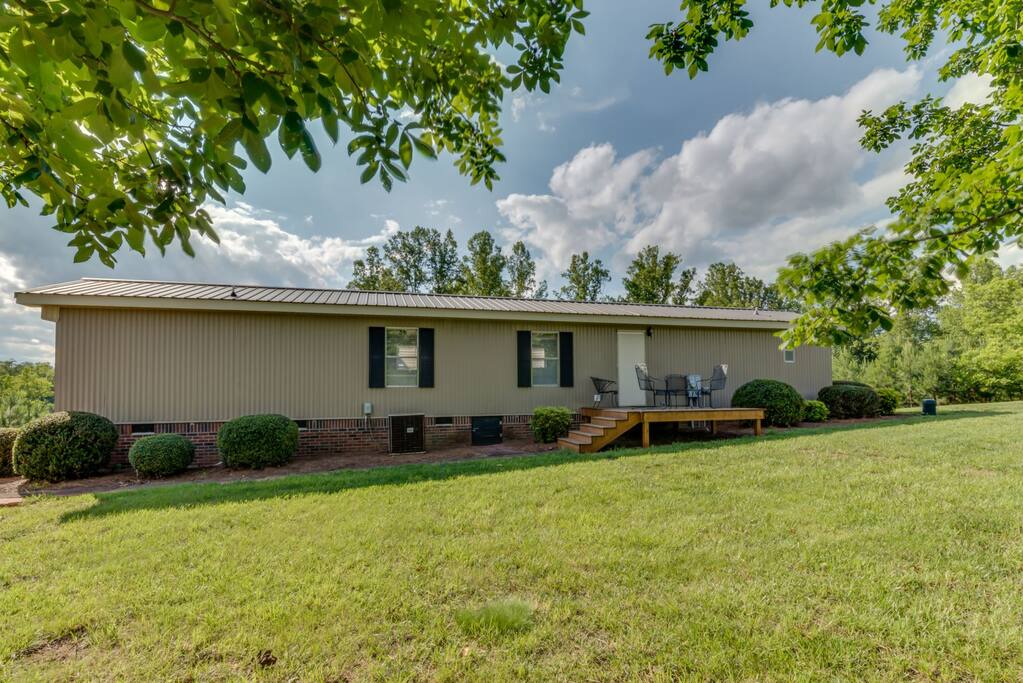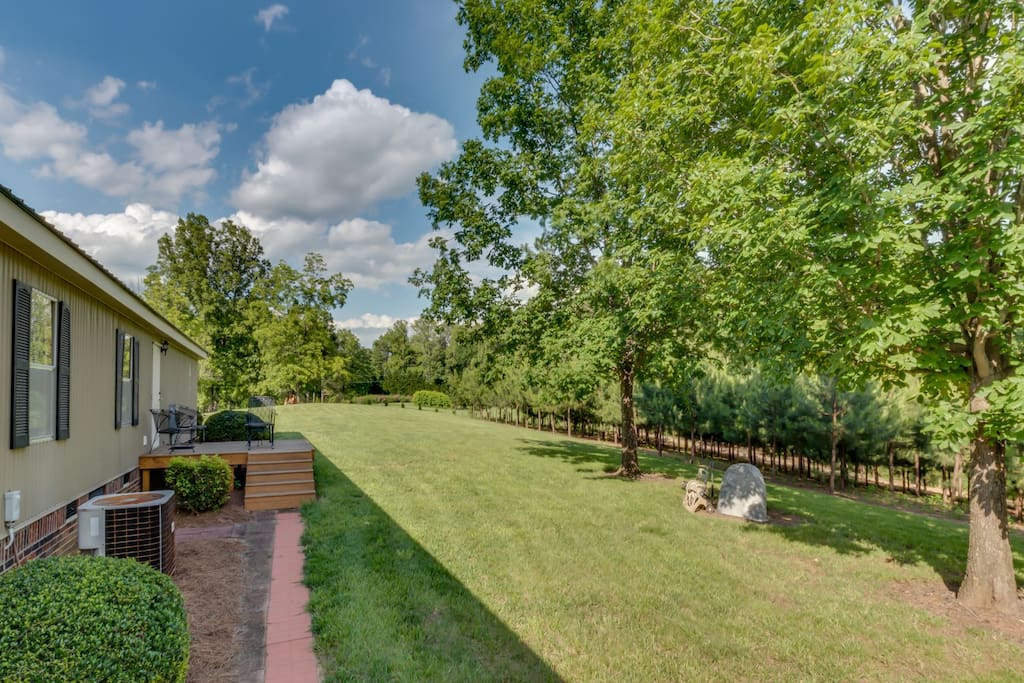 Maple Creek Retreat | 20 Min. to TIEC | 11 Acres
スペース
*Quiet Rural Setting on 11+ acres
*20 Minutes to TIEC with easy access
*15 Minutes to Lake Lure
*New Mattresses and Bedding
*AT&T U-Verse Wi-Fi
*Washer and Dryer
*Linens and Towels Provided
*Dogs Allowed

Longer Term Lease is Allowed. Please inquire regarding rates for stays 3 months or longer

WEG RESERVATIONS MUST BE PREAPPROVED

Perfect for those needing temporary housing while working in the area or building your dream home! Maple Creek Retreat is set up as your home away from home; all you need to pack are your suitcases. All new mattresses, bedding and linens; new washer and dryer; new or gently used furnishings. The fully equipped kitchen will make meal time a breeze. All the essentials are in place. The deck out back will be a great spot for grilling and chilling in the evening or enjoying a cup of joe in the mornings. The rural setting is the true calling card to this property. Even though it`s just minutes to the shops of Rutherfordton, you will be able to escape from all the hustle and bustle of your busy day when you arrive. The house sits on over 11 acres and set off the road on a knoll surrounded by trees. Maple Creek Retreat; your home away from home!
ゲストの立入り範囲
The entire property and grounds
---
---
Security deposit is ¥ 87320
Welcome to Tryon Retreats. Thank you for choosing us for your Foothills Getaway! We are here to provide you, our guests, with outstanding customer service and a vacation to remember for a lifetime. Please Read Carefully the following Policies and Procedures for our Retreats. The property you are renting is a privately owned home and is a well-cared for and much loved property.
PLEASE READ THE ENTIRE AGREEMENT, INITIAL AT THE BOTTOM OF EACH PAGE, SIGN THE LAST PAGE AND RETURN THEM TO OUR OFFICE VIA DOCUSIGN, FAX OR E-MAIL.
Our fax number is ((PHONE NUMBER HIDDEN)
The email is (EMAIL HIDDEN)
Guests acknowledge, understand, and agree that the moment Guests give reservationist their credit card information to secure and reserve a cabin, by phone, internet, email or any other format, Guest agrees to abide by the terms of this Agreement in its entirety and accepts responsibility for all persons and pets and any and all Damages during their stay. Tryon Retreats is authorized to charge said credit card for the total amount agreed upon and Guests have authorization to occupy the premises exclusively for the duration confirmed on the reservation while bound to the conditions of the Rental Agreement herein. Tryon Retreats Cancellation Policy will govern any cancellation, rescheduling, or change after the initial credit card authorization has occurred.
Must be 25 years of age or older to reserve and book a vacation property. House parties are strictly prohibited and evidence thereof will result in immediate eviction with no recourse, additional cleanup charges and possible legal repercussions. Reservation Agent has the right to request proof of age. Tenants shall behave in a civilized manner and shall be good neighbors respecting the rights of the surrounding property owners.


MUDDIED CARPETS, PET HAIR, ETC. Failure to provide compensation for your damages will result in legal action against you. Please be responsible and report your damages.
Email rescheduling and change requests to: (EMAIL HIDDEN)
NO SHOW/EARLY DEPARTURE/INCLEMENT WEATHER POLICY – NO REFUNDS OR REBATES will be offered in the event Guests are unable to arrive or depart on time or if Guests choose or are required to depart early for any reason, INCLUDING BUT NOT LIMITED TO; inclement weather, such as rain, snow, sleet, ice, wind, fire, and any other reason whatsoever outside of Agent's direct control. WE HIGHLY RECOMMEND purchasing Travel Insurance to protect guest against loss from any unforeseen conditions that may lead to trip cancellations, delays or inability to access or depart from premises. Refunds or rate adjustments are not made for any inconvenience due to construction, road repair, weather, or similar instances outside of our control.
CHECK-IN TIME IS 4:00 PM – Due to same day turn over's and housekeeping coordination, properties cannot be guaranteed ready for occupancy until 4PM on the confirmed arrival date.
CHECK-OUT TIME IS 10:00 AM - Timely check-out is greatly appreciated so that staff has adequate time to prepare the property for the next guest.
NO SMOKING – NO EXCEPTIONS! – All properties are NON SMOKING. IT IS STRICTLY FORBIDDEN TO SMOKE INSIDE THE PROPERTY. You may smoke outside, however, we ask that you keep the grounds free of litter. Cigarette butts must be placed in the provided bucket or ashtray. If there is additional cleaning due to cigarette butts being thrown on the premises, there will be an additional cleaning fee applied of not less than $25. Guest agrees to pay no less than $300.00 for odor abatement if there is evidence of smoking inside of the property.

MAXIMUM OVERNIGHT OCCUPANCY – The maximum occupancy for overnight guests is stated in all accommodation descriptions. Maximum overnight occupancy limits are required by the Fire Marshal and are for the safety and protection of occupants and Home Owners. Guests are required to report the correct total number of overnight guests over 5 years old on all reservations. Any child five years old and above is considered an occupant & must be included in the occupancy total. For select properties, Reservation holder will be required to fill in an Occupancy Roster or Security Registration that gets filed with Security Personnel for safety and access purposes. The security offices of the resorts are authorized to deny entry to guests that are not listed on a security registration or pre-authorized for entry by Tryon Retreats. Guests are required to submit all guests' names to Tryon Retreats prior to receiving check in package and instructions. Exceeding the maximum overnight occupancy could compromise the plumbing and septic systems which can result in severe damages, unsanitary condition and unsafe situations. Any damages and costs resulting from excessive overnight occupants will be the responsibility of the reservation holder. Exceeding the originally stated occupancy will be cause for immediate eviction and forfeiture of all rent monies and deposits.
URGENT SITUATIONS AND EVENTS OUTSIDE OF TRYON RETREATS STAFF CONTROL- In a life-threatening emergency always call 911 and give them the cabin address on your printed directions or on the Cabin Book. In any urgent situation requiring assistance of our staff, call the numbers provided in guest's correspondence. Every effort will be made to address any urgent situation in as little time as possible. Property is not owned by Tryon Retreats. Private homeowners own the property. Our staff will make every effort to prepare home for guest arrival but cannot guarantee against problems or malfunctions
Repairs and Service Calls – Tryon Retreats cannot guarantee against mechanical failure of heating, cooling, hot tubs, TVs, satellite receivers, VCRs or other appliances or systems. Please report any inoperative equipment to our office immediately. Tryon Retreats will make every reasonable effort to have repairs completed quickly and efficiently or may move you to another property if possible and subject to availability. Should a repair technician make a call to a rental property unit and find that the equipment is in working order and problem was due to guest's oversight or neglect, the charge for service will be at the guest's expense. No refund or rent reductions will be made due to failure of the appliances and/or equipment. All maintenance requests must be reported to the office between 8AM and 5PM, unless it is an emergency situation such as heating, cooling, leaks, and similar such instances. Guest understands and agrees that Tryon Retreats may enter the rental property at any reasonable time for the purpose of making any needed repairs.

GARBAGE CONTROL POLICY - All garbage must be bagged and tied and placed in the outdoor garbage containers unless otherwise specified. In the event guests generate more garbage than fits in the outside containers, guests must either take excessive trash to the nearest dump or call the Tryon Retreats Office to arrange for an unscheduled garbage pickup. Please ensure all garbage is bagged and tied and placed inside garbage containers with lids securely fastened to avoid animals getting into garbage and creating unsanitary conditions and huge messes.
EQUESTRIAN RELATED POLICIES – While we encourage our guests to make themselves at home in our properties, we have a couple of policies to protect the homes and ensure they are in great condition for your return visit. (a) Riding Boots are NOT to be worn inside the property. Many of our properties provide space for boot storage and cleaning outside. In the event our cleaning staff finds mud and dirt tracked in the house, there will be a $500 cleaning assessment charged to credit card on file to professionally clean rugs and carpet, and deep clean floors. (b) Horse Blankets are NOT to be washed in the property's washing machine. This causes extreme wear and tear and break down of these machines. We provide contacts that will pick up and clean these blankets.
HOT TUBS – If your cabin has a hot tub, please read this for your protection!! Guests may use hot tub at their own risk. Hot tubs are correctly cleaned and properly treated prior to each arrival. Instructions are provided in the Cabin Book on how to use hot tubs, covers, cover lift assist, cover clips and padlocks. Please read the safety instructions in the Cabin Book prior to entering a hot tub. Tryon Retreats is not liable for any losses, injury, sickness, allergy, medical condition, or any consequence whatsoever from Guest's use or misuse of hot tub. ALWAYS RINSE OFF BEFORE AND AFTER USING A HOT TUB. NEVER PUT SOAP OR BUBBLE BATH IN THE HOT TUB. Any excessive cleaning of Hot tubs due to misuse by a guest or any person during guest reservation may lead to charge of $35 on Guests' credit card. Please direct any questions about the hot tub to the reservations office to avoid problems.
LINENS AND CONSUMABLES - A standard supply of linens is provided in each property that supports the maximum occupancy. Bed linen and bath towels are inspected and counted before and after each reservation and not changed during your stay. A complimentary supply of start-up consumables is given to guests at check-in and not replenished during Guest stay, however, housekeeping service and other cleaning arrangements during your stay are available for an additional charge. Contact the Office for details.
FIRE-PITS – Some properties provide a fire pit. If a property does not offer a fire pit, guests MAY NOT build FIRE PITS IF THEY ARE NOT PROVIDED as doing so is considered a safety hazard and considered damage to the Premises. Any costs associated with cleaning up or dismantling an unapproved fire pit will be billed to guest's credit card on file. Fire pits may be used throughout the year.
Alcohol and Illegal Drugs – Alcohol consumption is limited to people of legal age. Illegal drug use is Strictly Prohibited and will result in termination of this agreement and immediate dismissal without refund.
CONDUCT AND NOISE ORDINANCES – Occupancy and use of premises shall not be such as to disturb or offend neighbors or residents by means of including but not limited to; loud parties, excessive speeding through neighborhoods, riding of ATV's or Off Road Motorcycles/Dirt Bikes, excessive noise and/or obnoxious behavior, discharging of Firearms, and or Fireworks, or any other noise-inducing mechanisms. Any complaints received will be sent to local enforcement agencies and will be dealt with accordingly.
WILDLIFE AND INSECTS– Environmentally friendly pest control services are performed on every property routinely to kill and repel common crawling insects. Cabins are located in mountainous areas that may harbor different types of wildlife and insects including but not limited to: Bear, Deer, Possums, Squirrels, Turkey, Ladybugs, Bees, Wasps, Scorpions, Spiders, Centipedes, etc... NO REFUND OR REBATE will be offered in connection with any wildlife or insect encounters inside or outside the cabin.
Lock Out Policy – In the event guests are locked out of a property, the guests may borrow a key by calling our office at (PHONE NUMBER HIDDEN). A representative will assist the guest by providing a spare set of keys. A $50 charge is payable for obtaining the keys after office hours. After 11PM, the assistance of a locksmith will be required. The guests will be responsible for all costs thereof.
PET POLICY – Some cabins allow for Pet Guests. Pets must be completely housebroken, well behaved, and pest-free. Pets are not allowed on furniture or in hot tubs. Reservation Holder is responsible for any and all damages caused by pets. Please do not use property linens or towels on pets. Guests agree to pay for any damages caused by pets that exceeds the cost of the accidental damage insurance. If pets have an accident in cabin, all clean-up will be performed by the Guests. Guests further agree to police waste from the grounds and deposit in outside garbage cans. Failure to comply with pet clean-up policy on the premises may result in additional cleaning charges that will be charged to the guest's credit card. Guests agree to be in full control of their pets at all times and take full responsibility for their pet's well-being. If you have a pet and it is not listed on the lease, the unauthorized occupancy of pets where prohibited will result in immediate eviction and loss of all rental money. In addition, guest will be billed a $500 fee.
TERMINATION BY OWNER/PROPERTY SUBSTITUTIONS – Tryon Retreats strives to comply with all reservation requests for specific vacation properties. However, due to ownership changes, properties being removed from rental use, mechanical problems, or other unforeseen circumstances outside of our control, Tryon Retreats cannot absolutely guarantee a specific property. We reserve the right to change property unit assignment to a similarly priced property without liability within a reasonable time frame should rental property become unavailable. A comparable property is defined as having a similar total reservations price, within a $100 threshold. No refunds will be offered within 30 days of arrival when comparable substitute properties are available. Should Guest decline the comparable property, Guest may reschedule or change their reservation to another available date and property at the published rates under the parameters of the rescheduling policy but no refunds will be offered. If comparable properties are not available within 30 days of arrival, Guests will have the option of selecting from any other available properties for their reservation dates and pay or receive a refund of the difference in the total cost or may choose to receive a full refund. Agent HIGHLY RECOMMENDS purchasing Travel Insurance to protect guest against loss from any unforeseen conditions that may lead to properties not being available as defined herein.
Listings and Pricing – Information regarding cabin listings is believed to be accurate but not guaranteed. We have made every effort to insure that all of the information on our website is up to date and accurate. The possibility of errors and omissions exists. Our staff will be happy to confirm all information or answer any questions you may have prior to reserving cabin.
Double Bookings – Double bookings are rare, but possible. In the event that the guest's reservation for the rental property overlaps or matches the reservation of another rental guests, Tryon Retreats reserves the right to relocate guests to another property. The property could be within Tryon Retreats Inventory or that of another Rental Management Company. We will make every effort to ensure the replacement cabin is reasonably comparable to the original cabin reserved. Tryon Retreats reserves the sole right to select a replacement cabin for reservations. Tryon Retreats agrees to pay any additional charges due in excess of the rental amount for the rental property, and refund any amounts paid by the guests in excess of the rental cabin rental amount. Guests will have the option to accept the replacement cabin or reject the replacement cabin and receive a full refund. Guests agree that the choice between these alternatives will be the guest's sole remedy for any and all damages, liability or inconvenience arising out of the double bookings.
LICENSEE OF OWNER - Guests are a licensee of the Owner and not a tenant; renting the premises in no way constitutes Guests acquiring interest in the property.
RIGHT OF ENTRY – Tryon Retreat's Staff reserve the right to enter property at anytime to investigate disturbances, check occupancy, check for damages, make repairs, alterations, and improvements, as Staff deems necessary.
DISPUTES – This Agreement shall be governed by and interpreted in accordance with the laws of the State of North and South Carolina and be treated as though it were executed in the County of Polk, State of North Carolina. Any action relating to this Agreement shall be instituted and prosecuted only in the Polk County Superior Court, NC. Guests specifically consent to such jurisdiction and to extraterritorial service of process.
INDEMNIFICATION AND HOLD HARMLESS – Guests agree to indemnify and hold harmless the property owner and Tryon Retreats for any liabilities, theft, damage, cost or expense whatsoever arising from or related to any claim or litigation which may arise out of or in connection with guests use and occupancy of the cabin. This including but not limited to any claim or liability for personal injury, injury due to hot tubs, or damage or theft of property, which is made, incurred or sustained by guests. The terms "Tryon Retreats" and Owner is used in this agreement shall include their heirs, successors in interest, assigns, employees, agents, and representatives where the context requires or permits. The terms "guests" "you" and "your" as used in this agreement shall include guests heirs, successors, assigns, guests, invitees, representatives and other persons on the rental property during guest's occupancy (without regard to weather such persons have authority under this agreement to be at the cabin) where the context requires or permits.
EXPEDITED EVICTION. If the tenancy created hereunder is for 30 days or less, the expedited eviction procedure set forth in the NC Vacation Rental Act will apply. Tenant may be evicted under such procedures if Tenant:
(i) Holds over possession after Tenant's tenancy has expired; (ii) Commits a material breach of any provision of this Agreement (including any addendum hereto) that according to its terms would result in the termination of Tenant's tenancy; (iii) fails to pay rent as required by this Agreement; or (iv) has obtained possession of the Premises by fraud or misrepresentation.




This Agreement represents the entire Agreement of the parties, and there are no misrepresentations, inducements or other provisions other than those contained in the Agreement.
---