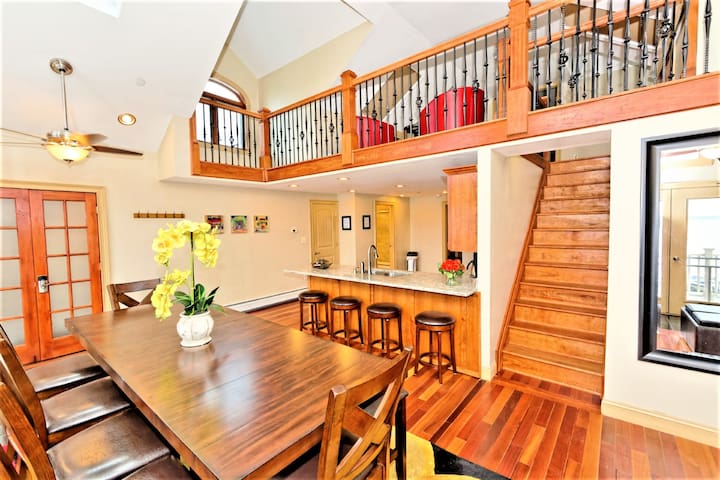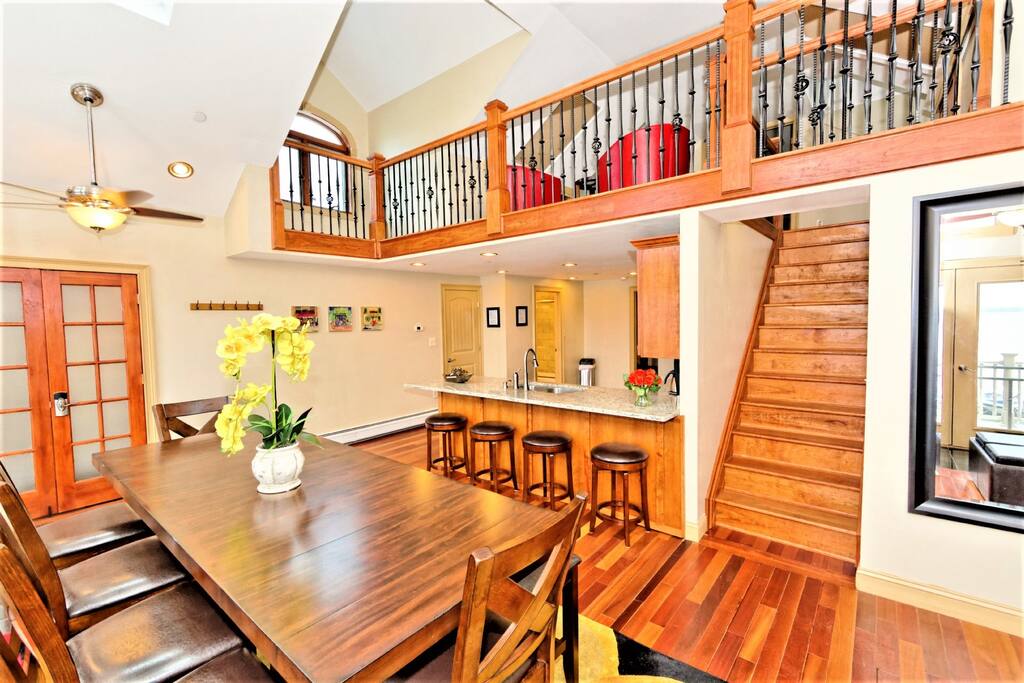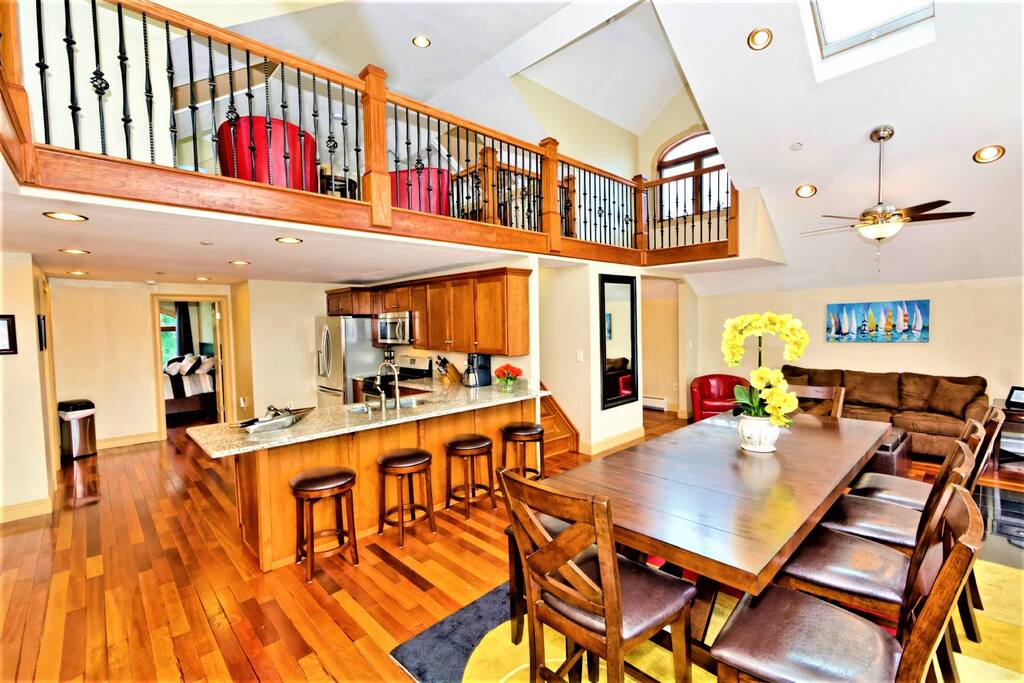 3 bedroom 2 bath Saratoga Lake Waterfront – 20 ft from the water's edge!
Awe-inspiring views and location - enjoy lake living at its best! Short distance to the horse track & Downtown Saratoga Springs!
スペース
This newly built high-end property is located at the water's edge with incredible views of Saratoga Lake
Property Features:
•3 bedrooms 2 full baths, sleeps up to 12 (3 queen beds, 2 queen convertible sofas, 2 single convertible sofas)
•Easy access to it all…Saratoga Race Course (thoroughbred racetrack), Saratoga Performing Arts Center, Saratoga Spa State Park, Saratoga National Historical Park, Saratoga Golf Courses, Saratoga's Museums, Spas, Mineral Springs and much more!

•Open floor plan that takes advantage of the incredible Saratoga Lake views. The location allows you to enjoy both sunrises and sunsets.
•Large loft allows for a more intimate and private setting to enjoy the lake views and also has additional sleeping accommodations.
•The property is less than 20 steps from the water's edge. Many properties near Saratoga Lake are located so that you have to walk across the road (such as 9P) to enjoy the lake. Check with the property owners before you reserve those properties. Our property is on the lake. The only way you can get closer to the water is either swimming in the lake or in your boat!
•Enjoy boating, water skiing, jet skiing, sailing, wind surfing, fishing, diving…anything you can imagine when you're staying at a property that's directly on the lake!
•Incredibly rare location where you can walk to four restaurants from the property: Magino's Ristorante, Panza's Restaurant, DiDonna's South Shore Restaurant (indoor and outdoor seating) and Dock Brown's. There's also a Stewarts Shop close by for groceries, beverages, ice cream, gas, etc.
•Brown's Beach – literally just a walk away from the property. This is a new facility built in 2014 with more features being added in 2015! Great place for launching your boat, swimming, restaurants and more.

Here are 5 things you must do when visiting Saratoga Lake:
1) Visit Brown's Beach
Brown's Beach is one of the only public swimming spot on Saratoga Lake. This community favorite swimming spot was closed for roughly a decade and recently has been opened to the public again. It has a shallow launch area and is great area for learning any type of water sport. Picnic and volleyball area is available.
2) Rent a Kayak from The Kayak Shak
What better way to experience Saratoga Lake during the summer than to rent a Kayak or paddleboard? The Kayak Shak also offers tours, community barbecues and bird and nature watching. And if this is your first time kayaking, The Kayak Shak will show you the ropes!
3) Go Fishing
Saratoga Lake boasts one of the best fishing spots in the region. The Lake is excellent for bass fishing and the deepest section of the lake is 96 feet. The Lake is also stocked with over 8 million walleye. The weed beds framing the shoreline are great for anglers fishing northern pike. Around for the winter? Ice fishing is also permitted - make sure to check out the annual Ice Fishing Derby.
4) Take an Afternoon to Golf
If you are an avid golfer, The Saratoga Lake Golf Club is a beautiful resort in the heart of the Adirondacks. Play 18 holes overlooking the peaceful Lake and join an annual tournament. And if you are a part of the new New York Golf Trail, the Saratoga Lake Golf Course has recently been added.
5) Never Stop Exploring
•The Saratoga Lake is home to rural canoe, kayak, and nature trails, snaking through the Kayaderosseras Creek and ending in the Saratoga Lake, giving you access to Fish Creek and Lake Lonely. The trail offers relatively mild paddling in the spring and autumn with several opportunities for whitewater when the river runs high.

•Saratoga Springs (The Spa City) is just a short drive away. Explore the wonderful downtown and then come back to the house for incredible views, fishing, boating, jet skiing, water skiing or simply relaxing! Here are a few of the fun activities and places to enjoy in Saratoga Springs:
oIncredible dining, appetizers, coffee shops and so much more.
oChianti Il Ristorante, serves sophisticated, authentic Northern Italian fare in an elegant setting): (URL HIDDEN)
oHattie's
oWheatfields
oMaestro's Restaurant
oForno Bistro
oOlde Bryan Inn
oRavenous: Ravenous is downtown Saratoga's only crepe restaurant.
oEsperanto: Foods from around the world, Greece, Mexican, Middle Eastern , Thailand and others.
oOne Caroline Street Bistro
oCoffee, tea, etc.: Uncommon Grounds Coffee & Tea, Starbucks, Saratoga Coffee Traders, Legends Cafe, Eugenio's Cafe Gelato, West Side Stadium Cafe
oThe Winebar Bar
•So many places and events to enjoy:
oSaratoga Race Course: Also know as Saratoga Racetrack or 'the flat track', Saratoga Race Course is the oldest continually operating Thoroughbred horse racing track in the United States. The track is home to the Travers Stakes, 'America's Mid-Summer Derby' which occurs in late August.
oSaratoga Performing Arts Center: Referred to locals and frequent visitors as 'SPAC', this outdoor performing arts venue features classical performances, the Saratoga Jazz Festival, the Saratoga Wine and Food Festival and major pop and rock concerts. It is the summer home of the New York City Ballet and The Philadelphia Orchestra.
oSaratoga Casino and Raceway: With over 1,000 video gaming machines, harness racing and a night club, Saratoga Casino and Raceway has plenty going on. Just be sure to bring your good luck charms!
oSaratoga Spa State Park and so much more...
•It's time to get away and enjoy the charm! Character, history, and charm are just a few of the reasons Saratoga was named as one of America's Dozen Distinctive Destinations by the National Trust for Historic Preservation. However, this sort of acclaim is nothing new to Saratoga. For centuries, Saratoga Springs has been a premier destination. Discover all there is to see and do here, from world-famous horse racing at Saratoga Race Course during the summer to award-winning golf. There is so much to do in Saratoga...the perfect place for your next getaway!
ゲストの立入り範囲
An email will be sent to guests two days prior to check-in with the pass code for the electronic locks, parking details and other useful information for your stay.
- - Pets are considered on a case-by-case basis and must be approved by owner (pet fee is $20/nt per pet). Pets are not allowed on furniture and must be cleaned prior to bringing them into the house to keep the property nice and fresh for everyone. Violation of pet rules will forfeit the security deposit. Guests will be responsible for any extra fees associated with damage or extra cleaning required.
- - Please note early check-in or late check-out must be approved in advance, otherwise up to a full day rental fee will be applied and deducted from the security deposit.
- - All debris, rubbish and discards are to be placed in trash bins (located in the garage). NEVER place garbage in neighbor's bins.
- - Soiled dishes are placed in the dishwasher, cleaned and put away.
- - For your comfort, the home is completely smoke-free and pet-free. We ask that our guests refrain from smoking or bringing pets into the home. A refresh fee of $250 will be charged to your account if this policy is broken.
- - Quiet enjoyment of premises is required. Please note that neighboring homes have families with full-time jobs and young children. No noise will be tolerated beyond 9 pm. Be particularly careful if you are using the outdoor facilities as noise carries to neighboring homes. Any reported noise disturbances will result in full forfeiture of security/damage deposit and possible eviction with no refund.
- - The total number of guests staying or visiting the property must not exceed the number paid by the renter. Exceeding this number will result in full forfeiture of the security/damage deposit.
- - Only two vehicles are allowed to be parked at the property when renting one unit but only in the designated areas. The reason for the parking restrictions is so that parking does not encroach on local neighbors parking spaces. Please ensure this is adhered to. We have leased a space a short distance from the property where you may park up to two more vehicles but under no circumstances should the total number of vehicles exceed a total of 4 (even if you have guests stop by). If the number of vehicles parked at the facility exceeds this allowance or is parked in front of the neighbor's home, the security deposit will be forfeited.
- - Be friendly, courteous and respectful of all nearby neighbors. They are great people and many of them live there full time.
- - The maximum number of guests is limited to six (6) persons at the quoted rate. A fee of $25/person per day will applied for guests beyond 6 but not to exceed 10 without prior approval.
- - Check-out requirements 1. Ensure that all dishes are cleaned and put away. 2. Take or dispose of any food, and ensure that all garbage is disposed of in the outside trash can located behind the house. Do not leave food in the refrigerator. Any trash that exceeds the capacity of the trash can will be charged an additional fee of $8/trash bag which will be deducted from the security deposit (this is the fee that we are charged by the garbage company). The renter has the option of taking excess trash to other facilities for disposal. 3. Clean the BBQ grill and ensure the propane bottle is turned off. 4. Ensure that all doors and windows are locked and the thermostat is turned down to 55F. Note: The cleaning fee is based on the house-keeper taking 3 hours (1 person) to complete the cleaning. The above actions will ensure the house-keeper can complete it within this timeframe. Any excess cleaning time required will be charged a fee of $33/hour and deducted from the security deposit.
- - No pets are allowed unless approved by property owner and pet fee has been paid. Bringing unapproved pets will forfeit the security deposit.
- - Parking rules will be provided prior to arrival. Please ensure compliance to parking requirements so that everyone with your group and our neighbors will be happy. Compliance to the parking rules is required otherwise security deposit will be forfeited.
What a beautiful spot! The rental is RIGHT on the lake, with quick and easy access. The location was perfect for renting a boat - we could walk right over to the South Shore Marina and then pick up the rest of our group from the dock. Nick was so welcoming and provided tons of information and tips before we arrived. He was also willing to give us a later checkout which we totally appreciated. If you want to have a great location for adventures on the lake, this is the spot. We had a great time!
---