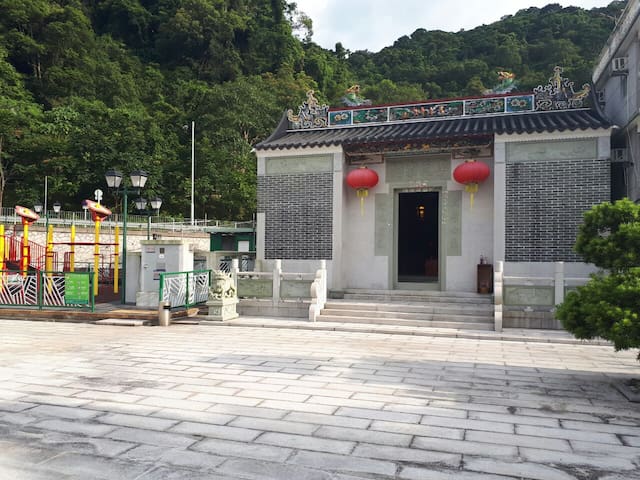 CUHKやサイエンスパークの学生や訪問学者で、静かで美しい場所を探しているなら、高速インターネットでこの家を楽しむことができます。あなたは自分のためにアパート全体を持っています。
If you are a student or visiting scholar in CUHK or Science Park and you are looking for a quiet and beautiful place to stay, you will enjoy this house with high-speed internet. you will have the whole apartment for yourself.
スペース
これは4000平方フィートのヤードと素晴らしい景色を持つ大きく美しい家です。 中国大学とサイエンスパークまで歩いていて、CUHK近くの場所を探している学生や教授のための最適な場所です。
This is a big and beautiful house with a 4000 sq.ft yard and a great view.
Walking distance to Chinese University and Science Park and the best place for students and professors who are looking for a place near CUHK.
ゲストの立入り範囲
you can shop online from Parknshop and also you can walk and buy your needings from Market Place By Jason or Science Park Parknshop or CUHK Parknshop. They are open Until 9 or 10 PM. You can also take 28K minibus and go to Tai Po Market and buy fresh fish, fruit, and many other things.
ゲストとの交流
私はあなたの周りを見せてくれることを嬉しく思っているなら、あなたは香港を歩き回る際のヒントを教えてくれることを嬉しく思います。香港で最も長いサイクリングルートは、家のすぐ近くにあります。そこに歩いて自転車を借りて楽しむことができます。崖のビーチの近くで釣りに行くこともできます。私たちはバドミントンのペアを持っており、あなたはヤードでバドミントンをプレイすることができます。家のすぐ近くに子供用の寺院と遊び場があります。
I am happy to show you around and give you tips on getting around in Hong Kong if you are willing to. The longest biking route in HK is very close to the house. You can walk to there and rent a bicycle and enjoy there. You can also go fishing near the cliff beach. We have a pair of badminton and you can play badminton in the yard. There is a temple and play ground for children just near the house.
その他の特記事項
From Hong Kong International Airport, you offered to take A41 Airport bus or E42 and come to Sha Tin Central Bus Station. Then, take a cab(cost about 70 HKD) or 28K,28S minibus (cost 7 HKD) and come to the Tai Po Mei village. If you have luggage, the taxi can come very near to the house.
Or if you are exhausted, just take a taxi at the airport (approx $280HKD).
From Lo Wu or Lok Ma Chau stations By train, you can use East Rail Line and go to Tai Po Market MTR station and then take the 28K minibus and come to the Tai Po Mey Village.
チェックイン時間: 15:00~01:00 (next day)
I am an Information Engineering Ph.D. student at The Chinese University of HongKong. I love to communicate with different people around the world and get a chance to learn more about different cultures, hear their stories and help them to find the best way of having fun.
言語:
English